Logitech revives their bestselling G502 gaming mouse with a new Hero Sensor, which I think is pretty good. The Logitech G502 Hero is, in my opinion, maybe the best and most popular gaming mouse ever. But, again, that doesn't mean there's no room for improvement. Well, the Logitech G502 Hero is the only Mouse you'll ever need, whether you are gaming or not.
However, although the hero sensor is excellent to use, somehow it still has some flaws. Yes, recently, the Logitech G502 Hero light is not working for some users. Well, I don't know the reason behind this; still, we have some great fixes that will help you fix this issue. So, if you also noticed that suddenly on your Logitech G502 hero light is not working or stopped working, make sure to follow this guide until the end.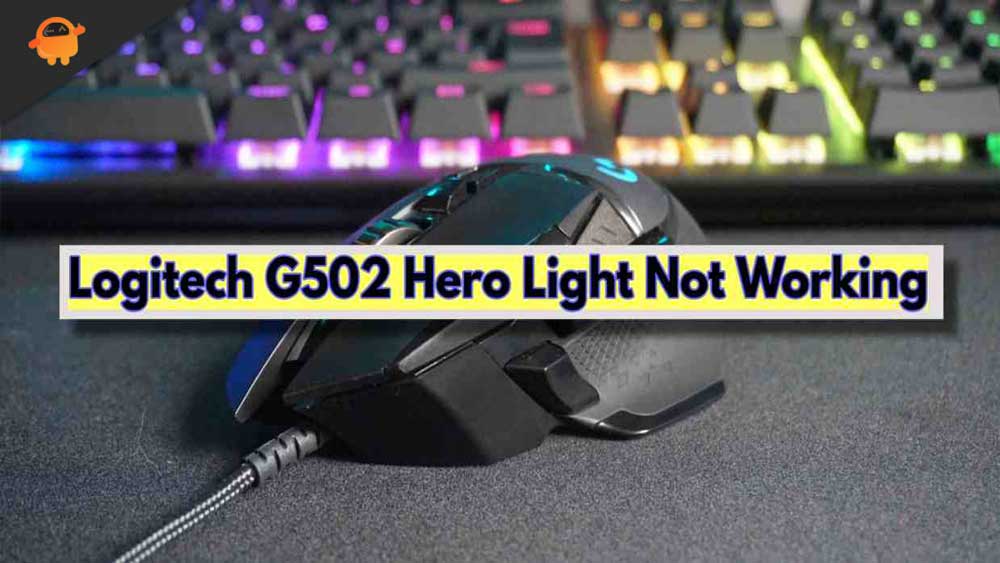 How To Fix Logitech G502 Hero Light Not Working
Logitech G502 Hero is a great device, but there's no room for improvement as this type of flaw makes users feel bad. But, as of now, you do not need to worry about this problem because we have mentioned some basics and easy fixes that previously helped a number of users. So, it may be possible that these may help you as well. Therefore, now let's directly jump into the guide and check if these fixes really help you resolve the error or not.
Fix 1: Check If The Power Switch Is On
The first thing you need to check if that if the power switch is on for your Mouse or not. It is possible that accidentally you turn off the power for the Mouse. So, if the power switch is turned off, then the Logitech G502 hero light may not work properly. Therefore, cross-check and if you find that the power switch is off, then turn it on and check if the light is again started working or not.
Fix 2: Update The Mouse Driver
There's also the possibility that your mouse driver may not be updated with the latest version available. So, it is very important to regularly check for updates. Yeah! Although the drivers may automatically get updated. But, still, sometimes, it fails to do so, due to some reasons. So, you should check out the mouse drivers update on your system. However, in case you don't know how to do this, then follow the steps mentioned below:
Firstly, press the

Win+ R

button simultaneously. This will open the

RUN dialog box.

Then, search for the

devmgmt.msc,

using the Run box. This will open the Device Manager.

After that, locate and expand the

Mice and other pointing devices

category.

Finally, right-click on the

Logitech Mouse driver

and hit the Update Driver button.
That's it. Now, wait until the driver gets updated. Once done, simply reboot your system and check if the Logitech G502 Hero light not working issue gets resolved or not.
Fix 3: Check The Wire
Did you check the wire before? Well, if not, then you must check if the mouse wire is not damaged or have any fault. This is because if the wire has some fault, then the Mouse will not be able to function properly as it is not getting the proper power connection.
In most cases, it is noticed that this type of issue generally occurs due to a faulty mouse wire. So, we suggest you inspect the wire thoroughly and if there is any cut or damage appear that you noticed, try to fix it. Then, check if the light again started working or not. If not, then, unfortunately, you need to get a new one.
Fix 4: Remove The Receiver And Battery
There are some possibilities that the receiver may not work properly due to which you are getting this problem. So, to fix it, you have to remove the receiver and the battery from your Mouse. This is somehow similar to power cycling your device.
Anyway, once you remove the integrated receiver and the battery from your Mouse, you have to wait for around 5 to 10 minutes before inserting them again on your Mouse. Once done, simply connect your Mouse and check if the issue gets fixed or not. Well, in most cases, it is seen that the issue gets fixed by just doing this. So, why not you give it a try?
Fix 5: Change The USB Port
There are chances that the UBS port of your PC or laptop may not work properly; that's why the Logitech G502 hero light is not working or has stopped working.
So, to cross-check if the USB port of your system is compatible with the Mouse or not, you can simply plug out the cord from the current port and insert it into another port, then check. Now, if the light again starts working means the port that you are using previously may not work properly or have any faulty. So, in that case, you have to repair your system's USB port.
Fix 6: Try Using The Mouse In Another System
Now, if even after plugging into another port the light is still not working properly, then just to make sure that if the issue is occurring from your Mouse or system's side, you should plug the Mouse into another device (if possible).
However, if you don't have another laptop, contact any of your friends who has a system and check your Mouse. If the list is working on the other PC, this means that your PC's USB port may have some issues.
Fix 7: Get A Repair
Unfortunately, in case none of the above-mentioned methods worked for you, then my friend, your Logitech G520 hero light may get degenerate. Well, either it is quite difficult to repair that, but still, you can hover to your nearest service center and ask them to make the light work again. So, try this out and let us know if you have successfully fixed this issue or not.
Wrap Up
So, that's all on how to fix if the Logitech G502 hero light is not working. We hope that the methods as mentioned earlier worked for you. However, suppose you have any doubts, comment below. Also, if you are a new visitor, make sure to check out our other latest troubleshooting and interesting gaming guides by visiting our site.