The Logitech G915 model is one of the very few good players in this space for being a low profile, quality keyboard with, most importantly. In addition, you do not need to worry about charging because it comes with a micro-USB cable to charge. It's a new class of authentic wireless mechanical gaming keyboards that easily make your gaming more enjoyable.
But is the G915 really worth your money? Well, we are asking this question because recently, many users started reporting that the keyboard is not working correctly after the recent software update. But, anyway, if you are facing the same issue, then you have landed in the right guide. Here in this guide, I've mentioned all the necessary fixes that will help you get rid of if the G915 keyboard is not working correctly. So, let's get started.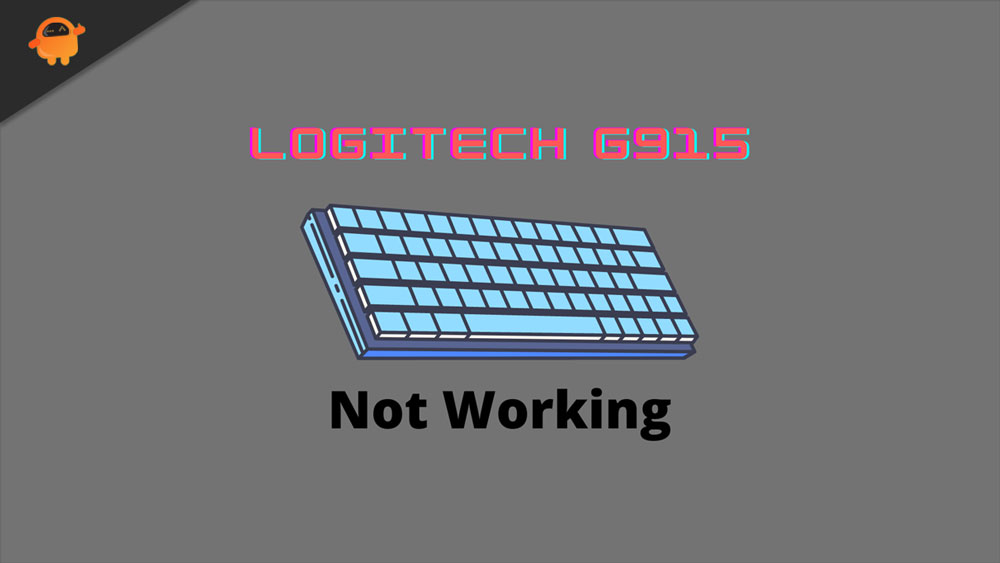 How To Fix Logitech G915 Keyboard Not Working After Update
There are many fixes available that you can use to resolve the G915 not working issue. Nevertheless, not all of them are genuine, as many websites claim they have the best fixes. But, we are not claiming that all the fixes we have mentioned here are tested by test, and in our case, we successfully fixed the issue. Therefore, if you want, you can rely on the fixes we have mentioned below:
Fix 1: Disable The Third-Party Antivirus
The first trick that you can try is to disable the third-party antivirus software because it is possible that the antivirus may prevent your peripheral devices work properly. Basically, what happens is when you use a third-party antivirus, it starts blocking the device software to run smoothly as it considers it as a threat to your system and starts blocking it.
Well, that is the primary reason why you are getting this error. Therefore, we suggest you make use to try disabling the third-party antivirus and then again connect your G915 keyboard to check if it is started working or not. However, I'm pretty much assured that this will help you fix the issue.
Fix 2:

Restarting HID Human Interface Service
Previously it was seen that restarting the HID Human Interface Service helped many users to resolve this kind of error. Therefore, this time also, we suggest you consider this a potential fix. So, if you are not familiar with how to restart the HID Human Interface Service, then follow the steps given below:
Firstly, press the

Win+R

button and search for

services.msc

" in the

Run

box.

Then, you need to hover to the Human Interface Device Access under the Services window and right-click on it. Then, hit the

Properties

option from the drop-down menu.

After that, check if the Startup type is set as

Automatic

, and that's it. Now, the service is running. You can then simply plug your G915 after restarting the service.
Fix 3:

Disabling Filter Keys
As we know, Microsoft always cares for their users; that's why they provide several functionalities which help their users to use the computer more easily. However, one of those functionalities then it is known as Filter keys. But, sometimes, this feature may be the reason behind this issue, so you have to make sure to disable the filter keys. So, here are the instructions that will help you:
Firstly, open the

Run

box and search for

ease of access.

After that, locate and click on the

Make the Keyboard Easier to Use

.

Then,

Uncheck

the box beside the

Turn on Filter Keys

. Then, click on the Apply and close the window.
That's it. Now, connect your Logitech G915 keyboard and check if it is working now or not. Most probably, the problem will get fixed now, but if you still have no luck, then make sure to follow the other mentioned fixes.
Fix 4: Update Keyboard Driver
There are high chances that your keyboard drivers may get older or outdated, due to which you are not able to use your Logitech G915 keyboard after the recent OS update. In the past, we have seen many cases where an older driver causes this kind of issue; therefore, it is very important to keep your not only keyboard driver but also every driver that your device has.
You can simply open the Device Manager and expand the Keyboards tab to update your keyboard driver. Then, right-click on the Logitech G915 and select the Update Driver. That's it. Now, wait, and once the driver gets updated, don't forget to reboot your system. Then, check if Logitech G915 is not working issue gets fixed or not.
Fix 5: Removing Logitech Software
We all know that the Logitech device comes with Logitech software that will be installed on your device, which helps it to update the firmware, set macros, control lighting, etc. But, sometimes, it may conflict with your system OS after the update. Therefore, removing and then reinstalling it will be the right choice for you in order to fix the Logitech G915 keyboard not working issue. So, to do this, let's take a look at the steps:
Initially, open the

Run

box and search for the

appwiz.cpl.

Then, a list of programs that is installed on your system will be open. Therefore, select the

Logitech software

from that list and right-click on it.

Now, hit the

Uninstall

button from the drop-down menu. Then, to reinstall it, simply plug out your keyboard hardware and reboot your system.

Then, finally, plug the hardware back in and wait until the software gets installed again on your PC. Thereafter, check if the problem gets resolved or not.
Fix 6: Check The Batteries & Charge Properly
As the Logitech G915 is a true wireless keyboard; therefore, there are chances that the batteries may get damaged or dead due to which they are not working. So, you can first make sure to charge it and then try again connecting it again. But, if it still does not work, then hover to the nearest service center and replace the batteries. Then, you'll see that the issue gets fixed automatically.
Also Read: Fix: Logitech G502 Hero Light Not Working
From Author's Desk
So, that's all on how to fix if the Logitech G915 keyboard is not working after the recent update. We hope the methods to fix this issue mentioned in this guide helped you. But, in case you still have any doubts regarding the fixes, comment below. Our team will help you to get rid of this situation.