Logitech G923 is a high-performance racing wheel controller from technology giant Logitech. This product is developed to enhance the racing experience. The only features that make Logitech G923 special are TRUEFORCE. It is mainly designed to deliver higher fidelity realism. So, that player can Feel the pistons pumping, the gravel crunching, and every shift, drift, and hairpin turn like never before. The controller supports PC, PS4, PS5, Xbox One, and Xbox Series X / S with wired connectivity.
Moreover, It has earned almost 4.5 user ratings out of 5. It means you can take an idea of how much quality the product is in Logitech G923. However, there are other racing controllers available on the market. But, the trust with Logitech and their quality service enforce to buy this product only. Unfortunately, some users are feeling disappointed with this controller. They claim Logitech G923 is not working on each compatible platform. For which, below, we have shared a guide to fix that issue.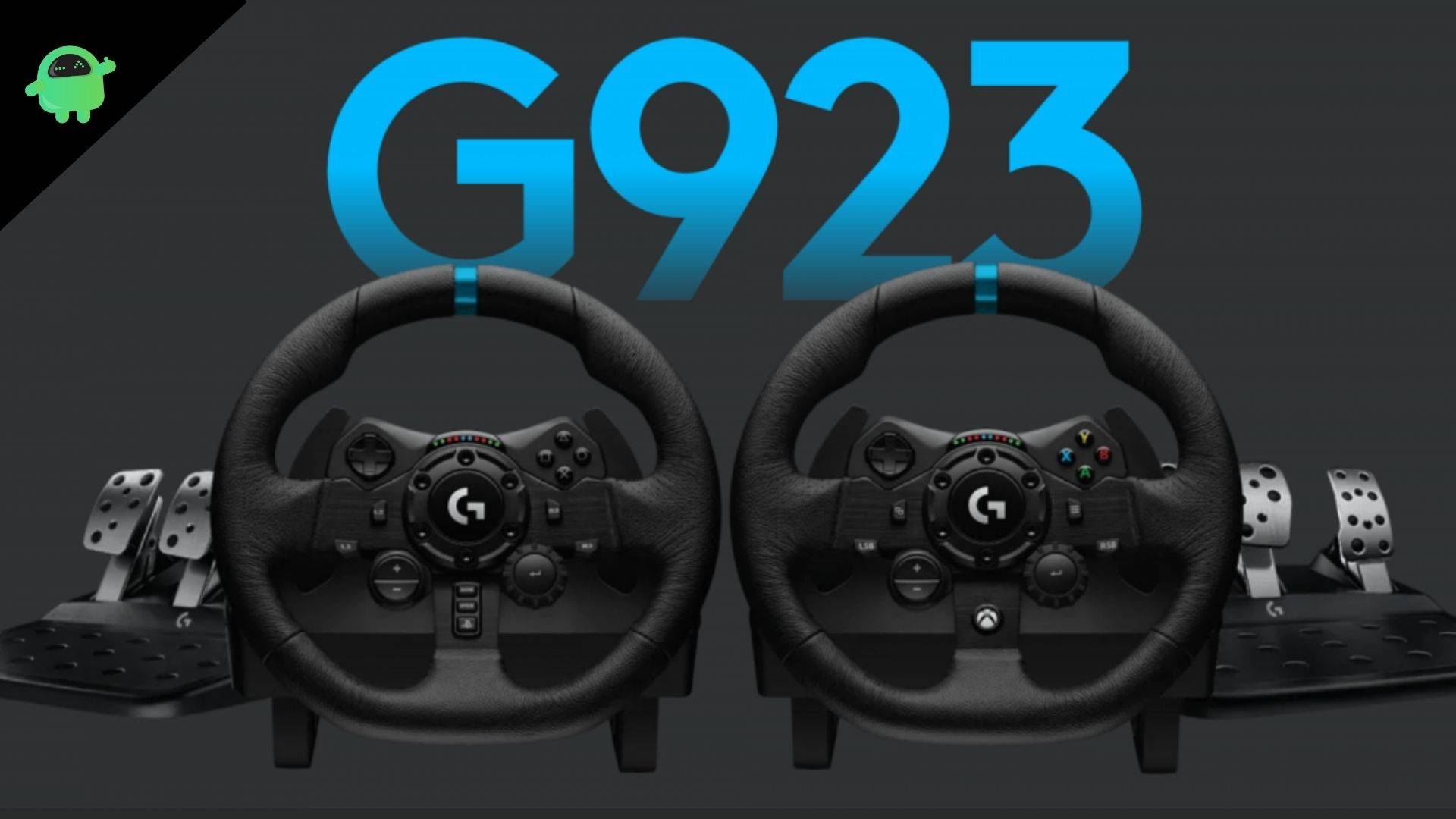 Why Does Logitech G923 Not Work with its Compatible Devices?
Suppose you are facing that your Logitech G923 controller is not working with its compatible devices, including PC, PS4, PS5, and Xbox series. It means there could be numerous issue like connectivity problem, Outdated Drivers, Issue with the G hub, Not being completely installed, and more. Because the racing controller not working with any of its available devices. It means there could be some common cause behind it. So, In keeping them in mind below we have shared a list of causes for Logitech G923 not working correctly.
Connectivity Issues
Wheel not operating under G Hub
Steam Unable To Detect Controller
Outdated Drivers
Incomplete Wheel Setup
From some common user points of view, we have shortlisted these causes for the racing controller not working. So, if you take care of these causes on your device, then the Logitech G923 will resume working again. And, you can start your racing experience without any further delay.
How Do I fix Logitech G923 not working on its Compatible devices?
As you have seen, the above causes reflect the racing controller not working on its compatible device. It means to fix the issue, you need to fix these causes. Specifically, You need to do the opposite action for reasons like outdated drivers. You need to update drivers on your certain system. So, without waiting any more, let's take a quick look over below mentioned fixes.
Ensure Connectivity Status
Proper Setup Your Wheel Under G Hub
Make sure Steam detects Your Controller
Update Your System Drivers
Re-Install Your Logitech Wheel
Besides that, there could be more causes, but they are limited to specific users. But, for now, let's brief out these given common causes. So that you can easily solve the Logitech G923 not working error on your compatible device.
Fix 1: Ensure Connectivity Status
Connecting a Logitech wheel controller with your desired device is full of physical surety. It means you must consider whether the wheel plug is connected to the power firmly. Or it can be possible that your source device would not lose any power. Following this, Neither the source device nor the racing wheel controller works properly. So, if you are facing racing Logitech G923 not working properly. Then, check the connectivity status between the controller and your source device.
Fix 2: Proper Setup Your Wheel Under G Hub
As we above said, these controllers require proper setup. If your racing wheel controller is not firmly connected under the G Hub. Then, it could be a hassle for you to start using Logitech G923 on your source device. However, it can be possible that you have made a mistake in setting up the controller quickly. For a better reference, you can follow the below-mentioned instructions as stated in the manner.
Open the Logitech G Hub.
Then, Click on the wheel you are using.
Navigate to the Steering Wheel option.
Now, Move your wheel and ensure its effect is resulting in G Hub.
Next, Head to your Pedal and make sure they are performing as they were supposed to be.
On your control panel, head to the game controller section.
Go to the search bar and search Joy.cpl
Now, choose your controller and click on properties.
Verify the button and check the connectivity.
That's it; Your wheel is firmly set up with G Hub.
Fix 3: Make sure Steam detects your Logitech G923
There could be a reason that your source device cannot detect the Logitech G923 controller. Following this, the user thinks their controller is not working with the source device. But, In reality, the issue arose with the detection program. Meanwhile, Your source device is unable to detect the racing wheel controller. For such a reason, you need to make sure your source device should detect the Logitech controller. So, To do this action, follow the below-mentioned instructions for better ease.
First, Launch the Steam client.
Then, Click on the Steam option.
Now, navigate to the settings tab.
Next, click on the Controller tab.
Under the controller tab, choose General Controller Settings.
Now, Unmark all the given boxes.
Next, Ensure the detected controller must be yours.
That's it; You are done with this fix.
Fix 4: Update Your System Drivers
Most devices came over to this cause where their source devices have outdated drivers, which result in malfunction. Following this, your source device would not connect to the Logitech G923 controller. And you think that the controller is not working. Meanwhile, You need to check your source must be updated with the latest drivers. However, If you do not know about doing that action, check out the instructions below to proceed.
Enter the device manager in the search box appearing in the taskbar.
Then, choose the device manager option.
Now, Select a category and right-click on the device you want to update.
Next, click on search automatically for the driver software option.
Then, Choose the Update driver option.
Following this, the system starts looking for the latest driver update.
Next, Follow the on-screen instructions to update the drivers, if any.
Now, Restart Your PC.
That's it; You are done with updating the driver's fit.
Fix 5: Re-Install Your Logitech G923 Wheel
Even after checking the proper setup between Logitech G923 and your source device. The issues arose again. Then, you must re-install the game through the registry editor. We know it could be hard to this fix for a beginner. So, To ease the users below, we have mentioned some instructions that help re-installing the Logitech racing controller.
First, Press the Windows Plus R key.
Then, the run dialogue box will appear.
Type Regedit in the search field.
Now, Click on Ok and grant permission.
Then, Navigate to HKEY_CURRENT_USER\System\CurrentControlSet\MediaProperties\PrivateProperties\Joystick\OEM
Choose your wheel controller coded with the last four digits of VID.
Next, Do right-click and choose the delete option.
Then, Re-Plug the controller and refresh after connection.
That's it; You are done with re-installing Logitech G923.
Wrapping Up
Conclusively, with these fixes, you can surely solve the Logitech G923 not working efficiently even if you face the same issue. Then, we recommend you to contact Logitech official support for better results. Alongside, if any user has queries with the given instructions, then ask them in the comment box mentioned below.