With the G Pro X Superlight, you get a high-end mouse designed with simplicity in mind. A clickable scroll wheel, two side buttons, and two click panels comprise its non-descript, five-button, right-handed design. As far as size is concerned, the G Pro X Superlight measures 1.56 inches by 2.5 inches by 4.94 inches (HWL), which is much bigger than you might think.
A small and difficult-to-hold chassis is common for esports mouse manufacturers to reduce weight. Well, it also has an annoying error that users frequently complain about. Many users report that the Logitech G Pro X Superlight lags or stutters badly when they play high-end games. So, what is the reason behind this, and how will you fix it. Don't worry! We will help you. So, let's see how to resolve the lagging or stuttering issue.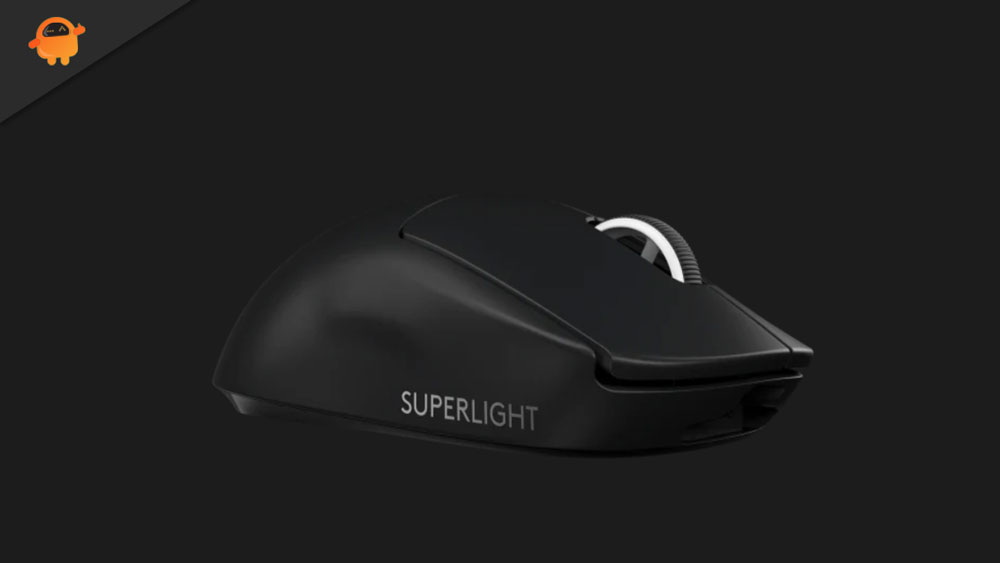 How to Fix Logitech Pro X Superlight Lagging or Stuttering Badly
Are you getting the Logitech Pro X Superlight lagging or a stuttering issue? Well, don't worry! This is a very common issue, and fixing this isn't a big deal; you can resolve this just by performing the fixes we have mentioned below. So, let's check out those fixes:
Fix 1: Check Power Switch
If your Mouse is not receiving power, first check if the power switch is on. There is a possibility that you accidentally switch off the Mouse's power. It is, therefore, possible for the Logitech Pro X Superlight to lag or stutter if the power switch is turned off. Check the power switch of your Pro X Superlight and if it is not turned on, turn it on and see if the lagging or stuttering issue occurs or not.
Fix 2: Update The Mouse Driver
You might also not have the latest mouse driver available if your mouse driver isn't updated. The importance of regularly checking for updates cannot be overstated. That's great! It is possible, however, that the drivers will be updated automatically. Unfortunately, sometimes, it does not succeed for some reason. Your mouse drivers should be updated, so you should check them out. However, if you are unfamiliar with how this is done, follow these steps:
In the first step, press

Win+R

at the same time. The RUN dialog box will appear.

Use the Run box to locate

devmgmt.msc

. A Device Manager window will open.

Expand the

Mice and other pointing devices

tab and find the Mice and other pointing devices icon.

You can now update the Logitech Mouse driver by right-clicking on it and clicking the

Update Driver

button.
That's all there is to it. Once the driver has been updated, wait for it to take effect. Afterward, reboot your computer to see if Logitech Pro X Superlight lagging or stuttering issue gets resolved or not.
Fix 3: Check The Logitech Wire
Has the wire been checked before? You need to check the mouse wire to ensure it is not damaged or faulty. In this case, a faulty wire will prevent the Mouse from getting the proper power connection, preventing it from functioning properly.
A faulty mouse wire generally causes these issues in most cases. Hence, if you find any cuts or damage on the wire, we suggest you try to repair it. After that, determine whether the lagging or stuttering issue has been resolved. If not, you will have to replace it.
Fix 4: Remove The Receiver And Battery
You may be experiencing this problem because the receiver is not working properly. It needs to be removed from the Mouse's receiver and battery to be fixed. Essentially, this is the same thing as rebooting your device.
Regardless, you must wait around five to ten minutes after removing the integrated receiver and battery from your Mouse before re-installing them. If the issue persists, simply reconnect your Mouse and check for the fix. The problem is usually fixed by just doing this in most cases. Why don't you give it a try?
Fix 5: Change The USB Port
Logitech Pro X Superlight may be lagging or stuttering because the UBS port on your PC or laptop isn't working properly.
You can test if your USB port is compatible with the Mouse by plugging the cord out of the current one and slipping it into another one, then re-plug the cord. You may have a faulty port on the port you were using previously if the light starts working again. The USB port on your system must be repaired in that case.
Fix 6: Use It In Another Device
When the Superlight still lags or stutters after plugging into another port, try plugging the Mouse into another device to determine if the problem is coming from the Mouse or system.
It would be better if you could find a friend with a system with a mouse to check if you don't have another laptop. If the list works on the other PC, you may have a problem with your PC's USB port.
Fix 7: Get A Repair
If none of the above methods worked, you might have a faulty Logitech Pro X Superlight. You can also hover to your nearest service center and ask them to fix the light for you, but either way, it's a bit difficult to do that. We'd like to know if you have resolved this issue after trying this method.
Wrap Up
This is all you need to know about fixing Logitech Pro X Superlight's lagging or stuttering issue. Hopefully, you were able to use the methods described earlier. Nonetheless, if you have any doubts, please let us know in the comments. You can also check out our other interesting gaming and troubleshooting guides if you are a new visitor.