Snapdragon recently launched its new chipset and named it Snapdragon 8 Gen 1 processor. Motorola, one of the big brands of Smartphone manufacturing, became the first company equipped with the Snapdragon 8 Gen 1 processor in their latest Motorola Edge X30. Recently Motorola launched their two new handsets, Motorola X30 and Edge S30, in China. However, the Motorola Edge S30 has a Snapdragon 888+ processor, another powerful smartphone industry. If we look into the top features of the Motorola Edge X30, it comes with a 6.7 inches OLED display with Full HD+ resolution, 8GB of RAM, with 256 GB of Memory. Furthermore, the Edge S30 has 6.8 inches IPS LCD with a 108 MP camera and 5000 mAh Battery power. Both Motorola handset contains the IP 52 rating the company claims is splash-proof. But many of us want to know that the Motorola Edge X30 and Edge S30 are Waterproof Smartphones? Here we have done A quick waterproof test to check the Edge series smartphones.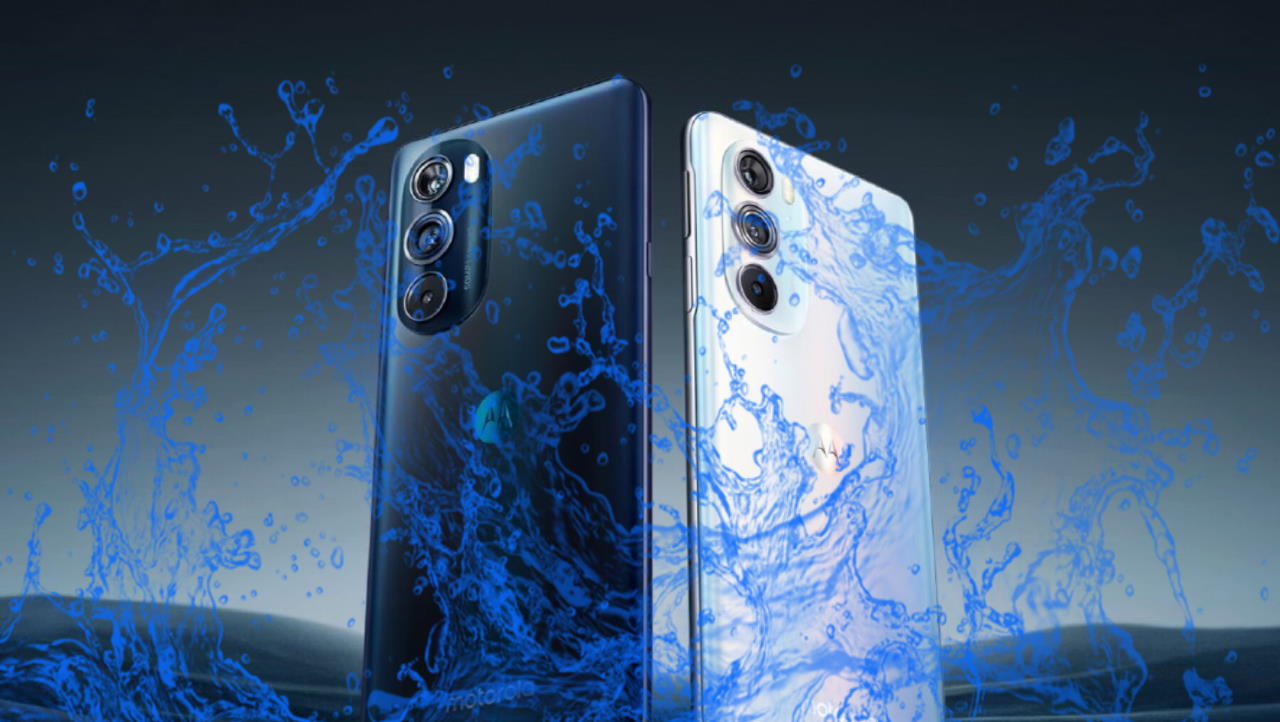 Is Motorola Edge X30 and Edge S30 Waterproof Smartphones?
Motorola is still struggling to mark its place on the top list of smartphone manufacturers like Apple, Samsung, Xiaomi, etc. However, some of the Smartphones of Motorola is bestselling in mid-range budget phone with top features. Also, Motorola regularly works on the latest features and launches their new series for every price range.
In the present scenario, everyone wants to have the best feature, or flagship feature in their smartphones like better display, Great camera, balance battery capacity with appropriate RAM and storage, and the Phone should be Waterproof or splash-proof. We use smartphones in almost every place, and on every occasion, smartphones are our main part of day-to-day life. For that, we research a lot and spend a lot of money to buy phones according to our needs.
Motorola is also known for its quality products and after-sale customer service. The new addition in the library of Motorola Smartphones is Edge X30 and S30. However, with great specification, the bother handset comes with an IP 52 rating that is not that bad as we know some brands do not have any specific IP rating for their mobiles. Here we did some waterproof tests to tell if the mobiles can service the water test, which is an add-on. However, we do not recommend you repeat the test on your own because it can damage your phones.
Motorola Edge X30 Device Specification
Motorola Edge X30 is the world's first phone with a Snapdragon 8 Gen 1 chipset with Android 12 out of the box. The premium design makes it more beautiful from the outside. It comes with 6.7 inches of OLED Full HD + resolution, 144 Hz refresh rate, and support of Conning Gorilla glass five that is scratch proof. Also, X30 has 60 MP with an F 2.2 aperture that records a 4K video punch-hole cutout selfie camera. The main camera gas triple setup contains 50 MP with an F 1.8 aperture, a 50MP ultra-wide camera with 114 viewing angles, and a 2 MP depth sensor camera with F 2.4 aperture.
Motorola launches three memory configurations of Edge X 30 : 8GB + 128GB storage, 8GB + 256GB storage and 12 GB + 256 GB storage. Also, the X30 comes with the latest Android 12 out f the box with MYUI 3.0. Other specifications are side-mounted fingerprint sensors, stereo speakers, IP 52 rating (splash Proof) 5G ready, Bluetooth 5.2, NFC, GPS, and power by 68W Turbopower fast charging. The price starts with CNY 3399 (approx ₹38999). The Company also announced that the Special edition of the Edge X30 is soon to be launched with an under-display camera with 12 GB + 256 GB storage.
Motorola Edge X30 Waterproof Test
Motorola Edge is officially not a waterproof smartphone, but it has an IP 52 rating that means it may have the ability to survive the water test. As the IP52 stands, if the smartphone has water splash accidentally or sometimes we have to use the Phone in the rain. But it does not mention the screen or the handset's body resisting the water.
| | |
| --- | --- |
| Display & Camera | No issues found |
| I/O Ports | Volume rockers & power/Lock buttons are not responding, Phone is not charging. |
| Waterproof & Splashproof | Splashproof but not water-resistant |
After the Waterproof test on the Motorola Edge X 30, the result is that the smartphone is not survived in the water. Therefore, if it is damaged by water or accidentally drowned, it may get serious damage, and you cannot claim the warranty as per the company clause. Therefore, we recommend that you be careful while using the Phone near water bodies.
Motorola Edge S30 Device Specification
Another mid-range 5G smartphone is Motorola Edge S30. It also has many good specifications in this price range, like 6.8 IPS LCD 8 display with Full HD+ resolution and 144Hz Refresh rate powered by Snapdragon 888+ chipset. The device runs on Android 11 and upgrades to Android 12 whenever the update is available. If we move to the camera section, the S30 has a triple set up camera of 108 MP primary camera, 13 MP ultrawide angle, and 2 Mp of the depth sensor. Also, it includes a 16 MP of selfie camera.
Motorola Edge S30 comes in four variants of memory, and the base model starts with 6+128GB of storage and next 8+128GB, 8+ 256 GB, and the top model has 12+256 GB of storage. It also has the side-mounted fingerprint sensor, Audio Technica audio tuning, and 5000 mAh of battery power that supports 33W of fast charging. The price starts from CNY 1999 (approx ₹23715) for the bast model to CNY 2599 (approx ₹ 20835) for the top-end model.
Motorola Edge S30 Waterproof Test
The Motorola Edge X30 also has the same IP52 rating, which may not survive the water test. However, the smartphone's build quality is good, but the company does not claim any water-resistant quality of the handset. Also, there is no official mention to any websites that it has any waterproof feature.
| | |
| --- | --- |
| Display | The touch screen is not working |
| I/O Ports | Physical buttons not responding |
| Waterproof & Splashproof | Splashproof to some extent |
As we mentioned above, the S30 does not have a waterproof rating to you can see that it gets damaged. Also, the speakers are not working, and the Phone has some charging issues. So if you are going to buy the Motorola Edge S30, then buy it for its premium features, not for the IP rating.
Summary
The handset has premium flagship features and its official IP 52 rating with the latest Snapdragon chipset. However, both devices are splashed [roof and withstand any accidental water splash. Honestly, we don't like to put our gadgets into the water, but as these are mid-range smartphones, making a waterproof handset with IP 68 rating is a bit costly. So you may check the premium handset if you are looking for the flag feature and waterproof quality.