Nokia has been making quality smartphones for a while now and their smartphones hardly have any software issues. But if there are any software issues in the latest Nokia smartphones, then the only way to fix it is by using MTK flash tools. To use these flash tools you need to have Nokia MTK secure boot download agent files. Today in this article, we will talk about these secure boot DA files and how to use them.
Latest Nokia MTK devices come with secure boot storage which is not accessible with generic download agent files. Because of this, developers are not able to access and update secure storage. To fix this, you have to use custom-made Nokia secure boot download agent loader files which will unlock secure storage. So that you can perform various Mediatek operations on them.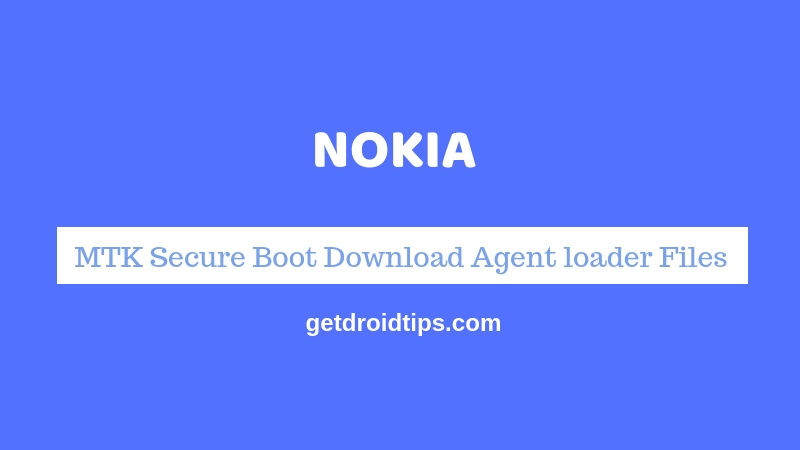 What are Secure Boot DA files
All MediaTek smartphones are now coming with a secure boot feature. With the new secure boot system, we cannot access the secure storage directly. This secure storage contains all the important firmware files with secret codes. In order to access these firmware files, we need to use these secure boot DA files.
Download agent files have the access keys to open the secure storage. After accessing this storage, you can take a firmware backup, flash stock ROM, backup, flash, bypass Factory Reset protection (FRP lock) etc. So these files play an important role when it comes to Mediatek Flashing.
Also read: Did HMD Global launch the new Nokia 8.1 with Waterproof IP Rating?
Advantages of Nokia MTK Secure boot DA loader files
These secure boot DA files play an important role in any MTK flashing process. With these, you can perform any operation on internal files of any mobile firmware. With these files you can:
Bypass pattern/FRP lock
Backup device IMAGE
reading security codes
flashing stock ROM
Cloning boot files
Taking full system backup and so on.
Also read: T-Mobile LG V40 receives a new update with Software Version V40511c
Download Nokia Mediatek Secure Boot Download Agent loader Files
Down below are the links for latest Nokia Mediatek Secure boot DA files. You can use these files instead of generic MTK DA files. In the end, we will also guide you on how to use these files, so stay tuned for that.
Note: If you're not able to access the download link, then try again with a VPN service. Some countries/ISPs have blocked Mega.nz servers on their network. So users need to use a third party VPN service to access Mega.nz server.
How to use Nokia MediaTek Secure Boot DA files
The latest Nokia MTK secure boot DA files are very easy to use. You only have to replace them with the generic download agent files which come with a stock ROM package. Down below, we have complete guide using various MTK flashing tools.
Warning
Disclaimer: Using custom DA files to access and update the secure storage will void your device warranty. Also if you don't follow all the steps carefully, you might hard brick your device.
We at GetDroidTips will not be responsible for any bricking/damage to your phone while/after using these custom Nokia MTK secure boot DA files. Proceed only if you know what you're doing!
Pre-Requisites:
You need to download SP Flash tool software
You must be having a working windows machine.
Take a complete backup of your Android Device.
Charge your phone to at least 50% or more.
Download Nokia USB drivers.
Instructions to load up Nokia DA Files:
Now you can use this file to flash any ROM or IMG file to your Nokia MTK device. These secure boot DA files are compatible for almost all MTK flashing tools. Down below is a detailed guide on using these files with different MTK flashing tools:
How to Use MTK Secure Boot DA file
Why Do we need Secure Boot Download Agent Loader Files
Many new Nokia MTK devices are now coming with a secure boot system. This system doesn't allow any DA file to access the internal contents of Nokia devices. So to bypass this secure boot lock on Nokia MTK devices, we need to use a special type of Secure Boot DA files. These files will allow us to access the internal storage of the device. In order to do that, we need to use a Nokia MTK Secure Boot Download Agent Loader files.
If you're facing any issues with the download links then report to us ASAP. Also if you're facing any issues with these Download Agent files, then feel free to comment down below. We will be happy to assist you. Thank you and have a nice day.