Let's discuss about the new Nothing Phone 1 and its Waterproof & Dust Resistance capabilities. We will also talk about the features of the Nothing phone (1) and know why it is so hyped.
Do you know that about 25% of Smartphones worldwide are damaged by either water or dust? Few phones can be submerged in water and still be rock solid, while few will get damaged even with water splashes. Some phones will get damaged when a few dust particles enter your phone's internal system.
As we are heading towards 2023, a water-resistant mobile phone has become necessary. Owning a waterproof and dustproof mobile phone means you can use it while you relax in a pool or use your handset in the rain without fear of damaging it. Usually, waterproof mobiles have an IP(Ingress Protection) rating—IP67 or IP68 rating, which means the device can withstand being submerged in water for 30 minutes.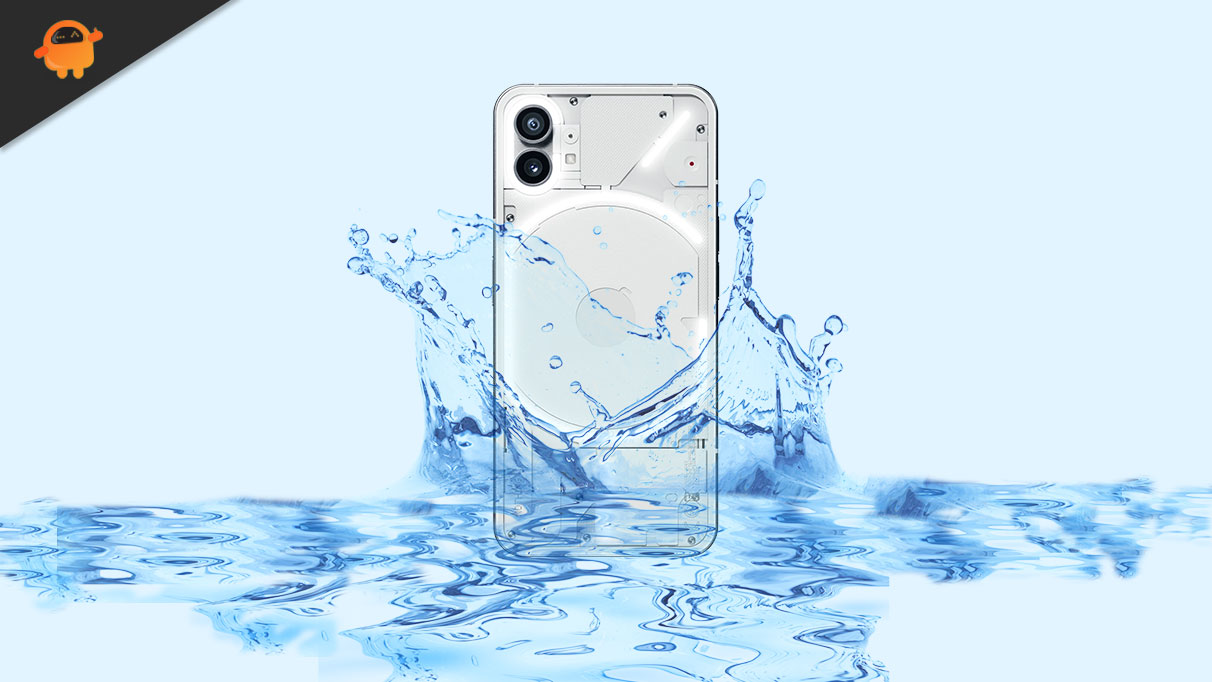 Nothing phone(1): Does it have Waterproof and Dustproof Protection?
If you are a person who regularly read about new phones on the internet, then you might have already come across Nothing Phone 1, which is quite popular right now because of its Back panel design.
Carl Pei, the founder of Nothing Technology Ltd., launched the Nothing Phone (1) on July 12, 2022, priced at $471. The phone has a 6.55-inch OLED display and a resolution of 1080×2400 pixels. The display is protected by Corning Gorilla Glass 5. Nothing Phone(1) is powered by Qualcomm SM7325-AE Snapdragon 778G+ 5G Octa-core processor while GPU is Adreno 642L.
Nothing Phone(1) runs on Android 12 along with Nothing OS. The smartphone comes in four variants: 8GB ram with 128 or 256GB internal storage or 12GB ram with 128 or 256GB storage. It has a Li-Po 4500mAh battery + Fast charging 33W + Wireless charging 15W + Reverse wireless charging 5W + Quick Charge 4.0 + Power Delivery 3.0. Regarding the camera, the phone has a dual camera setup: 50 MP (wide) + 50 MP (ultrawide) camera. On the front, we have a single 16 MP (wide) camera.
The Nothing Phone(1) is available in two colors: White and black. Coming to the unique design of this phone, it has a Glyph Interface meaning it has LED lights in the back, which indicate different functions like charging percentage, calls notifications, and wireless charging. It is customizable in the settings, and according to Nothing, you can customize it more efficiently with future updates.
Is Nothing Phone(1) Waterproof?
Nothing phone 1 has an IP53 rating, which means the phone is only water resistant to some extent and not waterproof. Let's say you spilled a glass of water on your Nothing Phone 1; it's not a big deal. But don't think about taking it to swim with you as you might come out alive out of the pool, but your phone cannot.
So, better not submerge the phone in water as that might damage your phone permanently, and most importantly, it's not covered under warranty.
Is Nothing Phone(1) Dustproof?
As we said, it has an IP53 rating which means it's not Dustproof also. It is protected from limited dust particles, and exposing it to a lot of dust will damage the phone and make it stop working. It would be best if you also tried to clean the phone regularly(charging port) so that it stays clean and doesn't cause any issues later.
We can't expect a waterproof phone at this price segment as it needs better hardware and hence will cost more.
Difference between Waterproof and Water Resistance
Water Resistant means the device will be able to resist the penetration of water to a certain degree. After that, the device won't be able to resist water penetration and will get damaged.
Waterproof means the device can be submerged in water, and still, there won't be any problem with the phone. Most people get confused with water resistance and waterproofness. Both are very different, and usually, brands will trick you into buying water-resistant devices while making you think they are waterproof.
Always remember that if you want to buy a waterproof smartphone, look for one with IP67 or IP68 rating. This means the phone is waterproof and below IP67 water resistant and not waterproof.
Which Are Best Waterproof Smartphones in 2022?
There are a lot of waterproof smartphones on the market, and most of them are priced a bit high. We have listed a few waterproof phones released in 2022:
iPhone 13 Pro Max

Samsung Galaxy S22 Ultra

iPhone 12

OnePlus 10 Pro

iPhone SE (2022)

Google Pixel 6 Pro

iPhone 13

Google Pixel 6
And many more…
You can buy any of the smartphones from the above list and use them in the rain or take them to swim with you; the phone will stay intact. If you are looking to buy a waterproof smartphone, then please consider the above list. Don't go for water-resistant phones even after having a budget of $1000 or more.
Conclusion
Nothing Phone(1) is very much hyped for its back panel, and we don't see any unique features other than the back panel. The design looks pretty sick, but there is not much about the phone. If you have any queries about the article, please drop a comment below. Also, let us know what you think about the Nothing Phone(1).