From this post, you could download the latest OxygenOS 11 Open Beta 5 update based on Android 11 for OnePlus 7, 7T, 7 Pro, and 7T Pro devices. The OEM has always known to be among the front runners when it comes to releasing software upgrades. As per its timeline released last year, its seventh series of devices were slated to get the update before the end of last year. However, due to some data encryption issues, the wait got slightly longer. But now, everything seems to be back on track as it has already completed its internal closed beta test and has started releasing the open beta updates.
The company usually follows this schedule of relating around four open beta updates before moving on to the stable build. In this regard, all its four devices as part of its ever-popular seventh series have been blessed with the 2nd Open beta update at the time of writing. As a result, you are now slated to get a plentitude of goodies. So without further ado, let's make you acquainted with its features set. After that, we will also be sharing the download links for the Open Beta 5 OxygenOS 11 update based on Android 11 for OnePlus 7, 7T, 7 Pro, and 7T Pro.
OxygenOS 11 based on Android 11: What's New?
There are a plethora of noteworthy features with the latest build of Android. To begin with, you will be welcoming a new visual design with a completely changed Settings menu. Likewise, there is also the new one-handed mode as well as the Always On Display with tons of new clock styles. Then the new live wallpapers, Sans Font, Multi-user Zen Mode, a new Gallery app, and a slightly changed weather app also deserve a mention. Apart from these OxygenOS 11 exclusive features, there are a slew of other Android 11 features for the OnePlus 7, 7T, 7 Pro, and 7T Pro.
For example, there's a separate conversation section in the notification panel and as well as the introduction Chat Bubbles. The Power menu has also been overhauled with the ability to directly control the Smart Home appliances. Likewise, there is a stringent One-time permission set and the ability to schedule dark mode. All in all, there are quite a few interesting features waiting to get aboard your OnePlus device. So without further ado, let's get you acquainted with the download links.
Download OnePlus 7, 7T, 7 Pro, and 7T Pro OxygenOS 11 Update | Android 11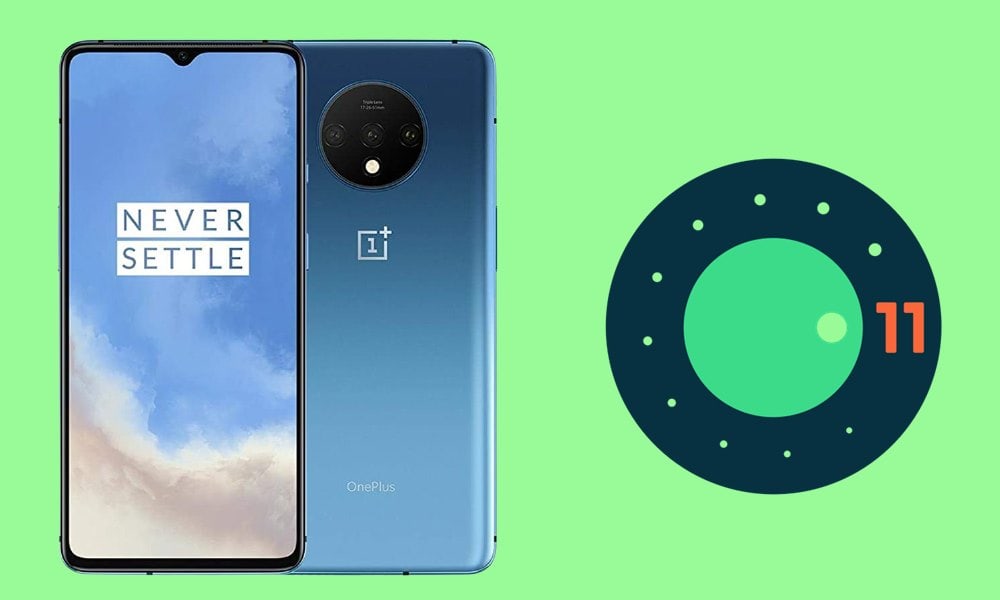 From this section, you could download all the updates (Open Beta and Stable) that your device has received or is slated to get in the near future. Likewise, we have also mentioned the complete changelog to make you aware of the incoming features. Follow along.
Well, after quite a wait, the OnePlus 7 series have finally got a taste of the latest Android 11. All four devices, i.e. OnePlus 7, 7T, 7 Pro, and 7T Pro have got the first OxygenOS 11 Open Beta update. Here's the complete changelog of this:
OxygenOS 11 Open Beta 5

System

Reduced battery consumption under specific scenarios
Improved the compatibility of specific third-party apps on Android 11
Fixed known issues and improved system stability
Upgrade Android Security Patch level to May 2021

Phone

Improved the overall application stability
Fixed the probability issue about can not answer the calls via Google Fi app

Network

Improved the Wi-Fi connection stability

Gallery

Improved the overall loading speed

Shelf

Improved the animation performance and frame rate

OxyegnOS 11 Open Beta 3

System

Optimized the effect of unlocking animation
Fixed the issue of slow charging rate in some cases
Fixed the lagging issue when playing screen-recorded videos
Fixed the small probability failure issue with the Double Tap to Wake
Fixed the issue that Netflix could not play HD videos

Bluetooth

Fixed the silent issue when the Bluetooth transport protocol is changed to AptX

Network

Improved the stability of the Wi-Fi connection and reduce Internet outages

OxyegnOS 11 Open Beta 2

OnePlus 7T Pro (Europe/Global)
OnePlus 7T Pro (India)

System

Optimized the sliding effect of the dynamic wallpaper

Improved power consumption in some scenarios

Optimized the adjusting intensity of automatic brightness to bring a more smooth using experience

Fixed the issue with the adapter not charging and using the headset at the same time

Fixed the issue in which the battery icon is not displayed on the status bar

Fixed the issue that 'Tips & Support' is not displayed in the Settings

Camera

Fixed the small probability flashback issue with the camera when unlocking in professional mode

Ambient Display

Newly support Always-on ambient display feature for OP7Pro and OP7TPro (Go to Settings – Utilities – OnePlus Laboratory – Always-on ambient display)

OxyegnOS 11 Open Beta 1

System

Update to OxygenOS 11 version

Fresh new UI visual design brings you a more comfortable experience with various optimizations of details

Optimize the stability of some third-party applications and improve the experience

Camera

Updated the camera UI and optimized some of the function paths to offer a more convenient operation

Newly added HEVC codec to reduce video storage size seamlessly, capture and shoot more without compromising on quality

Newly added access to a third-party app to share the picture by pressing and holding it in preview

Newly added the quick access to recording mode by pressing and holding the shutter button and by sliding the button, you can easily zoom in or zoom out

Newly added the playback display in Time-lapse mode to show the actual filming time

Ambient Display

Newly added Insight clock style, a joint creation with Parsons School of Design. It will change according to the phone usage data ( To set: Settings > Customization > Clock Style)

Newly added Canvas feature that can automatically draw a wireframe picture based on a lock screen photo on your phone(Path:Settings-Customization-Wallpaper-Canvas-Choose photo preview and it can be generated automatically)

The Always-On-Display feature is under internal test and will be released in subsequent versions. In this build, you can use the "Ambient Display" by picking up your phone or tapping the screen, it can be turned on in the Settings.

Dark Mode

Added the shortcut key for Dark Mode, pull down the quick setting to enable.

Supporting automatically turn on feature & customize time range. path: Settings – Display – Dark Mode – Turn on automatically – Automatically enable from sunset to sunrise / Custom time range

Shelf

Newly shelf interface design, the interface is clearer

Added weather widget, animation effect smarter

Gallery

Supporting Story function, automatically form weekly videos with photos and video in storage

Optimize the loading speed of the gallery, and the image preview is faster
Bugs
Being the first open beta update, it has its fair share of issues as well. So before you proceed ahead to download OxygenOS 11 Open Beta 1 update based on Android 11 for OnePlus 7, 7T, 7 Pro, and 7T Pro, here are the underlying issues:
Potential risks of increased power consumption and instability.
In some conditions, the Gallery app might be slower to load and some pictures may not be displayed in the Gallery.
The devices (earphones, speakers, etc.) connected through Bluetooth may not be able to play sound occasionally.
Brightness adjustment may lag in some conditions.
The updates are being rolled out in batches so make sure to check the device's notification for the OTA. In the meantime, we have managed to grab hold of the download link for OxygenOS 11 Open Beta 2 updates for the OnePlus 7T Pro India and Europe/Global variant. The rest of the links will be updated shortly as well.
So this was all from this post on the OxygenOS 11 Open Beta updates based on Android 11 for OnePlus 7, 7T, 7 Pro, and 7T Pro devices. Do keep in mind that we will regularly update this article as soon as there is a newer release of the Open Beta updates. So bookmark this page and keep yourself up to date. Along the same lines, we have extensive coverage on the OnePlus Android 11 OxygenOS 11 update tracker, so keep a check on this as well.