When there was no Smart TV, people used streaming devices like Amazon fire Stick, and other streaming devices to gain access to the OTT content. But soon after seeing the problem, TV companies started building the Smart TV. TV that can stream online content on their own. But Smart TVs were very expensive when they were launched so people were forced to go with the firestick.
But now every random TV you will go for is Smart TV; how the company has changed the TV game. This article is about the two TV manufacturers who have changed the game of smart TV. TCL and Onn are the two brands that deliver the 4k Smart TV at your budget but which brand will suit you the best, let's find out in this article.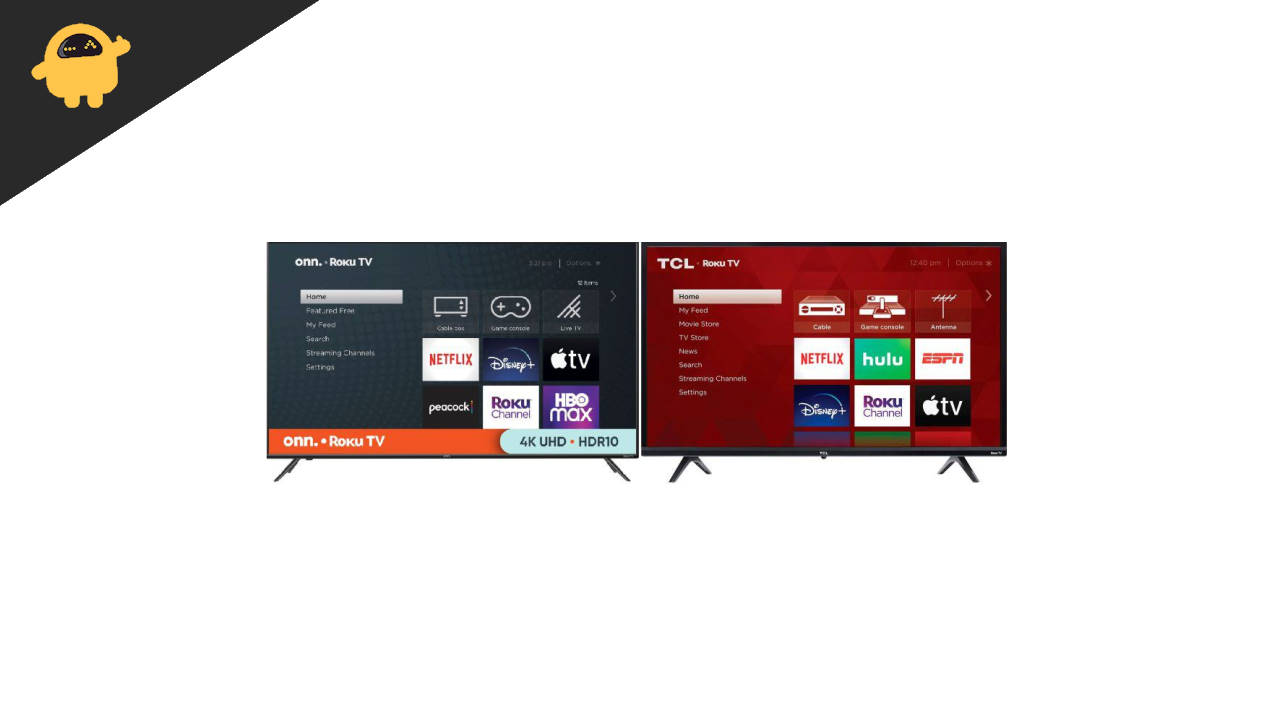 Onn vs TCL Smart TV: Which One You Should Buy in 2023
As both the manufacturers have very advantages. So it is very hard to choose any one of them. But after going through this article you will be able to decide what is best for you.
Both smart TV brands are very similar in operating technology, image processing, and support. But Onn Smart TV is cheaper than the TCL smart TV. Here are the few deciding factors for the comparison of the two TVs.
TV Panel Technology
Onn TV uses the DLED panel Technology which means a matrix screen with a LED backlight. In more technical terms, the backlight has been put behind the screen instead of the edges. That means the backlight of the TV that features LEDs will display the image itself. This doesn't mean that the DLED technology is bad; there is one advantage of the DLED technology is that you will not see any grid lines between the modules.
However the colour accuracy is not perfect, but black is the more black male it looks contrasty.
While the TCL TV uses QLED technology. It has quantum dots that fit between the LED lights and the LCD layer, producing better colour and brightness. Furthermore, QLED technology has better viewing angles with very bright highlights. Overall TCL TV outperforms Onn TV.
TV Image Processing
When you talk about the TV, you can not let image processing behind you. The Onn TV uses the Amlogic processor to deliver very fast image processing and can even scale up the standard video to 1080P full HD
TCL TV uses the AiPQ Gen 2 processor. This processor is so powerful that it can take non-4k content to the 4k level with more contrast and bright picture quality. TCL also wins this image processing round.
Motion Smoothness
When streaming content with high graphics you need a display with a great refresh rate to get buttery smooth pictures. The Onn TV gives you a 60Hz standard refresh rate display, while the TCL TV gives you a smooth 120Hz motion index display. This means TCL TV also uses the 60 Hz panel.
Note: TCL TV uses the Motion index rate instead of the refresh rate for their display. The motion index rate is twice the refresh rate.
Price
When buying a TV the most deciding factor will be the price. The prices of these TVs are very different from each other.
The Onn TV is cheaper than the TCL TVs the 75 class 4k 2160P Onn TV you can get at around ₹ 55,000, which makes it more affordable if your budget is limited.
TCL TVs are also affordable, but they use better technology so that they are produced a little higher. You can get the 75 class 4k 2160P TCL TV at as low as ₹ 79,000 rupees. This can deal damage to your pocket a little.
Quick Guide
Before you select your TV you can go through this quick guide which explains better what is best for you.
TCL TV
Better Panel Technology
Better Color Accuracy
Same Refresh rate
Android operating system
Better voice control
Onn TV
Cheaper than the TCL TV
60 Hz refresh rate
Roku operating system
Conclusion
Buying a new TV is always a worry these days with so many companies offering the same features at different rates, it is very tough to select what is best for you. With this quick guide, you can select the best among both TCL and Onn TV. As TCL is the best value for money, but Onn TV is cheaper but only available at Walmart stores.