New updates are added on March 7, 2020: A new update for checkra1n is now live for the users. For naive, checkra1n is one of the most popular and widely used jailbreaking tools that gets continuously updated. In fact, with this new update, there are a bunch of new features and fixes for the devices. It has a build number of 0.9.8.1 and is a beta preview that contains some bugs and is warned not to be installed on primary devices.
[What's new]

Other changes
– Support Project Sandcastle

Known issues
– The Apple TV 4K will produce a -20 error, even on a successful jailbreak Other known issues are available on our issue tracker.

Known issues
– The exploit may not work as reliably on some devices, such as the Raspberry Pi Zero and Raspberry Pi 3.
– When trying to jailbreak multiple devices, only the first attempt will succeed. Workaround: relaunch checkra1n after every jailbreak attempt.

(Source)
Note that this beta is only available for macOS and Linux and the developers are working to soon extend its support for Windows OS as well.
---
Now it is no denying fact, that Apple provides one of the most seamless and best smartphone experiences with its iOS ecosystem. There are several features that users on Apple devices can use that are not yet available on Android OS. But, Apple exercises all the control on the hardware as well as the software that is used on iPhones. Meaning that there tons of stuff, that you cannot do on an iPhone that is freely and easily done on an Android platform. For instance, you can freely download music or video, install third-party applications, modded apps, and modules, etc on an Android device, while the iPhone users do not have this luxury.
Thanks to jailbreaking tools like checkra1n, users can simply jailbreak their iPhone and do all the aforementioned stuff on their iPhone as well. Interestingly, checkra1n is one of the most popular jailbreaking tools you can find for iPhone and is also the world's first to support iOS 13 and above devices. This also lets you own the software along with the piece of hardware for which you are paying an exorbitant amount of money. And as per a recent development, you can now even run Android on your iPhone using checkra1n, thanks to Project Sandcastle.
Project Sandcastle has the same core team that was responsible for rooting Android on the original iPhone, long back (10 years ago). Project Sandcastle states in their product philosophy that:
Where sandboxes set limits and boundaries, sandcastles provide an opportunity to create something new from the limitless bounds of your imagination. Project Sandcastle is about building something new on the silicon of your hardware.

The iPhone restricts users to operate inside a sandbox. But when you buy an iPhone, you own the iPhone hardware. Android for the iPhone gives you the freedom to run a different operating system on that hardware.

Android for the iPhone has many exciting practical applications, from forensics research to dual-booting ephemeral devices to combatting e-waste. Our goal has always been to push mobile research forward, and we're excited to see what the developer community builds from this foundation.
And now, thanks to them, you can install Android on your iPhone 7, 7 Plus and iPod Touch, with the help of checkra1n that is also the same that lets you jailbreak your iPhone using an Android phone. More Apple devices will be added in the future but for now, it is limited to these 3 devices.
Here is an iPhone 7 booting Android ! pic.twitter.com/cfCdSEzTbo

— matteyeux 🥷🏻 (@matteyeux) March 4, 2020
You can install Android on your iPhone just to see the fun of it. However, note that you will not be able to use Bluetooth, Audio, Cellular connectivity, and Camera on your iPhone. Moreover, there are no provision of installing an Android build with Google Mobile Services meaning that you will not be able to use any of the Google Apps like Maps. Play Store and more. Interestingly, you will not be able to keep the Android OS running on your iPhone permanently, as you will lose the data and the OS once you reboot your phone. Here is the list of things that is supported.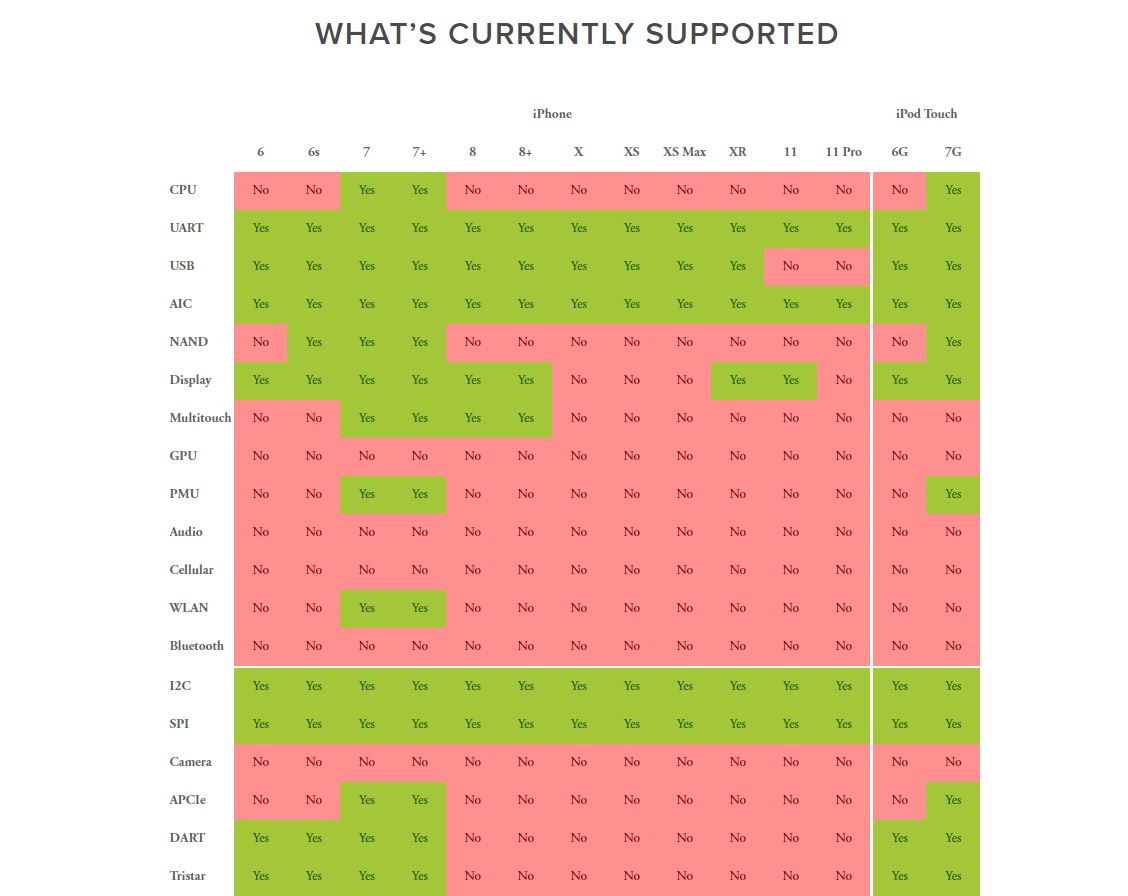 If you are interested in downloading this beta of Android on your iPhone then, you can head over here to get the package file.