In this tutorial, we will show you how to customize the iOS Control Center using the Prysm Jailbreak tweak. By default, Apple places restrictions on your iOS devices, thereby preventing you from downloading apps not authorized by the company. One of the major reasons for the same is from the security point of view. However, some tech geeks go a step further and bypass these OS restrictions.
These give them the liberty to try out many different types of hacks and tweaks that aren't possible in the stock OS. The process is known as Jailbreak and is similar to rooting (part of the Android ecosystem). There are many benefits of a jailbroken Apple device, and we will be making use of one benefit. Today we will show you how you could customize the iOS Control Center using Prysm Jailbreak tweak. So without further ado, let's begin.
How to Customize the iOS Control Center using Prysm Jailbreak
Before moving ahead do keep in mind that your Apple device meets two requirements: it should be jailbroken and running OS 11, iOS 12, or iOS 13. If the device meets both these prerequisites, then you could quite easily change the look and feel of the Control Center. There are tons of different types of modules and tweaks that could be carried out. let's have a look at all the features that it beholds.
Features of Prysm
Let's check out some of the noteworthy features of Prysm Jailbreak Tweak:
Modules
Prysm comes with many different types of modules. All these could be reordered and removed right from the Settings page itself. Here's the complete list of the modules
Connectivity toggles.
Brightness and Audio sliders.
Quick access toggles.
Media widget.
Weather conditions.
Power controls (reboot, shutdown, respring, safe mode and lock).
Bluetooth Devices
Appearance Mode
There are two different types of appearance modes in Prysm: light and dark. It has also integrated with the iOS 13 dark modes and Noctis12, NoctisXI for a seamless dark mode transition.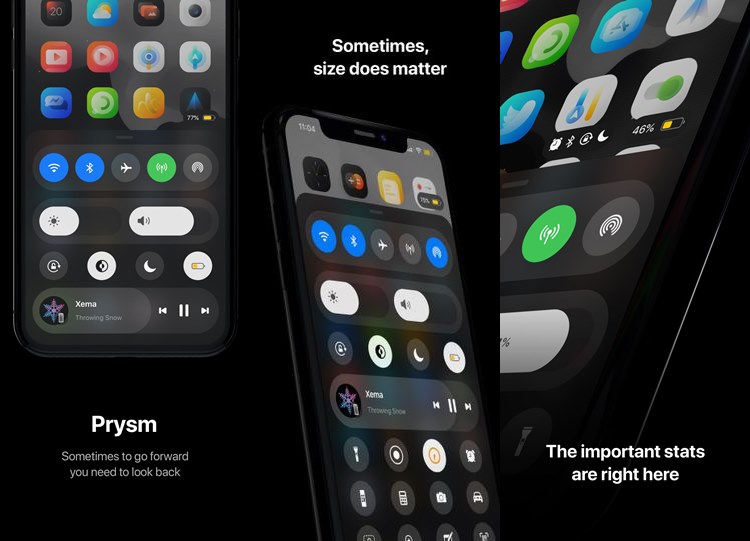 Haptic Touch
These Prysm modules also come with haptic touch, just long-press on any contents to reveal more content.
Gestures
It also made using the Control Center pretty easy. All you have to do is just perform a swipe up gesture from the corner of your screen. You could also make use of the stock gestures to access Prysm.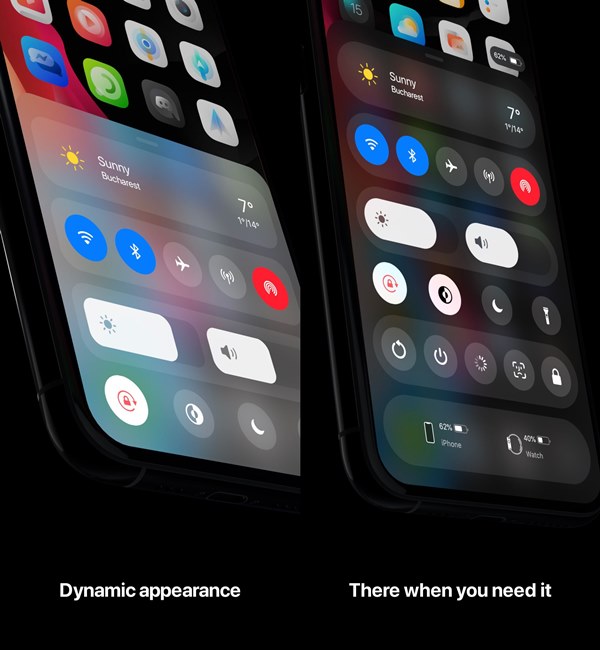 Status Widgets
You could access all your important notifications right from the status widget. There's also an indicator cluster (iOS 13+) and battery widget placed above the Prysm card.
Tweak Support
Most of the control center tweaks are supported right out of the box by Prysm. Any additional toggle module could be displayed within the quick access module. Or you could also hide it in the toggle cluster, which should be present under the control center.
So these were the features of the Prysm jailbreak tweak to customize the control center. Let's now check out the steps to try it out.
Steps to Follow
Prysm works on both the unc0ver and checkra1n jailbreak tools, running on your iOS 13 device. With the said, here is how you could add Prysm Repository to your list of Cydia Sources.
First of all, open the Cydia app on your iOS device.
Now tap on Sources followed by Edit.
Next, Add the official repo Prysm Repo.
Go to the Search tab and type in Prysm.
Finally, hit the Install button.
Conclusion
With that, we come to the end of the guide on how to customize the iOS control center using Prysm Jailbreak tweak. Do let us know what you think of this tweak, in the comments section below. On that note, here are some iPhone Tips and Tricks, PC tips and tricks, and Android Tips and Tricks that you should check out.