The PS4 is soon going to be a relic of the past as Sony is set to release its next-gen console — the PS5. It's expected to bring a massive upgrade in terms of performance over the PS4. And players will also have access to new games and a better gaming experience overall. Nonetheless, while the PS5 is a console to look forward to, PS4 users now have new bug to deal with.
Several PS4 users report that they cannot watch restricted content on YouTube. These PS4 users took to Google's help and support page to seek help. The YouTube bug on PS4 seems to be preventing users from watching age-restricted videos even after disabling the Restricted Mode. Below is a screenshot of the first known user complaint for the issue on Google's support page for YouTube.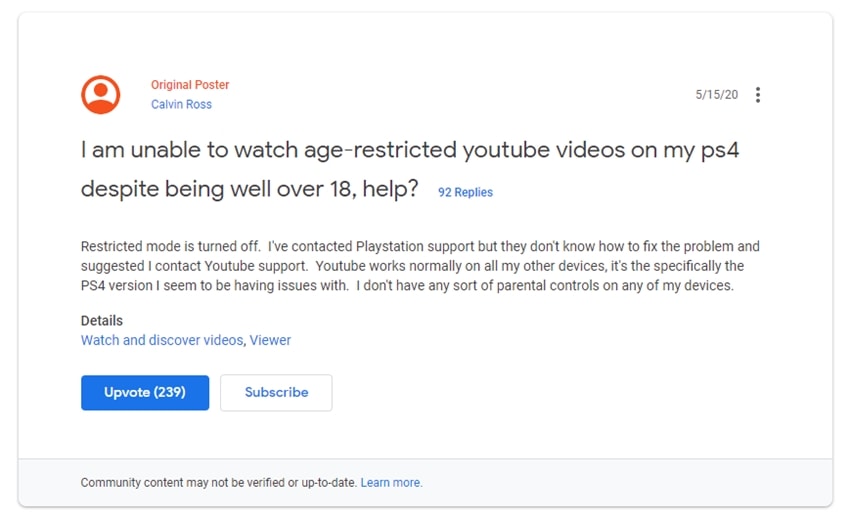 After reading the complaint, many PS4 users stated that they to are facing the same problem. According to some users, the app displays "user discretion is advised". However, even after proceeding, the video does not play as it remains age-restricted. This message remains even after turning off the Restricted Mode feature which is present in the YouTube application. Users are also claiming that this issue is only appearing on the PS4. The age-restricted videos are working as usual when the user tries to view it on their phone.
At present, this YouTube bug on PS4 has not been addressed by YouTube. Therefore, it might take a while for a fix to arrive. This is most likely an issue on YouTube's end. Hence, it should be fixed pretty soon once they figure out the source of the issue. Until then, users are advised to double-check if the Restricted Mode is enabled or disabled. There is no workaround for the issue yet which leaves users with only one option, which is to wait for a fix.
Source: Google Support Page