QuickBooks Online is widely recognized as the best accounting software for small businesses. With more than 4.8 million customers around the world, the software is full-featured and easy to use. So, if you are looking for Cloud-based accounting software for your small or medium-sized business, then QuickBooks Online could be the best option for you.
Talking about QuickBooks, then it is one of the most popular accounting solutions. They help to compile pertinent metrics so business owners can have an accurate perspective of their businesses. But, though they're popular, they're not the best solution for everyone, and they may or may not be the best solution for you.
This is because there are many flaws that this software has. Many users have already reported various errors while using QuickBooks Online. Well, in this guide, we tried our best to mention each issue that users are facing right now, along with their fixes. Therefore, if you are planning to use it or are already a regular customer, then we suggest you read this guide once.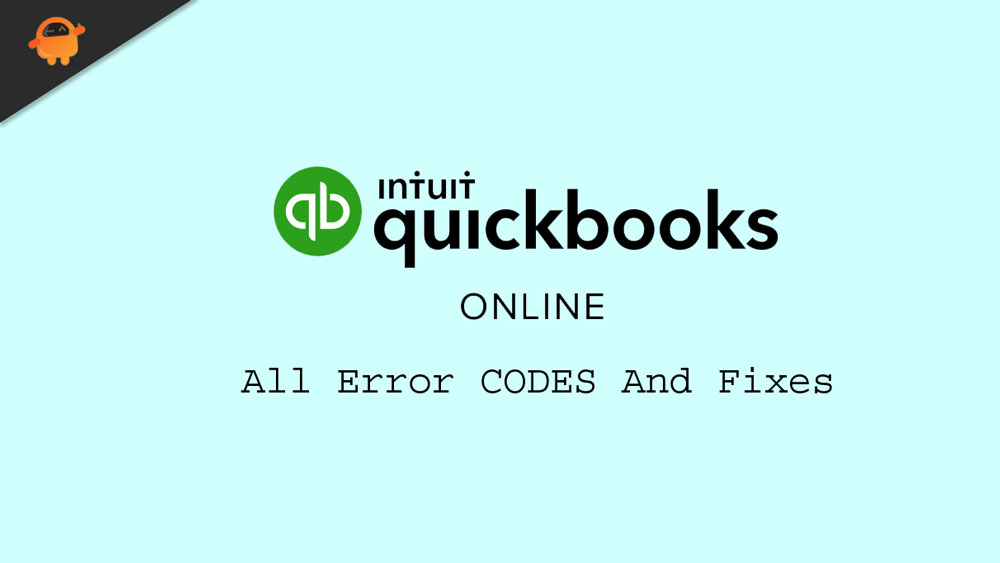 All Quickbooks Online Error Codes And Workarounds (Fixes)
There are different types of errors that users may get while using Quickbooks Online. But, we have some workaround for each issue. Therefore, make sure to perform them accordingly.
#1. QuickBooks Error 102
There are two fixes available for the banking error 102. However, here's those two fixes are:
Check If the banking servers are working fine or not.

Update your banking connection by following the path:

Sign in

to QuickBooks Online

>

Banking

or

Transactions

menu

> Update.
#2. QuickBooks Error 324
Well, this error means that Quickbooks can't find the account you set up. So, to fix this, you need to update and check your connection in QuickBooks. Here are some steps that will help you do so:
First of all, Sign in using your credentials and go to the

Banking

or

Transactions

menu.

After that, select the

Update

button, look for the

Check Connections

link, and click on it. Then, follow the on-screen instruction to fix the issue.
#3. QuickBooks Error 9999
Basically, the 9999 error code is a script error that blocks the internet connection of your bank as well as QuickBooks Online. So, what do you need to do in order to fix this? Well, let's take a look at them:
The first thing that you need to try is to clear the cache data.

After that, try disconnecting and reconnecting the feed several times.

At last, you can try login into your bank's account site directly in a different window.
#4. QuickBooks Error 12007
This error code is basically when there is a network error due to which the QuickBooks is unable to connect to the server. So, if you are also getting this, you can simply verify whether your internet is working properly or not. Once your internet issue gets resolved, the issue will automatically get fixed.
#5. QuickBooks Error 6000 and 832
This is error code occurs whenever the hosting is turned on or the .ND file is not working properly. So, to fix this issue, here are the steps that you have to follow:
Firstly, go to the folder that contains your file.

Then, locate those files that have the same file name as your files but with extensions

.ND

and

.TLG

.

After that, right-click each file and rename it by adding the word OLD at the end of each file.

Finally, launch the QuickBooks and try to sign in to your company file again.
#6. QuickBooks Error 12057
This is nothing but a connectivity error. Generally, caused due to a poor connection, or you have the wrong date and time set on your PC. So, to fix this problem, you have to make sure that your internet connection is working fine so that it is successfully able to connect to the Intuit Servers. Also, make sure that your device data and time are correct.
#7. QuickBooks Unexpected Error 5
If you are getting this error which means that your PC or not shut down properly the last time when you used it due to which network data file or company data file gets damaged. So, to fix this, you can simply try out these fixes:
Try recreating the user's file.

Turn-Off User Account Control through Windows.

You can also try to provide file sharing access.

Still no luck? Reinstall the QuickBooks Online.
#8. QuickBooks Error 179
Error 179 may occur when users are trying to connect to their bank accounts via QuickBooks and are unable to access their account data. Generally, this happens due to authorization issues that restrict it from downloading account data. So, how can you fix this? Don't worry! We have some tips for doing so:
First of all, log out from the bank's website and delete the browsing history and cache data from your browser. Then, re-login using your credentials.

In case, if you are still facing the issue, then simply update your Financial institution data.
#9. QuickBooks Error 429
The error code 429 occurs when there are some issues with the Quickbooks software. Therefore, to fix this, you have to make sure to follow the given steps:
Firstly, try repairing the files registry:
Launch the Run box and search for Regedit.

Then, locate and click on the QuickBooks error 429 from the Registry files.

After that, tap on the file menu and hit the save button. Then, choose the location where you wish to save it.

Now, checkmark the

Selected branch

box and hit the save button. That's it. Now, the file is saved as

.Reg Extensions

.
Try installing the internet updates.

Also, you have to make sure to perform the disk cleaning.
From Author's Desk
So, these were all the errors that users are currently facing while using QuickBooks Online. We hope that this guide has helped you. Meanwhile, we suggest you bookmark this page as in the future, if there is any new error code that appears, we will keep updating this guide accordingly. Also, in case you have any queries, comment below.