Realme becomes one of the budget segment smartphone brands in India after Xiaomi in the true sense. Oppo's sub-brand is really working hard to fulfill the demands of consumers by releasing multiple price segment devices with almost every useful feature. This year Realme has already launched so many smartphones and when it comes to the C series devices, there are three in the market right now as Realme C11, Realme C12, and Realme C15. As all three models do come with Realme UI 1.0 over Android 10 preloaded, most of the users are now asking whether Realme C11, C12, and C15 will receive the Android 11 (Realme UI 2.0) update officially or not. Are you one of them? Check this out.
Realme officials have said recently that once Google releases the stable Android 11 version officially, Realme will soon announce the Realme UI 2.0 update timeline for its eligible devices. At the time of writing this article, Google has just released the Android 11 stable version officially for its Pixel series devices on Sep 08, 2020. While some of the non-Pixel Android smartphone models are still running on the developer preview beta build.
Although Realme hasn't come yet with its update roadmap, the company is currently pushing the Realme UI 2.0 (Android 11) beta update to its Realme X50 Pro handset as promised. So, it's expected that soon the OEM will also announce the update schedule for the rest of the compatible devices so that they can start the beta testing programs and users will also become able to participate in it. However, the interested Realme C11/C12/C15 users who don't want to wait further can manually flash the Android 11 GSI build from here.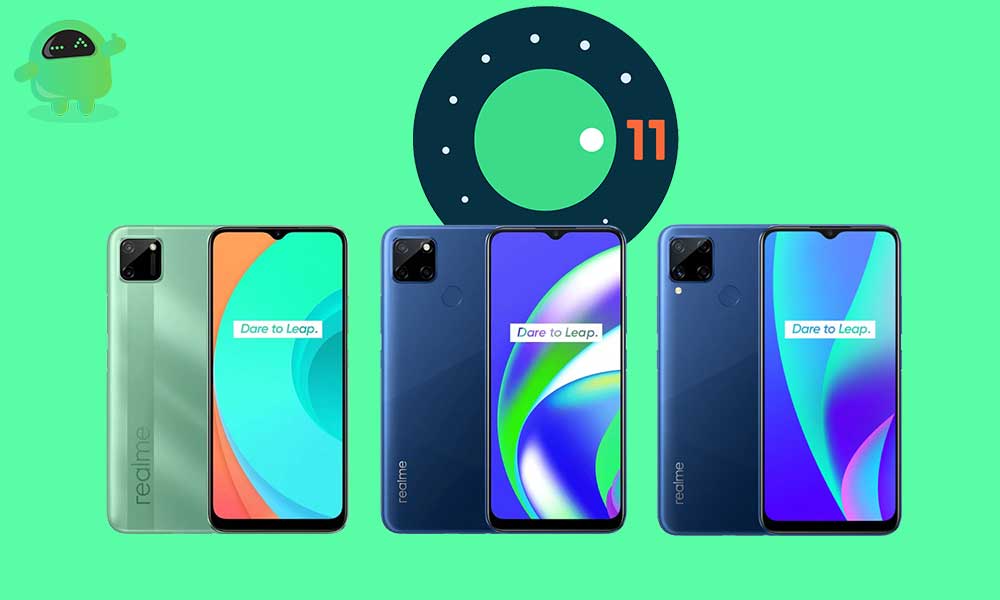 What's on Android 11?
Android 11 is the 11th-iteration of Android OS and the most latest, the stable operating system for Android devices. Currently, the Android 11 (R) official stable version is only available for the 2nd-gen Pixel devices or higher to easily download and update it. Meanwhile, the beta build is officially available for a couple of non-Pixel Android devices like OnePlus, Xiaomi, Oppo, Realme, etc brands.
To recall, the Android 11 stable version got live on September 8, 2020, by Google just like every year. It not only improves the overall system stability but also offers other system improvements as well including plenty of visual changes in the UI elements. Let's take a quick look below at some of the popular and useful features of Android 11.
Must Read: Realme C11, C12, and C15 Software Update Tracker
Android 11 Features
Prioritize your conversations in the notifications panel.
Chat Bubbles can be used just like Facebook Messenger for any text messaging or chat messaging applications easily.
Improved Voice Controls and access based on the texts or context.
One-time App Permissions allows users to give access individually for each feature.
Android 11 can easily auto-reset the granted app permissions on the device if not being used for a long time by the user (revoking access).
Users can choose the Silent or Alerting system apart from the Conversation Notifications.
Due to the Project Mainline support, Google now can easily and seamlessly push all the major security patch updates to the Android 11 running devices via the Google Play Store.
The all-new redesigned Power Menu can be accessed by long-pressing the Power button on the Android 11 OS running device to not only get Restart, Power Off, Emergency options, but also the Google Pay feature, Smart Home devices option, etc.
You can now also check back all the incoming notification history on your device within the 24 hours timeframe.
The redesigned Media Player interface and control are more improved and slightly replaced by its situation on the notification panel along with the changing functionality of the connected device as well as volume.
A much-awaited in-built screen recorder option can be found on the shortcut toggle area of the notification panel.
Scheduled Dark Mode is another useful feature for most of the dark theme users with the option to set a time to turn on/off the dark theme automatically.
Now, users can pin their favorite apps manually in the share sheet option which wasn't available on the previous generation of Android OS.
With the improved wireless Android Auto feature, now all the Android 11 running smartphones can use the head unit of the car easily and wirelessly. Previously this feature was only applicable to Pixel device users.
Bluetooth will now work on all the Android 11 running devices even after enabling the Airplane Mode. As we all know that it still isn't possible on Android 10 or previous generation Android OS running devices.
Smart Reply and Smart Folders feature are also very useful to most of the Android 11 users which will intelligently suggest some of the recommended ideas to input.
Read Also: Realme UI 2.0 Update: What's New and All Eligible Device List
Realme UI 2.0 – Overview and Features
Realme UI 2.0 is the latest stock UI for the Realme devices which is based on Android 11. Realme promised that they will release the update roadmap to its eligible devices once Google releases the Android 11 OS stable version. So, as the Android 11 stable version has been released recently, we will expect that the Realme will come soon with the roadmap announcement.
The Realme UI is based on ColorOS 7 and runs on Android 10 while the Realme UI 2.0 is based on Android 11 and currently, available for some of the Realme X50 Pro units with the Android 11 Preview.
Realme C11, C12, and C15 Android 11 (Realme UI 2.0) Update Tracker
Updated on July 24, 2021: Finally, both the Realme C12 and C15 are getting the latest stable Android 11 update on top of the Realme UI 2.0 version. Obviously, the OTA update will roll out in batches and more units will start receiving the same if there is no major bug found. The specific firmware OTA update has arrived with the firmware version RMX2180_11.C.05 for Realme C15 and RMX2189_11.C.05 for Realme C12.
According to the update changelog, the stable update brings new features, improvements, enhanced system and launcher experience, improved security and privacy features, etc. It also includes the support for third-party icons for apps on the home screen, new dark modes, dark mode-based wallpapers that use ambient light, new weather animations, optimized vibration feedback for text inputs as well as gameplay.
In the latest version, users can also be able to remove a folder or combine two or more folders together. Both the Realme C12 and C15 models now have an option to toggle app lock directly from the quick toggle settings. Additionally, a low battery reminder or message is now available that will send the smartphone's location whenever the battery is less than 15%. Realme has also included a powerful SOS feature than before.
By default, Android 11 comes with plenty of advanced privacy and security features. Realme has also provided the improved Permissions Manager, more enhanced Game Assistance mode, personal hotspot sharing using a QR code, optimized photo editing feature on the Photos app. Whereas the HeyTap Cloud backup option for media files, docs, system settings, WeChat data, and more for easy data transfer.
Whereas Realme has also included the Sleep Capsule feature on both the Realme C12 and C15 models with the Android 11-based Realme UI 2.0 stable update. This particular feature help users to schedule and monitor their sleep data as well as it'll also prevent higher usage of the mobile during the night to get you a proper sleep.
---
Updated on February 9, 2021: After rolling the Realme UI 2.0 beta for the Realme C12 and Realme C15 in India last month, the company today rolled the second beta build for the device with software version RMX2189_11_C.02 and RMX2180_11_C.02. The update also brings improvements and bug fixes.
RMX2189_11_C.09 and RMX2180_11_C.09

Security

Integrates the October and November 2021 Android security patches.

System

Improves system stability and performance

RMX2189_11_C.08 and RMX2180_11_C.08

Security

Updated Android security patch: October 2021
Fixed some known issues and improved system stability

OTG

Adds an OTG switch which is turned off by default. To turn on this feature, go to "Settings – Network & internet – OTG"

Realme UI 2.0 beta 2

RMX2189_11_C.02

RMX2180_11_C.02

System

Optimized system performance and improved system stability
Optimized the standby power consumption in some scenarios

Camera

Fixed the deformation problem of portrait mode

Headset

Fixed the issue of abnormal volume adjustment of headphones

Settings

Added swipe up gesture
Fixed probabilistic issue that fixed screen with a sliding gesture on both sides

Realme UI 2.0 beta 1

RMX2180_11_C.01

Personalizations

Personalize the user interface to make it your own.
You can now create your own wallpaper by picking colors from your photos.
Third-party icons for apps on the home screen are now supported.
Three Dark mode styles are available: Enhanced, medium, and gentle; wallpapers and icons can be adjusted to Dark mode; and the display contrast can be adjusted automatically to ambient light.

High Efficiency

You can now drag text, images, or files out of a floating window or from one app to another app in Split screen mode.
Optimized the editing page of Smart Sidebar: Two tabs are displayed and the order of items can be customized.

System

Added "Tone tunes": Consecutive notification tones will be linked to form a single melody.
You can now determine a time period when Do Not Disturb is on.
Optimized the user interfaces of Notes: New visuals are provided on the list and editing pages.
Added weather animations to provide you with a more interesting experience.
Optimized vibration effects for text input and gameplay.
Optimized "Auto brightness".

Launcher

You can now remove a folder or combine it with another one.
Added filters for "Drawer mode": You can now filter apps by letters, install time, or usage frequency to quickly find an app.

Security and Privacy

Added "System cloner": You can create a system clone from your main system and use different fingerprints to enter different systems.
You can now turn "App lock" on or off in Quick Settings.
Added "Low battery message": When your phone battery is lower than 15%, you can quickly send a message to share your location with specified people.
More powerful SOS functions
Emergency info: You can quickly display your personal emergency info to first responders. The information can be shown even when your screen is locked.
Optimized "Permission manager": You can now choose "Allow only once" for sensitive permissions to better protect your privacy.

Games

Added Immersive mode which reduces disturbances while gaming so you can stay focused.
You can change the way to summon Game Assistant.

Communications

You can share your personal hotspot with others via a QR code.

Photos

Added the Cloud Sync for Private Safe feature which allows you to sync the photos in your Private Safe to the cloud.
Optimized the photo editing feature with upgraded algorithms and more markup effects and filters.

HeyTap Cloud

You can back up your photos, documents, system settings and more, and easily migrate to a new phone.
You can select the types of data to be backed up or restored.

Camera

Added shortcuts to instantly share and edit photos or videos.
Added the inertial zoom feature which makes zooming smoother during video shooting.
Added the lens stain detection feature.
Added the level and grid feature to help you compose videos.

Realme Lab

Added Sleep Capsule, help you schedule downtime and secure your sleep time

Accessibility

Added "Sound amplifier": You can amplify faint sounds in the environment and soften loud sounds when wearing earphones.
Updated on January 30, 2021: Today Realme rolled the new software update which is still based on Android 10 for the Realme C11, C12, and C15 in India. The update is labeled with build number RMX2185_11_A.83.
---
Updated on December 16, 2020: Today Realme rolled the November 2020 security patch to both the Realme C11, C12, and C15 in India. The update is still based on Android 10.
Before getting into any conclusion, all the three Realme C11, C12, C15 models are running on the same Android 10 software version, the same MediaTek Helio G35 processor with a couple of RAM variants, obviously. So, it's worth mentioning that Realme follows the same software update policy for its devices which provides two major Android OS updates.
That means all the three Realme C11, C12, C15 models will definitely receive the Android 11 as well as Android 12 update respectively. However, at the time of writing this article, there is no official statement or leaks available yet regarding the Android 11 update.
So, we may have to wait for a couple of days at least. Meanwhile, we will keep updating this article whenever any information arrives. Till then stay tuned for more info.