In this guide, we will show you the real image of the UFS ISP pinout and test point for the Realme C20 RMX3063, RMX3061. By using the ISP PinOUT, you can easily restore the stock ROM, bypass FRP lock, or reset user data on your device via Z3X EasyJTag Box Tool.
What is ISP PinOUT?
ISP or In-system programming also known as in-circuit serial programming (ICSP) for hardware that has a cross-reference of pins or contacts. By shorting the pins together, you can power or signal the logic board (motherboard) of an electronic device such as a mobile, computer. You will find the IS Pinout connection on the logic board of your device. Therefore, you will need to remove the back panel of the handset and follow the below image to locate the pinout.
Realme C20 (RMX3063, RMX3061) UFS ISP Pinout Image: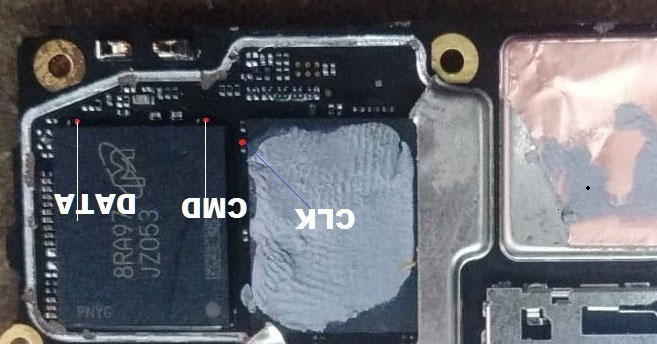 I hope this guide was helpful to find the Realme C20 RMX3063, RMX3061 UFS ISP Pinout Testpoint.
Bypass FRP Lock, Full Erase, Bypass Security, and More:
By following the above method, you can also clear the user locks on your Nokia 2.4 such as fingerprint lock, gesture lock, pattern lock, PIN, codes, and many more.
Open Ultimate Multi-Tool
Select Oppo Reset Method Mode
Choose Model Name
To Remove FRP lock, bypass security lock such as Code, PIN, Gesture Lock, Fingerprint, etc. Check box the Reset FRP option
Connect your device via Test point with EDL mode
Click Execute to start the process.
Wait for some time to start the process.
After erasing the userdata and FRP data, your device will reboot.
That's it, friends, you have successfully reset the FRP and also this process will erase Pin, pattern lock, gesture lock, fingerprint, and many more.