In this tutorial, we will make you aware of the Realme Flash Tool and its associated features. Android devices, thanks to its open-source nature, allows for a plentitude of customizations. The tech enthusiasts then take it a step further. They unlock the device's bootloader, try out tons of mods, custom ROMs, etc. Likewise, they install a custom one like TWRP or even gain access to the system partition by rooting their devices.
However, these tweaks do come in with uninvited risks. If not done correctly, your device might go to the boot loop or soft-bricked state. In general, cases, if that happens, then you could easily flash the stock firmware via TWRP or flash its image files via fastboot commands. All this is possible because the stock firmware is mostly in ZIP format. However, with Realme things are different. They provide their fastboot package in an OFP format.
This file format isn't directly supported by TWRP nor you could simply flash it via Fastboot commands. This usually spells out trouble for the end-users. Well not anymore. Using the Realme Flash Tool you could easily flash the stock firmware (OFP packages) onto the supported Realme devices. Before we list out the instructions to use this tool, let's check out its feature set. Follow along.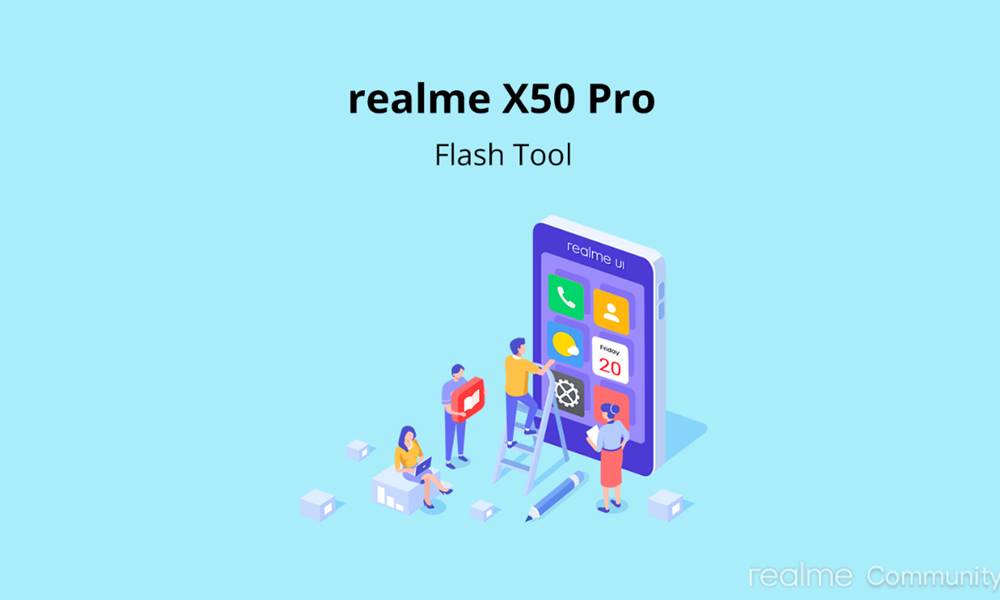 What is Realme Flash Tool?
A tool built for the Windows OS, Realme Flash Tool allows users to flash the stock firmware onto their devices. This in turn brings in a ton of advantages for the device owners. First and foremost, you could install the OFP firmware directly via this tool (which isn't possible via TWRP or fastboot). Furthermore, the OEM usually releases the updates in batches, hence not everyone gets the update in one go.
However, if you are able to manually grab hold of the update package, then you could flash it onto your device using the Realme Flash Tool. Likewise, if you ever brick your device by flashing an incompatible binary, you could easily repair it by flashing the stock firmware through this tool.
Along the same lines, if you ever need to revert to stock from a custom ROM, just install the OFP firmware and you're good to go. Then this tool also supports downgrading to an older Realme UI or ColorOS builds (but not between Android versions). With that said, let's now check out the steps to use the Realme Flash Tool and hence flash the OFP packages onto your devices.
Supported Devices
Here is the list of Realme devices now support the Realme Flash Tool
Realme X50 Pro
Realme X2
Realme X2 Pro
Realme 3
Realme 3i
Realme X
Prerequisites
The entire data will be wiped off. Therefore we request you to create a backup of your data beforehand.
Your device should have an unlocked bootloader. It should also be able to boot to fastboot mode.
Make sure your device is charged to at least 50%, to avoid any sudden power off during the process.
Important Points worth Mentioning
You cannot downgrade the Android version using this Realme Flash Tool. You could only downgrade to a lower Realme UI or Color OS if the packages belong to the same Android version.
Furthermore, this tool doesn't work in EDL or Emergency Download Mode.
Realme claims that the tool is for the Indian region as of now. They "cannot guarantee that it will work properly in other regions"
Download Realme Flash Tool and Firmware packages
Now that you are aware of the prerequisites, grab the download link from below and install it onto your PC


File Name: Realme Flash Tool
File Size: 12.49 MB
Supported: All devices
Download
Flashing Instructions
Download and install the Realme Flash tool on your PC. Also, download the desired firmware file and keep it on your PC.
Next, boot your device to Fastboot Mode. To do so, shut down the device and long-press the power & volume down key simultaneous to enter the fastboot mode interface.

Launch the flash tool and click on the Browse button. Navigate to the folder where the firmware package is placed and select it.
Next, click on the Loading device button situated next to Browse.

Once done, hit the Flash button. In the confirmation dialog box that appears, click on Confirm.

The process will take some time. You could keep a note of the same using the Status and Schedule section. Upon completion, you should see the Process complete dialog box, as shown below.

You could now use the volume key to choose shut down or restart your device to exit the fastboot mode.
So that was all from this guide on the Realme Flash Tool. As mentioned before, it currently supports Realme X, X2, X2 Pro and the Realme X50 Pro (Indian variant).. Well, this is what the official wordings had to say. However, if you are ready to take a shot, you could try out on other Realme devices of other regions as well, and let us know whether you could achieve success or not. Rounding off, don't forget to check out our iPhone Tips and Tricks, PC tips and tricks, and Android Tips and Trick section as well.