In this post, we will provide you with all the AOSP Android 11 Custom ROMs and its supported device list. After being in the Developer Previews and Beta Builds for quite a while, the latest iteration of Android has finally made its way to the stable build. As of now, you could directly install it onto your Pixel devices, either via OTA update or ADB Sideload. Along the same lines, OnePlus has also started its Public Beta testing. Other OEMs like Xiaomi, Realme, and Oppo aren't far behind either.
Along the same lines, the custom ROM development is already up and running for a lot of Android devices. Since the Google-owned OS is open-source in nature, many developers could make full use of these source codes and create custom ROMS. These AOSP or Android Open Source Project ROMs provide an edge in terms of features and customizations than what the stock has to offer. From this guide, you could get hold of all the AOSP Android 11 Custom ROMs and its supported device list. Follow along for the detailed instructions set.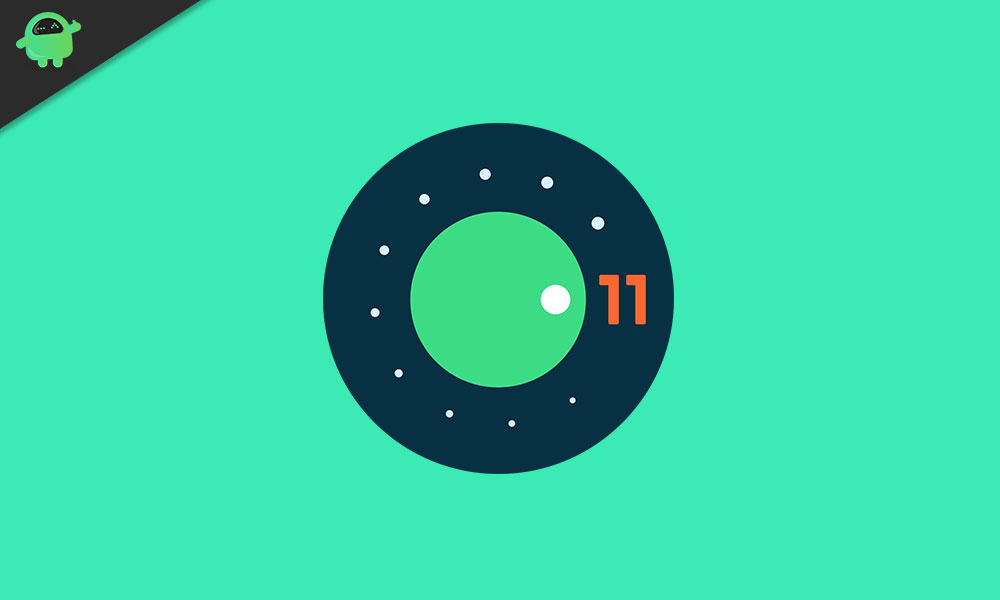 Android 11: What's New:
The latest Android 11 has a lot of new features, optimizations, and improvements to offer to the masses. Google has mostly focused on three aspects: People, Privacy, and Control. Keeping these in mind, here are all the noteworthy features that you are about to welcome in the latest iteration of Android:
Separate conversation section: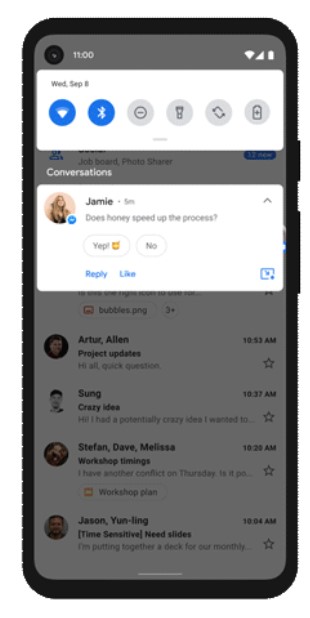 Your notification area might be among the complicated sections of your device. With tons of alerts from various third-party apps, more often than not you might end up missing the all-important notification. Well, not anymore. The Silicon Valley giants have categorized the Notification region into three different sections: Conversations, Alerting, and Silent.
From now on, all your messages will be placed separately under the Conversations section. Along the same lines, you could now also prioritize these notifications based on the sender. The ones with the higher priority will occupy the higher pecking order.
OneTime Permissions: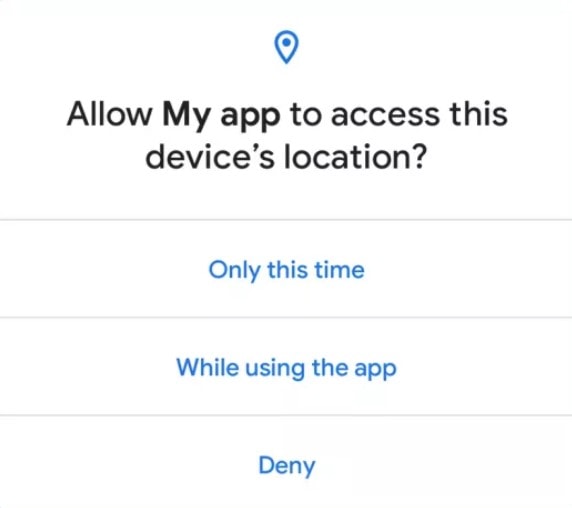 Among the most useful features to make its way over to Android 11, you could now allow apps to get access to the desired permission just for that session only. On selecting the Only this time option, till the time you are using the app, the latter will be able to make use of the permissions. Once the app has been closed, all the permissions will be revoked. You will then have to re-grant them the next time you launch the app.
Notification History:
You may have accidentally swiped away a notification only to realize later that you shouldn't have done so. Google seems to have taken a note of that as well. With the latest Android 11, there is now an option to access all the app's notifications from the past 24 hours. Just head over to go to Settings > Apps & notifications > Notifications > Notification history and you could access your past notifications from quite easily.
Chat Bubbles:
This is another pretty nifty feature added to Android 11. Chat bubbles are small chat heads that appear on top of your screen. Just tap on it to expand the messaging screen and start the conversation with the desired recipient, via your desired app. When you are done with the conversation, simply tap on it again and the messaging screen will go back to its default bubble state. To close these bubbles, just drag it downwards to the bottom of the screen and you are good to go.
Screen Recorder:
There is now a native screen recorder in the latest Android 11. You could also customize this option and decide whether or not it should record your taps, audio, etc. Furthermore, you could also count it to be more secure than the various third-party apps.
Media Controls: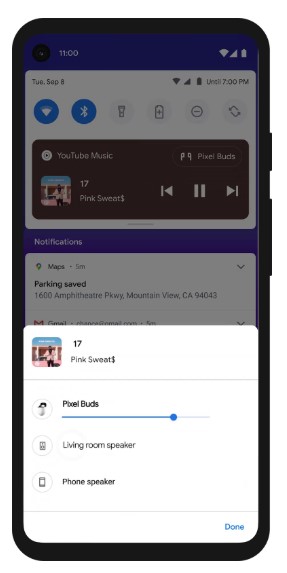 The media player has moved one section above-from the notification shade to the Quick Settings section. Apart from that, it has also added the option to change the audio source right from that section itself. And if you bring the notification panel to the expanded state, you could get a hold of other information like  Album Art, name of the song, and the media player as well.
Smart Device Controls: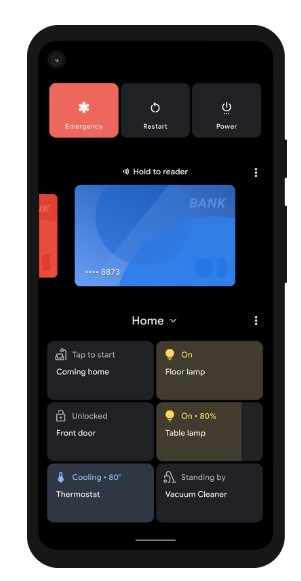 The Power menu has undergone a major revamp in the latest update to the OS. Apart from the Power Off and Restart options that used to before, there has been a slew of other additions as well. Just beneath the Power menu, you could now add Virtual Cards using Google Pay and make a direct payment via NFC. But has been the talk of the town is the ability to control your smart home appliances right from your device only. From unlocking the front door to turning off the light, all these could be done right from the Power menu itself.
Other Features:
Apart from the aforementioned ones, there have been many other small yet useful additions to Android 11. These include the ability to schedule Dark Mode based on the time of the day, pinning your favorite apps to the Share Sheet, the new and revamped Screenshot share menu, and the ability to copy texts right from the Recents Apps overview screen.
These were some of the noteworthy features of the latest Android build. With that said, let's now turn our attention towards the list of devices that are part of the AOSP Android 11 Custom ROMs family. Likewise, we have also shared the download link for the same. Grab hold of the file and then refer to the instruction set given below.
List of Android 11 Supported Devices and Downloads:
Here is the detailed list of AOSP Android 11 Custom ROMs for various OEMs.
Xiaomi Devices:
Samsung Galaxy Devices:
Samsung Galaxy S5 Active

Samsung Galaxy S5 Plus

Samsung Galaxy J: Download Link
Samsung Galaxy S4: Download Link
Samsung Galaxy S7: Download Link
Samsung Galaxy S7 Edge: Download Link
Samsung Galaxy Mega 6.3: Download Link

Samsung Galaxy S4 Mini

Samsung Galaxy Note 3: Download Link

Samsung Galaxy S5

Samsung Galaxy Tab S2 8.0

Samsung Galaxy Tab S2 9.7

Samsung Galaxy S Advance

Samsung Galaxy Ace 2

Samsung Galaxy S2: Download Link

Samsung Galaxy Alpha

Samsung Galaxy J5: Download Link

Samsung Galaxy Tab E 9.6

Samsung Galaxy Grand Prime

Samsung Galaxy Grand Prime VE

Samsung Galaxy Tab A 10.1 2016: Download Link

Samsung Galaxy Tab A 9.7

Samsung Galaxy On7/Pro

Samsung Galaxy Note 9: Download Link

Samsung Galaxy J7 Prime

Samsung Galaxy S9 Plus: Download Link
Samsung Galaxy S9: Download Link

Samsung Galaxy A3 2017

Samsung Galaxy A5 2017

Samsung Galaxy A7 2017

Samsung Galaxy A70: Download Link

Samsung Galaxy S6

Samsung Galaxy Tab S3

Samsung Galaxy Note 4

Samsung Galaxy S6 Edge

Samsung Galaxy S6 Edge Plus

Samsung Galaxy Note 8: Download Link

Samsung Galaxy C5

Samsung Galaxy Tab A 8.0

Samsung Galaxy S3: Download Link
Samsung Galaxy S3 Neo: Download Link

Samsung Galaxy Tab S 8.4

Samsung Galaxy S5 Mini

Samsung Galaxy Tab S5e: Download Link
Samsung Galaxy S10: Download Link
Samsung Galaxy S10E: Download Link
Samsung Galaxy S10 Plus: Download Link

Samsung Galaxy Tab 3 7.0

Samsung Galaxy Tab A 10.1 2019

Samsung Galaxy A5

Samsung Galaxy S8 Plus: Download Link
Samsung Galaxy S8: Download Link

Samsung Galaxy Note Pro 12.2

Samsung Galaxy J5 2016

Samsung Galaxy J3 2016

Samsung Galaxy Tab 4 10.1

Samsung Galaxy A40: Download Link

Samsung Galaxy A3 2016

Samsung Galaxy A5 2016

Samsung Galaxy J7 2017

Samsung Galaxy A30: Download Link
Samsung Galaxy A30s: Download Link

Samsung Galaxy J4 Plus

Samsung Galaxy J6 Plus

Samsung Galaxy J7

Samsung Galaxy J7 2016

Samsung Galaxy J6

Samsung Galaxy J5 2017

Samsung Galaxy A3

Samsung Galaxy A7 2016

Samsung Galaxy Note 5: Download Link
Samsung Galaxy Note 10 Plus: Download Link
Samsung Galaxy Note 10 Plus 5G: Download Link
Samsung Galaxy Tab S6 Lite: Download Link
Samsung Galaxy M30: Download Link
Samsung Galaxy M20: Download Link
Samsung Galaxy Note 10.1: Download Link
General Mobile Devices:
General Mobile GM 5

General Mobile GM 8

General Mobile GM 9 Pro
Smartisan Devices:
Smartisan Nut Pro 2S

Smartisan Nut R1

Smartisan Nut Pro 3
Lenovo Devices:
Lenovo P2: Download Link

Lenovo Vibe K5

Lenovo Vibe K5 Plus

Lenovo ZUK Z2 (Plus): Download Link
Lenovo Yoga Tab 3 Plus: Download Link

Lenovo Tab 4 8 Plus

Lenovo K6/Power: Download Link

Lenovo Z6 Youth

Lenovo Z6 Lite: Download Link

Lenovo K6 Note

Lenovo P70

Lenovo K3 Note

Lenovo Vibe Z2 Pro

Lenovo A6000 Plus

Lenovo A6000

Lenovo K10 Plus

Lenovo K10 Note: Download Link

Lenovo A6 Note

Lenovo Z6 Pro: Download Link

Lenovo Z6

Lenovo K6 Enjoy

Lenovo K9 Note

Lenovo Tab V7

Lenovo A5s

Lenovo Z5 Pro GT

Lenovo S5 Pro GT

Lenovo Z5s: Download Link

Lenovo S5 Pro

Lenovo K5 Pro

Lenovo K5s

Lenovo K9

Lenovo Z5 Pro

Lenovo K5 Note 2018

Lenovo A5

Lenovo Z5

Lenovo Tab 3 8 Plus
HTC Devices:
Asus Devices:
LG

Devices

:
Google

Devices:
Motorola

Devices:
OnePlus

Devices:
Sony

Devices:
Huawei

Devices:
Huawei Mate 9

Huawei Honor View 10

Huawei P20 Pro

Huawei Honor 4

Huawei Honor 4X

Huawei P8 Lite 2017: Download Link

Huawei Honor 5X

Huawei Nova

Huawei P9

Huawei MediaPad M3 Lite

Huawei Mate 10 Pro

Huawei Honor 9 Lite

Huawei P10 Lite

Huawei Honor 8 Lite: Download Link
LeEco

Devices:
Oppo

Devices:
Oppo Find 7

Oppo Find 7a

Oppo R7 Plus

Oppo R7S

Oppo R5

Oppo R5S

Oppo F1

Oppo Reno Z
Realme

Devices:
Nokia

Devices:
ZTE

Devices:
ZTE Axon 7

ZTE Nubia M2

ZTE Nubia Z17 Mini

ZTE Nubia Z11 Mini S

ZTE Nubia Z9 Mini

ZTE Nubia Z17s

ZTE Nubia Z17

ZTE Nubia Red Magic 3S

ZTE Nubia Z20

ZTE Nubia Red Magic 3

ZTE Nubia M3

ZTE Nubia Red Magic Mars

ZTE Nubia Z18

ZTE Nubia Red Magic

ZTE Nubia Z18 Mini

ZTE Nubia Z17

ZTE Nubia Mini 5G: Download Link
Yu

Devices:
Yu Yureka

Yu Yureka Plus

Yu Yureka 2

Yu Yuphoria

Yu Yureka Black
BQ

Devices:
Leagoo

Devices:
Leagoo M13

Leagoo XRover C

Leagoo S11

Leagoo S10

Leagoo Power 5

Leagoo T8

Leagoo M11

Leagoo M9 Pro

Leagoo M12

Leagoo Z10

Leagoo Z9

Leagoo Power 2 Pro

Leagoo T8s

Leagoo Power 2

Leagoo XRover

Leagoo S9
AllCall

Devices:
AllCall S10

AllCall S5500

AllCall Rio X

AllCall S1
Allview

Devices:
Allview P10 Pro

Allview Soul X6 Mini

Allview Soul X6 Xtreme

Allview P10 Max

Allview P10 Mini

Allview P10 Life

Allview A10 Plus

Allview A10 Lite

Allview Soul X5 Style

Allview P10 Style

Allview Soul X5

Allview Soul X5 Pro

Allview A9 Plus
Archos

Devices:
Archos Core 62S

Archos Diamond

Archos Oxygen 68XL

Archos Oxygen 63

Archos Oxygen 57

Archos Access 50 S

Archos Oxygen 101 S

Archos Core 55S Ultra

Archos 101f Neon

Archos Oxygen 101 4G

Archos Access 57
Black Fox

Devices:
Black Fox B7rFox

Black Fox B8Fox

Black Fox B8mFox

Black Fox B8m

Black Fox B4NFC

Black Fox B7Fox Plus

Black Fox B7

Black Fox B6Fox

Black Fox B6

Black Fox B4 Mini NFC

Black Fox B4 Mini

Black Fox B4

Black Fox B5 Fox Plus

Black Fox B5
Blackview

Devices:
Blackview BV6800 Pro

Blackview BV9900 Pro

Blackview A80 Pro

Blackview BV9900: Download Link

Blackview BV9800

Blackview BV9800 Pro

Blackview BV9100

Blackview BV5900

Blackview BV9500 Plus: Download Link

Blackview BV6100

Blackview BV9600

Blackview A60 Pro: Download Link

Blackview BV5500 Pro

Blackview BV9700 Pro

Blackview A60: Download Link

Blackview Max 1

Blackview BV5500

Blackview BV9600 Pro

Blackview BV9600 Plus

Blackview A30

Blackview BV9500 Pro

Blackview BV9500

Blackview A20 Pro

Blackview BV5800

Blackview BV5800 Pro
BLU

Devices:
BLU Vivo XL5

BLU Vivo X5

BLU G8

BLU G6

BLU G5 Plus

BLU G5

BLU G9

BLU C5L

BLU Studio X8 HD 2019

BLU C6L

BLU Vivo One Plus 2019

BLU Vivo XL4: Download Link

BLU Advance A6 2018

BLU Vivo Go

BLU Studio Mega 2018

BLU Grand M2 2018

BLU Vivo XI

BLU Advance L4

BLU Vivo XI Plus

BLU C5 2018

BLU C4

BLU Studio G4

BLU C6

BLU Grand M3
Cubot

Devices:
Cubot Note 10

Cubot X19 S

Cubot King Kong Mini

Cubot P30

Cubot R15 Pro

Cubot X20 Pro

Cubot R19

Cubot J7

Cubot J5

Cubot Quest Lite

Cubot Max 2

Cubot R15

Cubot X19

Cubot Quest

Cubot King Kong 3

Cubot J3 Pro

Cubot J3

Cubot Nova

Cubot Power

Cubot R11
Doogee

Devices:
Doogee X95

Doogee S90C

Doogee S40 Lite

Doogee S68 Pro

Doogee N100

Doogee S95 Pro

Doogee Y9 Plus

Doogee S90 Pro

Doogee X100

Doogee X90L

Doogee N10

Doogee Y8C

Doogee S40

Doogee Y8 Plus

Doogee S90

Doogee Y8

Doogee Y7

Doogee X60

Doogee X80

Doogee X11

Doogee X10S

Doogee S80 Lite

Doogee S80

Doogee BL5500 Lite

Doogee S70 Lite

Doogee S70

Doogee X70

Doogee X50L

Doogee BL9000

Doogee X50
Elephone

Devices:
Elephone E10

Elephone A7H

Elephone U3H

Elephone A6 Max

Elephone A6 Mini

Elephone A3

Elephone A5 Lite

Elephone A5

Elephone PX

Elephone U2 Pro

Elephone U2

Elephone A2 Pro

Elephone A2

Elephone A4 Pro

Elephone A4
Gionee

Devices:
Gionee F9 Plus

Gionee K3

Gionee F9

Gionee F205 Pro
Energizer

Devices:
Energizer Power Max P551S

Energizer Power Max P18K Pop

Energizer Hardcase H501S

Energizer Hardcase H570S

Energizer Hardcase H591S

Energizer Ultimate U650S

Energizer Ultimate U630S Pop

Energizer Ultimate U620S Pop

Energizer Ultimate U620S

Energizer Ultimate U570S
Casper

Devices:
Casper VIA F3

Casper VIA G4

Casper VIA E3

Casper VIA G3

Casper VIA A3 Plus

Casper VIA A3
HiSense

Devices:
HiSense KingKong 6

HiSense F40

HiSense A5

HiSense A6L

HiSense F30S

HiSense Infinity E Max

HiSense Infinity H30

HiSense Infinity H30 Lite

HiSense F27

HiSense Rock V

HiSense F25

HiSense F16

HiSense U30

HiSense King Kong 4 Pro

HiSense King Kong 4

HiSense A6

HiSense H12 Lite
HomTom

Devices:
HomTom S99

HomTom HT16S

HomTom C13

HomTom H5

HomTom S99i

HomTom C8

HomTom S17

HomTom C1

HomTom C2

HomTom H10
Hotwav

Devices:
Hotwav Pearl K2

Hotwav M6

Hotwav Pearl K1

Hotwav Symbol S9L

Hotwav Symbol S8L

Hotwav Symbol Max

Hotwav M5 Plus

Hotwav M5

Hotwav Symbol X
Infinix

Devices:
Infinix Hot 9 Play

Infinix Note 7 Lite

Infinix Note 7

Infinix Hot 9

Infinix S5 Pro

Infinix S5 Lite

Infinix S5

Infinix Smart 4

Infinix Hot 8

Infinix Note 6

Infinix Hot 7 Pro X625B

Infinix Smart 3 Plus

Infinix S4

Infinix Zero 6 Pro

Infinix Zero 6

Infinix Hot 7

Infinix Smart 2 HD

Infinix Hot 6X

Infinix Note 5 Stylus

Infinix S3X

Infinix Smart 2 Pro

Infinix Smart 2

Infinix Note 5
Karbonn

Devices:
Karbonn Vue 1

Karbonn K9 Smart Plus

Karbonn Platinum P9 Pro

Karbonn Platinum P9 2018
Koolnee

Devices:
Koolnee K5

Koolnee Apex

Koolnee Opeth

Koolnee Rainbow
Lava

Devices:
Lava Magnum XL

Lava Z62

Lava Z51

Lava Z40

Lava Z92

Lava Z81

Lava Z60s

Lava Z61

Lava Z50
Micromax

Devices:
Micromax iOne Note

Micromax iOne

Micromax Bolt Prime Q306

Micromax Infinity N12

Micromax Infinity N11

Micromax Bharat 5 Infinity Edition

Micromax Bharat 4 Diwali Edition

Micromax Spark Go
Meizu

Devices:
Meizu 16

Meizu 16T

Meizu 16s Pro

Meizu 16Xs

Meizu 16s

Meizu Note 9

Meizu M8

Meizu Note 8

Meizu X8: Download Link

Meizu V8

Meizu 16X: Download Link

Meizu 16th Plus

Meizu 16th: Download Link

Meizu M6 Note
Mobiistar

Devices:
Mobiistar X1 Notch

Mobiistar C1 Shine

Mobiistar C2

Mobiistar C1

Mobiistar C1 Lite

Mobiistar E1 Selfie

Mobiistar X1 Dual
Panasonic

Devices:
Panasonic Eluga Ray 610

Panasonic Eluga Ray 810

Panasonic Eluga U3

Panasonic P110

Panasonic Toughbook P-01K

Panasonic Eluga Z1 Pro

Panasonic Eluga Z1

Panasonic Eluga Ray 530

Panasonic Eluga Ray 600

Panasonic Eluga X1 Pro

Panasonic Eluga X1

Panasonic Eluga Y
Sigma Mobile

Devices:
Sigma Mobile X-treme PQ29

Sigma Mobile X-style Tab A104

Sigma Mobile X-style Tab A83

Sigma Mobile X-style S5501

Sigma Mobile X-treme PQ37

Sigma Mobile X-treme PQ54

Sigma Mobile X-treme PQ53
Oukitel Devices:
Oukitel Y1000

Oukitel K13 Pro

Oukitel K7 Pro

Oukitel C16

Oukitel C17 Pro

Oukitel C15 Pro Plus

Oukitel C16 Pro

Oukitel Y4800

Oukitel K12

Oukitel K9

Oukitel C15 Pro

Oukitel C13 Pro

Oukitel C12

Oukitel C10 Pro

Oukitel U25 Pro

Oukitel U23

Oukitel C11 Pro: Download Link

Oukitel C11

Oukitel WP1

Oukitel K7 Power

Oukitel C12 Pro
Ulefone Devices:
Ulefone S7 Pro

Ulefone Armor X6

Ulefone Armor 7E

Ulefone Armor X5

Ulefone Armor 6S

Ulefone Armor 7

Ulefone Armor 3WT

Ulefone Armor 3W

Ulefone Armor X3

Ulefone Note 7P

Ulefone Power 6

Ulefone P6000 Plus

Ulefone Armor 6E

Ulefone Note 7

Ulefone S11

Ulefone Power 3L

Ulefone S1 Pro

Ulefone S10 Pro

Ulefone Armor X2

Ulefone Armor 6

Ulefone Armor 3T

Ulefone Power 5S

Ulefone T2

Ulefone S1

Ulefone Armor 5

Ulefone S9 Pro

Ulefone X

Ulefone Power 5

Ulefone T2 Pro
Tecno Devices:
Tecno Pop 3 Plus

Tecno Pop 3

Tecno Camon 12 Air

Tecno Camon 12 Pro

Tecno Camon 12

Tecno Spark 4 Lite

Tecno Spark 4

Tecno Spark 4 Air

Tecno Pop 2 Plus

Tecno Pouvoir 3 Plus

Tecno Pouvoir 3 Air

Tecno Pouvoir 3

Tecno Phantom 9

Tecno Pop 2S Pro

Tecno Pop 2S

Tecno Pop 2F

Tecno Spark 3 Pro

Tecno Spark 3

Tecno Camon 11S

Tecno Camon i 4

Tecno Camon iSky 3

Tecno Camon iAce2x

Tecno Camon iAce2

Tecno Pop 2 Pro

Tecno Pop 2 Power

Tecno Pop 2

Tecno Camon 11 Pro

Tecno Camon 11

Tecno Camon i Click2

Tecno Camon iAir 2 Plus

Tecno Camon i2

Tecno Camon i2x

Tecno Camon i Sky 2

Tecno Camon i Ace

Tecno Camon i Twin

Tecno Pop 1S Pro

Tecno Pop 1S

Tecno Spark 2

Tecno Pouvoir 2 Pro

Tecno Camon i Click

Tecno Pouvoir 2

Tecno Camon i Sky
UMiDIGI Devices:
UMiDIGI A5 Pro

UMiDIGI F1

UMiDIGI A3X

UMiDIGI F2

UMiDIGI A7 Pro

UMiDIGI S5 Pro

UMiDIGI A3S

UMiDIGI Power 3

UMiDIGI X

UMiDIGI Power

UMiDIGI F1 Play

UMiDIGI S3 Pro

UMiDIGI One Max

UMiDIGI A3 Pro

UMiDIGI A3

UMiDIGI One Pro

UMiDIGI One

UMiDIGI Z2 Pro

UMiDIGI A1 Pro

UMiDIGI Z2
Walton Devices:
Walton Primo R6 Max

Walton Primo F9

Walton Primo NF4 Turbo

Walton Primo NH4

Walton Primo S7

Walton Primo H8 Turbo

Walton Primo EF9

Walton Primo E9

Walton Primo NF4

Walton Primo H8

Walton Primo G8i

Walton Primo EM2

Walton Primo D9

Walton Primo GM3 Plus

Walton Primo R5 Plus

Walton Primo X5

Walton Primo EF8 4G

Walton Primo GH7i

Walton Primo F8s

Walton Primo S6 Dual

Walton Primo H7s

Walton Primo RX6

Walton Primo R5

Walton Primo GM3

Walton Primo GF7
Symphony Devices:
Symphony V141

Symphony i18

Symphony Z15

Symphony i72

Symphony R40

Symphony i65

Symphony V128

Symphony V142

Symphony i95

Symphony V97

Symphony V48

Symphony V94

Symphony E90

Symphony V155

Symphony V145

Symphony V98

Symphony G100

Symphony i120

Symphony i15

Symphony V135

Symphony V140

Symphony V44

Symphony V96

Symphony V92
Prestigio Devices:
Prestigio Muze J5

Prestigio Wize U3

Prestigio Muze K3 LTE

Prestigio Wize V3

Prestigio Grace V7 LTE

Prestigio S Max

Prestigio X Pro

Prestigio Wize YA3

Prestigio Wize Y3

Prestigio Muze U3 LTE

Prestigio Muze H5 LTE

Prestigio Muze V3 LTE

Prestigio Muze G5 LTE

Prestigio Muze F5 LTE
Vernee

Devices:
Vernee X2

Vernee M8 Pro

Vernee M3

Vernee T3 Pro

Vernee V2 Pro

Vernee M7
Sharp Devices:
Sharp Aquos S2: Download Link

Sharp Aquos S3

Sharp Aquos V

Sharp Android One S7

Sharp Sense 3 Plus

Sharp Sense 3 Lite

Sharp Sense 3

Sharp Aquos Zero 2

Sharp Aquos R3

Sharp Android One S5

Sharp Aquos R2 Compact

Sharp Aquos Sense 2

Sharp Aquos Zero

Sharp Aquos D10
Vertex Devices:
Vertex Impress Luck

Vertex Impress Stone

Vertex Impress Zeon 4G

Vertex Impress Luck NFC

Vertex Impress Aqua

Vertex Impress Vira

Vertex Impress Sunset NFC

Vertex Impress Astra

Vertex Impress Pluto

Vertex Impress Rosso

Vertex Impress Indigo

Vertex Impress Forest

Vertex Impress Funk

Vertex Impress City

Vertex Impress Reef

Vertex Impress Win

Vertex Impress Cube
Wiko Devices:
Wiko Y50

Wiko Jerry 4

Wiko Sunny 4 Plus

Wiko Y70

Wiko Ride 4G

Wiko View 3

Wiko View 3 Pro

Wiko View 3 Lite

Wiko Y80

Wiko Y60

Wiko Sunny 3 Plus

Wiko Tommy 3 Plus

Wiko View 2 Plus

Wiko View 2 Go

Wiko Harry 2

Wiko Sunny 3 Mini

Wiko Sunny 3

Wiko Lenny 5

Wiko Jerry 3

Wiko View Max

Wiko View Go

Wiko Tommy 3

Wiko View Lite
Other Brand Devices:
Wileyfox Swift: Download Link

Nextbit Robin

Wileyfox Storm

Essential Phone PH-1: Download Link

IUNI U2

Wileyfox Swift 2

Razer Phone: Download Link
Fairphone 2: Download Link
Fairphone 3: Download Link

Wileyfox Swift 2 Plus

Pantech VEGA Iron 2: Download Link

Chuwi Hi9 Air

Alcatel 1 2019

K-Touch i9

Yandex Phone

Amazon Fire HD 8 2018

Alldocube iPlay10 Pro

Alldocube iPlay8 Pro

Bluboo D6: Download Link

Cherry Mobile Flare S7 Plus

Cherry Mobile Flare S7 Deluxe

Cherry Mobile Flare S7

M-Horse M1

Maxvi MS502 Orion

Maxvi MS531 Vega

Meiigoo S9

NUU Mobile A5L Plus

NUU Mobile G2

Vsmart Live

VKworld SD200

VKworld SD100

VKworld K1

Philips S561

Philips S397

Philips S260

Poptel P60

Poptel P8

Poptel P10

Vestel Venus V7

Vestel Venus E4

Vestel Venus Z30

Vestel Venus Go

Teclast M30

Teclast P80X 4G

Teclast P10 4G

Raspberry Pi 4

Raspberry Pi 3

Unihertz Atom L

FxTec Pro 1: Download Link
Teracube One: Download Link
Gigaset GS290: Download Link
Cherry Mobile Flare S8 Lite: Download Link
How to Install AOSP Android 11 Custom ROM on Any Smartphone
Before we list out the steps to install the AOSP Android 11 Custom ROM on to your device, there are a few requirements that your device needs to qualify. Please go through them and only then proceed with the installation steps.
Prerequisites
To begin with, create a backup of all the data on your device.
Next up, you will have to unlock the bootloader on your Android device. For that, you may refer to our guide on How to Unlock Bootloader via Fastboot Method on Android. We also have OEM specific unlocking tutorials that you could check out:
Download and install the Android SDK Platform Tools. This will provide you with all the necessary binary files.
Enable USB Debugging on your device. This will make your device recognizable by your PC in ADB mode. So head over to Settings > About Phone > Tap on Build Number 7 times > Go back to Settings > System > Advanced > Developer Options > Enable USB Debugging.

Likewise, download and install your device's USB drivers: Download Android USB Drivers for Windows and Mac.
Your device should have the TWRP installed. This is needed to install the AOSP Android 11 Custom ROM. So refer to our guide on How to Flash TWRP Recovery on any Android Phone and install the said custom recovery right away.
Furthermore, not every ROM comes preloaded with Google Apps. If your ROM belongs to that list, then you will have to download the GApps package separately and then transfer it to your device.
That's it. These were all the files that you would be needing. You may now proceed with the steps to install the AOSP Android 11 Custom ROM on your device. Follow along for the instructions.
Installation Steps
Transfer the downloaded AOSP Custom ROM to your device. Then connect it to the PC via USB cable.
Head over to the platform-tools folder, type in CMD in the address bar, and hit Enter. This will launch the Command Prompt.

Now, type in the below command to boot your device to the TWRP Recovery:

adb reboot recovery

TWRP Home

When your device boots to TWRP, head over to Wipe. Then tap on Advanced Wipe and select Dalvik Cache, System, Vendor, and Data. Perform a right swipe to wipe the selected partitions.

Once that is done, go back to the TWRP home screen and select Install. Then navigate to the AOSP Android 11 Custom ROM and select it.
Perform a right swipe to flash this file. When that is done, again head over to Install and this time flash the GApps package (optional).
You may now reboot your device to the Android OS. For that, go to Reboot and tap on System.

Conclusion
Upon execution of the above steps, your device will now be booted to the newly installed AOSP Android 11 Custom ROM. Do keep in mind that the first boot might take some time, it is completely normal. Likewise, you will now have to set up your device from scratch as a device wipe has taken place. So sign in with your Google Account and set up your device.
On that note, do let us know your views on this Android 11 AOSP custom ROM. If you have any issues concerning the aforementioned steps, drop in your queries in the comments section below. Rounding off, here are some iPhone Tips and Tricks, PC tips and tricks, and Android Tips and Trick that you should check out as well.