At Google I/O 2021, Google released the first beta build of Android 12 to the public with an all-new Material You UI design, which is highly customizable and brings a completely revamped UI. With this new version, Google has focused on privacy, design, widgets, and more.
Realme brand is one of the active OEMs to do so in the past couple of years. So, if you're a Realme fan, then you can save this page to keep a tab on the information on Realme 3.0, which is based on Android 12.
Realme has done a great job by releasing the Android 11 update via Realme UI 2.0 skin to its eligible devices from the beta version to the stable version. Android 12 is expected to bring so many features and many improvements that are mostly present in the initial public beta. However, we'll have to wait further until Google announces it officially.
Similar to the last year, we're expecting that Realme will be one of the first OEMs to push the Android 12 update with its Realme UI 3.0 skin for its flagship or most eligible devices respectively. The brand will gradually start pushing the same update to the rest of the Android 11 running eligible models.
What is Realme UI 3.0?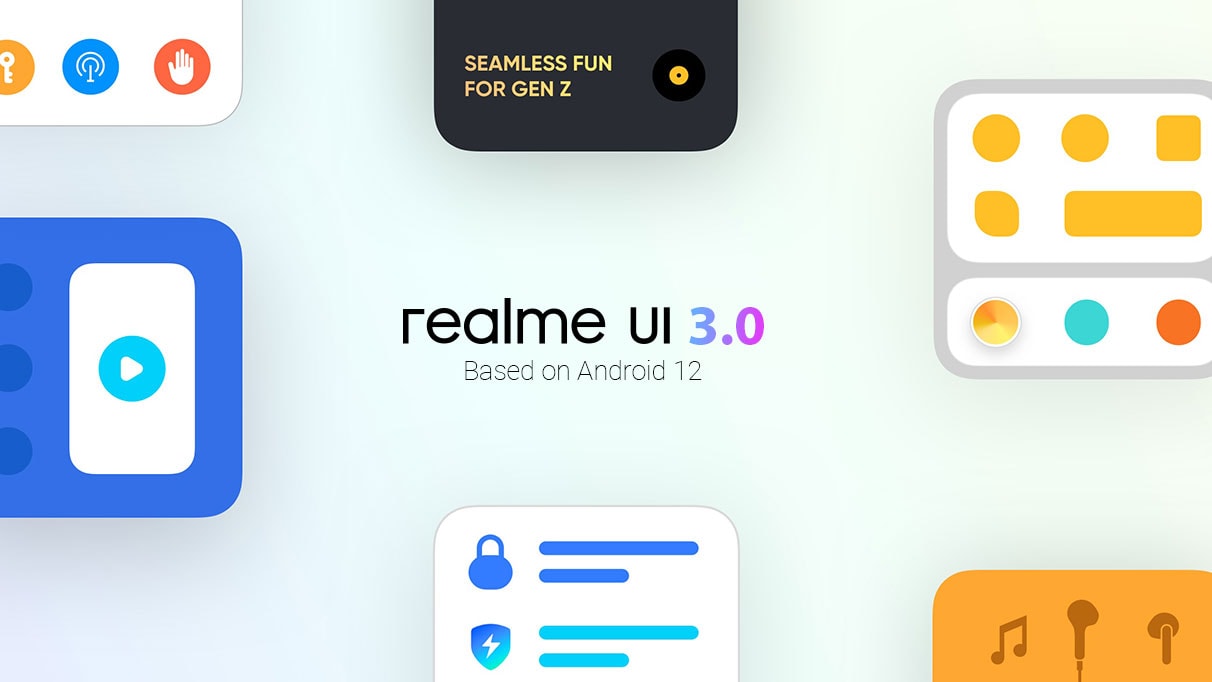 Realme UI 3.0 is the upgraded or next-gen skin that'll be based on Android 12 OS. Except for Google Pixel devices, almost every Android smartphone OEMs provide their own customized skin with enhanced user interface, icons, themes, pre-installed applications, some other useful features, etc.
Realme brand is one of them inspired by ColorOS because it's a segment of the Oppo brand. Currently, Realme is developing and pushing it's own designed or implemented near stock-like skin experience to its devices which is a good move for all. The system's user experience, visual elements, icons, notifications, app loading, game mode, etc becomes smoother than before.
Read Also: Top New Features of Android 12
Realme UI 3.0 Release Date
Most of the Realme handset users are currently using the official Android 11 OS on top of Realme UI 2.0 skin. Once Google releases the Android 12 stable update for all in Q4 2021 (September), other OEMs will start processing it to their eligible models throughout the cycle. Realme is one of them and will soon release the Realme UI 3.0 Early Access Beta Program for some of its eligible device models.

Meanwhile, OEMs can easily develop and push the Android 12 beta builds to some interested specific Realme model users to get an early taste whatsoever. The core features and user experience will be the same as Android 12 and the native Realme UI element. However, the new Android version will definitely increase more & more options for the users.
Once the beta version seems stable to the users across the region with proper privacy and features, Realme will try pushing the official stable skin update as early as possible.
Realme UI 3.0: Supported Device [Expected]
Since Realme doesn't have an official announcement yet, we've provided expected device details as of now.
Please Note
This is not the officially announced supported device list and can be changed prior to any notice (if any). So, we'll recommend you keep checking this article periodically as we'll update the device list and release date and features whenever new info arrives.
Realme X50 Pro/Player Edition
Realme X50 Pro 5G
Realme X50 5G
Realme X50m 5G
Realme X7 5G
Realme X7 Pro 5G
Realme X7 Pro Extreme Edition
Realme X3
Realme X3 SuperZoom
Realme 8
Realme 8 5G
Realme 8 Pro
Realme 7
Realme 7 Pro
Realme 7i
Realme 6
Realme 6 Pro
Realme 6i
Realme 6S
Realme Narzo 10
Realme Narzo 10A
Realme Narzo 20
Realme Narzo 20 Pro
Realme Narzo 20A
Realme Narzo 30A
Realme Narzo 30 Pro 5G
Realme C17
Realme C15/C15 (Qualcomm Edition)
Realme C12
Realme C20
Realme C21
Realme C25
Realme V11 5G
Realme V15 5G
Realme V3
Realme V5 5G
Realme Q2
Realme Q2i
Realme Q2 Pro
Realme GT
Realme GT Neo
Realme UI 3.0 Features
Although it's not officially clear yet which features will gonna introduced in the upcoming Realme UI 3.0 update, multiple reports are coming out that the following features are most likely to arrive with the stable build. Obviously, the native Android 12 features will play a major role in it and Realme UI developers will include most of the useful features as well.
Easier Wi-Fi sharing
Notification improvements
More screenshot markup options
Wallpaper-based theming system
Compatible media transcoding
Rich content insertion
New widget organization
App hibernation
Redesigned settings UI
AVIF image support
Multi-page widgets
One-handed mode
Improved privacy features
Face-based auto-rotate
Smarter app storage management
Manage two apps as a single task
Scrolling screenshot support
Enhanced cookie handling
Recycle Bin feature support
More quick settings toggle
Dynamic Wallpapers and Themes support
Optimized user interface for bigger display devices
Improved visual design elements like themes, icons
Improved Gamepad vibration settings with custom effects
Restricted networking mode
And more…
Conclusion
It's too early for anyone to predict something related to the eligible device list or expected Realme UI 3.0 features right now. However, we're dedicated to providing you all the latest info whenever it surfaced online or in other forums. We'll recommend you to keep following this blog for more updates periodically.
Till then stay tuned for more info. You can comment below for further queries.