The Samsung Galaxy A14 5G boasts impressive hardware, with its Exynos 1330 SoC and 8GB of RAM delivering fast and smooth performance. It runs on the latest Android 13-based One UI 5.0, offering an intuitive and user-friendly interface. The device also features a high-quality camera system, including a 50-megapixel main sensor, a 2-megapixel macro lens, and a 2-megapixel depth sensor. Additionally, a 13-megapixel selfie camera is elegantly housed in a waterdrop-style notch in the top centre of the device's display.
For those curious about whether the Samsung Galaxy A14 5G will receive the official Android 14 (One UI 6.0) update, this article is for you. We'll keep you up to date with all the latest news, information, and downloads related to Android 14 (One UI 6.0) for the Galaxy A14 5G, and provide guidance on how to flash the firmware on your device.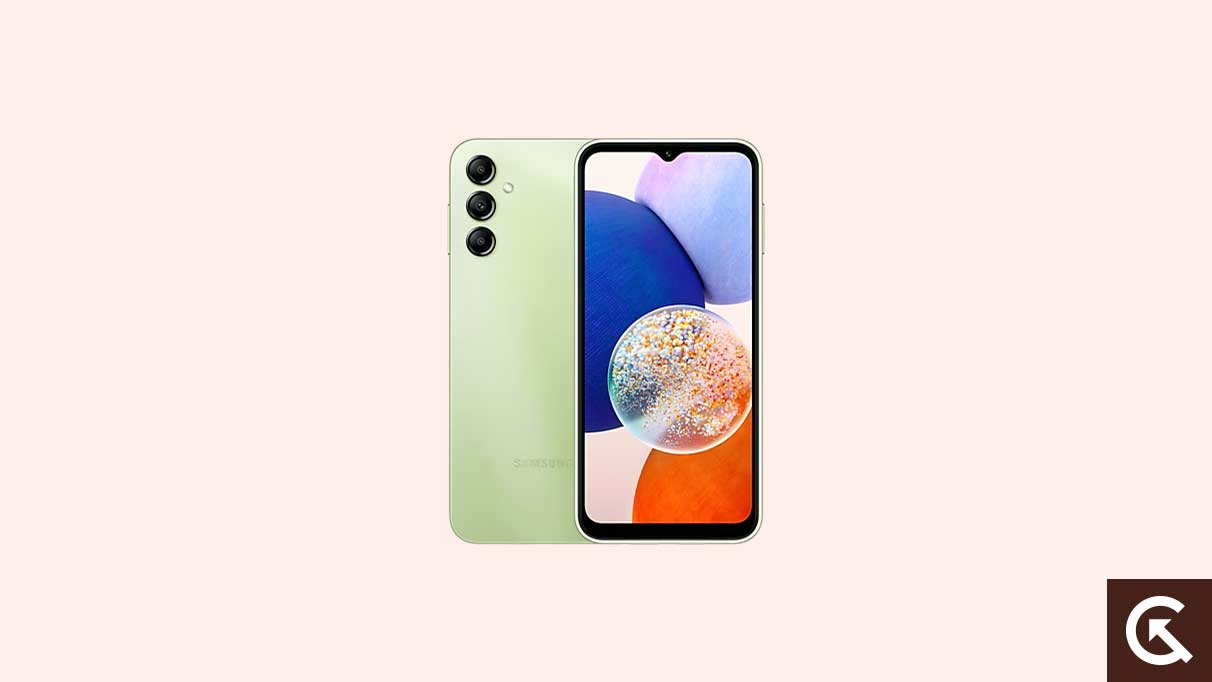 Will Samsung Galaxy A14 5G Get Android 14 Update?
Given that the Samsung Galaxy A14 5G was just released, it's highly unlikely that the Android 14 (One UI 6.0) update will be available anytime soon. Typically, companies prioritize their new lineups, and it may not be until the end of the financial year 2025 before the update is released. However, there are currently no official announcements regarding the date, so it's best to bookmark this page and stay tuned for updates.
According to Samsung's official blog, the company is committed to providing 3 major Android OS updates and 4 years of Android security patches. While it may be too early to determine whether the Galaxy A14 5G meets the minimum requirements for the update, you can refer to the specifications section for more details.
We will continue to update this guide with the latest news and information regarding the Android 14 (One UI 6.0) update for the Samsung Galaxy A14 5G.
Samsung Galaxy A14 5G Device Overview:
The Samsung Galaxy A14 5G comes equipped with a 6.6-inch (1,080×2,408 pixels) full-HD+ PLS LCD display which has a 90Hz refresh rate. The device runs on an octa-core Exynos 1330 SoC and is paired with up to 8GB of RAM.
As far as the camera setup is concerned, the Galaxy A14 5G sports a triple rear camera configuration comprising a 50-megapixel primary camera, a 2-megapixel macro shooter, and a 2-megapixel depth sensor. On the front, it has a 13-megapixel selfie camera.
The phone offers 64GB of built-in storage that can be expanded up to 1TB via a microSD storage slot. It comes with connectivity options like Wi-Fi, Bluetooth 5.2, GPS, NFC, and a USB Type-C port. Additionally, it also features a 3.5mm headphone jack. The device is powered by a 5,000mAh battery.
What's New in Android 14
Google announced the first developer preview of Android 14 on February 8, 2023. The upcoming version is expected to include many quality-of-life improvements, such as improved battery life, accessibility, and gesture-based navigation. While it may not have a significant overhaul like Android 12, Android 14 still has a lot to offer. The release schedule for Android 14 follows the same pattern as previous versions. Two developer previews will be released in February and March, with the first beta release coming in April. The major release is expected in May, which will coincide with Google's annual developer conference, Google I/O.
According to Google, Android 14 is scheduled to reach platform stability with the third beta release in June. This means that developers can start programming their apps using the new features and APIs introduced in Android 14 without worrying about any further changes. A fourth beta release is expected to follow in July, and sometime after that, the stable release will be launched. Based on past trends, it is likely that the stable release will be available in August or September.
Google has released a list of compatible phones for the first developer preview of Android 14. The list includes the following Pixel devices:
Pixel 7 & 7 Pro
Pixel 6a
Pixel 6 & 6 Pro
Pixel 5a 5G
Pixel 5
Pixel 4a (5G)
Android 14 (One UI 6.0) Update Tracker:
Unfortunately, we don't have any specific information regarding the release date of Android 14 for the Samsung Galaxy A14 5G. However, we will be adding an update tracker to this page soon, along with relevant links. So, we suggest you stay connected with GetDroidTips by bookmarking this page for the latest updates.