With the Galaxy Flip series, Samsung reinvented the clamshell flip phone of the early 2000s. In two years, Samsung started a small revolution, introducing a familiar form factor with a modern twist. Suddenly, something impossible seemed possible. The feeling was revolutionary. To achieve this, Samsung had to figure out how to bend a flexible display without breaking, build a complex hinge that would function reliably for years, and protect a phone with lots of moving parts from any weather conditions.
In addition, we must make this form factor accessible to people beyond the wealthy by increasing scale and slashing prices. But, now the Samsung Galaxy Z Flip 4/ Z Fold 4 wireless charging is not working; although the reason behind this is not confirmed, we still have some fixes to this problem. So, if you are facing this problem, make sure to perform the fixes mentioned below: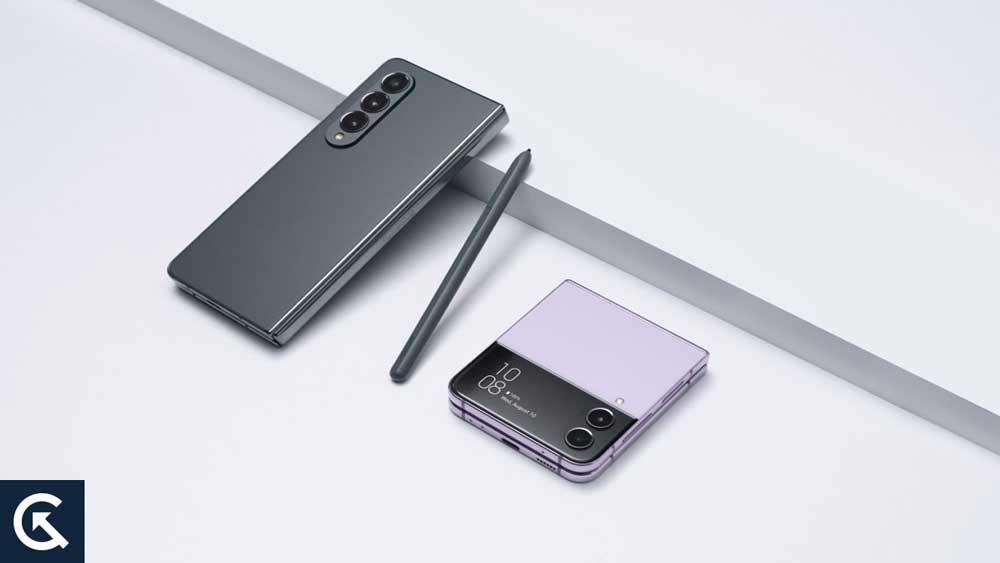 Fix Samsung Galaxy Z Flip 4/ Z Fold 4 Wireless Charging Not Working
It won't be tough to resolve if your Samsung Galaxy X Flip 4/ Z Fold 4 wireless charging is not working because we have mentioned all the fixes in this article. So, let's have a look at those fixes:
Fix 1: Use the Official Charger
Many people prefer to use some fancy-looking wireless charger over the official one. Possibly, those fancy third-party chargers will be faulty or incompatible with your device. To see whether the original charger will work, switch from the third party to the original charger.
The purpose of wireless chargers is to provide a flawless charging experience. They must meet some specific parameters. With all parameters fine-tuned for your Samsung phone, Samsung's official wireless charger is designed for your Samsung phone.
Fix 2: Clear Cache Data
You have a cache partition on your Galaxy Z Fold 4/Flip 4. Your phone boots and performs various functions with the help of the cache files stored here. Cache files can become corrupted, causing the phone to freeze or not work correctly, which may lead to various problems, such as no WiFi or mobile data, no wireless charging, and several others.
It is often possible to fix most problems by clearing this cache. Here are the steps for clearing the cache:
You need to turn off your Phone.

Then, at the same time, press the Power button and the Volume Up button. By doing this, the Phone will be rebooted in recovery mode.

After that, select the wipe cache partition option using the volume rocker buttons.

To clear the cache, press the power button.
After the process has been completed, reboot your Phone normally to let all necessary processes take effect.
Fix 3: Check If Charger Has 11 Watt Output
You should ensure that the wireless charger you use has a power output of at least 11 watts if you use a third-party charger. If you charge it below that, it may not work correctly and may take a long time to charge.
To ensure compatibility, make sure the original charger is compatible with your Galaxy Z Fold 4/Flip 4.
Fix 4: Ensure That the Phone is Positioned Properly
It will not charge if you do not properly position your Phone on the charger. It is necessary to place the Phone in the middle of the charger because the charging coils are located there. Don't rotate the Phone while removing your hand from the charger while placing the Phone on the charger.
Fix 5: Remove the Back Cover
It is essential to have the Samsung Galaxy Z Fold 4/Flip 4 in direct contact with the charger in order for wireless charging to work. It is not allowed to have any covering between the charger and the Phone, whether it is made of plastic, paper, cloth, or even a protective cover. It is, therefore, not possible to charge your Phone when it is wearing a protective case. If the case is still on, remove it and try again.
Fix 6: Cool Down Your Phone
Whenever your Samsung Galaxy Z Fold 4/Flip 4 becomes too hot, a precautionary measure prevents it from charging. Keeping your Phone's battery cool prevents further damage since a hot battery will degrade in a short amount of time.
Whenever your Phone gets too hot, you should not attempt to charge it! Make sure your Phone is in a cool place and its protective cover is removed. You can test the Phone's function by placing it on the charger after it has cooled down.
Fix 7: Check For Software Update
Generally, you can't fix a software bug causing a charging issue. There must be a software update before you can install it. Here are some steps you can follow to check for software updates:
Under Settings,> About Phone> System Updates, click System Updates.
It will display the information if updates are available. You will be asked to download the update if you choose to install it. Charging the Phone (with the wired charger) should be sufficient. The Phone can be bricked if it shuts down during the update.
Fix 8: Perform a Soft Reset
Certain malfunctions can occur due to temporary software glitches. In some cases, wireless charging does not work, which is one of the many problems you can encounter. You don't have to worry about it. When a phone is used for prolonged periods, it can develop these minor glitches. Your Galaxy Z Fold 4 or Flip 4 is not immune to this problem; it can happen to any phone.
Using the Power and Volume Down buttons, press and hold them for about 15 seconds to do a soft reset. You can then release the buttons and reboot the phone once the Samsung logo appears. You'll be able to fix minor problems this way. There should be no charging issues now if the glitches were responsible.
So, that's how to fix Samsung Galaxy Z Flip 4/ Z Fold 4 wireless charging that is not working. We hope that this guide has helped you. But, in case you need more info, comment below and let us know.