In this tutorial, we will show you how to fix the Service registration is missing or corrupt error. Windows Updates are an essential part of your PC. These bring about software updates, service pack updates, improvements to security patches and to its antivirus software (Windows Defender). These updates are automatically downloaded and applied to your OS. However, some users like to have manual control over these updates and hence disable these automatic settings related to the updates. No matter whether users take the automatic and manual route, they are recently facing issues related to the Windows update.
If you are updating your OS and receive the Service registration is missing or corrupt error, it might very well be related to Windows update. There could be a number of reasons why this could happen. It could either be a case of a corrupt system registry file, or some incompatible software that has been installed on your PC. So if you are one of the users facing the Service registration is missing or corrupt error, then here are some of the fixes to try out.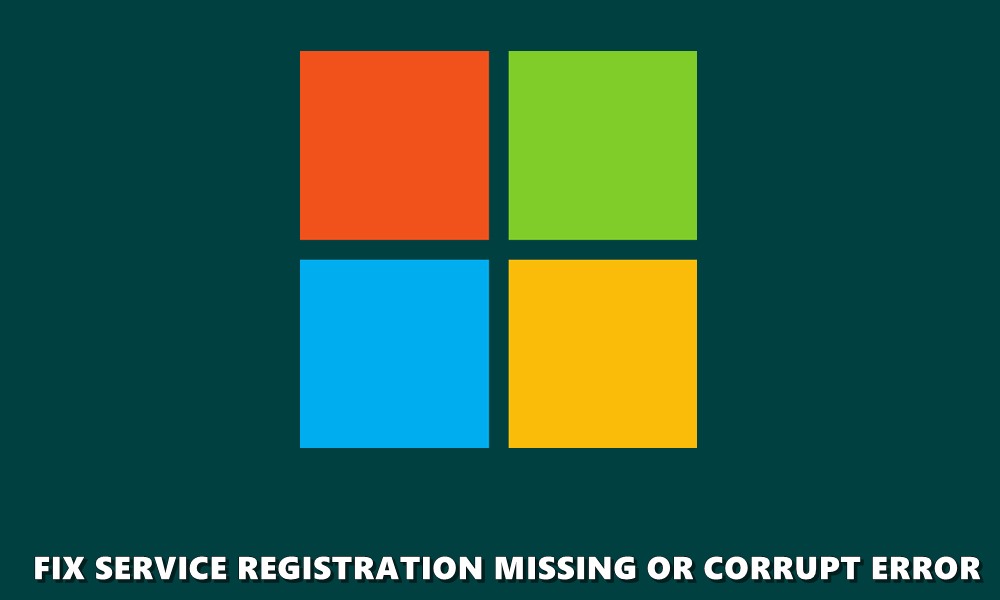 Fix Service Registration is Missing or Corrupt Error
In this guide, we have shared eight different workarounds to rectify the issue. There isn't any single universal fix, you may have to try the below-mentioned fixes and one of them should do the job for you. On that note, here are the various fixes related to the Service registration is missing or corrupt error.
Run SFC Scan
SFC or System File Checker scans your computer for any corrupts or missing files and repairs them if found. These also include the DLL files as well as the Windows Resource Protection files. So here is what needs to be done to run the SFC scan.
Open the Command prompt window as an administrator from the Start menu.
Next up, enter sfc /scannow and hit Enter. The system scan will now start and it might take some time to complete.
Once the scan is done, restart your PC and see if the Service registration is missing or corrupt error is fixed or not. if not, try the below tips.
Check Windows Update Service
Windows services, also know as services.msc, are responsible for the efficient running of various system programs, services, and resources. In this regard, you could try using the Windows Update services to make sure there isn't any issues related to the proper functioning of these programs. To do so, follow these steps:
Head over to the Start menu and open the Run dialog box.
Now type in services.msc to open Windows Services.
In the Services window, search for the Windows Update program, right-click on it and select Properties.

You will be taken to the General tab, within that, look for the Startup Type option and set it to Automatic.

Next, under the Service Status section, click on Start, followed by Apply > OK.
Go back to the Windows Services menu screen and find the Background Intelligent Transfer Service and Cryptographic Services. Apply the above steps to these two programs as well. Once done close the dialog box and restart your PC.
Check if the Service registration is missing or corrupt error is fixed. Still facing issues, try the below-mentioned fixes.
Reset Microsoft Store Cache
The said error could also be rectified by clearing Microsoft Store's cache. The same could be done using the WSReset.exe command. This will clear all the cache of the Store and restart all the services and programs associated with the said application. There are many ways how this could be done. One of the easiest methods is to head over to the Start menu, type in wsreset.exe and hit Enter. That's it. This should fix the Service registration is missing or corrupt error, otherwise here is what else you could do.
Run the DISM Scan
To repair Windows image files, including Windows Recovery Environment, Windows Setup, and Windows PE, you could try out running the DISM scan. This Deployment Image Servicing and Management could fix the Windows Update issue as well. To try it out, open the Command prompt with administrative privileges and type in DISM /Online /Cleanup-Image /RestoreHealth. Hit Enter to execute the command and wait for the process to be completed.
Reset Configurations using CMD
If the DSIM Command didn't do any good, you could also try resetting the configurations using CMD. In this method we wi,l reset sone Windows OS settings and configurations back to its default state. To try it out, head over to Start menu and search for Command Prompt > Run as administrator. Now type the below command, one at a time, i.e. type the first command, hit Enter, type the second one, and so on:
net stop wuauserv
net stop cryptSvc
net stop bits
net stop msiserver
ren C:\Windows\SoftwareDistribution SoftwareDistribution.old
ren C:\Windows\System32\catroot2 catroot2.old
net start wuauserv
net start cryptSvc
net start bits
net start msiserver
Once all the commands have been successfully executed, check whether the Service registration is missing or corrupt got fixed or not. If not, try reinstalling the .NET files as mentioned below.
Reinstall .NET Files
NET files are responsible for the proper functioning of numerous Windows programs. So if there's an error un any one of these .NET files, Windows Update might cause issues. The best bet, in this case, will be to re-install the .NET files, as mentioned below.
Go to Control Panel and click on View by option situated at the top right. Select Category from the list.
Next up, click on Programs and under the Programs and Features option, click on Turn Windows features on or off.
In the next screen that appears, you will see many .NET files. Uncheck all of them and hit OK. This will uninstall the selected .NET files.

Now again go back to this screen, re-check all the .NET files that you had earlier unticked and hit OK. This will re-install all these files.
This might have done the trick. If still, you're not able to fix the Service registration is missing or corrupt error, try the below-metnioned tip.
Disable Windows Firewall
It might happen that Windows Firewall is conflicting in the proper downloading of updates from the Microsoft Server. So in that case, try disabling it and then check for the update. Do note that Windows Firefall is very essential for your online security. Only turn it off while you are checking for the updates. In the meantime, don't try to try out any other online activities. And once the update is successful, re-enable it right away.
To disable Windows firewall, head over to Control Panel and search for the firewall. Click on Windows Defender Firewall from the search results.
From the left menu bar, click on Turn Windows Defender Firewall on or off.
Under Private network settings and Public network settings, select Turn off Windows Defender Firewall option.

Click OK and restart your PC once. The service registration is missing or corrupt should be fixed. Still, no luck, try out the below method as a last-ditch effort.
System Restore
You could try reverting your OS to the last restore point that you have corrected. It might happen that the last backup of your OS might be free from this error. So to try it out, follow these steps:
Open Run using the Windows+R shortcut key and type rstrui.exe. Click OK.
In the System Restore window that appears, click Next.


You will now see a list of all the restore points. Try not to select the latest one, chances are it might be having the same error as well. You may try using one before that.
Once you have made the selection, hit Next and in the Confirmation dialog box that appears, click Finish. Wait for the process to be completed and see if the error is rectified.
Conclusion
With this, we conclude the guide on how to fix the service registration is missing or corrupt error. We have shared different methods to deal with these issues. Do let us know in the comments which one did the work for you. On that note, also check our other iPhone Tips and Tricks, PC tips and tricks, and Android Tips and Tricks.