The Sleep mode on your PC is more along the lines of a power-saving mode that turns off your display when it's not in use. It doesn't completely turn off your PC, and you could easily start off your work from the last point. However, not many users are able to use this functionality. There has been a slew of complaints across various Microsoft Forums that the sleep option is missing on their Windows 10 PC. So what could be the plausible reasons for this issue? Well, there could be quite a few ones.
To begin with, it could be related to your PC's power options settings. Likewise, if you are using an outdated graphics driver, chances are it might not support the sleep functionality. Sometimes, the system administrator might block this feature on their end. Disabled sleep states or configuration issues with the Group Policy's Power menu options could well be the culprit as well. With that said, this guide shall help you fix all these underlying issues which in turn will fix the missing Sleep option on your Windows 10 PC. Follow along.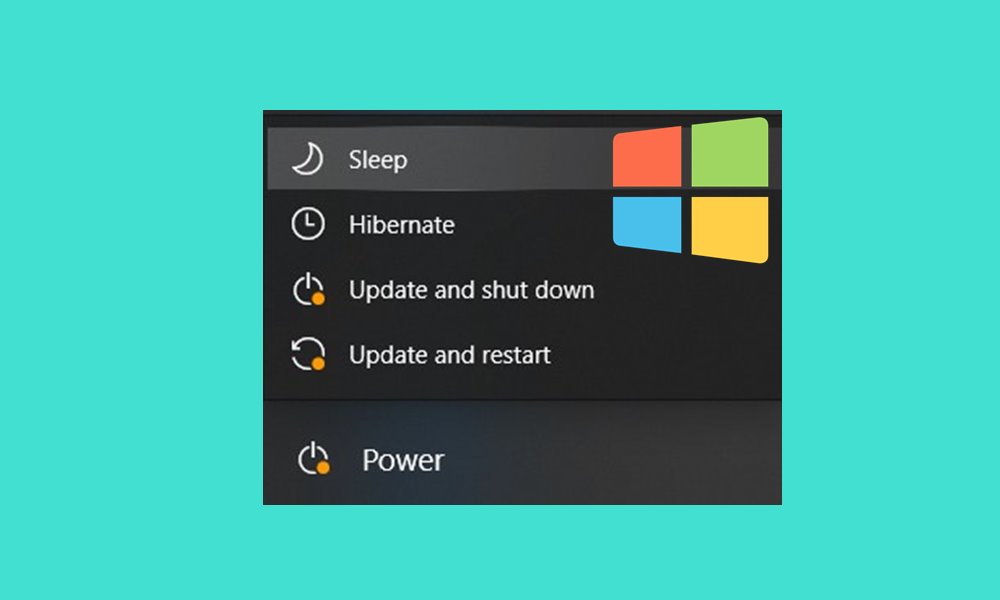 How to Fix If Sleep Option Missing in Windows 10
There isn't any universal fix as such for this issue. You will have to try out all the below mentioned workarounds until it gets rectified. So with that in mind, let's get on with the guide.
Fix 1: Check Power Settings
First and foremost, you will have to double-check that the Sleep option has been enabled from the Power settings. In most instances, this seems to be the single biggest culprit for this issue.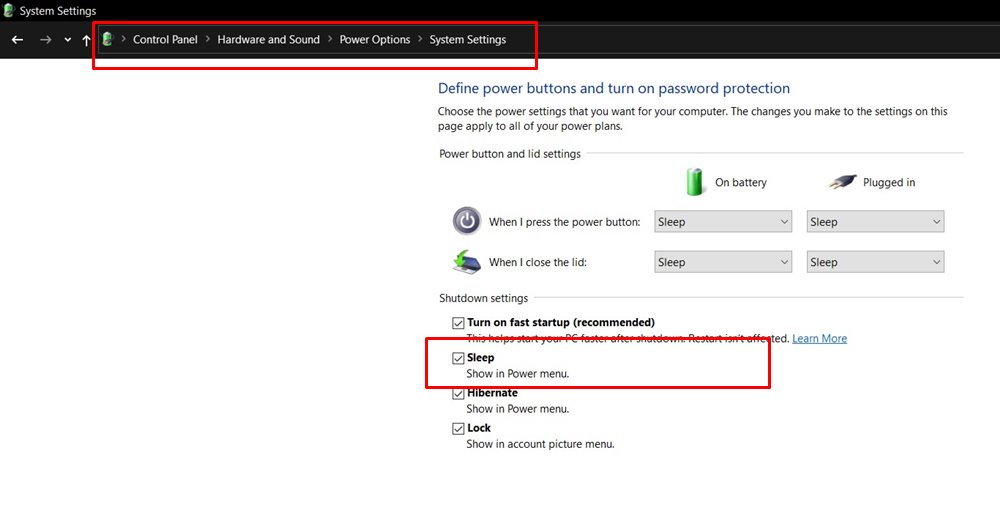 So right-click on the Start menu and select Power Options from the menu.
Then click on Choose what the Power buttons do from the left menu bar.
Next up, click Change settings that are currently unavailable.
Scroll to the Shutdown Settings section and check-mark the Sleep option.
If it is already enabled, then disable it and re-enable it again.
Finally hit Save and now check if it fixes the missing Sleep option on your Windows 10 PC.
Fix 2: Restore Power Settings
If you have tweaked any power settings or created a customized power plan, then it might conflict with the Windows Power settings. As a result, it is recommended to revert all the changes back to their default state. Here's how it could be done: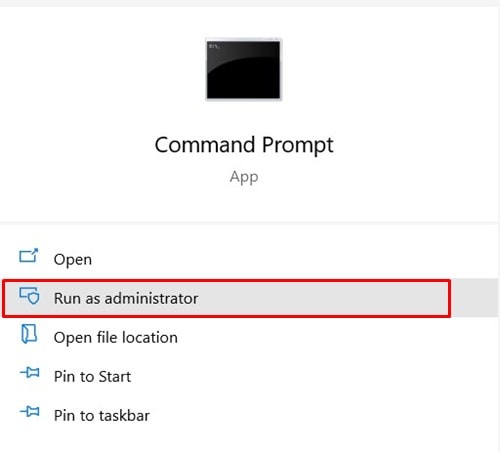 Head over to the Start menu and search for CMD (launch it as an administrator).
Type in the below command and hit Enter

powercfg –restoredefaultschemes

Once done, restart your PC. Now see if the missing Sleep option on your Windows 10 PC is back or not.
Fix 3: Update Drivers
If your PC is running old or outdated graphics drivers, then it might lead to a few issues. Some important PC settings, including the one related to the BIOS, might not function along the expected lines. Therefore it is recommended that you update the graphics driver to the latest version, instructions for which are given below:
Use the Windows+X shortcut keys to bring up the menu and select Device Manager from the list.
Within that, expand the Display Adapter section and right-click on the dedicated graphics driver.
Select Update Drivers from the menu that appears.

Then select Search automatically for updated graphics drivers.

Windows will now search for the latest version for your graphics driver and will install it as well.
Once the process is completed, restart your PC. Check if it fixes the missing Sleep option on your Windows 10 PC.
Fix 4: Reinstall Drivers
If some configuration files related to the graphics drivers get corrupted, then a simple update might not give out desirable results. Those kinds of issues call for the reinstallation of the graphics driver software. Here's how it could be done:
Head over to the Start menu and search for Device Manager.
Then go to the Display Adapter section and right-click on your graphics driver.
Select the Uninstall device option. Reply in the affirmative in the confirmation dialog box that appears.

Once the drivers are uninstalled, restart your PC. Upon reboot, the drivers should be automatically reinstalled.
If that doesn't happen, then again go to the Device Manager page.
Right-click on your PC name at the top and select Scan for hardware changes.
Then follow the on-screen instructions to reinstall the drivers.
Now that the drivers are manually installed, the missing Sleep option on your Windows 10 PC might have been fixed.
Fix 5: Edit Power options via Group Policy Editor
Windows administration tool is used to implement various configurations for user and system accounts. While it is mostly used by a network administrator, however, it could also come in handy for a general user in case they wish to fix a specific configuration issue related to the system. However, this tool is only available for Windows 10 Pro users and is not there in the Home Edition. So if you have the Pro variant, then here are the required instructions: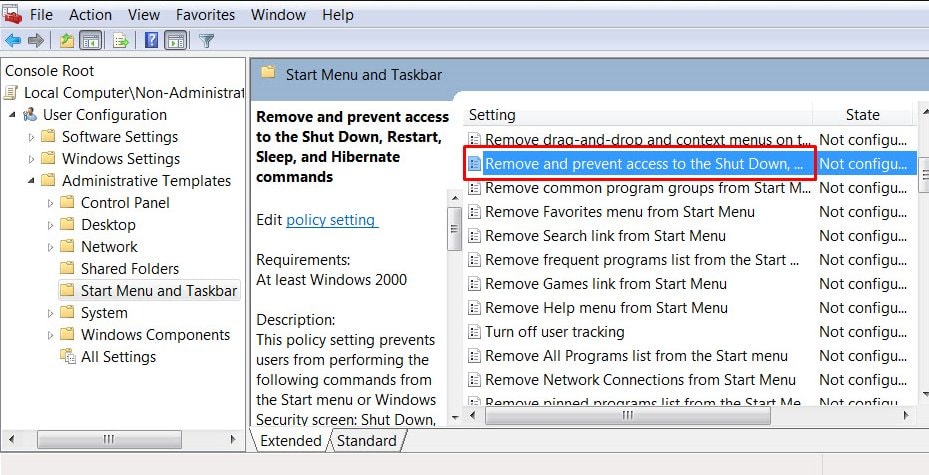 Launch the Windows+R shortcut keys to launch the Run dialog box.
Type in gpedit.msc and hit Enter. This will launch the Group Policy Editor.
Then go to User ConfigurationAdministrative TemplatesStart Menu and Taskbar.
After this, double click on Remove and Prevent access to the Shut Down command and select Disabled.
Next up, double-click on the Change Start Menu power button and select Enabled.
Finally, chose Shutdown and then reboot your PC. Now check if it fixes the missing Sleep option on your Windows 10 PC.
Fix 6: Switch from a Local To Microsoft Account
If you are currently using the Local Account, consider switching to the Microsoft Account. On the other hand, if you are already logged in to the Microsoft account, then log in to a local account and then switch back to the Microsoft account.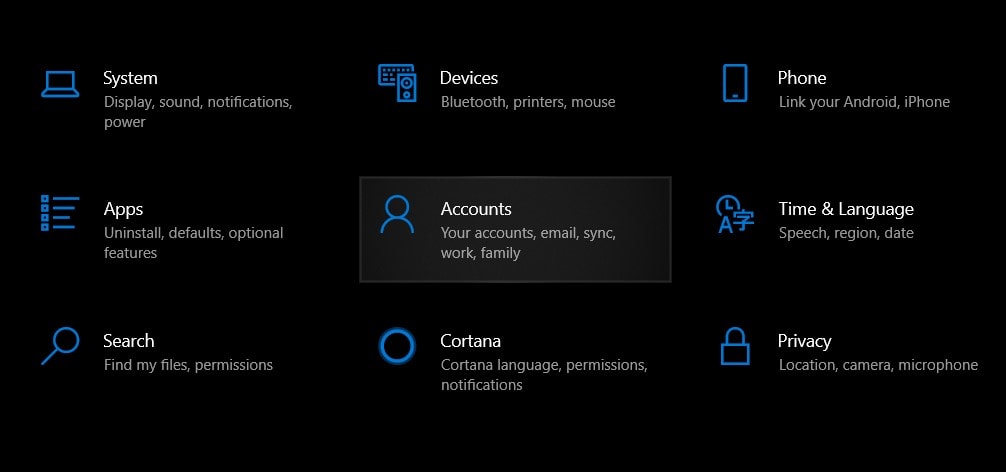 Launch the Settings page via the Windows+I shortcut keys.
Then go to Accounts > Your account > Sign in with a local account instead.
Now sign in to your local account. If you don't have one yet, then follow the on-screen instructions to create one and log in to it.
Once you are signed in to your Local account, head over to Settings > Accounts > Your email and accounts.
Sign back in with your Microsoft account and see if it brings back the missing Sleep option on your Windows 10 PC.
Fix 7: Perform a Clean Boot
By performing a clean boot, we would be disabling all the background running services and then restart your PC. This fresh boot might fix the underlying issue as well.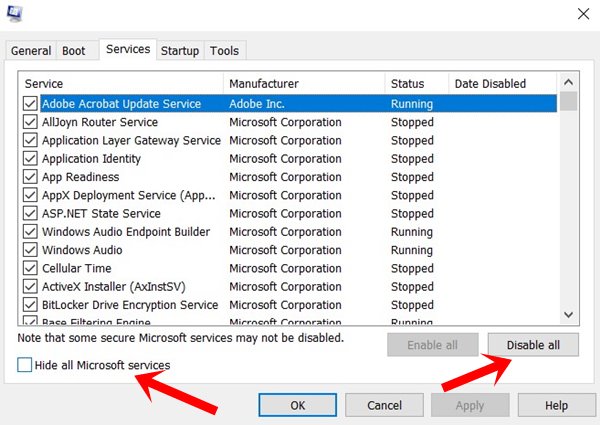 So head over to the Start menu and search for msconfig.
Select System Configuration and go to the Services tab.
Tick-mark the Hide all Microsoft services option.
After this, click on the Disable All button situated at the bottom right.
Once done, restart your PC and check if it fixes the missing Sleep option on your Windows 10 PC.
Fix 8: System Restore
If you have recently started facing this issue, then you could consider restoring your PC via the last restore point when the Sleep option was available. Here's what needs to be done for that. Do keep in mind that doing so might remove the apps, drivers, and updates.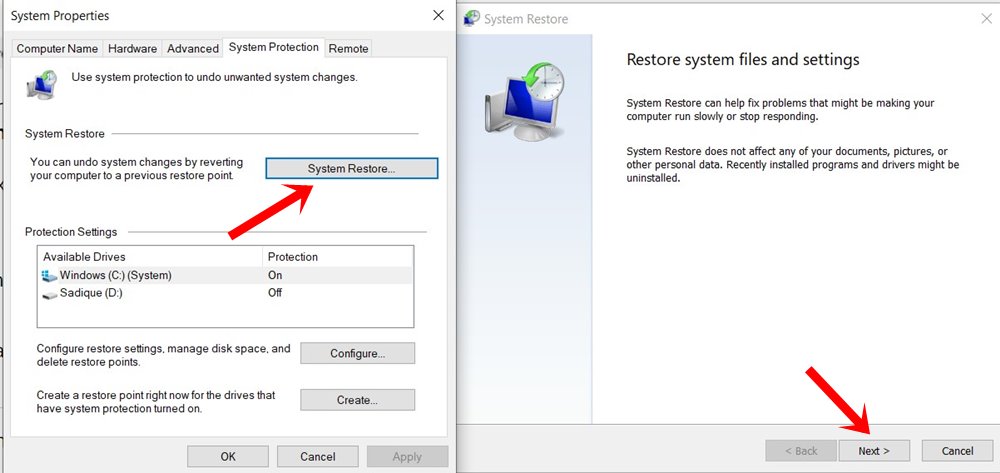 Go to the Start menu and search for Create a restore point.
Then click on the System Restore button.
After this, click on the Choose a different restore point option and click Next.
Now select an earlier restore point at which you weren't facing this issue.
Then click on Next and proceed with the on-screen instructions.
Once the restoration is complete, the issue would be fixed.
With this, we conclude the guide on how to fix the missing Sleep option on Windows 10. We have shared eight different fixes for the same, any one of which should work out in your favor. Rounding off, here are some iPhone Tips and Tricks, PC tips and tricks, and Android Tips and Tricks that you should check out as well.