Sonos Arc always provides the best and top-notch speakers to its users. So, if anyone wants to experience the soul of music must go with the Sonos Arc. With Arc, the smart soundbar that brings your entertainment to life, you can now enjoy TV, movies, and music like never before. Moreover, the Dolby Atmos 3D technology lets you listen to the story in 3D.
However, unfortunately even after such great and impressive features, the Sonos Arc has many flaws due to which people are facing problems while using them. Talking about the recent case, then many users started reporting that the Sonos Arc is shown connected, but there's no sound.
That's why we are here to help you with this guide. Here we have mentioned some of the best fixes that can help you resolve the Sonos Arc connected, but no sound error. So, let's check them out.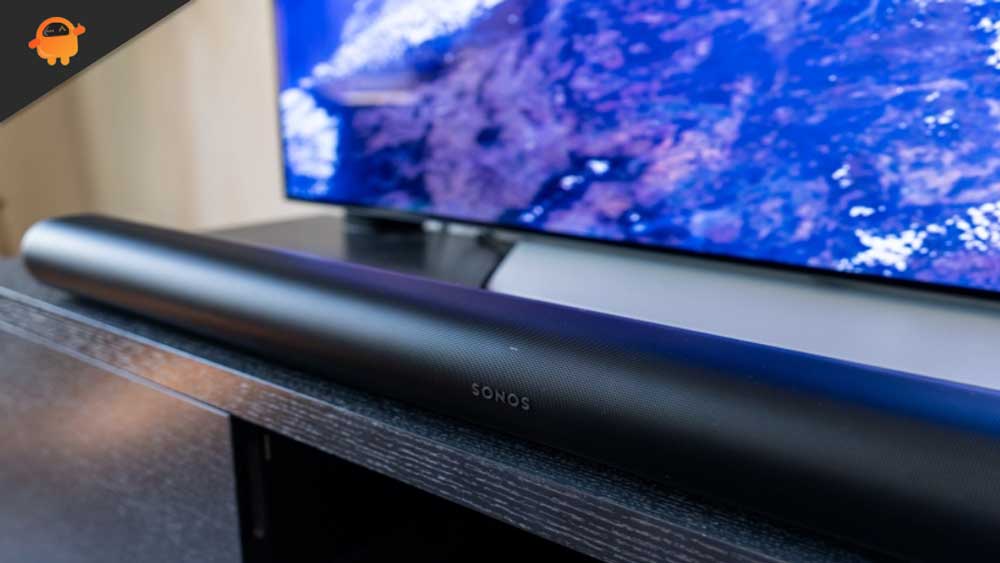 How To Fix Sonos Arc Connected, But No Sound
Here are a few tricks that should solve your Sonos Arc connected, but no sound error. Therefore, if you are facing this issue, make sure to perform them one after the other until you are able to resolve this issue.
Fix 1: Reboot Your Sonos Arc
Since there are multiple connected devices, you should disconnect the Arc and all other devices once at a time. It is advisable to unplug the Arc and TV from the power source for about two to three minutes. Once you have unplugged the cables, you can plug them back in again.
If your TV does not have Anynet+ enabled, make sure you enable it. Then, select the TV Setup option in the Sonos app and connect the Arc to the smart TV when the app asks you to do so.
You will be able to verify that the Arc is playing audio from the Smart TV once the TV Setup is complete. If everything seems to be working, then you can enjoy your content; otherwise, follow the other methods.
Fix 2: Select Sound Output
You should make sure that the correct sound output is selected on your Smart TV if it TV has issues with the Sonos Arc. If you want to connect an external speaker, press the Home button on your remote control > choose Settings > go to Sound> select Sound Output > select External Speaker.
Last but not least, now you should be able to recognize your Sonos Arc soundbar. However, once it starts recognizing your speaker the no sound error automatically gets resolved.
Fix 3: Make Sure There is No Issue With The Content
Did you check if there is an issue with the content you are watching? Yes, chances are there that your content may have any sound-related issues due to which you are facing this problem. Therefore, we advise you to try playing the same content using your Device's speaker instead of using the Sonos Arc speakers.
Fix 4: Reconnect HDMI Cables
The most common problem that might be fixed is disconnecting and reconnecting the HDMI cable on the TV. Here's how:
First, shut off both the TV and soundbar.

Turn off the power to both devices and unplug the HDMI cables.

Reconnect the HDMI cable to the HDMI IN (ARC or eARC) input of the smart TV after the HDMI cable has waited for around two minutes.

Next, plug in the soundbar's HDMI OUT (ARC or eARC).

Ensure both devices are powered. After the smart TV is powered on, turn on the audio system and check whether the issue gets resolved or not.
Fix 5: Reset The Sonos Arc
When you reset the speaker, all data will be erased, and it will return to its factory settings. You can use this method to troubleshoot if your Sonos Arc shows as connected, but no sound is playing. In order to resolve the issue, it is recommended that you reset the speakers.
Fix 6: Check The Cable
Damaged or cut cables can make your Sonos Arc speakers inoperable due to which it shows no sound error. In this case, you should check and replace your charging cable, as that is your last option. The Sound will begin to play on your Sonos Arc once the cable is replaced and it is fully charged.
Fix 7: Check Your Connection
A poor internet connection can also prevent Sonos Arc from working on your Device. Thus, it is very important to have a reliable internet connection. A speed test on the Ookla site can show you whether or not your WiFi provides an adequate speed.
Nevertheless, if your WiFi is not working properly, you should power cycle your router/modem once to see if that helps. Afterward, if the speed doesn't normalize, you should speak to your ISP and make sure the connection is working properly.
Fix 8: Set Digital Output to PCM
Use PCM mode on the digital output if you use a Sony smart TV. To use it, these steps will help:
Your TV speaker (audio) settings can be set to PCM for Digital Audio Output. When connected to a smart TV that does not support DTS or Dolby Digital, the audio system (soundbar) might not output audio.

On your remote, press the Quick Settings or HOME button.

You can then select Sound or Display & Sound settings, or BRAVIA settings, depending on the model of your TV.

Click Audio output > Choose Digital audio out.

Set it to PCM, and then check again.
Fix 9: Set Audio System Input
You can also try to switch the input from the audio system (soundbar) to the smart TV if none of the earlier methods worked. To do so, make sure to press the TV or INPUT buttons on the remote control. However, many users previously reported that this helped them to resolve this kind of issue. Therefore, you must this out and let us know if this helps you resolve the error.
Fix 10: Contact To Support Team
There is always a dedicated team providing customer service for every brand. Thus, if you are still unable to get rid of this error, we suggest you get in touch with the Sonos Arc technical support team as soon as possible. You may also opt to hover to the nearest Sonos Arc service center.
So, that's all on how to fix the Sonos Arc connected, but no sound error. We are just hoping that this guide has helped you. But, if you still have any further queries, comment below and let us know.