With a $400 price tag, Steam Deck is as functional as it is aesthetically pleasing. Despite its small size, the black plastic portable gadget is packed with supercomputer-like processing power and a touchscreen. This device looks like a Nintendo Switch mated with a gaming computer.
Using the functionality of contemporary gaming devices, Valve is improving the Steam Deck. Despite the device's many positive attributes, there have been reports of difficulties mounting the SD card in some Steam Decks. Fortunately, there is a solution to this problem. If the Steam Deck format SD Card is greyed out, you should follow the solutions listed below.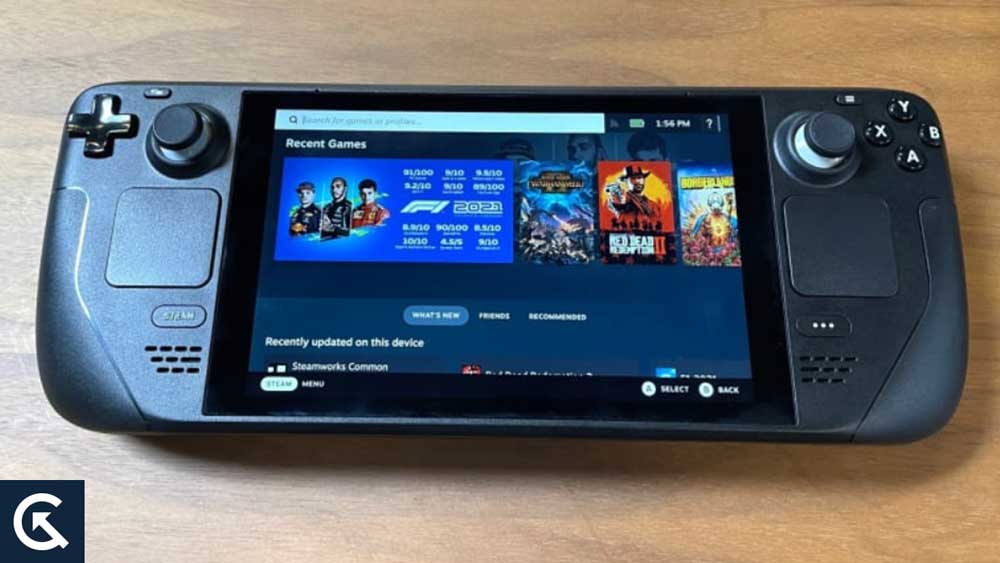 Fix: Steam Deck Format SD Card Greyed Out
In most cases, the SD card is greyed out or not recognized by the Steam Deck, the Steam Deck is not fully charged, or the SD card is corrupted. So, in case you are facing this problem, check out these fixes:
Fix 1: Restart Your Device
Your Steam Deck may not be able to read SD cards if a fault or glitch occurs without apparent reason. Therefore, rebooting your device is the simplest way to resolve these occasional issues. You should restart your Steam Deck to see if that helps.
Fix 2: Reinsert The SD Card
Is it possible to use SD cards with a variety of devices? Whenever possible, it's recommended that you try inserting your SD card into a different device to see if it works.
You are responsible for getting in touch with Steam Deck if your SD card is greyed out, has not been recognized, or does not function. To get your camera repaired, take it to the service centre.
Fix 3: Verify the Charge
Have you had it examined if your Steam Deck doesn't have a power of at least 20%? You might see such a strange message on your gadget if your battery is low. Steam Decks must be charged at least 20% before being connected to SD cards. Otherwise, it must be charged as soon as possible.
Fix 4: Reformat the SD Card
When all else fails, try formatting the card on your computer if you've already tried everything else. It has been reported that several customers have once again experienced normal operation of their Steam Decks following the formatting of the SD card.
Give it a try and see if you like it. It is probably not surprising that you can format an SD card with a computer. Alternatively, if you do not own a personal computer or do not know how to format a Steam Deck, follow these instructions:
At the base of the Deck, you will find Micro SD card slots. On the left side of your touchpad, there is a Steam button. Press A to enter the Settings menu at the bottom. Select System from the list of options. After that, click A and choose Format SD card.
You will be prompted to accept the formatting process when you have games saved to the SD card. There is no turning back at this point since doing so will permanently wipe out all data on the SD card. When the SD card is empty, the OK button may be clicked to accept it. Depending on the SD card's size, it might take a few minutes.
Fix 5: Thoroughly Check Your SD Card
It may not be possible for your Steam Deck SD Card to operate if it has been damaged or is faulty. To ensure the SD card functions properly, you must ensure it is fully functional. You may plug it into your camera and see if it's fixed now that you know where it's malfunctioning.
Fix 6: Check For Damage
There is also a possibility that problems like Steam Deck format SD Card greyed out can occur when the hardware malfunctions. It is important to inspect your Steam Deck thoroughly to prevent any environmental damage.
There are times when damage from the outside may be the culprit. A device in such a situation should be checked for damage and, if necessary, repaired at a service centre.
Fix 7: Verify and Repair the Faulty Sector
Your computer may not be able to run normally or display your files without experiencing hiccups if your hard drive has damaged sectors. The most common solution to faulty sectors on a disc is to reformat it. You will choose the formatting option based on the number of damaged sectors on the card. You will have to decide which formatting option you will use based on the number of damaged sectors on the card.
Run the Run prompt.

Execute the

chkdsk

command: E:/f/r/x.

Replace the letter E with the drive name of the SD card.
Fix 8: Contact Help Desk
Your SD card is not reading or functioning on your Steam Deck, and you have yet to figure out why. Finding a solution to this problem is still possible via various paths. You should contact customer service if you need assistance. Depending on the circumstances, they should be able to help you with the Steam Deck format SD Card greyed-out problem after you've done that.
So, that's how to fix the Steam Deck format SD Card greyed-out issue. We hope that this guide has helped you. For more info, comment below and let our team know.