Playing games from the POV of a human is old. How about playing a game entirely from the point of view of a Cat? Interesting, isn't it? Stray, the game released on 19th July and has already become a fan favorite. Today we will talk about Stray Wiki Guide and explain to you everything that you need to know about the game.
The game isn't fun if you don't have enemies to fight, so Stray has a combat system where you have to take down enemies using different tactics. You can either fight head-on or take them down using stealth. There are a few areas in the game where you have to think and make decisions like a Cat. Most importantly, Cat lovers became huge fans of this game due to its sound effects.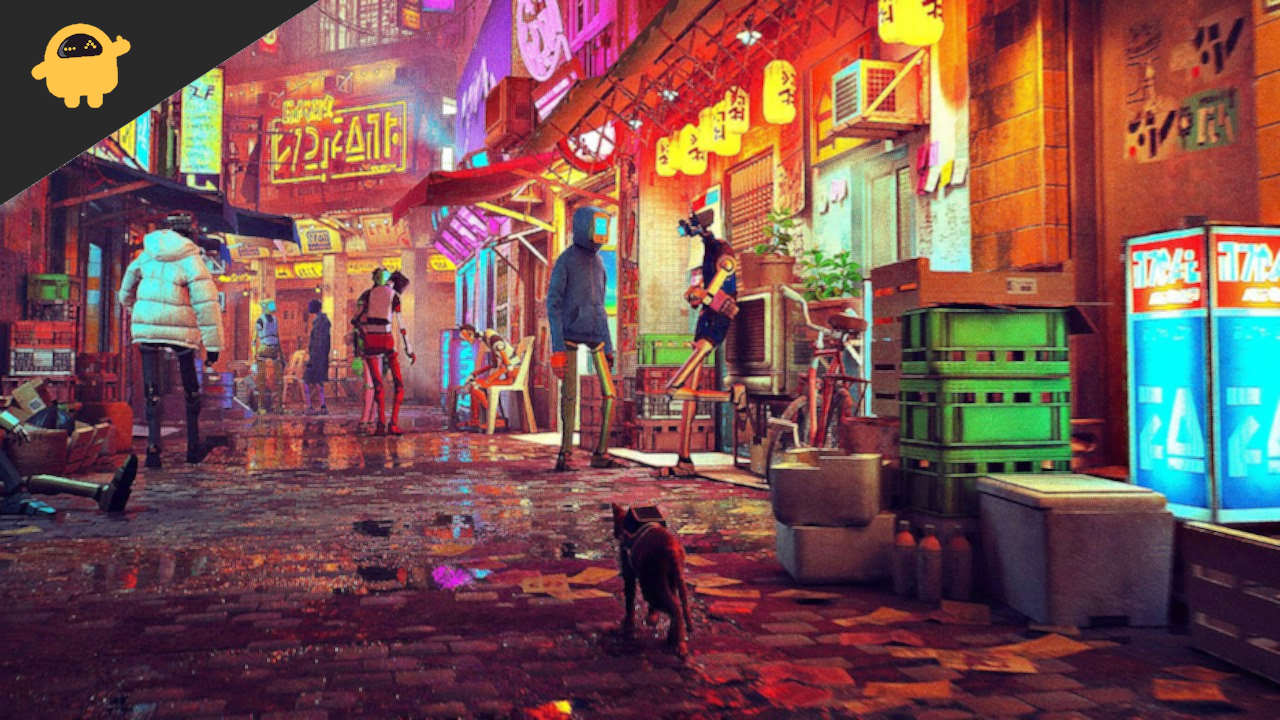 Stray Wiki Guide: Everything You Should Know
Stray is a third-person perspective game, and as we said, you can play from the POV of a Cat. This is an open-world game, so you must make your own decisions. You have to complete quests to proceed further in the game. Like a Cat, you can climb up to objects, slip things off an edge, meow for no reason, or roam around for fun.
Are you stuck on a mission or a challenging puzzle you cannot solve? Don't worry! We are here to solve that challenge for you. This article will cover all the arduous missions in Stray and guide you to solve the missions quickly.
Game Minimum Requirements
Stray has over 66,000 players worldwide, and every single one of them loves it. You can buy the game on Steam for 29.99$ in the USA (the price may vary from country to country). Reviews on Steam look pretty overwhelming too. Additionally, the game is a must-buy if a cat lover (who doesn't love cats?)
You can play the game on different platforms – Windows, PlayStation4, and PlayStation5. The good part is that the game doesn't have high system requirements and can also be played on low-end builds. Stray has fantastic sound effects, from tiny meows to mesmerizing background music. You can also buy the original soundtracks of Stray from Steam.
For your convenience, we have listed down the minimum system requirements of Stray:
OS: Windows 10 | 64 Bit
Processor: Intel Core i5-2300 | AMD FX-6350
Memory: 8 GB RAM
Graphics: NVIDIA GeForce GTX 650 Ti, 2 GB | AMD Radeon R7 360, 2 GB
DirectX: Version 12
Storage: 10 GB available space
All Safe Codes & Door Codes
3 Chapter Door Code: 3748

4 Chapter Safe Code: 1283

6 Chapter Door Code: 2511

10 Chapter Safe Code: 8542
Total Collectibles
27 B-12 Memories
6 Badges
12 Scratch Points
10 Nuzzles
8 Sheet Music
4 Energy Drinks
Stray Energy Drink Locations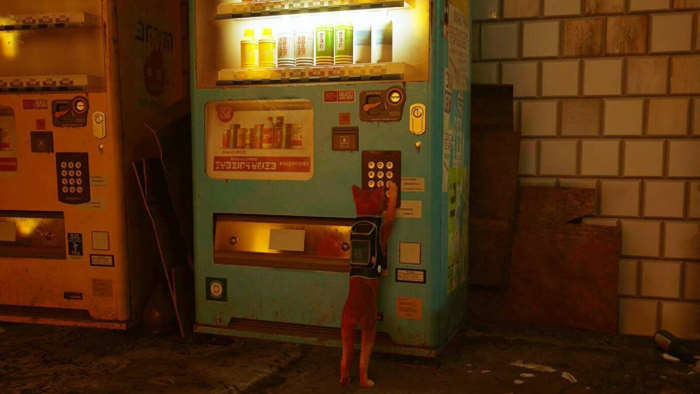 First, the starting location of your energy drink collection journey should be near the guard dressed in red clothes. We have mentioned all the Energy drinks location in the Stray:
1st Energy Drink – You can get your first energy drink quickly. First, go to the left of the guard and head downstairs. You will see a vending machine, just go to the machine, and you will be prompted to interact with the vending machine. Upon interacting with it, you will get your first energy drink.
2nd Energy Drink – Come back to the starting position near the guard now, head to the opposite side of the guard, and then take a right and left. You will see a robot wiping the floor when you head left. Keep on going to the end, and you will arrive at a staircase. Get upstairs, and you will see a vending machine on the left.
3rd Energy Drink – To acquire the third energy drink, you have to go left from the vending machine, then take another left and right. You will see two boxes; jump onto them. Now, hop onto the black grill above and jump out. Keep going until you find a vending machine.
4th Energy Drink – you can get the fourth energy drink very quickly. First, go back to the building where you saw a grey barrel was put on edge. Move to the other building opposite the plank near the barrel. On top of the building, you will find the vending machine.
Where To Find The Mysterious Safe In Stray?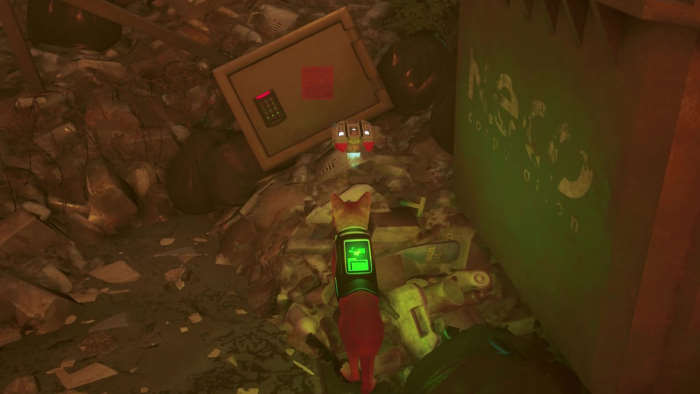 The first challenging mission in Stray is to find the mysterious Safe code. You can obtain this code by reaching the slums section. Most players get irritated because of this mission, which is tricky for new players.
So, during your exploration, you might have come across a safe with a mysterious password. To crack this code, you have to find someone who can find the digits of the code to open the safe and explore further.
Unlike other guides, we don't want to go deep about the mission because that will ruin your game experience. The code is 1-2-8-3. To enter it, you have to go back to the safe. The reward you will get inside is one of the Stray music sheet locations.
How to Complete Computer Stray Puzzle?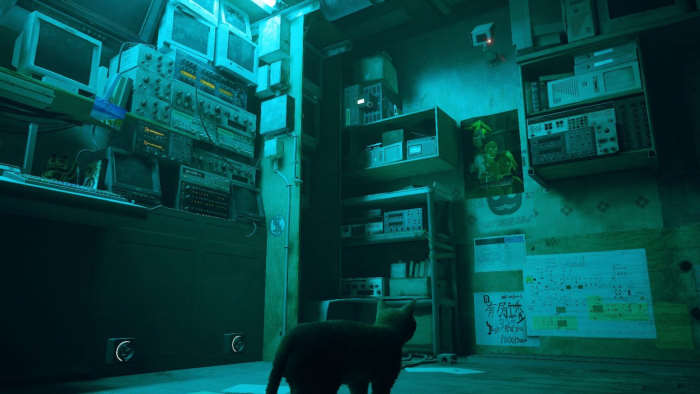 First of all, you need to access the flat room where you can solve the computer puzzle. You can go inside the room via casement.
After you enter the room, collect all power units and save your friend B-12.
To find all the plugs in the stray computer puzzle:
Control Panel in the center of the room

In the upper part of the cabinet

On a gadget against the wall

On the little cabinet on the opposite side of the wall
Stray WiKi Guide – Trophies And Achievements

Meowlody – Bring all the music sheets to Moresque.
Cat's best friend – Nuzzle up against five robots.
I Remember! – Gather all B-12 memories.
Badges – Collect all badges.
Territory – Scratch in every chapter.
Conclusion
This brings us to the end of this Stray Wiki guide; we have covered most of the important aspects of the game and will continue to update it from time to time. Since the game is quite unique, it is wise to play the game for fun and not just to complete it.
Try to enjoy the game slowly and thoroughly. The gameplay is about 5-6hrs, and beginners might take more time according to their skill. If you have any other queries about Stray, please comment down.