Google forms surveys are surely the most reliable way to collect public feedback and various other forms of data. This collected information can be of great help for business and marketing purposes. Luckily, several survey applications help us reach unlimited numbers of people and collect more informational data from a broader section of the public. But again, these apps come from zero to a substantial amount, depending on their capabilities.
And as usual, for better features, you must opt for a more reliable application that might come for quite a hefty price not affordable for the majority. Fortunately, Google Forms and SurveyMonkey are such options that earned a lot of popularity due to their high scale availability of features and affordable price plans.
In fact, they even offer free, reliable services that most people are already using and getting a good result as well. However, it gets augmentable when it comes to choosing the best between these two. So are we here to debate between SurveyMonkey vs. Google Forms to find out which one is really better.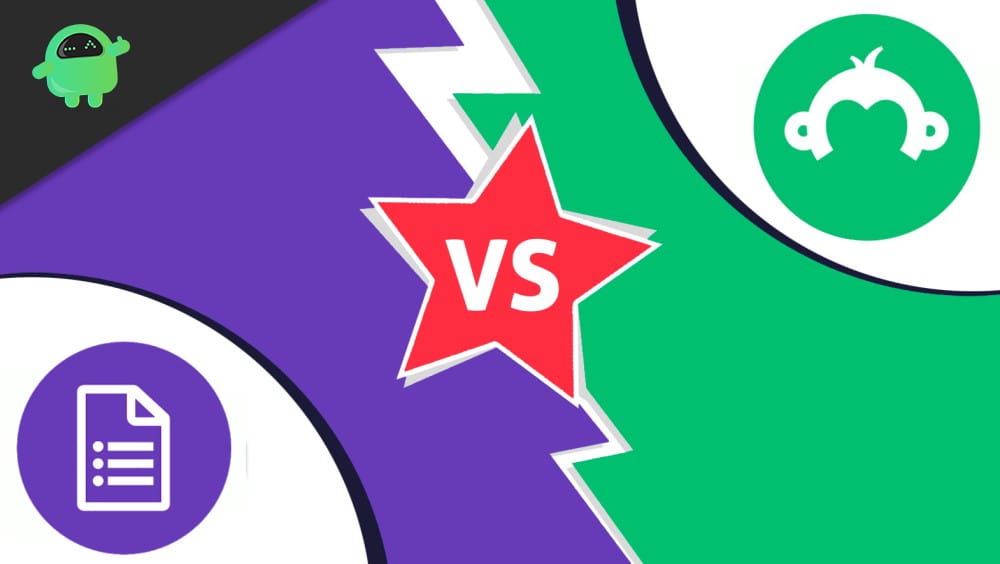 SurveyMonkey vs. Google Forms
Both Google Forms and SurveyMonkey offer a great and user-friendly platform to instantly create surveys and collect more feedbacks for your cause. Yet, we cannot deny the fact that both are unique and has certain differences. Hence, this article will help you identify the best one based on each category and decide which one is better, as per your requirements.
SurveyMonkey vs. Google Forms – User Interface
The user interface definitely plays a significant role when it comes to offering a reliable experience to your targeted audience. Fortunately, both the services offer a pretty simple and easy-to-use interface. Google Form features a much more straightforward UI that employs a few samples and a blank workspace to start creating your own survey or form. You can easily add multiple questions and assign different types of answers for each question.
On the other hand, SurveyMonkey also does a very clean job. For starters, it offers you three options, and you can either ask SurveyMonkey to create it for you or start with their pre-loaded templates or simply choose to build from scratch. It seems to be slightly more specific as it comes with dedicated filters and templates, making your survey look more precise to your targeted section of the audience.
SurveyMonkey vs. Google Forms – Templates
Templates display an overview and design of the survey you wish to create. Google Form does offer a pretty smart collection of templates that includes Event Registration template, RSVP, Contact Information, Party Invitation, and a few more. Although it has templates for most of the essential causes, the quantity is still not appreciable. It contains a total of 15 unique templates with further customization options to fulfill your requirements.
On the contrary, SurveyMonkey comes with more than 150 uniquely built templates fulfilling most of your needs. You can find professional-level templates for security awareness surveys, market research, customer satisfaction survey, demographics, and so on. Besides, it also comes with all the needful customizations to shape your survey as you wish. Since SurveyMonkey offers such a huge variety, it surely reduces your customization needs up to an extent. Hence, in terms of templates, SurveyMonkey undoubtedly comes out victorious.
Features
Google Form – Features
In case you wish to build your survey page from scratch itself, both Google Form and SurveyMonkey offers adequate features for that. Starting with Google Form, you get quick access to the Questions and page.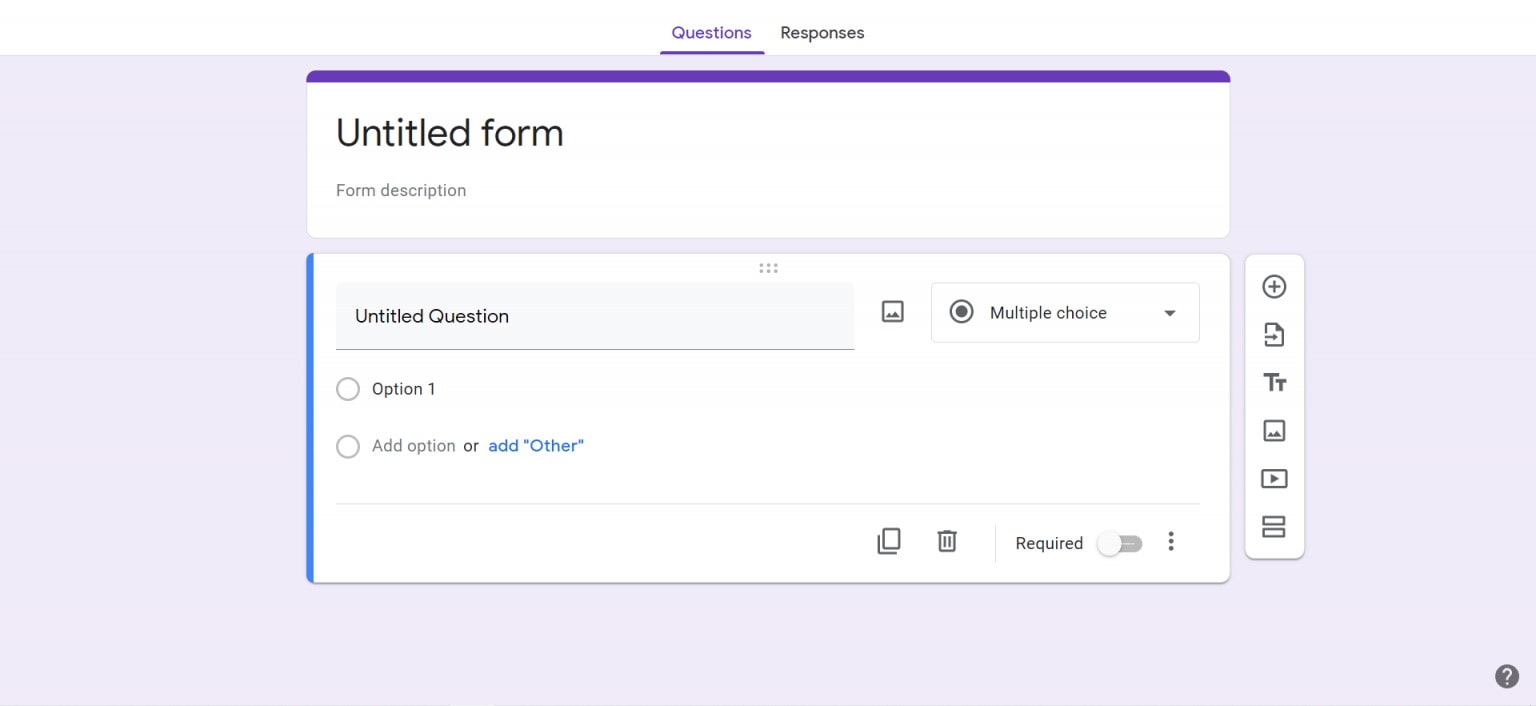 You can start typing your questions in the specified column mentioned as 'Untitled Questions.' For different types of answers, it provides you with options for Short answers, Paragraphs, Multiple Choice, Checkboxes, Dropdown, Linear Scale, Multiple Choice Grid, and Checkbox Grid. You can further upload files or add date and time. Besides, the floating vertical bar on the right-hand side brings a few more features. The '+' icon lets you add another question. And other features include importing questions, adding titles and descriptions, add images or videos, and the last option allows you to add an entirely new section.
Apart from these, Google Form also allows you to change the theme color, background color, and font style from the customize panel. You can also preview your form and play with some limited settings to make it more responsive to and intuitive to the respondents.
SurveyMonkey – Features
SurveyMonkey seems a bit more refined in terms of features as well. Firstly, it asks about the type of layout. There are three distinct layout designs:
One question at a time: This allows the respondent to answer each question one by one. Once they fill in the answer for the first question, it will automatically scroll to the next.
Classic: The classic view displays all the questions on the page at once itself.
Conversation: It is basically the BETA version that employs a conversation style survey. The method is quite new but looks interesting and engaging at the same time.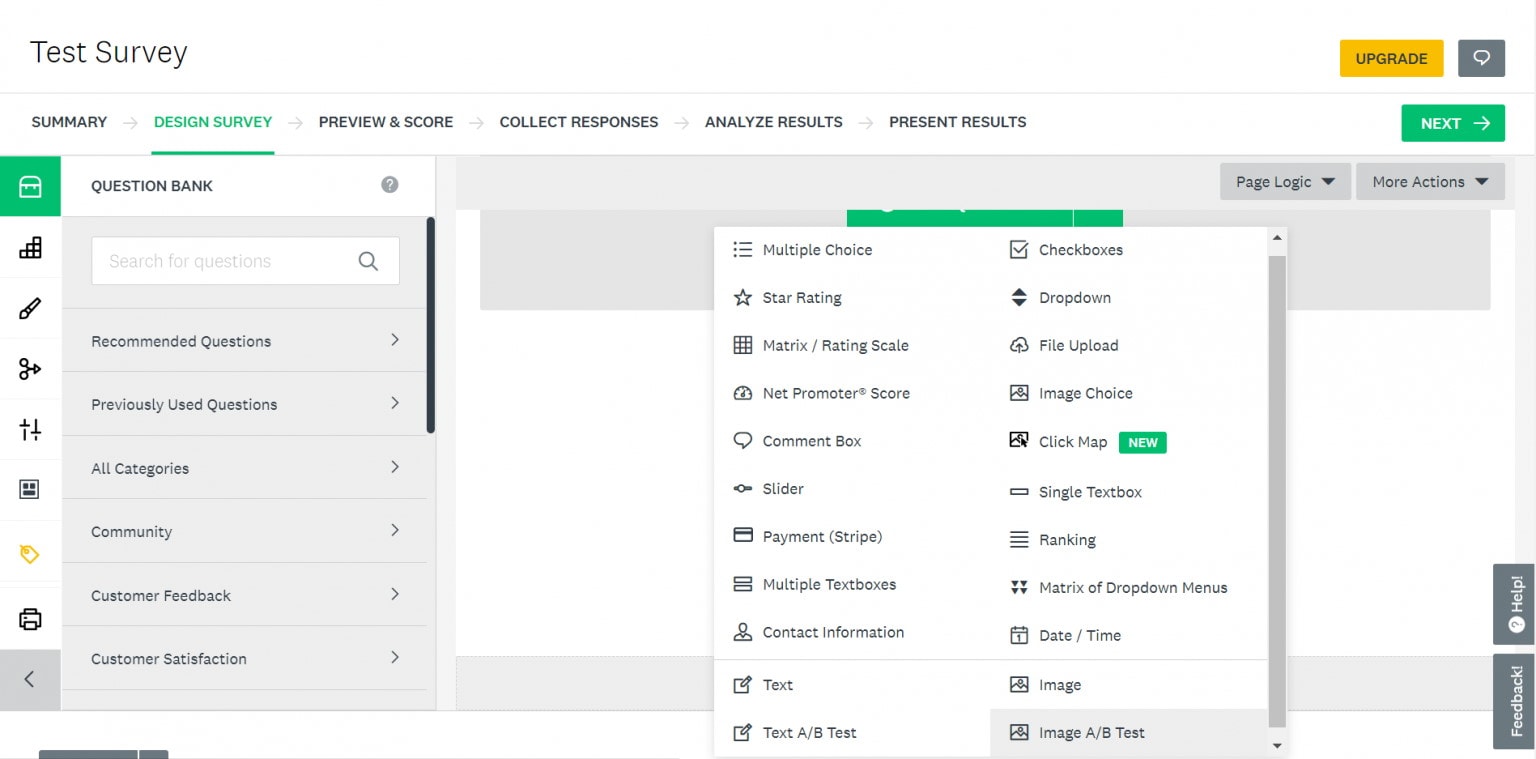 Once you are in, SurveyMonkey provides a clean and intuitive interface. You can proceed with the questions one-by-one or copy them all at a time if you have already prepared. Start off by setting the page title and set the answer type for each question based on your preference. Comparatively, SurveyMonkey again comes with a set of more rich features than Google Form. There are various types of responses. One can even rate your services or products through the star rating response. It also includes sliders, rankings, multiple text boxes, and much more.
What's more interesting is, you can also add your LOGO to make it look more professional and target your ideal respondents or send surveys your own way. SurveyMonkey Genius also displays the estimated control rate, estimated completion time, preview, and score. Hence, in terms of the feature as well, we can consider SurveyMonkey as an ideal choice for beginners to design interactive survey reports.
Pricing
Google Form offers completely free of cost services without any subscription plans. Although it is much simpler, you can yet create some interactive survey forms and even turn them into templates for future use. Google Form also includes the basic necessities for creating survey reports and forms and includes some of the essential templates for quick access.
On the other side, SurveyMonkey includes both free as well as paid plans. If you wish to create normal surveys of about 10 questions targeting around 100 responses or so, the basic free plan does a satisfying job. However, if your target responses are much higher, you can opt for its paid subscription. SurveyMonkey includes three subscription plans: the standard plan comes for Rs. 899 per month, while the Advantage and Premier plans are worth Rs. 1,999 per month and Rs. 4,999 per month. Besides, they also offer dedicated business plans that come with per user/ per month subscription plans.
Which one is better?
Looking at the above-mentioned factors, it is obvious to say, and SurveyMonkey is far better than Google Forms. The free basic plan allows you to create unlimited surveys and also supports additional features to collect more interactive responses. However, Google Form is still a considerable choice if you mean to create general surveys with minimal purposes. It also includes the essential customization options and some useful templates as well. Even if the number of templates and features are limited in Google Forms, it is still a standalone choice for beginners that offers an outstanding service for zero cost.
Conclusion
So, from what we have seen, we can conclude SurveyMonkey as a much reliable option if you want to design surveys for business, marketing, or other professional purposes. However, for other general-purpose, Google Form must do the work. It is again a personal preference of which service seems more easy and reliable to you. So, let us know in the comments below which application do you think is better and what for?