Confused between different VPN options to choose from In the world of free and paid VPN which one is the best pick for you and which are the best VPNs for Windows 10 to suit your workflow? Let's learn more about VPN and see which one is perfect for you.
The virtual private network (VPN) is a tunneling protocol that provides you with a secure and private connection by encrypting its contents. Currently, the demand for VPN accelerating massively. After all, everyone needs privacy and a safe environment for work.
There are many VPN available in the market, some might offers free, and some might offer paid services; it's upon you that how you choose a VPN wisely. If you are wondering why'd you need a VPN and which one is best for you, then don't worry! Today, we have a guide with us for the best VPN for Windows 10. We will talk about different VPN along with its special features and price, so you can pick the best one for you.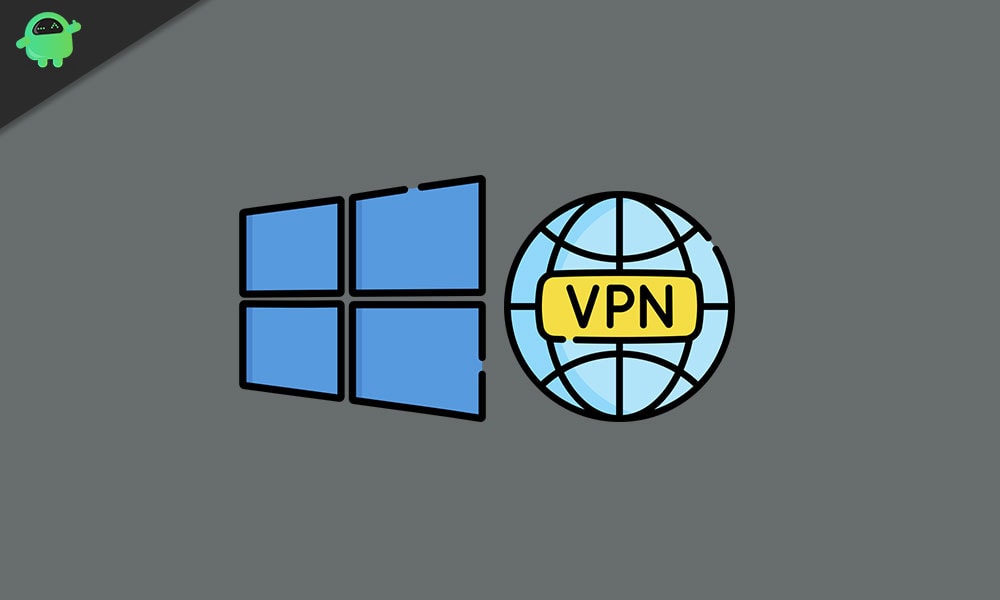 Best VPNs For Windows 10
VPNs are both good and bad for you, depending upon your use. People use a VPN for taking advantage of highly secure and reliable web-browsing. Here are some best VPN for Windows 10 available in the market:
1) ProtonVPN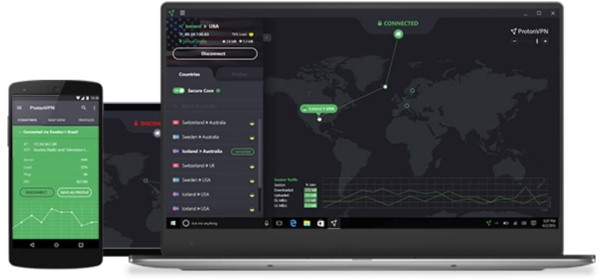 It's secure, and it's private, and most importantly, it's free. But can it do all the additional stuff that you want a VPN to do? Yes, it can do everything, and in case you feel the free version does not provide a good service, then it also has 4 different packages.
ProtonVPN's privacy policy is outspoken: they retain no logs and don't follow user activity. They barely collect the timestamp of your last session, and that's deleted when you log in again. To show their security, ProtonVPN was autonomously inspected by security experts SEC Consult.
The outcome was exceptional: only 11 secondary vulnerabilities were identified among all software, and realistically, these are inaccessible to use for malicious intents. There are groups of extra security features, like a kill switch. You can also choose from three extremely secure tunneling protocols and resolve how to auto-connect feature functions.
Pros:
ProtonVPN has built-in Tor support. The free version of this is great because of its built-in security, and privacy basics are very strong.
Cons:
ProtonVPN plus package is good but very expensive. You can only access servers in three countries, which make it tough to bypass geoblocks.
Price: Free, $4/month for the premium version.
2) Windscribe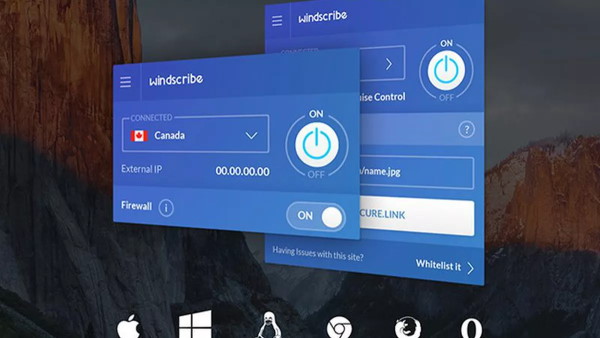 Windscribe is a powerful desktop application, browser extension, and Android app combo that works to deliver the safest browsing experience possible, no matter which device you're surfing on. This makes it one of the best VPNs out there for Windows 10 users. The best part is no name, email, or other personal information is required when creating a user account and no logs are stored over other user's activities on the network.
Windscribe masks your physical location from third-parties via an encrypted tunnel and lets you access geo-locked content from anywhere.
Pros:
It has both paid and free versions. It's firewall blocks all traffic outside the VPN's secure tunnel. The most useful feature is port forwarding and split tunneling.
Cons:
The Windscribe free account limiting your data and restricts you to a few servers that mean you cannot unblock content from outside these servers.
Pricing: $9/month for the premium version.
3) Hotspot Shield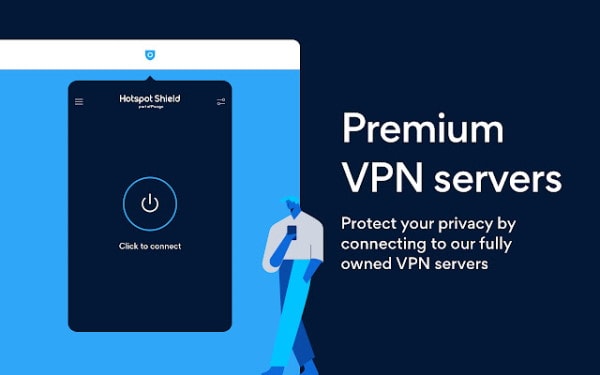 Most people never necessitate worrying about which internet protocol is applied to their VPN as they ordinarily select the most reliable one. Nevertheless, the added flexibility can be beneficial. Hotspot shield has created its own protocol is known as the catapult hydra.
This protocol uses the open SSL library and encrypts data, and this is a protocol that enhances the transport protocol; they basically created multiple channels for the data travel by allowing for enhanced speed and security in the long duration.
Pros:
Gives 500 MB of free data every 24 hours period. The interface is user-friendly and makes it easy to get started. It also works with YouTube and Spotify.
Cons:
The free version only gives you access to the US virtual location, and also, they only give you 7 days free trial.
Pricing: Free, $12.99/month.
4) Hide.me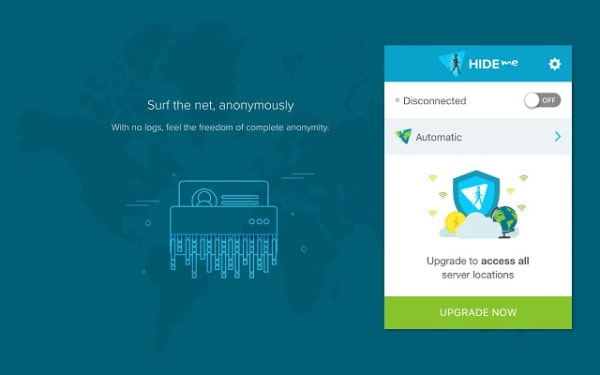 The service is a little newer than some of its competitors, but it's made a real name for itself because it has one of the best track records when it comes to security. If you are someone like me, then this VPN is for you. Also, Hide.me VPN service doesn't force you into long and complicated installations, which is very beginner-friendly approach.
On "hide. me," all you need to simply register is your email. Once you've activated your account, you'll need a username and password to access your account.
Pros:
The AES-256 bit encryption and the option to choose multiple VPN protocols are striking features.
Cons:
You need to face the issue of a smaller server network in comparison to other VPN. You'll not be able to use Netflix or Amazon Prime.
Price: Free, $5.41 monthly
5) Express VPN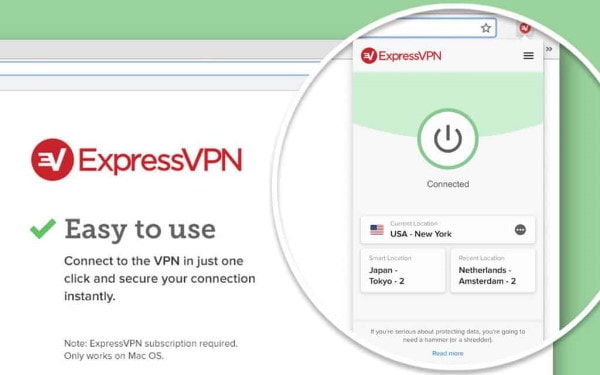 Express VPN service is given by the British Virgin Islands-registered company Express VPN International Ltd. The software is sold as a privacy and security accessory that encrypts users' internet connection and hides their IP addresses. Express VPN is very popular on the internet and it's also very reliable to use as a VPN for your Windows 10 machine.
Pros:
It gives more stable connections and gives high security and privacy to your personal information.
Cons:
Its algorithm is weak, and this might be an issue if you are privacy-oriented.
Pricing: $12.95/month, $99.95/month
6) TunnelBear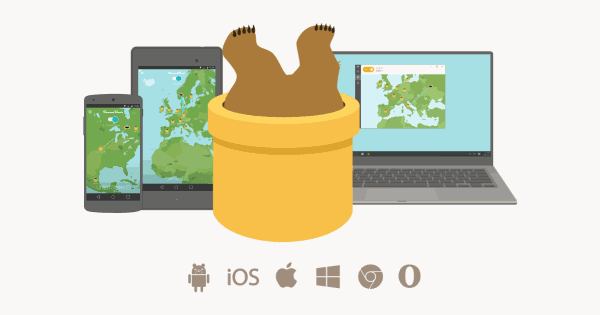 The software gives you 500 MB of data every month, which is surely extremely low for most people. Although, you can buy the premium version to make the most of countless data and web-browsing without any difficulties. The paid version of the software will further let you experience the seamless connection on up to five devices together.
Pros:
The tunnel bear's free version has man restriction, but you can easily fulfill your need within the free version.
Cons:
It only allows you to connect to 5 devices, and in case you have more devices in your family, then look for another VPN.
Pricing: Free, $9.99/month.
7) Private Internet Access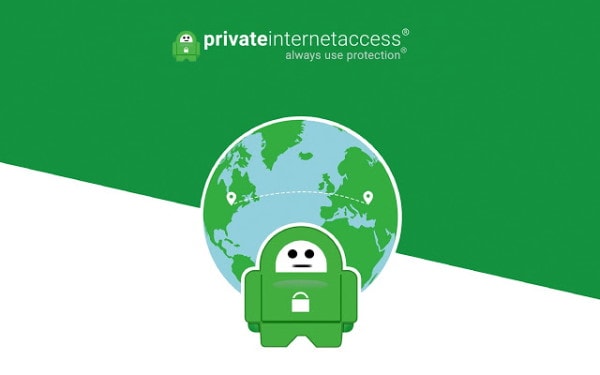 If you are looking for an affordable and proficient VPN for your Windows 10 PC then, Private internet access is a great option for you. It protects your web browsing data and also blocks ads, malware, and tracker to provide a seamless internet experience.
Pros:
Its capability to protect your browsing is awesome, and also, it allows you up to 10 device connections simultaneously. The interface is simple to handle and more secure.
Cons:
There are a few glitches that require to be corrected.
Pricing: $9.95/month.
8) NordVPN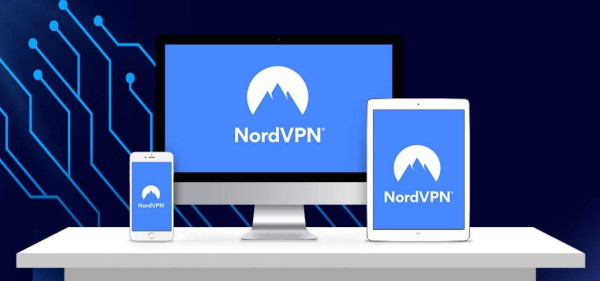 It gives a complete defense to your data while using common Wi-Fi or for any network. Hence, your web browsing will be both stable-sailing and private–away from the world. It's one of the best VPNs for Windows 10 for media streaming and consumption with its high bandwidth support. You have a comfortable way of streaming video services, messaging sites, and social media without any hurdles of restriction.
Pros:
Military-grade encryption is the most amazing feature that protects your private data behind the security wall.
Cons:
Back in 2018. It was hacked. So if you don't want to compromise your data privacy, then look for another VPN.
Pricing: $11.95/month.
9) Mullvad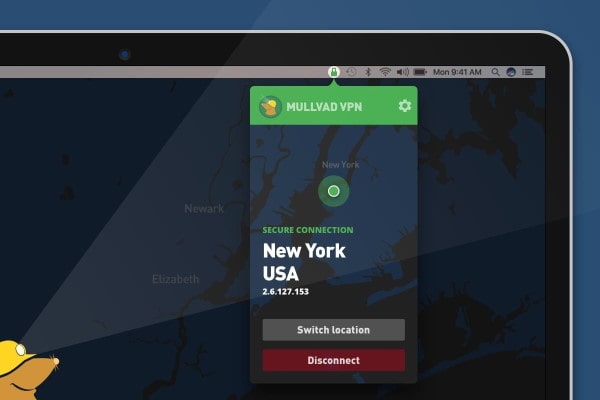 Mullvad is one of those VPN providers that use Wire Guard protocol in their servers due to which it became the most secure VPNs for Windows 10. I would say use the VPN on your PC to see the actual variance in performance. With over 409 servers in 39 countries, Mullvad comes under one of the topmost VPN service providers.
Pros:
It is based on advanced cryptographic algorithms that protect your privacy while web-browsing.
Cons:
As Wireguard is not a known securities protocol, that's why people are not ready to trust it.
Pricing: $5/month.
10) IPVansih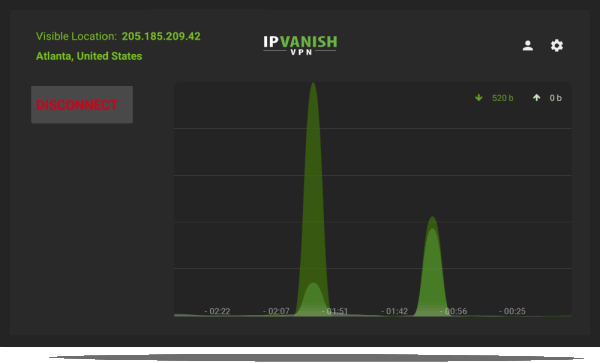 If you are looking for a highly effective VPN for web browsing and P2P interaction, then IPVanish is a great choice then. IPVansih is powered with 256-bit AES Encryption that doesn't expose your data.
You will also be able to access restricted websites using IPVansih.
Pros:
Its P2P traffic and proficient torrenting ability is the main highlight because this feature makes IPVansih more favourable to use.
Cons:
Back in 2018. It was involved in sharing personal data with agencies.
Pricing: $7.50/monthly
11) CyberGhost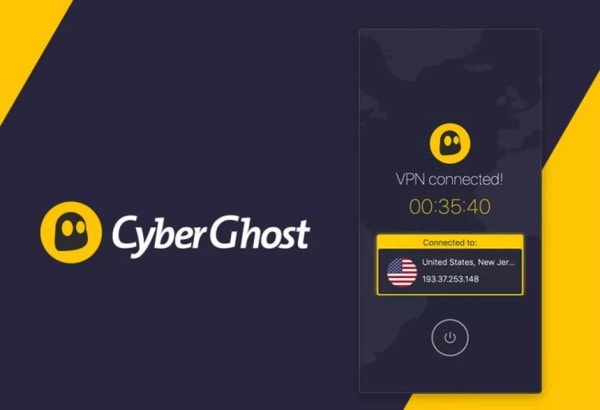 CyberGhost VPN service holds a huge network of 4800 servers in more than 61 countries. This sturdy network ensures that you can attain a fast server without facing any issue. You can take benefit of the seamless connection for up to 7 devices, which makes it very cost effective if you want to use as a family sharing plan. The steady connection removes the buffering of videos and throttling while web browsing.
Pros:
24/7 customer support is quite a good service and shows that they really care for their users.
Cons:
In my opinion, it doesn't have any disadvantages.
Pricing: $12.99/month.
12) Betternet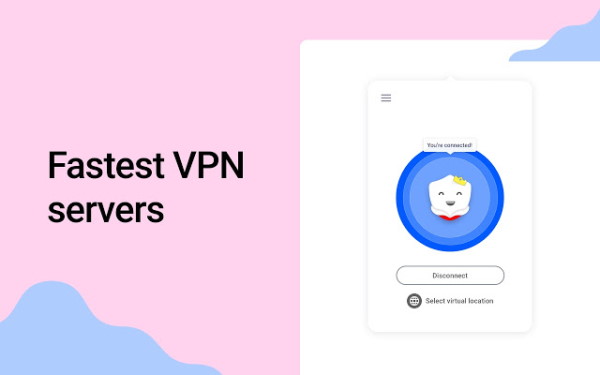 The virtual private network software has a clean as well as an easy user interface. Betternet helps you while browsing and allows you to do your task without any obstacle. It has a user privacy term, which ensures that your data won't be misused. If you are a true fan of simplicity, then I would suggest you give "Betternet" an opportunity.
Pros:
The encryption of the internet connection makes a noticeable feature.
Cons:
Many users reported that the servers of Betternet are quite slow to respond as well as they're experiencing some unwanted ads.
Pricing: Free trial for 7 days, $11.99/month.