Choosing the best browser is really hard. Especially when the browser affects the overall workflow of your Productivity. For Android, we might be having some leading offerings like Chrome, Firefox, or Opera. But Privacy with Chrome is a sarcastic joke. Firefox is best, but what about other offerings in the same segment?
So here in this article, let's see the new emerging giants on Chromium-based browsers, the Samsung Internet, and the Microsoft Edge. At first, you might think, "Nah, man, I'm gonna stick with Chrome!" But these new browsers offer a better experience than Chrome.
Samsung Internet vs Microsoft Edge, Which one of these is good for browsing? We are going to discuss the best features of these browsers and see which is the best for you. So let's see their features and compare them and finally conclude which one of them is good for browsing.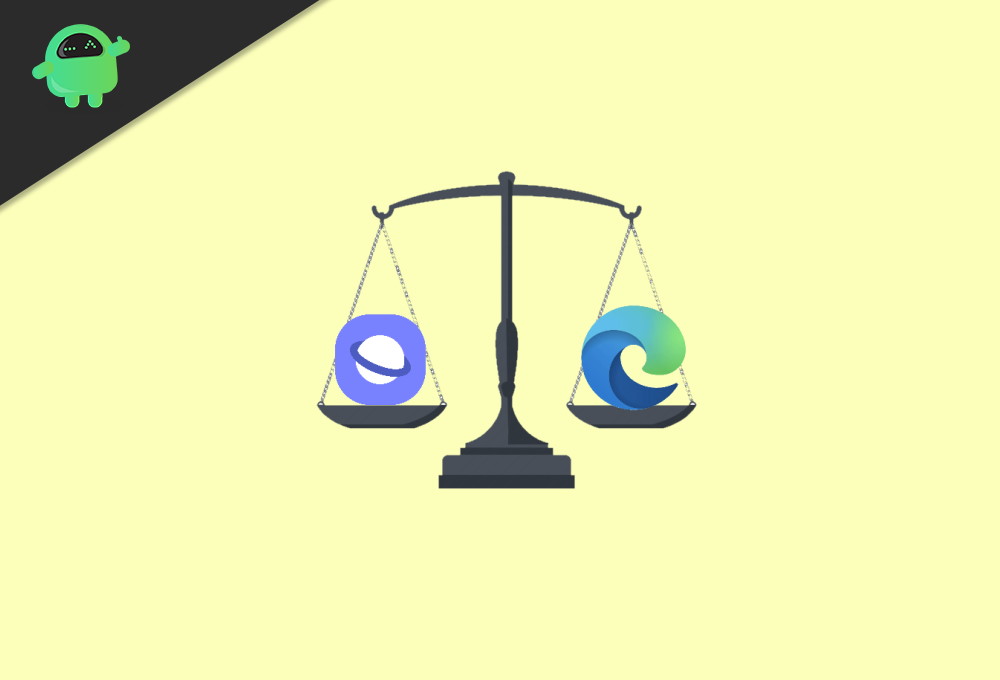 Samsung Internet
Let's first see what the offerings that the Samsung Internet browser gives us. Don't get fooled by the name. Even though it's the default browser on Samsung Smartphones, it's also available for download for other Android phones. Since the Samsung browser is also based on Chromium, hence it's fast and capable.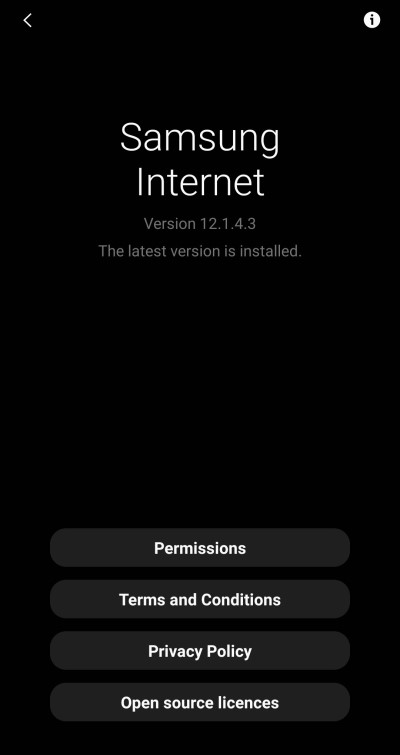 User Interface
Both browsers look modern and sleek in terms of the User interface. Yet they differ somehow. Samsung internet follows the tradition of One UI and blends with phones running One UI (Samsung Galaxy series of smartphones).
Home Screen
The very first impression is always made by the Home screen for any browser. Here, on Samsung Internet, we have a Search bar or URL bar at the top of the screen, which is then followed by the Quick access menu.
Although the Menu might seem cluttered at first, you can customize it. The browser gives us the ability to add or remove quick access shortcuts, and also we can remove the news feed. After some tinkering, the home screen looks very clean and minimal.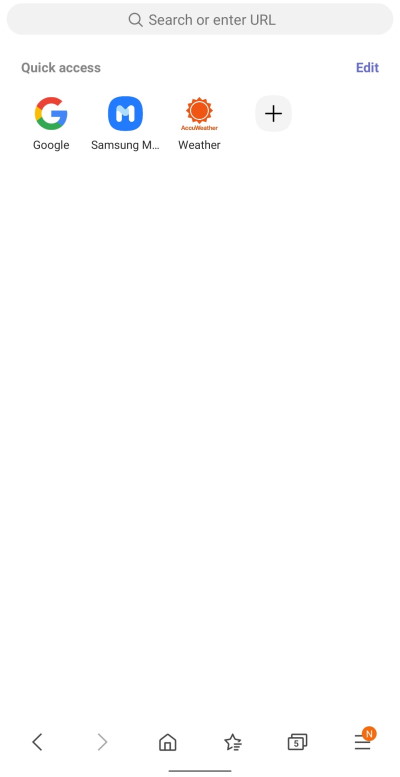 If you don't like the homepage of this browser, you can set a custom page to load up as the homepage for your browser.
Controls
I'm a big fan of Bottom Navigation Tools in Browser. Here, in the Samsung browser, the navigation bar is located at the bottom. So most of the controls like Back, Forward, and tab switcher are located in the navigation bar.
Rarely used options like reload and add to Bookmarks. Don't worry if you cannot reach the top to tap on the reload button. Swiping down on the screen will also reload the open tab for you.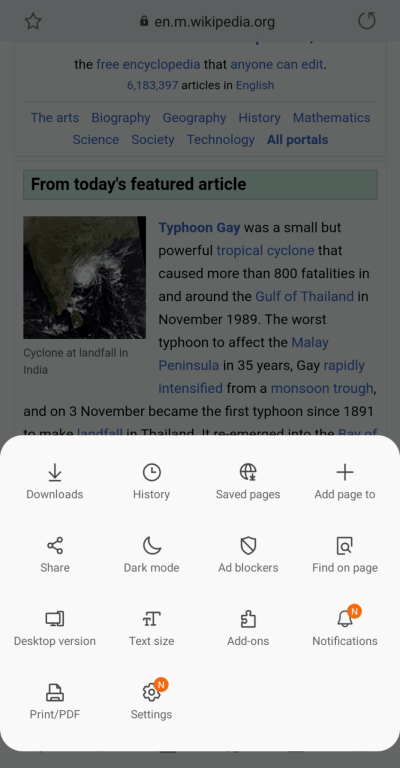 Tab Switching is very good. You can customize the way to view open tabs. So you can choose from List, Stack, or Grid methods based on your preference.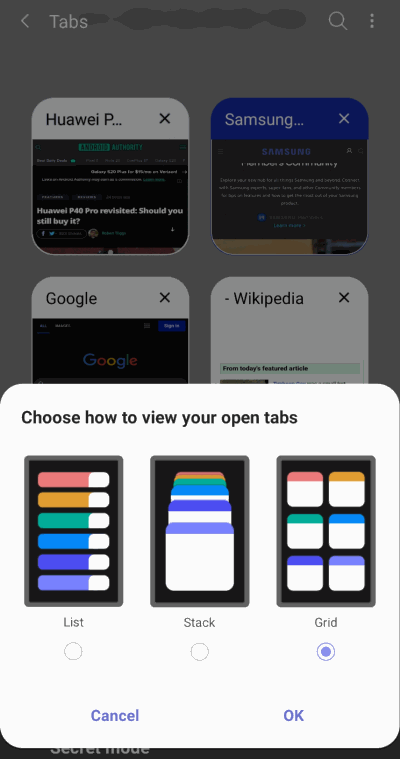 The menu button is also customizable to suit your needs. You can add new controls and remove anything that you don't need.
Features
Samsung Browser comes with some interesting features. To mention a few, we have Adblocker (Add-on) and some useful privacy features.
The browser comes with a High contrast mode. This feature might look like a dark mode but help a lot to read and distinguish contents on the screen.
As mentioned, the browser comes with a superb dark mode that works on most websites. This dark mode resembles the One UI and hence will look great on AMOLED Screens and also helps to save battery.
Settings
Settings and options are very nicely arranged. You can change the homepage, Search Engine from the settings. By default, the Samsung browser offers only four search engine options, namely Google, Yahoo!, Bing, and DuckDuckGo.
However, you can add more of them by tapping on the plus icon from the Search Engine Option.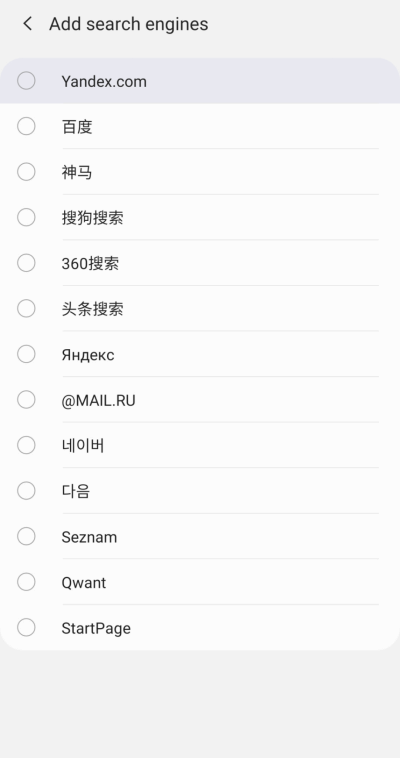 The browser allows tweaking of Webpage appearance. Hence this allows altering settings like Webpage font size and showing desktop versions of the Webpage. This is the place you can find the option to customize the menu.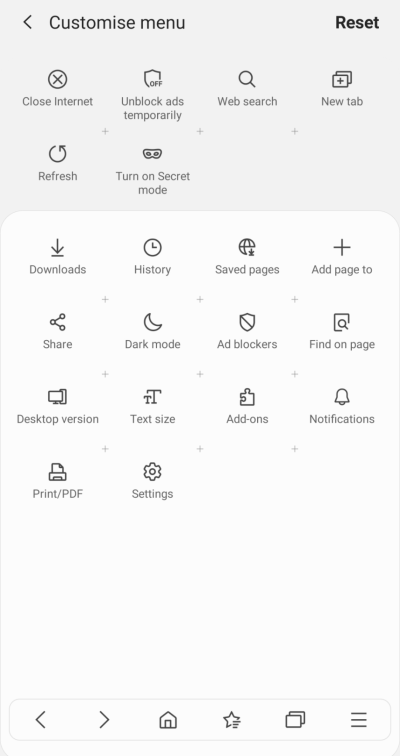 Privacy and Security
Samsung Browser comes with eccentric privacy features. So we have Smart Anti-tracking, Apart from it, we have other features like Blocking unwanted' webpages, which will be off first, But it can be turned on.
Although the browser will warn you about the malicious site, and that particular setting will be on by default. Also, you can set the browser to "Ask sites not to track me," which will give some entry-level anti-tracking.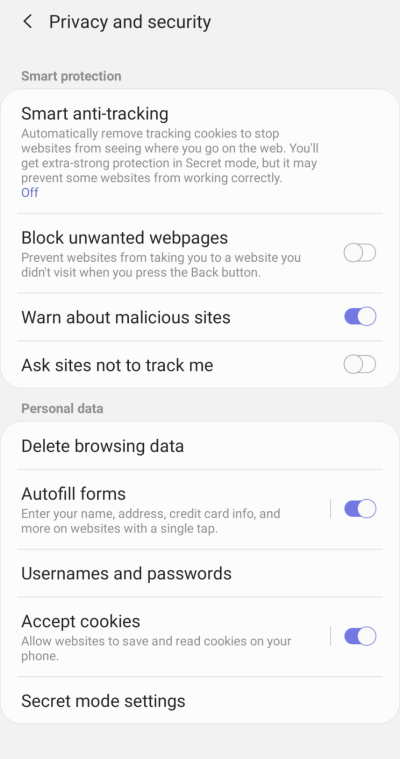 And you can find all settings related to passwords here. Settings like Autofill options, saved passwords are accessible inside this setting.
Edge Browser
Edge is available for major platforms. Even currently, Microsoft has released a version of Edge (Beta) for Linux, completing the gap in cross-platform availability.
Edge is also based on Chromium, which makes this an alternative to the Samsung browser. Let's see in depth the features available on the Edge browser and see whether it's good for browsing.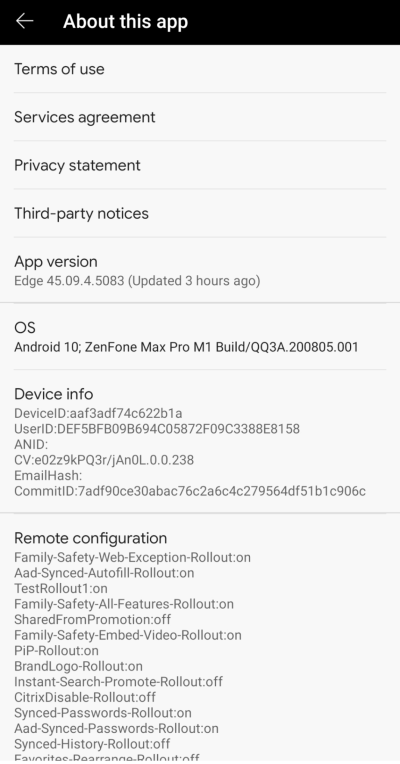 User Interface
As mentioned earlier, Edge is also very modern and sleek in terms of looks and feels. The Edge browser follows the theming scheme from the Metro UI that Windows 10 offers.
Overall, Ui is very smooth and feels very fluid. But the theming is a bit odd-looking on Android phones (or any non-windows device), but you can get used to it easily.
Home Screen
The home screen in Edge is not that impressive by default. Although you can customize the way, it looks afterward from the Hamburger menu on the top right corner of the screen.
You can choose from the defaults like Focussed, Inspirational, or Informational page layouts. Else you can simply customize and choose what specifics you need. I like the very minimal setup.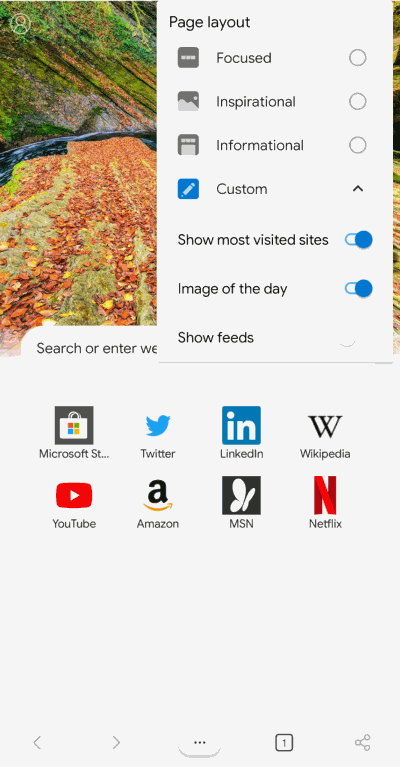 Controls
The navigation bar is accessible from the bottom with controls like forwarding and backward navigation, the tab switcher, and the menu.
Along with these, a share icon is also placed on the navigation bar for quickly sharing and continuing on PC. At the top, you can find the Address bar along with the reload button and Site security info.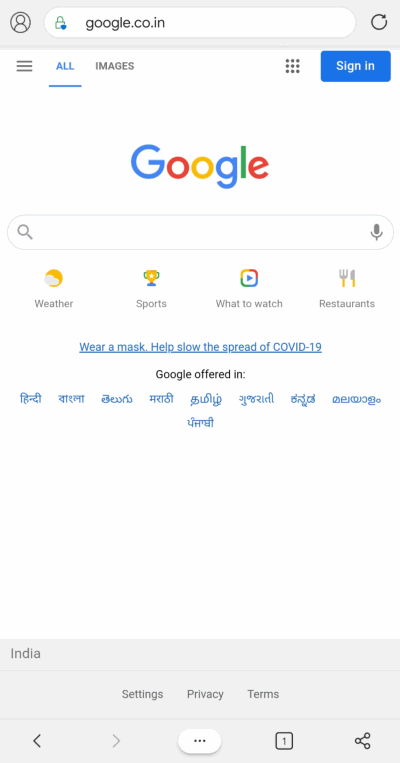 The tab switcher is simple with a Grid type layout. You cannot the layout of the tab switcher. However, the existing one is very comfortable for me.
Features
The Edge browser also comes with many interesting features. The one I like the most is the ability to sync content among devices using the same Microsoft account.
Continue on PC is a very useful feature that can help you to increase productivity. Some other notable features are Reading mode, Read aloud and a dedicated Voice search powered by Bing.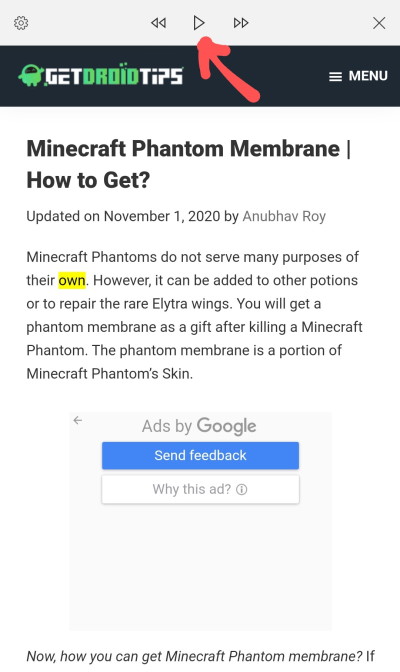 The reading mode allows us to view websites in a clutter-free mode and helps in reading the content with minimal distractions.
You can add them to your reading list and continue reading them from other devices too, which is a great deal for content readers.
Settings
Now under settings, the browser gives the ability to customize your browsing experience. Hence we have an Appearance menu that helps to adjust the theme either according to our system or always dark/light mode. The dark mode is not fully dark, it's just a dark shade of grey, and for LCD displays, this should look really nice.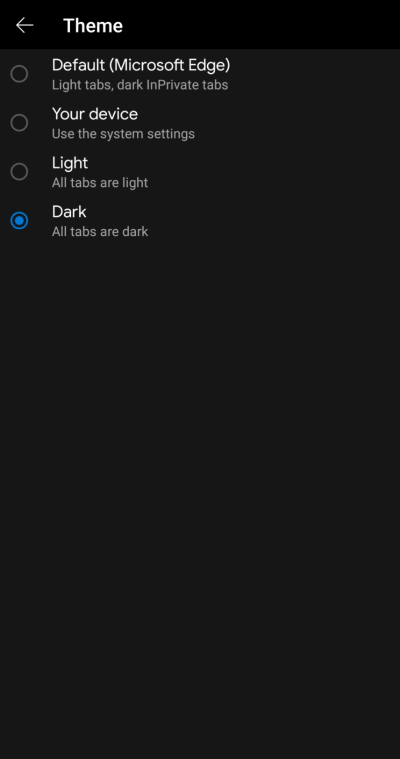 Apart from that, you can find settings for Home page customization, password management, and content blockers.
Also, You can find options for Accounts management from where you can add and sync with your Microsoft account or your School or Work account.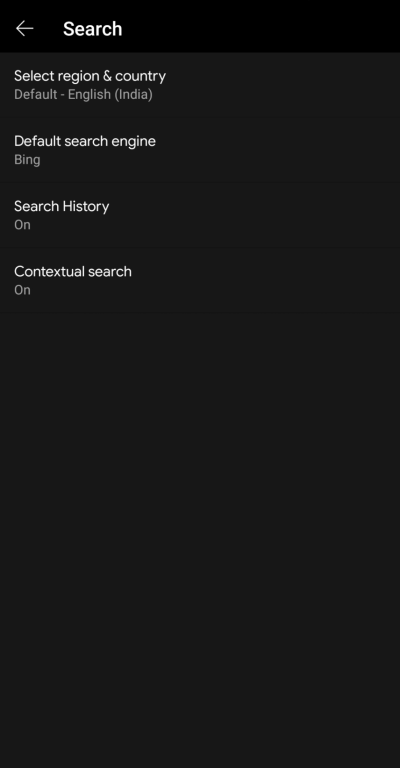 For customizing Search engines, we can change the location, change the default search provider, or whether to save search history.
Privacy and security
Although Edge can collect data (if you prefer) to give you personalized web browsing, the feature is disabled by default, and you'll be asked whether you need it or not at the very first startup.
Edge also offers three levels of Tracking Protection modes that you can choose from the Privacy settings menu. So you can select from Basic, Balanced, and Strict mode and choose the one that suits your needs.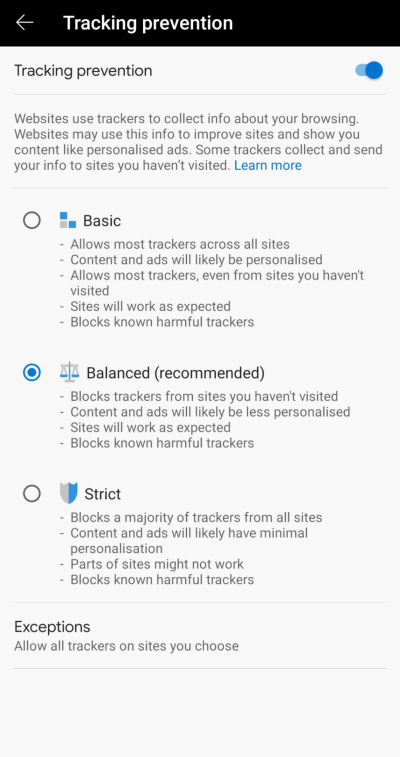 You also get the traditional "Do not track" option with the browser, which can send your preference to the websites you visit.
Although the way the websites respond might vary, and it might not be enough. But when combining it with the tracking Protection, you should get enough privacy you need.
Samsung Internet vs Microsoft Edge – which is good for Browsing?
Now that we have established the features and options that both browsers give let's finally address the main question. Which among them is best for browsing? For performance, both of them provide a similar experience since both of them are based on Chromium.
But we can compare them with the features that they provide. Overall features wise, the edge holds the lead with its sync and reading ability. Now the Samsung browser can also sync with other devices running the Samsung browser, but the platform availability is too constrained.
So, in my opinion, Microsoft Edge provides a better browsing experience for me. Its features are very useful for my case, and that's what makes it a preferred choice over the Samsung browser.
Conclusion
So, to sum up, this comparison, Edge is a better browser overall. Although that doesn't mean the Samsung browser is any lesser.
If you have a single device and you are not worried about cross-platform sync, then the Samsung browser will also be a viable option for you. Although for synchronizing, a Chrome extension is also available that can sync data from your Secure Samsung Cloud.