Looking for a few great FaceApp Alternatives for your phone? Worry not, we have the perfect list curated just for you! Read on to discover a few of the best FaceApp like applications that are available for Android devices on the Google Play Store!
Very recently, we have seen the trend of the up-and-coming FaceApp application that has been storming users all over the internet. If you haven't already heard about it, FaceApp uses AI and smart detection to basically change the facial features of people you've captured, including your very own selfies. As creepy as it might sound, the recent burst in the app's popularity has had a huge effect on social media. We have been seeing millions of users sharing their altered selfies over social media and being amazed by it. Needless to say, FaceApp has seen a lot of growth, and that is all thanks to the recent innovations and development in artificial intelligence.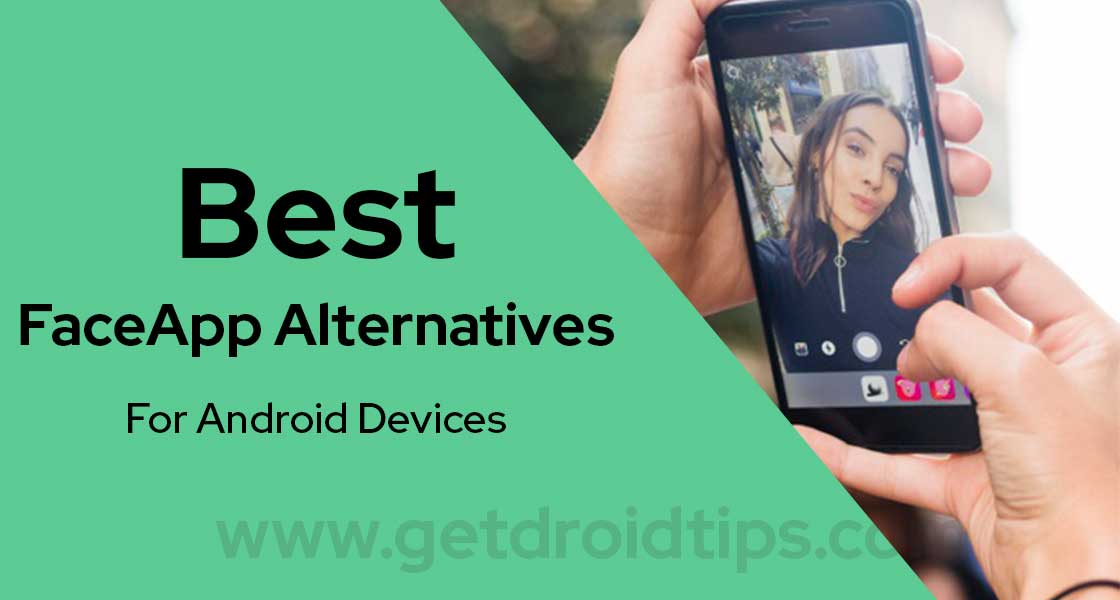 However, if you've already exhausted the number of filters within the popular service, then you might be feeling quite bored and out of place all of a sudden. What if we tell you that there are a ton of other applications available on the Google Play Store that aim at doing exactly that! Yep, you heard it right, we have tried and tested a few of the best FaceApp Alternatives just for you guys, and have curated a list down below. It is a good thing to note that almost none of the apps will come even close to being at the same level of quality as FaceApp, and that's because the original has had several updates ever since it had risen in terms of popularity. In any case whatsoever, we still think you might enjoy the following apps!
Top 5 FaceApp Alternatives you should try
All of the apps mentioned below have been tried and tested by yours truly, and I recommend only those apps that provide a fulfilling user experience. As far as availability goes, most of the apps we've mentioned below are free, to begin with, but run on a freemium basis which means users can opt into buying the premium versions which unlocks a whole lot of other cool features. Overall, if you don't plan on spending any money on a face swap Android app, you can still enjoy most of the listings here too! With that being said, let's take a look at our top picks!
#1 – Oldify – Old Aging Booth App
The first app on our list does only one defined purpose – it ages the way you look, and it is amazing how real it seems. The app allows users to simply take a selfie, or choose one from your gallery, apply the filter, and boom! You can now see yourself, just way older than you really are! While the app has no other filters, it is still a fun service to share around with your friends and to have a good laugh. Within the app, you can select how old you want yourself to get, 20, 30, 60, or even 100 years! The effect applied is pretty cool, and you can save the image to your phone and then share it around just for gags. There are also a few other effects that you can use, and while they aren't as funny as the oldify effect, we still feel the app is quite enjoyable. Lastly, there is a photo booth app where you can take funny selfies and store them later as a memory. You can download the latest version of Oldify from the Google Play Store by following the link below :
Download
#2 – AgingBooth
Our next pick is very similar to the first one, and we recommend using this app if your experience with the prior service wasn't up to the mark, or the app didn't work for any reason. Aging Booth was first released on iOS and thus has quite reminiscent UI and button elements. However, it does the one thing it promises very well – it ages you with no superficial effects or clingy-looking filter on top. Just like Oldify, users can select any image from their gallery, or take a new one (if you are daring enough), and simply tap on the start button, and let the application do its trick! A few intuitive features within AgingBooth that we found were the ability to quickly shake your phone to check the before and after image, and the auto-cropping feature that chooses the best framing for your face. You can download the latest version of AgingBooth from the Google Play Store by following the link below :
Download
#3 – BoothStache
This one comes from the same developer that made AgingBooth and is quite a fun-to-use application. While the developer also makes a handful of other face-changing applications like FatBooth, BaldBooth, MixBooth & UglyBooth, we found BoothStache to be the funniest and intuitive application. Just like its name suggests, it adds a mustache to your face, so you can judge how you look with facial hair without the risk of actually growing a beard or a mustache! Right now, there are over 7 different mustache styles that the users can apply on their face and share around with friends and family to have a good laugh, and the developer promises more styles to be incoming soon. Other features of the app remain the same as AgingBooth, with the phone shake to change before or after images or being able to auto crop your face for the perfect frame. You can download the latest version of BoothStache from the Google Play Store by following the link below :
Download
#4 – Magikoly
The next app on our list might as well be my favorite among all. Magikoly aims at bringing a ton of AI-enabled features, just like FaceApp, to the masses. The stand-out features of this app include being able to age yourself, just like the first two apps on our list did. However, the list doesn't end there. With this application in hand, you can also use a baby filter to see how you would look in a negative few years! You can also use the gender swap filter that does exactly what it says – transforms you into the opposite gender so you can finally fall in love with yourself. Other filters include a beauty mode that enhances the skin glow and gets rid of pimples or acne. What makes this app so good is the fact that it uses huge chunks of AI and Big Data to accurately represent what you would look like a baby, an aged person, or yourself from the opposite gender. You can download the latest version of Magikoly from the Google Play Store by following the link below :
Download
#5 – Face Changer 2
The next application on our list is Face Changer 2. This comes from the same developer which made the original Face Changer app back in 2016, which had gained over 50 million downloads on the Play Store. What makes Face Changer 2 so fun to use is the fact that you can swap out faces over others and it looks pretty legit and realistic too. However, there are a lot of other features in the app that allow you to change the facial features, like making your eyeballs bigger, lips thinner, face fatter, and so on and so forth. The app is purely made for fun, and the results you get out of it are 90% of the time very funny to share around with friends and family. For those who do want to apply good-looking filters, the app also has a predefined beauty mode that clears blemishes and applies a smooth glow over your face. You can download the latest version of Face Changer 2 from the Google Play Store by following the link below :
Download
#6 – Reface
Ending our list, we have one of the most exciting applications on this list. Reface is essentially a face swap application that was also nominated for the Google Play Store Users' Choice Awards. It works similarly to the popular face swap filter available in Snapchat, but obviously has a much higher quality and many more features.
These features include users being able to swap their faces with any celebrity to feel special with every selfie they take. You can also face swap videos and GIFs, and it works really well under proper lighting conditions. If you've ever heard of Deepfake, this app comes strikingly close (obviously in an entertaining way).
The app uses advanced AI to perfectly mask your face in any scenario and also gives you more options such as a gender swap filter. There's a growing community of Reface users who use this app primarily to generate customized memes with their faces on it. You can download the latest version of Reface from the Google Play Store by following the link below :
Download
That's all folks! We hope you enjoyed our roundup of some of the Best FaceApp Alternatives for Android devices! Which one among the list is your favorite, and how many of these face swapping or aging apps have you already known or have been using? Know other good Android FaceApp Alternatives that you feel people might find interesting? Do let us know in the comments section below, we'd be delighted to hear from you guys!