The Warzone 2 DMZ is a special game mode in Call of Duty Warzone 2 that allows players to explore the De-Militarized zone of Al Mazrah freely. This mode is designed to challenge players to fight against other players and AI characters while completing missions, gaining loot, and earning rewards. In this game mode, players can explore Al Mazrah, a fictional city in Urzikstan. In this guide, we will take you through how to find and extract Research Documents from the Ashika Science Center in Warzone 2.0 DMZ. This is part of the Toxin Research Mission.
The Warzone 2 DMZ tests your survival skills by challenging you to outsmart your opponents and make it out alive. The game's ultimate goal is to exfil safely with everything you have found. Overall, Warzone 2 DMZ is an exciting game mode that challenges players to test their skills and survival instincts. With the ability to play with friends and the risk and reward system, this game mode is a great addition to the Call of Duty franchise. So, let's find out more about the Toxin Research Mission.
Warzone 2.0 DMZ Toxin Research Mission: Find and Extract Research Documents from Ashika Science Center
Warzone 2.0 DMZ is a popular game that offers players a wide range of missions and contracts to complete. These missions are designed to offer players a chance to earn rewards, including experience points and contraband items that can help them unlock new objectives. Finding and extracting research documents from Ashika Science Center is one of the many missions available in Warzone 2.0 DMZ.
The mission requires players to be particularly patient and strategic as it can take a lot of time to complete. The objective is to find and extract research documents from the Ashika Science Center, which is part of the Toxin Research mission of the White Lotus faction. In any event, this task is one of three missions that make up the Toxin Research mission.
The Toxin Research mission is a challenging quest, nevertheless. It is essential to complete all three tasks in this series to be successful in the game. These are the three tasks that you need to complete as part of this mission:
Find and extract research documents from Ashika Center
Place the research docs in the smuggling tunnels
Place a gas can in the smuggling tunnels
How to Complete the Toxin Research Mission Task 1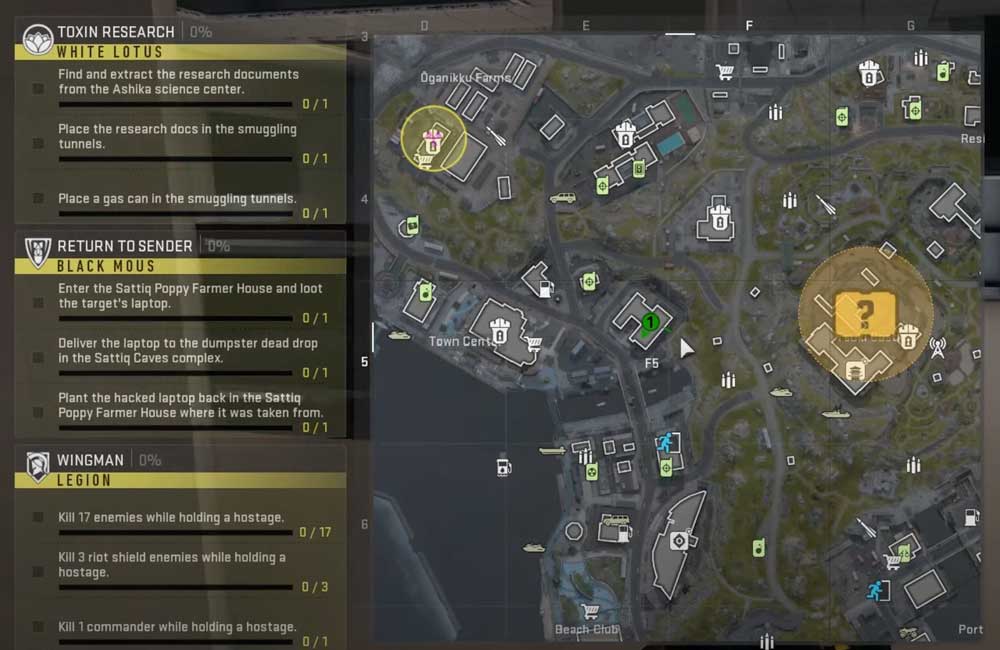 If you're looking to complete the task of finding research documents in the Ashika Science Center, there are a few things to keep in mind. To start, you'll need to make sure you have the Research Center Key. You can get this key in a few different ways, including finding it in a duffel bag dropped after killing high-value targets for Contracts or finding it in Al Mazrah through various methods. However, it's important to note that obtaining the key is not a guaranteed process and relies heavily on luck.
Once you have the Research Center Key, it's time to head to the science center located near the town center at the E5 location on the map. After entering the building, you'll want to make your way upstairs. Once you're upstairs, take the first right and you'll see the locked research center room.
Using the Research Center Key, you can unlock the door to the research center room. Once you've entered the room, you'll find the research documents under the desk.
It's worth noting that finding the Research Center Key can be a bit of a challenge. Basically, there's no guarantee that you'll be able to find it in a timely manner. However, once you have the key, the process of finding the research documents themselves is relatively straightforward.
That concludes our guide on how to find and extract research documents from the Ashika Science Center in Warzone 2.0 DMZ. We hope this guide has been helpful and wish you luck in your search for the key and the documents themselves.