If you are a hardcore Android user, you should have come across various tools that help you flash ROM, remove SIM block, Bluetooth repair, IMEI, erasing information, and remove Google accounts on Android devices. There is another popular tool called the UMT Support Access 2.0 that enables you to perform all these tasks quite efficiently. Note that UMT Support Access 2.0 is a service for UMT tools. This will guide the user and provide helpful information required to use the UMT Tools to perform the before-mentioned tasks.
Besides, the UMT Tool is available on the official website for free. With the help of the UMT tool, you can download all the supported and compatible setup files and drivers using the tool. Notably, the UMT tool is compatible with Windows XP, Windows 7, Windows 8, Windows 10, both 32 and 62 bit. UMT stands for Ultimate Multi-Tool for the unaware, and the latest version of the Support Access is now available to download. With that being said, let us get straight into the article itself:
Also Read: Download Ultimate Multi Tool or UMT Latest Setup v8.2 – QcFire 2022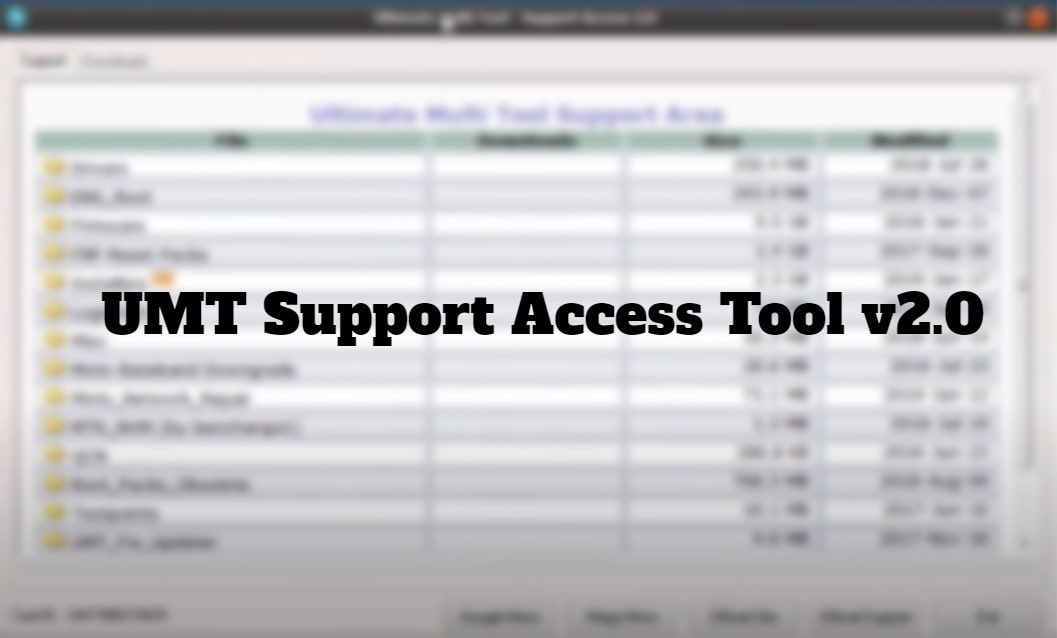 Ultimate Multi Tool Support Access v2.0 – Features
Well, before we go ahead and download the latest version of the Ultimate Multi Tool Support Access v2.0 or UMT Support Access v2.0, let us take a brief look at what all things you will be able to download using the tool:
Firmware
ENG Boot
Drivers
QCN Files
Motorola based downgrade files
Motorola network repair solutions
Root packs
FRP Reset files
Test point images
Installers
LogoPack
Remove SIM lock
Android hard reset
Remove Google account
Remove Samsung account
Bypass Mi Cloud account
Repair dead boot loop
Bypass Android lock screen without root
Reset screen lock
Repair BT
Repair IMEI
ADB enable
Allow USB debugging features
Download UMT Support Access v2.0 (2021)
Below is the download link to the UMT Support Access v2.0 (2021) latest version. The size of the file is a mere 2MB and is developed by the UMT Team.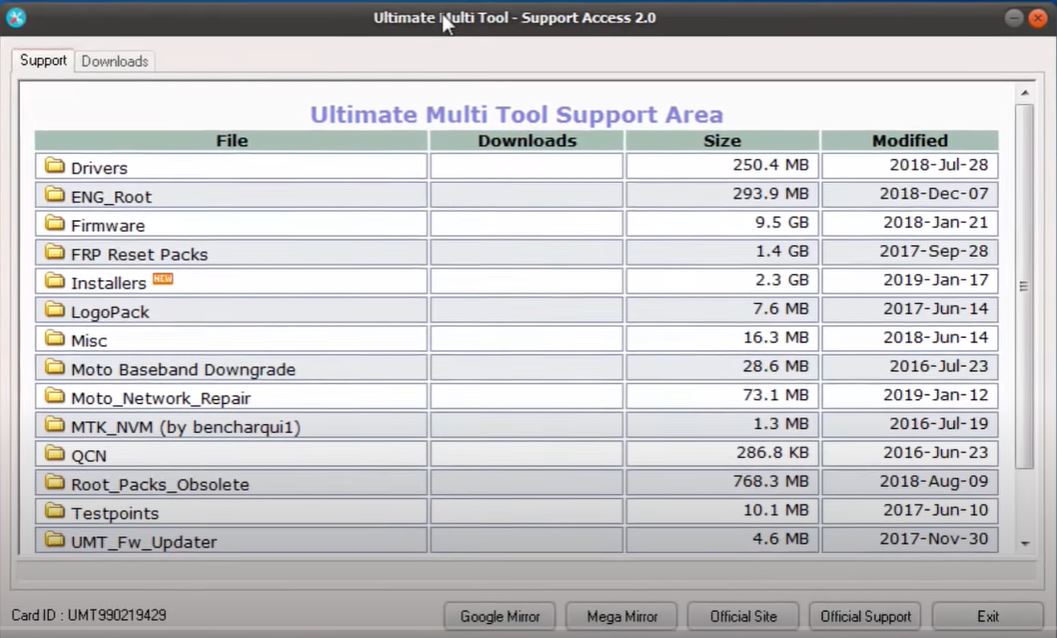 How to use UMT Support Access v2.0
Using the UMT Support Access v2.0 is pretty simple. However, you need to make sure that you have the UMT Dongle with you. You can also download the latest version of the UMT Dongle tool software from this Support Access tool. UMT Multi-Tool is supported by many smartphone OEMs like Alcatel, Haier, Olive, Huawei, Huawei Modem, Karbonn, LG, Lava, Micromax, Samsung CDMA, OnePlus, Samsung Android, ZTE CDMA, ZTE Android brands.
Ensure that your computer is connected to the internet and the UMT Dongle inserted and fired upon your PC's USB port. Follow the steps below to understand how you can use the UMT Support Access v2.0:
Grab the UMT Support Access v2.0 from the above link.
Open the support access.
Click on any file that you would like to download.

It will be added to the Download list.
Click on Start to begin downloading.
Wrap Up!
So, that's it from my side in this post. I hope you guys liked this post on the latest Ultimate Multi-Tool Support Access v2.0 download and could download the tool from the link given above. Let us know in the comments below if you encounter any issues with the post or the download link. There is no comparison with other tools if you are dealing with Qualcomm SPD or MTK because of the reliability and features.
For more such awesome coverage, you can head over to our check out our Windows Guides, Gaming Guides, Social Media Guides, iPhone, and Android Guides to read more. Make sure to subscribe to our YouTube Channel for awesome videos related to Android, iOS, and Gaming. Until the next post…Cheers!