Tecno Mobile is one of the fastest-growing Chinese smartphone brands across the world that offers budget to mid-range smartphones with an affordable price tag. Though there is tough competition in the smartphone industry, it seems that Tecno Mobile has a separate fanbase, especially in Africa and some other countries. So, if you're one of the Tecno device users then you should check How to Unlock Bootloader on Any Tecno Smartphone.
Tecno Mobile has also entered the Indian market and the company is doing really great in terms of releasing good devices. It's also worth mentioning that at the time of writing this article, Google has officially released the Android 12 Beta 1 for a bunch of eligible devices, and Tecno CAMON 17 is one of them on the list. It also indicates that some other Tecno devices will become eligible enough to receive the Android 12 update later.
Coming to the topic, if you're a fan of Android or already using any of the Tecno models then you should try unlocking the bootloader manually in order to start customizing your handset. Additionally, you'll also be able to flash third-party AOSP ROMs on your Tecno device apart from rooting, installing mods, etc. Whereas interested Project Treble compatible device users can also flash the Android 12 Beta GSI package.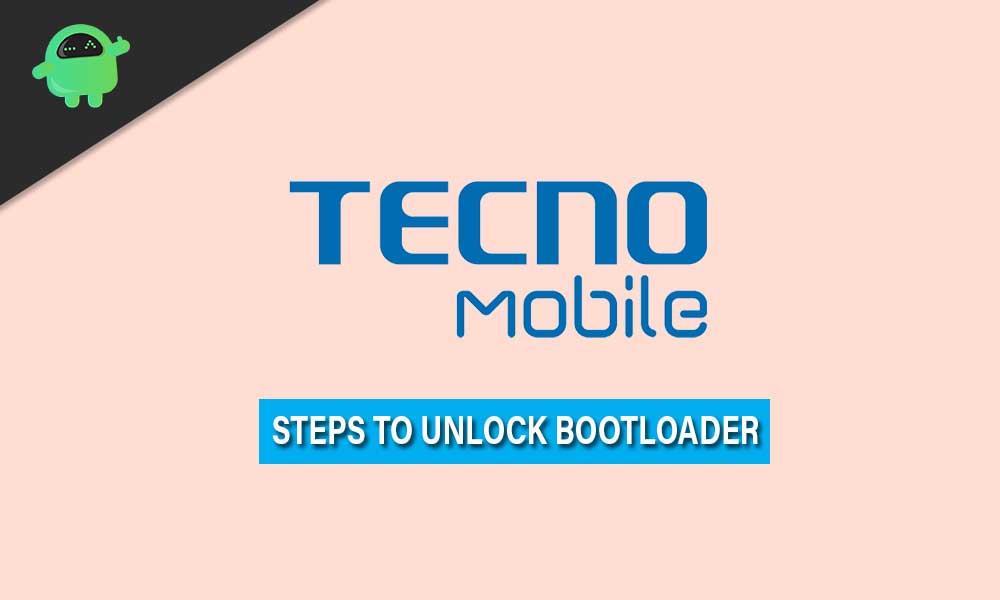 What is Bootloader Unlock?
Unlocking your Android phone's bootloader is one of the first steps to customizing your handset up to extreme levels such as rooting, installing modules, flashing custom firmware, and more. Well, a Bootloader is a vendor-proprietary image that takes care of the kernel on a device. It basically protects the device state and verifies the integrity of boot and recovery partitions completely.
In a short way, whenever you power on or restart your Android device, the handset first shows a boot screen or boot logo respective to the brand and tells the hardware and boot partitions to either boot into the system or boot into the recovery/fastboot mode accordingly. By default, each Android smartphone OEM releases its devices with a locked bootloader for various security reasons.
Now, it's your own choice as an Android user to either stay with a locked bootloader without heavily customizing your handset or go with the flow of the unlimited customizations by unlocking the bootloader manually.
Why You Need an Unlocked Bootloader?
Some bootloaders may contain an extra layer of security that only loads the operating system after getting approved. The exact process of checking and verifying the unauthorized software varies from device to device accordingly but the working process or effects are the same. While using the locked bootloader, it's clear that you can't run a third-party system or firmware on the device.
So, the unlocked bootloader is necessary in order to gain root access or install modules or flash third-party firmware (aftermarket ROM) on your Android device without any issue. When you unbox your handset and boot it for the first time, it runs on the locked bootloader that has been provided by the manufacturer because they don't want you to run any other firmware on the device by any means.
However, these days some manufacturers offer an official way or support to the users to unlock the device bootloader easily. While a few OEMs now offer warranty support to their devices even after unlocking the bootloader. The way of unlocking the bootloader is easy enough for most users but you'll need to follow the steps properly.
Pre-Requisites:
There are some of the pre-requirements mentioned below that you should follow properly before jumping into the bootloader unlocking process. Such as
1. You Need PC or Laptop
You'll require a PC or Laptop in order to connect your Tecno device with it using a USB data cable. Once connected, you'll be able to use the ADB & Fastboot tools easily.
2. Charge Your Device
Make sure to charge your handset before jumping into the steps below. Keep at least 50% of charge to ensure that the process goes smooth without any occasional shutdowns.
3. Install ADB and Fastboot Binaries
ADB is necessary to allow you to root or modify your device system files by using the commands properly. While the Fastboot is required to modify the phone's firmware by sending commands to it. You can download ADB Fastboot tools here.
4. Install USB Drivers
USB Drivers are also required to easily connect and create a communication bridge between the mobile device and a computer after connecting via the USB cable. It ensures stable connectivity while flashing or transferring files between the mobile device and the computer or vice versa. Here you'll require the Tecno USB Drivers for your handset.
5. Use Original USB Cable
Well, using an original USB cable can help you to easily connect and maintain a strong communication status between the device and the PC. If you're using a third-party local USB cable then you may experience connectivity loss or flashing failed errors or data transferring issues sometimes.
6. Enable USB Debugging / Enable OEM Unlock
It's also necessary for you to turn on the USB Debugging as well as enable the OEM Unlock option on your handset before connecting and using the ADB Fastboot method. To do so:
Open the Settings menu on your handset.
Now, go to the About Phone section > Scroll down to the bottom and you'll find Build Number.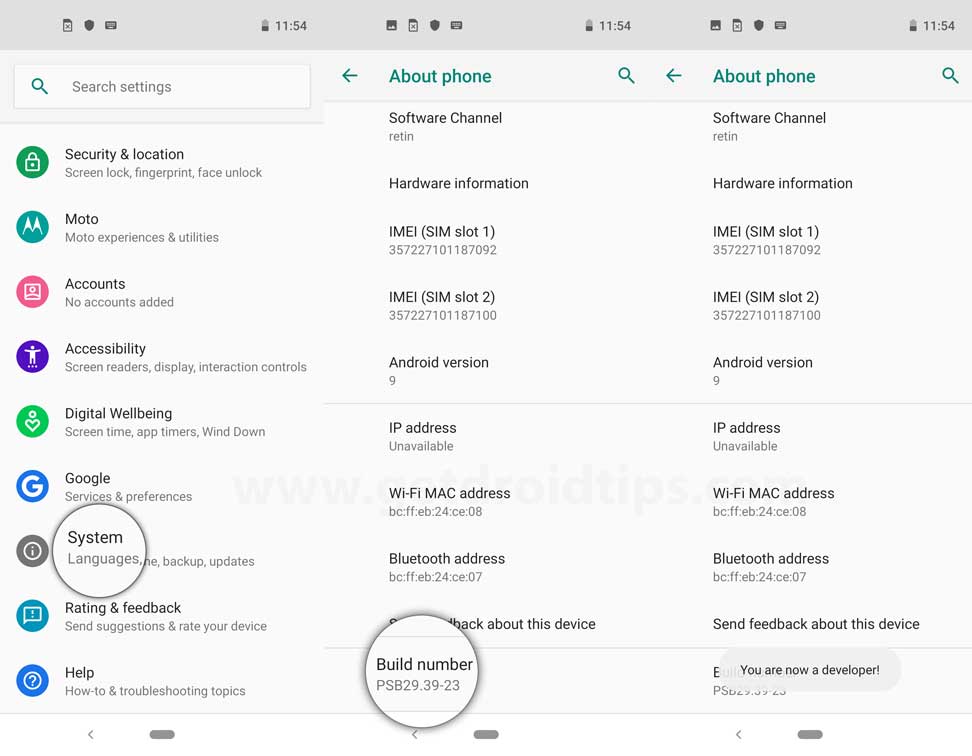 Tap on it for 7 times quickly and the Developer Options will be enabled on your phone.
Next, go back to the Settings page again, and search for Developer Options.
Here you'll need to tap on it and turn on the USB Debugging toggle.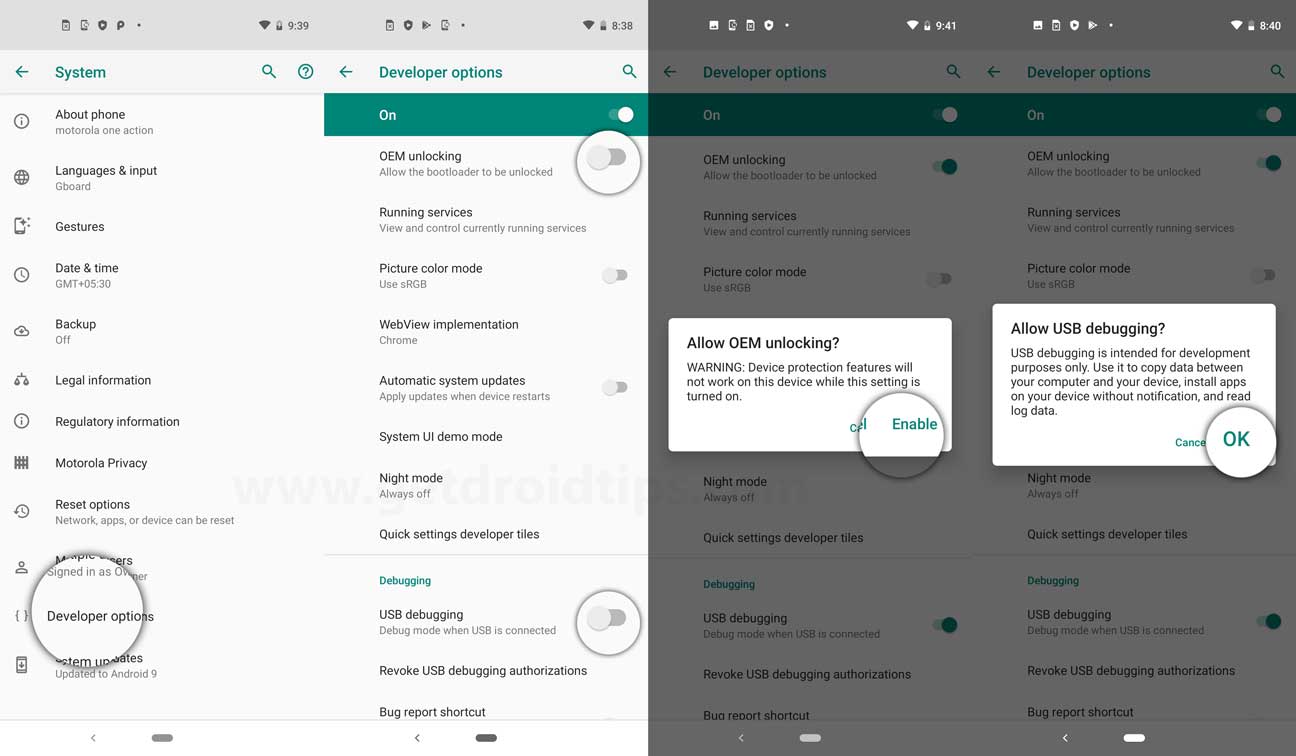 Once done, make sure to scroll down a bit, and turn on the Allow OEM Unlocking toggle as well.
After enabling both options, you can close the Settings page.
Supported Tecno Devices List:
Device Name
Tecno Spark 8C
Tecno Pop 5X
Tecno Pop 5 Pro
Tecno Spark 8 Pro
Tecno Spark Go 2022
Tecno Spark 8T
Tecno Pova 5G
Tecno Pova Neo
Tecno Camon 18T
Tecno Pop 5 LTE
Tecno Pop 5c
Tecno Camon 18i
Tecno Spark 8P
Tecno Camon 18 Premier
Tecno Camon 18 P
Tecno Spark Go 2021
Tecno Camon 18
Tecno Spark 8
Tecno Pop 5
Tecno Spark 7T
Tecno Phantom X
Tecno Pova 2
Tecno Camon 17 Pro
Tecno Camon 17P
Tecno Camon 17
Tecno Spark 7 Pro
Tecno Spark 7P
Tecno Spark 7
Tecno Camon 16 Pro
Tecno Camon 16 S
Tecno Spark 6 Go
Tecno Spark Go 2020
Tecno Pova
Tecno Camon 16
Tecno Spark 6 Air
Tecno Spark 6
Tecno Camon 16 Premier
Tecno Pouvoir 4 Pro
Tecno Pop 4
Tecno Pouvoir 4
Tecno Spark Power 2
Tecno Spark 5 Air
Tecno Spark 5 pro
Tecno Spark 5
Tecno Camon 15 Premier
Tecno Camon 15 Air
Tecno Camon 15 Pro
Tecno Camon 12 Air
Tecno Camon 15
Tecno Pop 3 Plus
Tecno Spark 4 Lite
Tecno Spark 4
Tecno Camon 12 Pro
Tecno Camon 12
Tecno Pouvoir 3 Air
Tecno Pouvoir 3 Plus
Tecno Pouvoir 3
Tecno Spark 3
Tecno Spark 3 Pro
Tecno Spark Go
Tecno Pop 2 F
Tecno Pop 2 Plus
Tecno Phantom 9
Tecno Camon iACE2X
Tecno Camon iACE2
Tecno Camon 11 Pro
Tecno Camon 11
Tecno Pop 1s
Tecno Pop 1 Pro
Tecno Pop 1
Tecno Phantom 6
Tecno F2
Tecno Pop 1 Lite
Tecno Pouvoir 2 Pro
Tecno Pouvoir 2
Tecno Pouvoir 1
Tecno Spark Pro
Tecno Spark Plus
Tecno Spark CM
Tecno Spark 2
Tecno Spark
Tecno Camon X Pro
Tecno Camon X
Tecno Camon CX Air
Tecno Camon CX
Tecno Camon CM
Tecno Phantom 8
Tecno Phantom 6 Plus
Tecno Pop 5S
Tecno Pova 3
Tecno Spark 9 Pro
Tecno Camon 19 Neo
Tecno Camon 19
Tecno Camon 19 Pro
Tecno Camon 19 Pro 5G
Tecno Spark 9T
Tecno Spark 9
Tecno Pop 6 Pro
Tecno Pova Neo 5G
Tecno Pova Neo 2
Tecno Pova 4 Pro
Tecno Pova 4
Tecno Phantom X2
Tecno Phantom X2 Pro
Tecno Pop 6
Tecno Pop 6 Go
Tecno Spark Go 2023
Tecno Pop 7 Pro
Tecno Phantom V Fold
Tecno Spark 10 Pro
Tecno Spark 10
Tecno Spark 10C
Tecno Spark 10 5G
Tecno Pop 7
Tecno Camon 20
Tecno Camon 20 Pro
Tecno Camon 20 Pro 5G
Tecno Camon 20 Premier
Tecno Pova 5
Tecno Pova Neo 3
Tecno Pova 5 Pro
Tecno Phantom V Flip
Steps to Unlock Bootloader on Tecno Smartphone
Warning: GetDroidTips won't be responsible for any kind of issues or errors that you may experience while or after following this guide. Make sure to take a complete backup of the device data and do it at your own risk.
Please Note: Take a full backup of the necessary data from your device first. The bootloader unlocking process will wipe out all the internal data completely.
1. Boot Into Fastboot mode
Make sure that you've already downloaded the ADB and Fastboot tool on your PC. If no, do this first.
Now, extract the ADB and Fastboot tool zip file on your PC.
Then connect your Tecno handset to the computer using a USB data cable.
Next, wait for the computer to detect the connected device.
Once done, the USB driver will be installed on the PC.
Go to the extracted ADB and Fastboot folder on the PC > Now, press the Shift key + Right-click on the mouse.
Select the Open PowerShell window here from the popup. If prompted by UAC, click on Yes to allow admin access.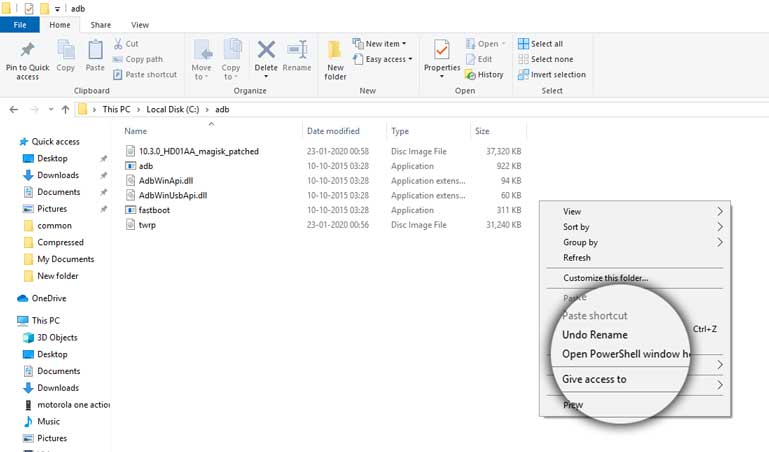 Then type the following command line inside the PowerShell window and hit Enter to check whether your device is connected to ADB or not:
adb devices
If you see a popup on the device screen to Allow USB Debugging on your phone, tap on OK to proceed.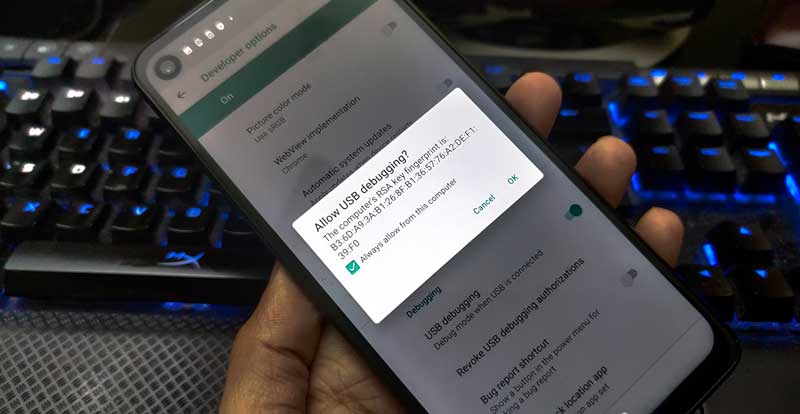 Type the following command line and hit Enter to restart your device into bootloader:
adb reboot bootloader
Once your device reboots into the bootloader, it'll show the locked status.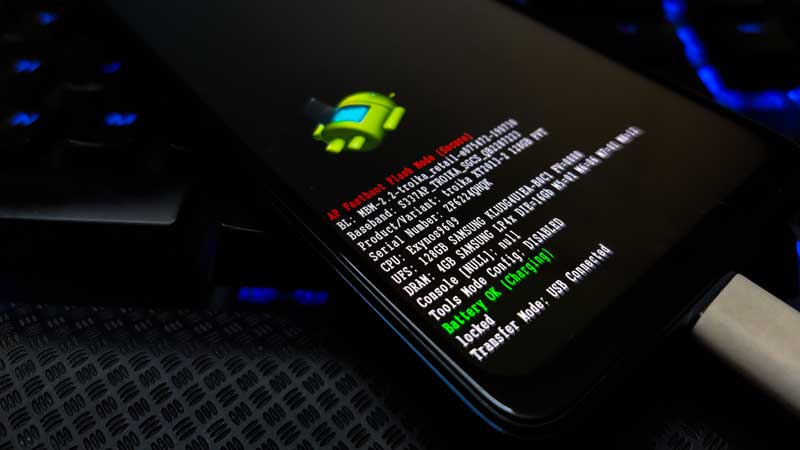 Now, you're ready to follow the method to Unlock Bootloader on your Tecno device below.
2. Instructions to Unlock Bootloader
Type the following command line to check if the device is connected properly or not. This will also check whether the fastboot drivers are installed or not.
fastboot devices
This command will show you the list of connected devices on the screen. If the serial number of your connected device shows up, you can follow the next step. [If the serial number isn't showing, that means either the drivers aren't properly installed or you have skipped any step. So, make sure to retry the previous steps.
Once the device has been recognized by the command, you can press the Volume Down button on the phone to navigate to the BOOT TO DOWNLOAD MODE option.
Now, press the Power key to select this option.
Type the following command and hit Enter to execute bootloader unlocking: [any one]
fastboot flashing unlock
OR,
fastboot oem unlock
You'll get a confirmation message on the screen of your Tecno model.
Just navigate to Yes and press the Power button to confirm unlocking the bootloader.
Let the process be completed. Once done, your handset will reboot into the bootloader mode automatically.
Now, type the following command and hit Enter to reboot your device into the system normally:
fastboot reboot
That's it, guys. We hope this guide was helpful to you. For further queries, feel free to ask in the comment below.