In this tutorial, we will show you how to unlock the bootloader on Redmi Note 9 and Note 9 Pro devices. Android devices thrive on an open-source nature. It opens the gate to a plethora of new customizations that you could give a shot at. To begin with, are tons of themes, icon packs, fonts, etc. Whereas if you go a step ahead, you could altogether tweak the system files of your devices. This will allow you to try out various mods, frameworks, custom ROMs, kernel, and countless other things.
However, for each of these things to be effectively carried out, there's a major prerequisite that your device should meet. And that is an unlocked bootloader. Until and unless you do so, you wouldn't be able to enjoy any of the above perks that we have mentioned. So in this guide, we will show you how to unlock the bootloader on your Redmi Note 9 and Note 9 Pro devices. But first let's check out what exactly is a bootloader, what are its associated benefits, and more importantly the risks that are involved.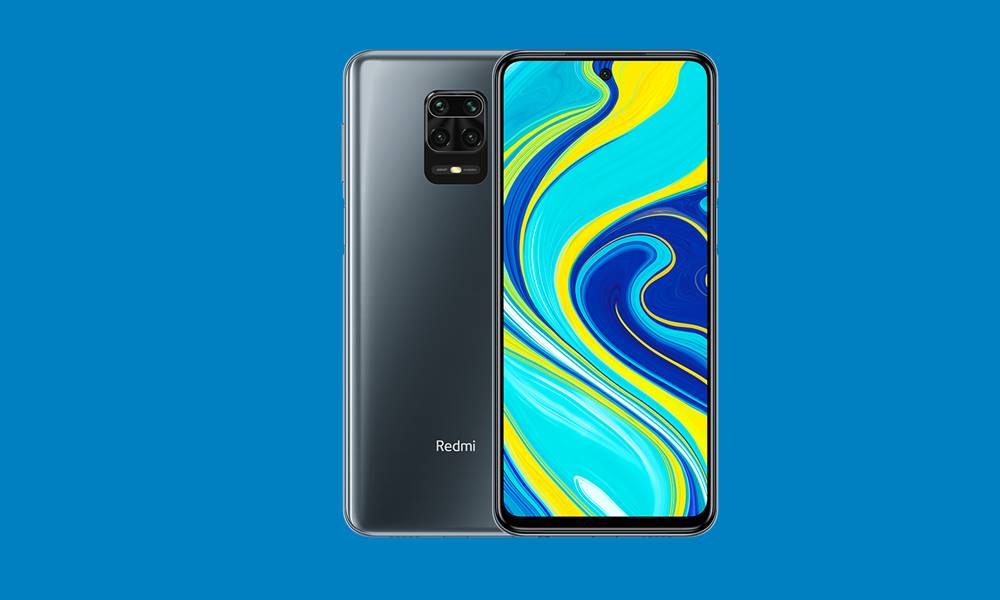 What is a Bootloader
A bootloader is a software program that tells the Operating System which of the programs to run at startup. Furthermore, it also helps the device to boot to recovery. By default, most of the OEMs ships their device with a locked bootloader. The reason on their part is simple- the user should use only that OS that they have provided. While it makes sense from a security point of view, yet not everyone is a fan of Xiaomi's MIUI skin. As a result, they look out for alternative ways. But to deviate from the stock Android OS and try out any of the tweaks, you have to bypass these restrictions aka a locked bootloader. Here are all the goodies that you will be getting once you unlock the bootloader of your Redmi Note 9 and Note 9 Pro device.
Advantages/Risks of an Unlock Bootloader
Unlocking the device's bootloader comes with quite a few advantages. To begin with, you could try out tons of custom ROMs that will give your device a completely new outlook, totally different from MIUI. Likewise, you could get administrative authority by rooting your device via MAgisk. This will then allow you to try out a plethora of modules and frameworks. While all these sound good, do remember every side has two coins, and so does unlocking the bootloader. There are quite a few risks associated with the same.
Your device is now prone to attacks since it is now open for customizations. Furthermore, the warranty of your device might also be void in certain cases. Unlocking the bootloader also wipes off the data from your device. And if you end up messing up any steps, your device might end up in a bootloop or even in a bricked state. With that said, you are now completely aware of the benefits and risks of an unlocked bootloader. If you made up your mind, then here is how you could unlock the bootloader of your Redmi Note 9 and Note 9 Pro device.
How to Unlock Bootloader of Redmi Note 9/ Note 9 Pro
There are a few prerequisites that you have to keep in mind before you go ahead with the steps. They are mentioned below, please refer to it.
Warning
Before we begin with this procedure, I would strongly recommend you to create a backup of your device storage and all your files stored on your device. Moreover, it is advised to follow the steps mentioned in this post very carefully to avoid permanent damage or to brick your device. If anything goes wrong the author or GetDroidTips is not responsible for it.
Prerequisites
Make a complete backup of your Android device. This is because the unlocking bootloader wipes all the data on your device.
Download and install the MI Unlock Tool on your PC.
That's it. Now proceed with the below steps to unlock the bootloader on Redmi Note 9 and Note 9 Pro.
STEP 1: Enable USB Debugging and OEM Unlocking
The former is used to establish a successful connection between your device and PC whereas the latter makes it possible to unlock the bootloader of your device. To enable both of them, you have to enable Developer Options. Here is how to do so: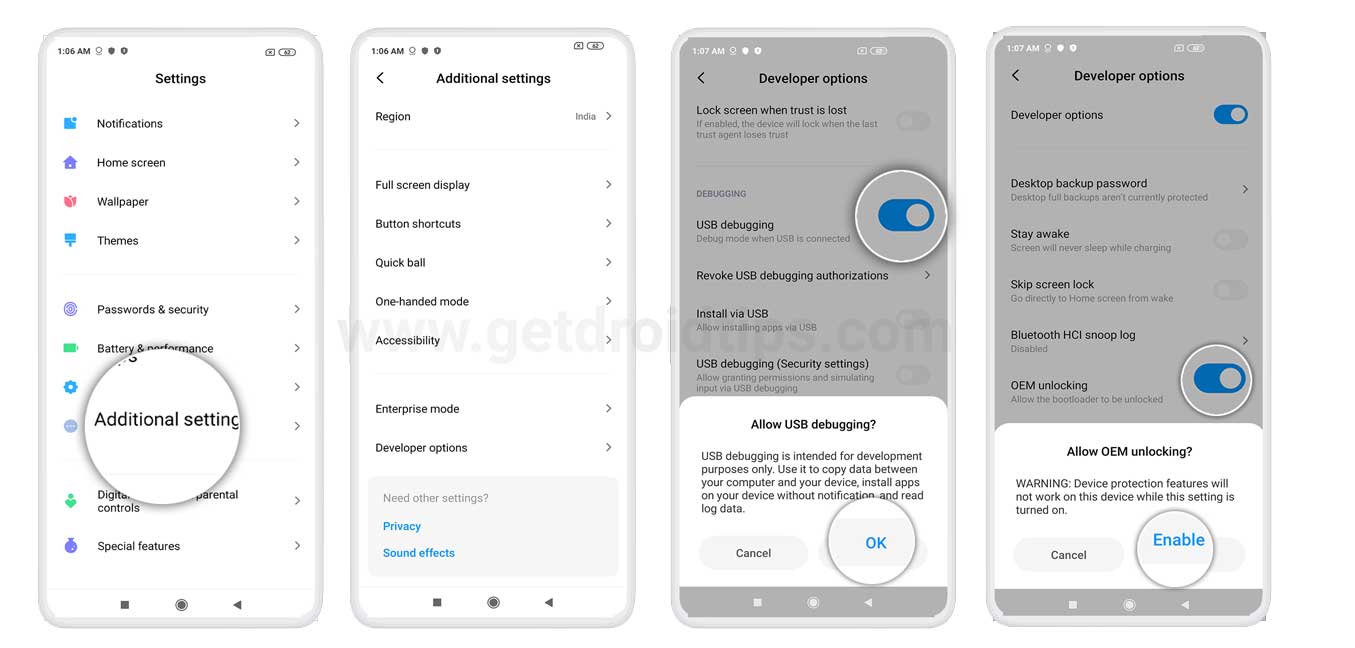 Head over to Settings on your Redmi device and tap on About Phone.
Scroll to the bottom and tap on MIUI versions 7 times.
Head back to Settings and go to Additional Settings.
You should now see the Developer Options. Go there and enable the toggle next to USB Debugging and OEM Unlocking.
STEP 2: Bind your Account to your Redmi Device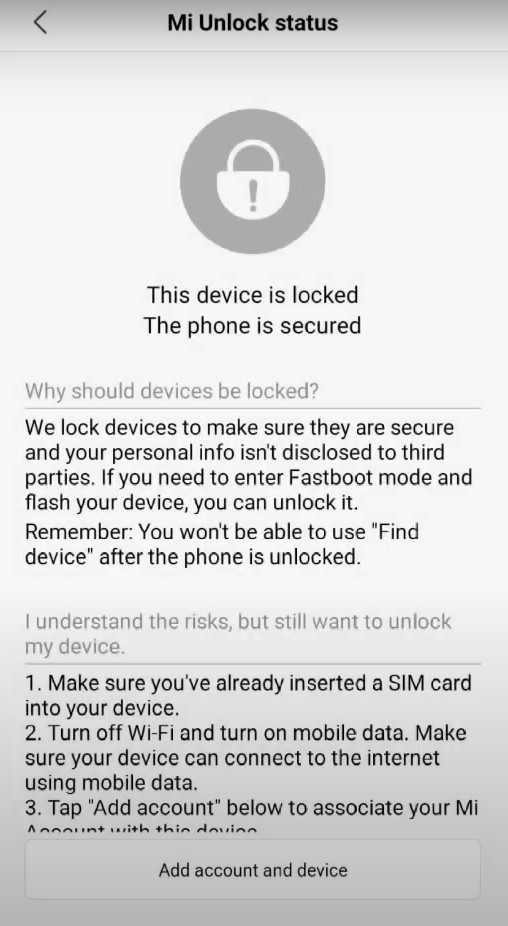 For this, you will need a MI Account. If you don't have one, create it right away. Make sure to enter the same phone number that is currently on your device. Once that is done, head over to Settings > Additional settings > Developer options > Mi Unlock Status. Tap on the Add account and device option and follow the on-screen instructions that follow. If you get the message "Added successfully. MI account is associated with this device now" then proceed ahead.
STEP 3: Unlock Bootloader on Redmi Note 9 and Note 9 Pro
Now that you have done the above two steps, its time to start with the steps to unlock bootloader on Redmi Note 9 and Note 9 Pro. Follow the below steps:
Power off your device. Then press the Volume Down and Power buttons for a few seconds. This will reboot your device to Fastboot Mode. You should see the famous Mi bunny with the fastboot code underneath.

Connect your device to PC via USB cable.
Launch the Mi Unlock Tool and sign with your credentials.
The tool will now check if the account has been correctly bound to the device.
Once that is done, you should see the Phone Connected message.

Click on the Unlock button. A popup will now appear, click on Unlock anyway.

The process will now begin and will take a few minutes, after which you should see the Unlocked Success message. Hit the Reboot now message to start your device too Android OS.

Congrats! You have successfully unlocked the bootloader on Redmi Note 9 and Note 9 Pro. When your device boots up, you might see a warning message on your device, ignore it, it is completely normal. Furthermore, you will have to set up your device from scratch, since a device format has taken place. Rounding off, here are some iPhone Tips and Tricks, PC tips and tricks, and Android Tips and Trick that you should check out as well.