Amazon's personal voice assistant Alexa beholds a plethora of useful functionalities. Playing your preferred music, creating a to-do list, setting up an alarm, getting real-time information related to traffic and breaking news are just some of the noteworthy ones. Likewise, there is another petty nifty feature that not many might be aware of. You could also use Alexa as an intercom device.
Similar to how an intercom device is able to carry out one-way or two-way communications with ease, the same is the case with the offering from Amazon. Using two of its handy functionalities in the form of Drop-In and Announcement, you will able to mimic the functionality of an intercom in its entirety. All that is needed is an Alexa enabled device such as Echo and then you could easily use it as an intercom. Here are all the required instructions in this regard.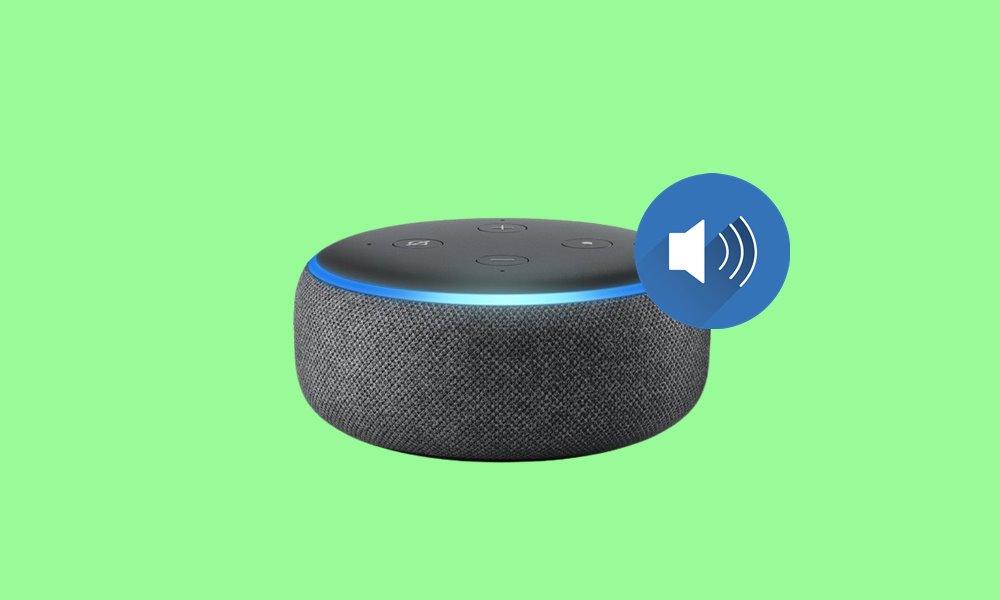 How to Use Alexa as an Intercom
Before listing out the instructions, let's make you aware of both these features. First off, the Drop-In feature allows you to get in touch with other users without them having to pick up your voice or video call. It will automatically connect to them and you could start off the conversation, Likewise, you could also be able to listen to the audio surrounding the listener's speakers. This Drop-In hence is a two conversation.
However, if you only wish to initiate a one-way talk such as broadcasting a message, then you may take the help of the Announcement feature. As is evident from its name, it allows you to broadcast your message to all the connected speakers (rather than one specific speaker as was the case with Drop-In). So with this, you might have got a perfect idea of both these features. Let's now turn our attention to how to use Alexa as an intercom using both these features.
Using Drop-In as an Intercom
Since Drop-in doesn't require the respondent to pick up the call, hence it might prove to be a privacy concern for some. Amazon has taken note of the same and hasn't enabled this feature on the go. You will have to enable this feature for the desired contacts and they, in turn, need to add you to for this Drop-In as well. Here's how it could be done: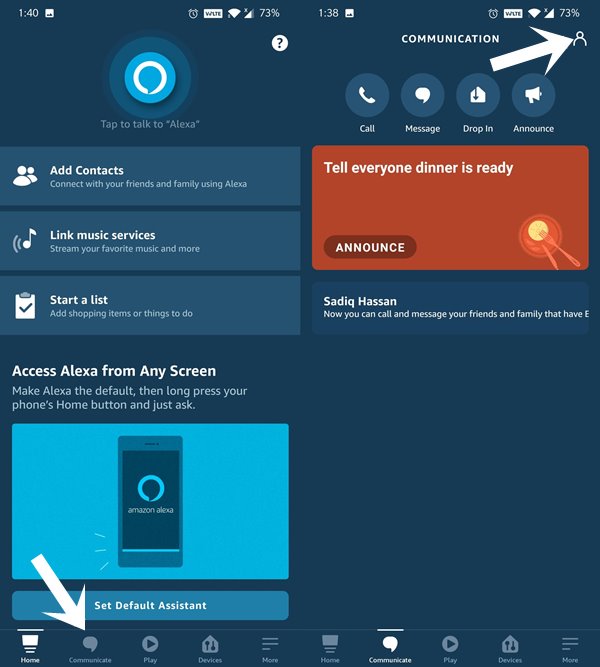 Launch the Alexa app and head over to the Communicate section
Then tap on the Contacts icon situated at the top-right.
Select the desired contact from the list and finally, enable the Contact can Drop-In anytime option.
Make sure that the person you have added also adds you to his/her Drop-In list.
Once that is done, you may now proceed with the steps to use Alexa as an intercom using the Drop-In feature. Just make sure that you have the Alexa app installed on your device and is having at least one Echo device. If you tick mark both these requirements, then proceed with the below steps: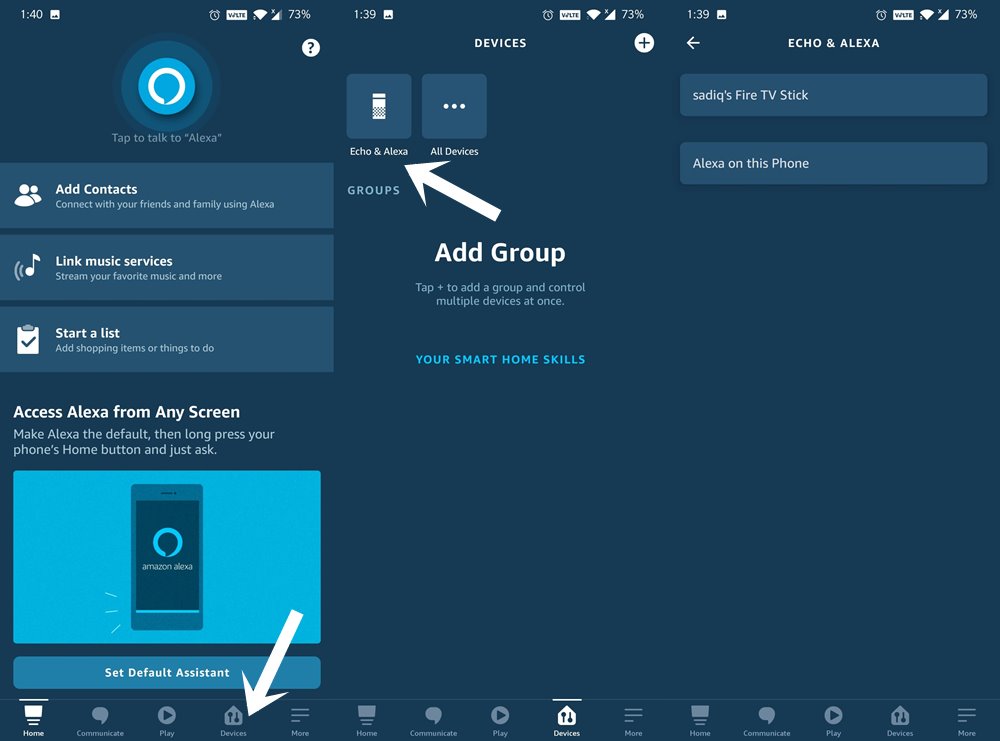 Launch the Alexa app on your device and head over to Devices situated at the bottom right.
Within the Devices section, you will see two different tabs. The first one is "Echo & Alexa" which will list out the Amazon devices on your network. The second one will show all the Alexa-enabled devices.
You need to go to the Echo & Alexa section (as not all Alexa-enabled devices support this feature).
You will see a list of all the connected devices along with their names.
Now just use the Drop-In command along with the device's name and the task stands complete. For example, if your Echo device is named Bedroom, then you may say "Alexa, drop-in on Bedroom".
Finally, when you are done with it, just say "Alexa, hang up."
That's it. These were the steps to use Alexa as an intercom using the Drop-In feature. Let's check out how this could be done via the Announcement feature.
Use Alexa's Announcement as an intercom
This feature might come in handy if you prefer to broadcast your message to all the connected devices. Likewise, if you are only looking for a one-way talk rather than a conversation, then also you may try out this feature. All that is needed is to say "Alexa, Announce." She will then ask for your message, speak the same and it will then be broadcasted to all the connected devices. You could also go to Communicate > Announcement and type in or speak your message.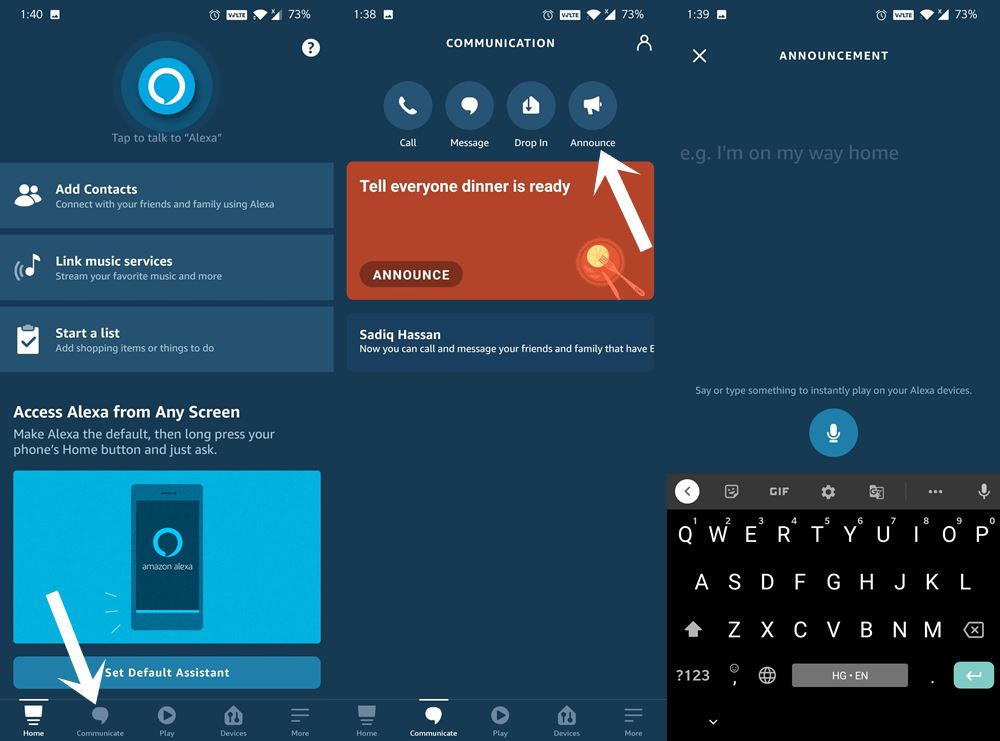 So this was all from this guide on how to use Alexa as an intercom. We have shared two different methods for the same: using Drop-In and Announcement. Both of them does their job quite effectively with just a few differentiating factor. Do let us know in the comments which one stands as your preferred method. Rounding off, here are some iPhone Tips and Tricks, PC tips and tricks, and Android Tips and Tricks that you should check out as well.