In this tutorial, we will show you how to view all your Apple Notes on an Android smartphone. Once you are into the Apple ecosystem, it's really hard to go by. In most cases, a need for that wouldn't even arise. Because all your requirements would easily be met by Silicon Valley giants via its offerings. However, where the need might actually arise is when you need to perform cross-platform sync. For example, most of you might already be using the Apple Notes app for jotting down the important points.
These notes could easily be synced with iCloud and could be accessed across all your Apple devices. However, if you ever wish to access these notes on the Google-owned OS, that isn't possible normally. But there exist some pretty handy workarounds through which this could become a possibility. And in this guide, we will be sharing two interesting methods to achieve just that. So without further ado, let's check out how could you view your Apple Notes on an Android smartphone. Follow along.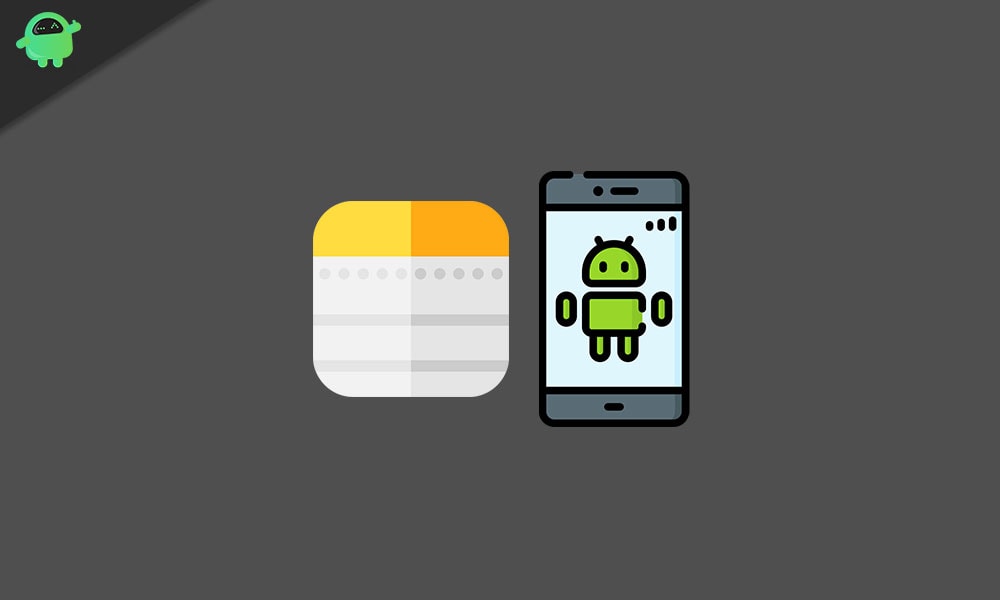 How to View Apple Notes on Android Smartphone
There exist two different methods of achieving the said task. The first one will make use of the Chrome browser while the second one will be possible via Gmail. Both these methods could easily be executed on your Android smartphone, but comes with a few perks and caveats too. For example, in the case of Chrome, apart from accessing your Apple Notes, you could even edit or delete them. However, editing or modifying isn't possible via the Gmail method.
Furthermore, if we talk about the latter method, then the notes that you will write from now on under the Gmail section will only be synced. You cannot move your iCloud notes to the Gmail section and then sync it. However, the vice versa is still possible, but that wouldn't be of much use, as far as this tutorial is considered. Anyways, we will be discussing both these methods to view your Apple Notes on an Android smartphone. Proceed with the one that suits your requirements.
Method 1: Via Google Chrome Browser
To begin with, you will have to sync your Notes via the iCloud. For that head over to the Settings menu on your iPhone.
Then tap on your username at the top and go to the iCloud section.
Enable the toggle next to Notes. All your notes will then be synced to the clouds.

Now go to your Android device and launch the Chrome browser. Then visit the iCloud.com website via your browser.
You will have to sign in to the iCloud using your Apple ID. If this is your own device, you might also consider enabling the Keep me signed in option. It might then ask you whether you trust this device, reply in the affirmative.

You will then be taken to your iCloud account, tap on Notes from that screen and that's it. You could now access all your notes, edit, delete, or modify them as per your liking.

However, performing all the above steps every time you wish to access your notes might take up a lot of time. In that case, you should consider creating a Progressive Web App (PWA) of this page.
To do so, tap on the overflow icon situated at the top-right on your Chrome browser.

Then select Add to Home screen option, give it a name, and hit Add. You could now directly access all your notes directly from your device's home screen itself.
So this was the first method to view your Apple Notes on an Android smartphone. Let's now turn our attention towards the second one, via Gmail.
Method 2: View Apple Notes Via Gmail
Using this method, you could only view these notes but cannot edit or modify them. While you could delete these notes from your Gmail, but this will then also delete that note from the Notes app on your iPhone. So keep that in mind. Furthermore, only the notes under the Gmail section will be synced, you cannot add your old synced notes that are saved under iCloud. Anyways, if the first method doesn't give out the desired result, then you could still give this method a shot. Follow along.
To begin with, you will have to add your Gmail account over to your iPhone. For that, head over to the Settings page.
Then go to Passwords and Accounts and tap on Add Account.
Select Google from the list and enter your Google Account credentials. After this, you should see the Gmail option under the Accounts section.

Tap on it and enable the Notes toggle. Now head over to the Notes app and you should see a newly created Gmail section there.
Now create a new note as per the need and save it.
When that is done, head over to your Android device and launch Gmail.
Tap on the hamburger menu situated at the top left and you should see the newly created Notes label.

Within that, you will see all the notes that you have created under the Gmail category on your Notes app on iPhone.
These notes will appear as normal text and you could only view them, modification is not possible. While you could delete these notes, but as mentioned before, it will also delete them from the Notes app on your iPhone.
With this, we conclude the guide on how to view all your Apple Notes on an Android smartphone. We have shared two different methods for the same. Do let us know which one you ultimately end up choosing. Rounding off, here are some iPhone Tips and Tricks, PC tips and tricks, and Android Tips and Trick that you should check out as well.