We all use Facebook in our day-to-day lives. However, a lot of users often complain that they don't get to see the latest updates from their contacts/friends. Instead, they see a mish-mash of various information that may not be relevant to them. Also, people do not get to see a post as and when it's published by the person they follow on Facebook or simply the ones who are on their friend list.
In this guide, we will tell you how can you always view the Most recent Stories on your Facebook feed. Normally, on Facebook Feed, what we see is not limited to the information or updates relating to our friends. It may be an update from friends of friends and so on. Also, depending upon our taste and preferences we get to see updates from pages and people that we have searched about. This is how social media algorithms usually work. However, one good thing about any social media platform is we can get to choose what we wish to see on our homepage. Facebook holds no exception to this factor.
How to Always View Most Recent Stories on Facebook
So, if you wish to be the early bird to view the latest happenings related to your Facebook friends, pages, groups that you are part of, then follow this simple technique.
Open your Facebook app > Log In to your account
On the home page, you can see the 3 bar button on the right end .Tap on it
In the next screen, you see a vertically aligned list of a number of tabs
Click on Most Recent
Now, when you check the homepage you should see all the recent posts.
By recent, we mean the ones that your preferred page or your Facebook friend has shared a few minutes or hours ago. Check the screenshot below. After choosing Most Recent, the three posts visible on the home page are recent updates from the groups or pages that I follow.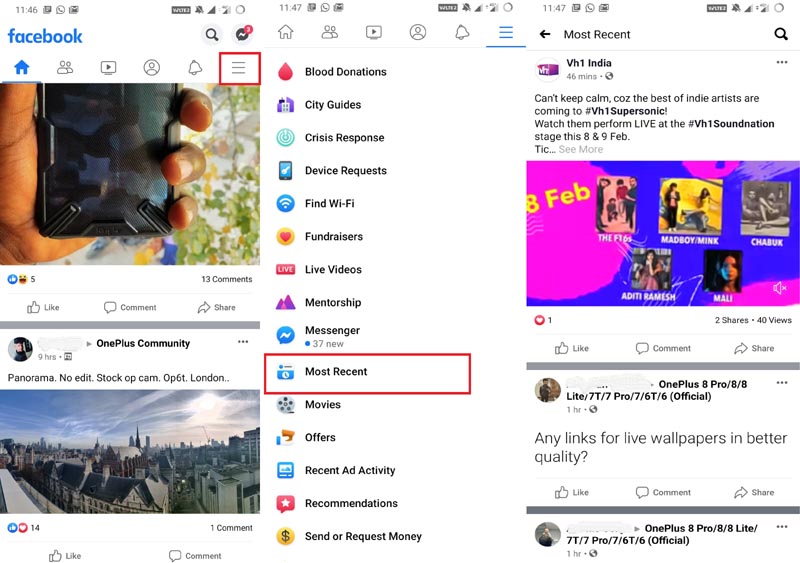 So, that's it. See, how simple it is to view the most recent stories on Facebook. Now, go try it out on your device. We hope that this guide was useful to you.