Whatsapp is majorly famous for its instant chat messaging service and its video calling feature. With this new video calling feature, you can talk with almost eight people at the same time, which is a great feature to have group chats with your friends. But due to a few technical issues or glitches, many users report that their Whatsapp video call is not working on iPhone and Android smartphones. There could be many reasons behind it, and we are going to fix them today.
Whatsapp is a very stable app and receives new updates every week or so. So if the new video call not working is due to app bug, then it will be fixed by developers in just a week. But in most cases, this bug is due to mishandled or corrupted Whatsapp files. If you're also facing Whatsapp video call feature not working then no issues, we will help you fix it easily. There a few troubleshooting steps which you can take to fix the issue yourself.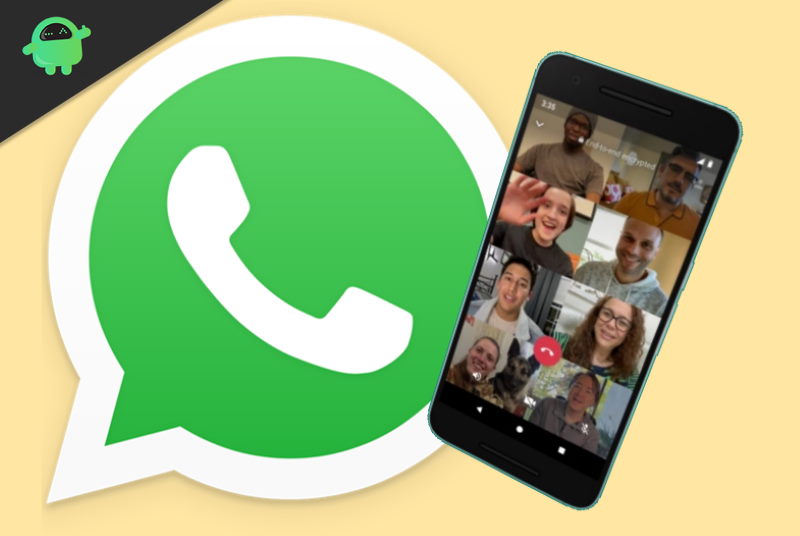 Reasons why Whatsapp Video Call Not Working on iPhone and Android
Whatsapp is one of the best messaging application running on Android and iOS platforms. It started as a normal messaging app, and with time it made progress with a lot of features. Whatsapp introduced calling feature, status feature, and not to forget one of the best ways to communicate Video calling. Before, we were able to make a video call with four people at a time, but recently, Whatsapp updated this limit to 8 people at a time. Here are some reasons why you might be facing any video calling problems in your device.
Internet issues
The most basic and common reason behind Whatsapp Video call not working is network connection errors. It can happen to anyone. Poor network, connectivity issues, Problem in connecting with Whatsapp servers, etc. are the basic internet issues that make Whatsapp video calls unable to connect.
Solutions
To fix Internet issues, check your network connection first with your browser. See if other sites are loading or not. If Nothing is loading, then turn off your mobile data and Turn on after some time. If you are on Wi-Fi, then first Go to settings then to network and then select wifi. After that, select your Wi-Fi and click on forget the network. Now reconnect your wifi. Also, try with turning on and off flight mode.
Problem with app files
Sometimes because of some internal errors, application files get corrupted, and it makes the app fluctuate. Fluctuations in application file crash apps, and sometimes it makes some of its features unable to work. This problem occurs when your device is running with low storage or if you have an old device. Since every application requires some space to run, it crashes when it runs with low storage.
Solutions
If your app data is corrupted or your app is crashing while making video calls, this is the solution for you. Go to settings>application>Whatsapp and choose the force stop option. In most cases, it works. If the problem is still the same, then try this. Firstly go to your Whatsapp setting secondly take a back up of your chats and lastly, uninstall Whatsapp now reinstall the app from PlayStore or from the app store if you are an iOS user.
Issues with Whatsapp servers
This is a rare reason. When a lot of people use the application at the same time, and the Whatsapp server gets overload, and it causes failure in the feature of apps. This problem happens with many other social media platforms like Facebook, Twitter, etc. Since all the social media companies got the best servers, this problem occurs rarely.
Solutions
This is a rare scenario. If Whatsapp servers are Having issues or if servers are down, you cannot make a video call. This a temporary problem. There is no solution if this is the reason behind the Video call problem. Since this only happens rarely, this might not be the reason, but if it is, then you have to wait for some time. Whatsapp will fix server-side issues as soon as possible, and you'll be able to make video calls.
Beta application
Both Android and iOS application developers offer access to the beta program of their apps. If you are a person with knowledge of the beta testing program, then you can enroll in it. However, if you are not familiar with the beta program, here is the brief information about it. In beta, program users get application updates before their official release so that they can test the updated application. If there are any bugs in it, they may cause failure in video calls. That could be a reason too.
Solutions
If you are a beta user, then you have to report this issue to the developer, as this is the main motive behind the beta program. But If you joined the beta program by mistake, then here is the way to leave it. First, take back up of your chats and uninstall your app. Now Go to PlayStore or app store and search for Whatsapp click on it. On the app tab, you have to scroll to the bottom until you see the option named leave beta, click on that and you are good. Now install fresh Whatsapp from PlayStore or App Store.
Out-dated app version
If you are using an old version of the application and the person you are calling is on the latest version of the Whatsapp, then sometimes your call might not get connected.
Solutions
Well, the solution to this is easy. Just visit your Android PlayStore or iOS App Store. Search for Whatsapp, click on it, and click on update.
Old Version of Android or iOS
Developers work and design their applications to work comfortably with the latest Android or iOS versions. They don't work much to make them work with an outdated version of the application. Also, if you are using custom ROMs, this might happen as some ROMs have compatibility issues with applications.
Solutions
For this problem, you need to check your Android or iOS version. Go to settings>about the phone and check the Android or iOS version of your phone. If they are not up to date then you will get an option to download the latest versions do it, and you are good.
Whatsapp is a great app when it comes to videocalls and chatting. Above mentioned problems are basic problems encountered by all the users at a point of time. Use the above-mentioned solutions, and your Whatsapp video call not working on iPhone and Android will be fixed for sure, and you'll enjoy the uninterrupted Video calling feature of Whatsapp.