Windows is one of the most used operating system used by millions of people across the globe. Though it is a fine system bug are no exceptions in Windows. There are plenty of Windows bugs, but here we are gonna discuss the Blue screen error 0x000000c5. The error can occur anytime, during launching certain applications or during rebooting, the error shutdowns the computer immediately after occurring. The error code 0x000000c5 is a parameter that explains there is an error in your Windows kernel.
The reasons for the Blue Screen Stop error 0x000000c5 are many, but mainly it occurs due to driver issues, corrupted RAM or Hard Drive, and Software corruption. It is also possible that some important registry and system files have been damaged or deleted hence causing the error.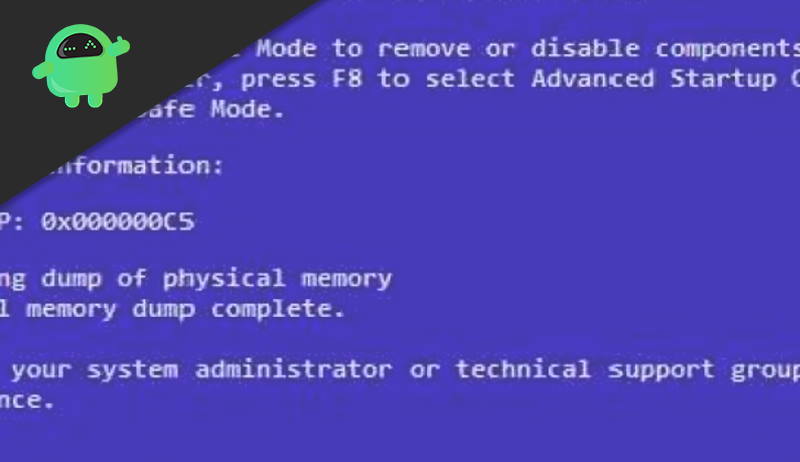 How to Fix Windows Blue Screen Stop Error 0X000000C5
Whatever the reason behind Error 0X000000C5, we can just try a few solutions to troubleshoot the issue unless it is too serious, you will have to reinstall Windows. The methods will be mentioned below on how to fix Windows Blue Screen Stop error 0x000000c5.
Method 1: Repairing the Hard Disk
the Blue Screen Stop error will shut down your Pc, but you will still have access to your windows. Therefore, you can perform a hard disk repair to fix the corrupted or damaged system files. The task can be simply done by using command prompt and by one line code.
Step 1) Go to your Windows search bar and type cmd, right-click on the first option, and open command prompt as an administrator.
Step 2) Now, you will have to type the code chkdsk /f/r in the command prompt and hit enter.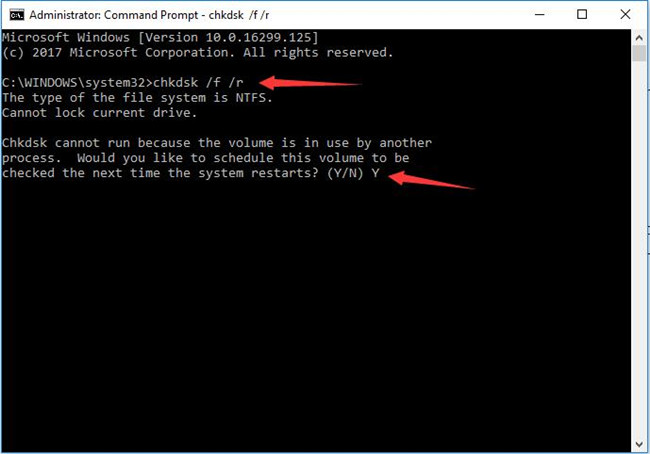 Step 3) Windows will ask to check the system when it restarts next time. Type Y and hit enter again. Restart your Pc. Windows will start scanning all your system files, and it will automatically fix any file that has been corrupted or damaged. Now you won't get the Blue screen Stop error 0x000000c5 again.
Method 2: Update or Rollback Drivers
An unstable or incompatible driver might be causing the Blue Screen to stop error 0x000000c5. You can troubleshoot the error simply by updating the driver. Or if you have already updated your driver to the latest version you can try rolling back to the previous driver.
Step 1) Type Device Manager in the Windows search bar and click on the first option you see, to open up the device manager.
Step 2) Now, click on the side arrow beside the options display adapter to expand the graphic driver, right-click on the graphic driver, then select Properties from the menu.
Step 3) Go to the Driver tab. Now, if you want to update your driver, just click on the Update Driver button and select search automatically for the driver. Windows will search the driver online, and if there is an update window will download and install it on your device.
If you have recently updated your driver, then you would want to roll back to the previous stable driver, to resolve the error. Just click click on the Roll Back Driver button and select an appropriate reason, click on the yes button. Restart your device and check if the error has been resolved.
Method 3: Using Microsoft Windows Utility check
A diagnostic tool provided by Windows to scan and identify corrupted or missing files in the system. The tool is pre-build on every Windows. You can rely on it whenever you are facing issues with Windows. If there an important registry or system file is missing or corrupted. It will fix everything.
Step 1) Launch command prompt as an administrator, or you can use Windows Powershell.
Step 2) To fix or repair your Windows image file type, the code DISM.exe /Online /Cleanup-image /Restorehealth in command prompt and hit enter. This will check your windows system image. However, this requires the internet, so make sure your internet is turned on.
Step 3) Now type the command, SFC /scannow in command prompt and hit enter to fix missing system files or to repair them. Windows will scan for corrupted and missing files, and it will fix automatically. Now, you will not the Blue Screen Stop 0x000000c5 error.
Conclusion
We understand the new Blue Screen Stop 0x000000c5 error can be tricky and frustrating sometimes. As it will completely freeze your PC, and you cant be productive anyone. But do not worry, as following the above troubleshooting guide, you will be able to fix this problem on your own. And in case of any queries, make sure to comment down below.