Asus ROG Zephyrus G14, GA402R, offers a thin, light design with high-performance gaming. A Ryzen 5000-series CPU and NVIDIA RTX GPUs are used, replacing the GA401 model from 2021. The Razer Blade 14 competes directly with it. This 2022 model goes to 16:10 and aligns with AMD's all-AMD lineup. The CPU is the Ryzen 6000, and the GPU is the Radeon RX 6700 S.
To improve performance, ASUS added a MUX switch, as well as a 720p webcam and a MicroSD card reader. VRR reduces screen tearing and delivers a clear image in fast-moving scenes with its QHD 120Hz display and fast response time.
However, even though it's a great device, it still has some flaws that we cannot neglect. Recently, some users started reporting that the Microphone is not working for them. That's why we are with this guide; here, we will explain how to fix the Asus Zephyrus G14 Microphone that is not working. So, let's get started.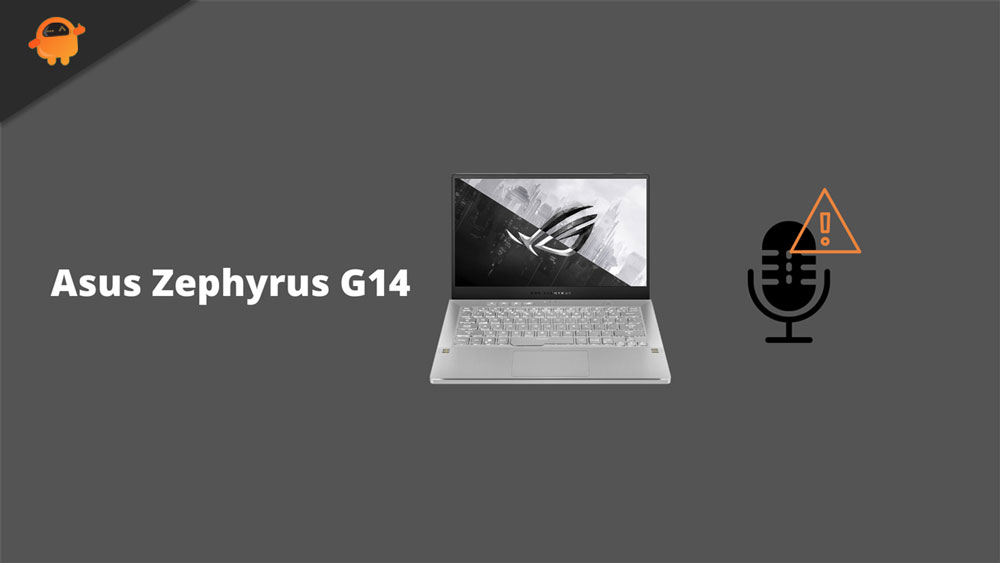 How To Fix Asus Zephyrus G14 Microphone Not Working Issue
In order to fix the not working microphone issue on the Asus Zephyrus G14, here are some methods that you can try. Hence, if you are having problems with this, we advise you to try the following solutions:
Fix 1: Check The Connection
If your Microphone is not working, make sure that there is a proper connection between your headset and your device. Plugging your headset cable into a 3.5mm jack and plugging it back out is what you need to do. Ensure that your headset is connected to your device and that nothing prevents it.
Fix 2: Restart Your Device
Your Asus Zephyrus G14 needs to be restarted regularly for several reasons: to make sure your hardware is connected, you can prevent crashes, and to improve performance.
Restarting your PC is a good idea to ensure everything is functioning correctly. Furthermore, suppose some cache data on your PC is preventing your Microphone from working properly.
This will make your PC work again when you restart your device and remove the cache files.
Fix 3: Try Using Another Conference App
You might want to check out a different app to verify that the issue stems from the current app and not from your device if the Microphone is not working on one app or online conferencing service.
It has been reported many times by users that the Microphone does not work properly when they use another app.
Fix 4: Update Camera Driver
The drivers for your device automatically update when you update the operating system. The drivers must be updated manually if you are using an external camera.
The majority of webcams are plug-and-play models, which do not require the installation of any drivers. In some cases, you may be required to install a driver before you can use the webcam. The process of finding webcam drivers can be challenging at times. In order to make updating your camera driver as easy as possible, we have provided the following steps:
Launch Device Manager by clicking the top result in the Start menu after typing Device Manager.

In the next step, expand the Cameras category.

Right-click the webcam and select Update driver.
Fix 5: Update Microphone Driver
You may be experiencing this issue because the Microphone on your device is not up to date. Therefore, it is extremely vital that you update your Microphone driver. Hence, if you are not aware of how to do this, follow these steps to update your Microphone and see if it resolves the issue.
On your Windows PC, open the Device Manager.

Thereafter, expand the Audio inputs and outputs by double-clicking it.

You can then choose Update Driver by right-clicking Microphone.

Afterward, follow the guidelines on the screen to update the driver for your Microphone.
Fix 6: Check If You Have Disabled Them
Have you checked whether the Microphone is disabled on your Asus Zephyrus G14? You should check to see if both your conference app and the location where you are using the Microphone have been disabled.
Thus, you must make sure this is the cause of the Microphone not working.
Fix 7: Check For OS Update
Updates to the operating system resolve any issues that remain unresolved. By using drivers, your computer is able to connect to a variety of devices. In order to ensure that the two programs do not conflict, the OS may make sure they work together.
As well as making sure that your hardware works properly, it is also crucial to check for OS updates regularly to ensure that your PC's drivers are updated. Therefore, you should check to see if your Asus Zephyrus G14 is running the latest operating system. Nevertheless, here are the steps to check for that in case you don't know how:
Start by clicking on the start button. Click on start and type update into the search box. Then, open tap on the

Windows update

.

Afterward, tap on the check for updates button. You can choose which updates you would like to install by clicking on the message.

Thereafter, finally, hit the

install updates

.
Fix 8: Hover To Repair Shop
It is unfortunate that none of the methods listed above worked for you to fix the Asus Zephyrus G14 microphone not working issue. There's still something you can do, so don't worry! You can simply ask your local Asus repairing shop to repair the problem for you.
So, that's how to fix the Asus Zephyrus G14 microphone not working issue. We hope that you find this guide helpful. But, in case you require more help, comment below and let us know.