Mortal Shell contains a few bosses that the players will encounter during their gameplay. Enslaved Grisha is one of these bosses that players get to fight against in the Abandoned Chamber. By paving yourself a path to the Enshrined Sanctum, you'll find Enslaved Grisha. Before you attempt to take on the boss, it is essential that you learn about him to stand a good winning chance against the boss.
In this guide, we'll walk you through everything you need to know about Enslaved Grisha in Mortal Shell. By diving into this article, we'll learn more about this particular boss in Mortal Shell, his set of attacks, how to beat him, and the rewards for winning the fight. So without any further ado, let's look at how to beat Enslaved Grisha in Mortal Shell – Boss guide with tips/rewards.
How to Beat Enslaved Grisha in Mortal Shell – Boss Guide with Tips/Rewards
Right as you enter the boss arena, Enslaved Grisha will show up with a surprise charge at you. Right as you see the boss charging at you, prepare yourself to dodge the attack. When the boss gets near, dodge to either side and you'll easily escape from his surprise attack. This is how the boss fight with Enslaved Grisha starts. Moving on, there is a set of attacks from Enslaved Grisha that you must analyze.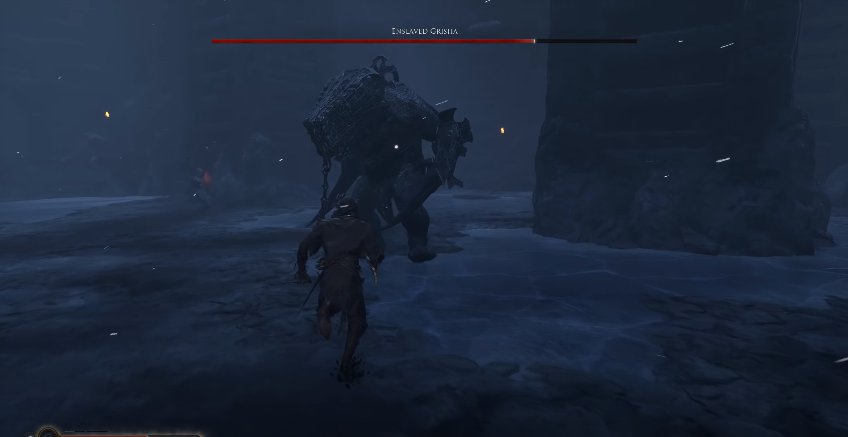 To start with, we'll look at his 3-hit combo attack. This particular attacking move from Enslaved Grisha ends in a thrust attack and you must learn to escape from it. To escape from this attack, you simply have to strafe around him and move to his back. From behind, you'll easily manage to land a few hits on the boss. He also has an attack where he jumps up into the air and makes a crashing land. In this case, you have to move away and maintain your distance from the attack's range, and you'll easily avoid its damage.
Next up, the Enslaved Grisha has a 2-hit combo attack that he'll use against you. Here also, dodging is what you have to rely on. You're able to escape from this attack by simply dodging twice towards the right side. Finally, the boss will also try to use a headbutt attack. You must dodge it and move towards the backside of the boss. Once you manage to get behind him, you'll see a great opportunity to put in some hits. By defeating Enslaved Grisha, you'll get 800 Tar and 5 Glimpses as a reward.
Just like most boss fights, the key here is to dodge the attacks that come at you. Moving behind the boss will put in a great opportunity to land some hits on him. Also, learning how to strafe is essential before you actually go out there and face this boss. That said, we hope reading the article above has equipped you with some bit of information. Please let us know by commenting down below if you have any further queries regarding the same.
Also, check out our iPhone Tips and Tricks, PC tips and tricks, and Android Tips and Tricks if you've got queries for it or want help. Thank you!