One of the new Pokemon that players are all rushing over in Pokemon GO is the Glarian Darmanitan. This is an ice-type Pokemon, an exact opposite of the original release. This particular Pokemon comes with a maximum stats of CP 3,105, attack of 263, defense of 114, and stamina of 233. Although this Pokemon performs really low in its defense, it makes up a great pick in the middle order of your Pokemon lineup.
If you managed to catch this Pokemon, then you should know the best movesets for it that you can use in fights. In this guide today, we'll take you through the best moveset that players can choose to use for the Galarian Darmanitan to fight with in battles. So without any further ado, let's look at the best movesets for Galarian Darmanitan in Pokemon Go.
Best movesets for Galarian Darmanitan in Pokémon Go
The Galarian Darmanitan feature some pretty low defense stats. However, its attacks aren't that bad and its a pretty good pick to go middle in your order. We still suggest you not to replace any of your go-to Ultra League Pokemon with Galarian Darmanitan as this particular Pokemon is not powerful enough for this kind of a replacement. If you things your middle order need to be more strong, then consider adding the Galarian Darmanitan for that extra power.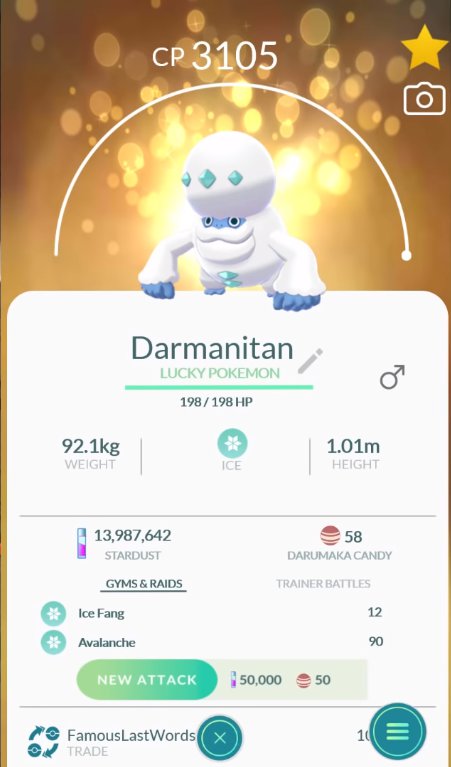 Moving into battles and the movesets of Galarian Darmanitan, there isn't much of a choice that you can go with. This is an ice-type Pokemon and the movesets for it are the same as well. Getting to the point, we reckon that Ice Fang is the best choice for players to use off a Galarian Darmanitan. If you also need to focus on the charge, you may go with Avalanche or Ice Punch. If you do decide to take the Galarian Darmanitan to battles, make sure not to put it first in your Pokemon order. This is because this Pokemon has a really low defense stat and starting out battles with this Pokemon isn't always the best idea.
Conclusion
Summing up our guide, Ice Fang is by far the best choice for the Galarian Darmanitan. And for the charge, it is best to choose between Avalanche or Ice Punch. All the moves mentioned in this guide are ice-type attacks as the Pokemon itself is ice-type. That said, we hope reading the guide above has brought some valuable information and help to you. Please let us know by commenting down below if you have any further queries regarding the same.
Also, check out our iPhone Tips and Tricks, PC tips and tricks, and Android Tips and Tricks if you've got queries for it or want help. Thank you!