Have you been on the lookout for some of the fastest ways to share files such as music and videos from your phone to your friends or family members? If that's the case, you will find this guide really helpful. Read on to discover some of the best SHAREit alternatives for Android and iOS that you can use in 2021 for easy file sharing!
SHAREit is one of those apps that almost everybody knows about and has used at least once in their lives. It first rose to fame back 2015 and 2016 when people realized just how painfully slow Bluetooth transfers were on our smartphones. SHAREit made it possible for people to not only share files to each other without any sort of internet connectivity but doing so at extremely quick speeds as well. Soon enough, everyone and their parents had SHAREit installed on their phones thanks to just how much it offered for absolutely no premium subscription of any kind.
However, SHAREit has been under fire since the past few years due to its tendency to display explicit ads everywhere. It also asks for unnecessary permissions from Android users to their phones and proceeds to showing ads in the notification panel as well as the lock screen. People still couldn't discontinue using SHAREit because they were so highly accustomed to it. But then things took a sharp turn and SHAREit became one of the 59 Chinese apps that the Indian Government has banned very recently.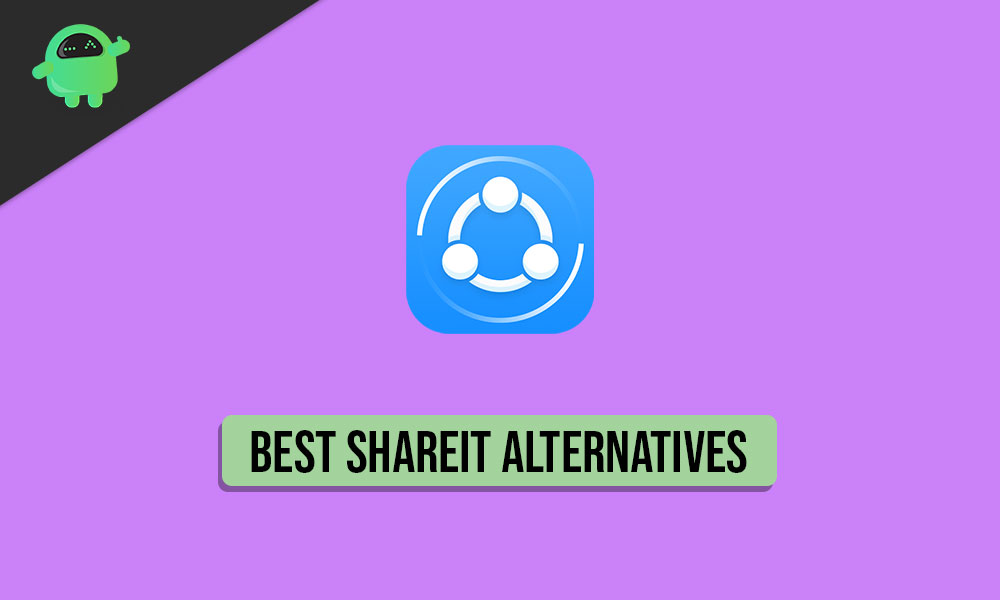 As of the moment, users from India cannot find the SHAREit app from the Google Play Store or the Apple App Store due to the ban. In case you have SHAREit installed on your phone already, we would highly suggest you uninstall it to ensure your privacy. If you are one of those people whose life heavily depended on SHAREit, don't fret too much. We have taken the liberty in trying out many other sharing apps like SHAREit and have selected the ones which provide a similar if not better experience than SHAREit. So without any further delay, here are some of the best SHAREit alternatives that you can install on your Android or iOS device in 2020!
Best SHAREit Alternatives for Android and iOS in 2021
1 – Zapya
Kicking the list off, we have one of the best alternatives to SHAREit. Zapya has been around for quite some time now and should automatically be the best SHAREit alternative to people after the ban in India. It features the same concept of sharing files wirelessly without any internet connection being used. It has a user interface quite different than most of the sharing apps and is honestly pretty fun to use. You can share multiple large files in one go using Zapya.
Another feature that Zapya offers is phone transfer or replication, which you can use while switching devices to restore everything that matters to you. It is a free app to use and has support for over 20 different languages. Connectivity with other devices is spot on and transfer speeds are also commendable. You can download Zapya for your Android or iOS device by following the link to the Google Play Store or the Apple App Store respectively given below:
2 – Send Anywhere
Next up on our list as a compelling alternative to the popular SHAREit app is Send Anywhere. The primary reason why we recommend this app to you is due to its compatibility on the wide range of platforms that it supports. You can use Send Anywhere on your Android or iOS phone, but also have it installed on your Windows or Mac desktop or laptop. This makes it quite desirable for people who find themselves sending and receiving files to and fro their laptop and phone.
The Android and the iOS apps both have a clean UI and features high-grade 256-bit encryption to ensure your data is safe between transfers. Just like the other apps on this list, you can share files without the need for an internet connection and even using WiFi Direct. All you need to do is match the 6 digit pin and your transfer will be started at the best speeds possible. You can download Send Anywhere for your Android or iOS device by following the link to the Google Play Store or the Apple App Store respectively given below:
3 – Feem
Yet another great app that you can use to wirelessly share files and photos from one device to another is Feem. It is basically just like SHAREit – but without any of the obtrusive ads and annoying popups. It is available for both Android and iPhone and you can enjoy the service totally free of cost. All you need to start a file transfer is to be connected to the same WiFi network and the transfer uses no data at all to complete as well. The data transfer rates are extremely quick making it ideal in hasty situations. The user interface is also very clean and doesn't have any unnecessary options or complicated menus. It also features a built-in file manager and music or video player which iOS users might find quite useful. You can download Feem for your Android or iOS device by following the link to the Google Play Store or the Apple App Store respectively given below:
4 – SuperBeam
The next file-sharing app on our list is probably the most powerful one as well. Superbeam features a lot of different ways to connect two devices and start transferring files. You can use the traditional hotspot connection between devices if your phones are relatively older, or make use of the incredibly quick WiFi Direct technology. Additionally, you can simply scan the QR code to quickly connect two devices. Lastly, for devices with NFC, all you need to do is bring the devices together and the app will do all the work for you.
Coming to its user interface, it is quite dated for the iOS version but it really well designed on the Android version. However, this does not hinder the performance aspect of the app at all. You still receive insanely quick speeds while transferring big files. One of the best features of SuperBeam is the fact that you can still transfer files to a device that does not have the same app installed just by using the web version in your browser. You can transfer all sorts of files including contacts, apps, games, music, and even videos. The Pro version boasts more features and zero ads. You can download Superbeam for your Android or iOS device by following the link to the Google Play Store or the Apple App Store respectively given below:
5 – Files by Googles (Android only)
The last app on our list of the best SHAREit alternatives happens to be built straight by Google itself. While we wouldn't recommend this app to those who are heavily reliant on quick speeds while transferring huge files between devices, it is still usable in such scenarios. Where Files by Google excels at though is the file management aspect. That's right, the app is a file manager first and then a sharing app. It has an intelligent scan feature that automatically helps you clear your phone's piling up storage by presenting you any cache files or memes.
When it comes to the file-sharing functionality, you can transfer files between devices that have the Files app installed without the need for an internet connection. Speeds, as mentioned previously, aren't as fast as the other dedicated file-sharing apps on this list, but definitely not unusable. The user interface is absolutely pleasing to use as expected from an app made by Google. The only major drawback is the fact that it isn't available for iOS devices. You can download the latest version of Files by Google for your Android device by following the link to the Google Play Store given below:
6 – FileDash (for OnePlus users)
In case you and the recipient both own a OnePlus phone, then there is virtually no need for either of you to depend on a third-party app. OnePlus phones come with a FileDash feature that's built inside the File Manager app. All you need to do is tap on it, select which file you wish to share, and follow the same procedure on the other phone. The transfer speeds are on-par with the competition and the process works flawlessly.
You can also send documents, photos, or videos using FileDash to non-OnePlus phones or even a computer or laptop by connecting to the hotspot of the sender and visiting the provided link either by typing it out or simply scanning it using a QR Code. I have been personally using FileDash since it has no ads and works great. It isn't as feature-rich as some of the other apps on this list, but you can't really complain about something that comes built-in with a phone.
7 – Pushbullet
Another great service that you can use to quickly beam files from one device to another is Pushbullet. Unfortunately, unlike most of the other sharing apps on this list, Pushbullet requires a working internet connection and cannot transfer files in its absence. Thankfully, the drawbacks end there. Pusbullet is extremely rich in terms of features and even the user interface. You can install Pushbullet on various devices, including Windows, Mac, web, Android, and iOS.
I personally have it installed on all my phones and my computer as a web extension within Chrome. Sharing screenshots, short videos, and links have never been quicker. Pushbullet also has other features including a way to receive your phone's notifications on your computer and being able to reply directly. You can even receive SMS on all your devices. Lastly, you can add friends that use Pushbullet and effortlessly share files with them as well.
That's all for the list! We hope you enjoyed our roundup of some of the best SHAREit alternatives for Android and iOS to try out in 2021! Which one among the list is your favorite, and how many of these best SHAREit alternatives for Android and iOS have you already known or have been using? Know other good file-sharing apps for Android or iOS that you feel people might find interesting? Do let us know in the comments section below, we'd be delighted to hear from you guys!