Have you been on the lookout for some good photo editing applications for your Android device? If that's the case, you would love our article with some of the handpicked Top 6 PicsArt Alternatives for Android. Read on to learn more about such apps!
Photo editing applications have multiplied in number ever since the dawn of social media. People love editing in or editing out stuff from their photos to give them a more personalized touch before they post them online onto social media. Before smartphones became popular, editing photos was regarded as quite a difficult task that only professionals could take up. Programs like Photoshop dominated the photo editing business back in the day. However, as smartphone users increased, so did the ease of use of photo editing applications.
I'm sure most of you have heard about PicsArt – a revolutionary photo-editing application that spread like wildfire for mobile users recently. It has millions of downloads for both Android and iOS devices and is regarded as one of the best photo manipulating apps available. It has powerful features like a content-aware tool, blending features, blemish remover, and much more that make it an ideal app to have. On top of that, it has a huge market of filters, frames, and other goodies that you can use to enhance all of your photos. PicsArt truly took the age of social media by storm thanks to its rich feature list as well as lack of any price to pay.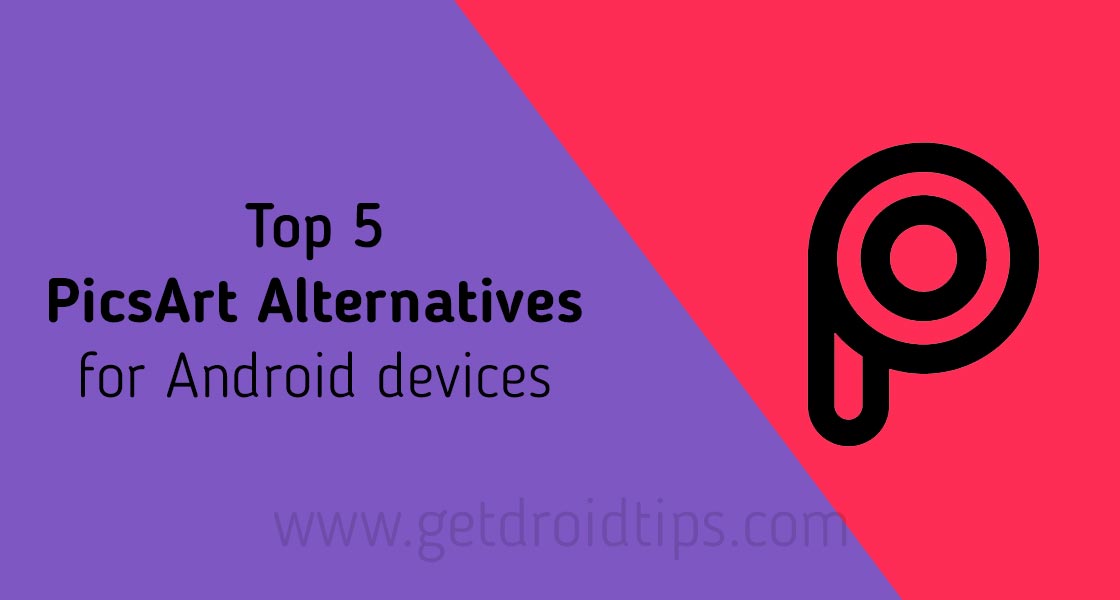 However, once you start exploring, you figure out that there are so many other apps like PicsArt that allow its users to intricately manipulate and edit their photos on the go. We've researched a lot of such apps, and have combined a list of some of the best PicsArt Alternatives for Android that are available to download for free on the Google Play Store. Each mention below has its own unique touch to the board, exciting features, and more that you might find interesting. So sit back, relax, and enjoy our list of the top photo editing apps to take your mobile editing skills to the next level!
Top 6 PicsArt Alternatives for Android
All of the apps mentioned below have been tried and tested by yours truly, and I recommend only those apps that provide a fulfilling user experience. As far as availability goes, most of the apps we've mentioned below are free, to begin with, but run on a freemium basis which means users can opt into buying the premium versions which unlocks a whole lot of other cool features. Overall, if you don't plan on spending any money for PicsArt Alternatives, you can still enjoy most of the listings here too! With that being said, let's take a look at our top picks!
#1 – PicsKit
Kicking the list off we have a unique alternative to PicsArt. PicsKit is a great all-in-one photo editing and manipulating app for those who love playing around with effects in their photos. Not only does this app have the basic editing features such as brightness, contrast, saturation, and sharpness toggles, but it takes it further with a list of some really intuitive features and options as well. For instance, this photo editing app has an eraser or cutout tool, which works like a content-aware tool, and ends up removing any unwanted objects or textures in your photos using smart artificial intelligent learning.
You can make use of the surreal double exposure mode which can end up creating some really awe-inspiring photos using the smart blend features of this app. When it comes to single tap edits, this app also houses over 100 different filters to choose from. If you do want to get deeper with the app though, you can use the powerful editing options of PicsKit and even have an unlimited amount of layers to work with. There are a lot of other nifty little features that PicsKit sports, like glitch effects, background blurs, color splashes, dispersion effects, and many more. You can download the latest version of PicsKit on your Android device by following the Google Play Store link provided below :
Download
#2 – LightX
Next up on our list is LightX, which is yet another amazing app to manipulate and edit your photos. It shares a lot of the features from PicsKit which we have talked about earlier, and is a perfect alternative to those looking for a powerful yet simple photo editing app for their Android devices. Using LightX, you can tweak the little things such as brightness controls, contrast, saturation, or sharpness, and even go deep in and edit your photos precisely using RGB curves. If you do not want to take the burden of doing all the dirty work yourself, you can also use the app's amazing filters and one-tap edit features. This includes being able to instantly change the background, or remove any unwanted objects from the frame.
You can also use the color splash technique to make really cool effects by choosing only a single color in your frame and muting all others for a very aesthetic feel to your image. The image blend mode also pulls off some really cool-looking images if done right. This app is also a great option for those who love taking selfies and editing them. It has features such as teeth whitening, skin smoothening, and many more that users might find interesting. Other features include glow effects and glitch ones too. You can download the latest version of LightX on your Android device by following the Google Play Store link provided below :
Download
#3 – Pixlr
Talking about good photo manipulating apps, Pixlr is one you should definitely give a shot. It has a very clean and pleasing user interface, with beautiful sliders that play with your images. While many use it for its filters, the app has much more jam-packed inside of it. This includes features like double exposures, watercolor, pencil art, poster, and many more. The focal blur option really works well with the color splash feature, and both of them together honestly change the way your photo looks, for the better of course. The filters that this app provides are all surreal and are meticulously balanced for any kind of photo that you might have in store.
You can also go deep in with your editing and show off your skills by manually toying with things like exposure, contrast, brightness, shadows, and light. If you ever get bored of having plain images, you can add text in different and aesthetic fonts to add a bit of spice to them. You can also add borders if you have a specific Instagram theme to follow too. Once you start using Pixlr, you'll probably never need any other photo manipulating app on your device, all thanks to its simplicity in design and power in terms of features. You can download the latest version of Pixlr on your Android device by following the Google Play Store link provided below :
Download
#4 – Adobe Lightroom
Adobe Lightroom is probably the most powerful photo editing and manipulating application out there for Android and iOS devices. You may have already guessed it – the same Lightroom that's available for Windows or Mac computers is now in the palm of your hands. What makes Lightroom even more unique is the built-in camera that the app comes packed with. While most of the photo editing apps available try to convince you that post-processing can fix anything, Lightroom brings to your realization that the actual photo matters too. This is why you get powerful features while taking photos using this camera such as exposure or brightness locks, manual focus, shutter speed, timers, and much more.
Even if you capture a really great image, Adobe Lightroom's insane tier of editing options will ensure that your already good photo goes to the next level. You can pull off minute editing with meticulous control over the details with this app in hand. The sliders are fun to use, and the many options will teach new users a thing or two about how to take great photos as well. If you already use Adobe Lightroom on your PC or Mac, then you can link your account to your device and enjoy all the presets that you use on your computer as well! With Adobe Lightroom installed, you can edit RAW photos directly on your Android device and never again feel the urge to use a proper computer again. You can download the latest version of Adobe Lightroom on your Android device by following the Google Play Store link provided below :
Download
#5 – VSCO
Nex up, we have VSCO – an app that you definitely must have heard by now. It is talked about around the globe, and for a good reason. The built-in filters that VSCO has are unlike any others and are entirely on a whole different league. The only drawback with VSCO for mobile is that the amount of filters the free version has is limited to 10. However, you can still use manual controls like brightness, saturation, contrast, shadows, and highlights to spruce up your images. Besides, the 10 presets that are available to use cover most of the photos that you may have taken to edit later. Another great aspect of using VSCO is you get to interact with the amazing community that it has built over the years.
VSCO is a great hub for creatives and even better for those who want to learn and discover new ways to take and edit photos straight on their smartphones. While we don't usually recommend our readers to pay for the premium version of any apps on here, we feel VSCO is a solid investment. After the membership, you gain access to community exclusive content and over 200 unique filters. You also unlock even powerful editing options such as RGB curves, HSL, colors, borders, and even video editing. You can download the latest version of VSCO on your Android device by following the Google Play Store link provided below :
Download
#6 – Snapseed
Ending our list of some of the best PicsArt alternatives you should try, we have Snapseed, an editing app made by Google itself. Now, Snapseed isn't to be mistaken for an app that you could use to add crazy effects and animations. Instead, it is a very powerful, yet simple photo editing app, allowing control over the basic things such as brightness, contrast, saturation, and white balance.
Snapseed does have a slew of other features as well, including the very popular content-aware tool from Photoshop, dumbed down to make it easier for almost everyone to use. It has built-in features that users can use to quickly add some spice to their photos. What makes Snapseed so good in my opinion is the easy and unique swipe controls to edit your photos. You can download the latest version of Snapseed on your Android device by following the Google Play Store link provided below :
Download
That's all folks! We hope you enjoyed our roundup of some of the Best PicsArt Alternatives for Android devices! Which one among the list is your favorite, and how many of these photo editing apps have you already known or have been using? Know other good Android PicsArt Alternatives that you feel people might find interesting? Do let us know in the comments section below, we'd be delighted to hear from you guys!