It seems that though Nexon has officially released Blue Archive as a military RPG for both Android and iOS platforms in 2021, some Android users are still unable to install the game directly from the Google Play Store. Multiple reports are coming out that the Blue Archive game is not available on the Google Play Store which is quite surprising and frustrating too. Now, if you're also facing the same issue then don't worry because we've shared some solutions.
Well, there may be some scenarios when Android device users want to install any applications/games but they either don't find the specific application or somehow the app/game shows it's not available in your country. As mentioned, it can be too much irritating because due to the geo-restricted limitations or some issues with the device location settings, you may feel sad. But there are some possible ways always on the Android platform which is a good thing.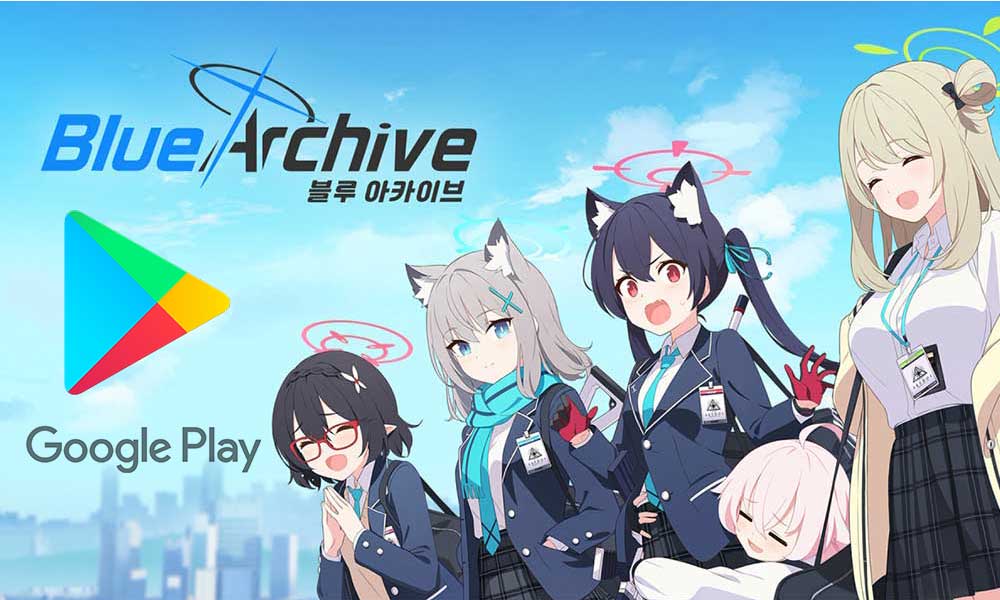 Fix: Blue Archive Not Available on Play Store
The chances are high that the Blue Archive game isn't available in your selected country and you're unable to enjoy the game that you liked so much. In that case, you can follow this troubleshooting guide to easily fix the issue. So, without wasting any more time, let's jump into it.
Important: It's important to create a secondary Google account and use a VPN service to move the new account to the USA region. Once your account is moved to the US Play Store server, your account will be locked in for one year. So, using a secondary account is beneficial. Otherwise, you may lose your active subscriptions, payment methods, family sharing benefits, and more on your primary Google account.
1. Create a Secondary Google Account
First of all, you'll need to create a secondary Google account on the handset. (DO NOT USE VPN). This will be required to maintain your primary Google account intact. To do so:
Open the Settings menu on your device > Go to Accounts [Some devices offer the Google option directly].
Tap on Google from the list > Select your current email address.
Now, you'll need to choose 'Add another account'.
From the bottom-left corner, tap on 'Create account' > Follow the on-screen instructions properly. [Make sure to remember account credentials]
Finally, the secondary Google account will be created, and automatically added to the Google Play Store application.
2. Use a Free VPN service
Once you've created another Google account, it's time to use a VPN service.
So, install any of the free VPN apps from the Google Play Store, and open it.
Now, make sure to connect the VPN server to a United States server.
Once the VPN is connected, you can head over to the next method.
3. Change Location on Google Play Store
Make sure to open the Google Play Store app again.
Now, select the hamburger menu icon at the top right corner (profile icon).
Tap on Settings > Go to General > Select Account and device preferences.
Go to Country and profiles > Tap on the United States (US) country to add an account.
Follow the on-screen instructions to add a payment method for that country. You can prefer to use a credit or debit card by clicking on 'Continue'.
Your profile may take up to 48 hours to update the account. So, check again after 48 hours via the 'Account' section to ensure your account has moved to the new region.
If it shows 'Switch to India/Your Region Play Store' that means your account has switched successfully.
Finally, you're now able to use the secondary Google account on the Play Store to install plenty of geo-restricted or not available applications/games directly on the device.
Note: Once you've completely switched the account to the US region, make sure to disconnect the VPN service. Now, you don't need to use VPN anymore to install apps on Google Play Store. Just open the Play Store app > Tap on the hamburger menu icon (profile icon) > Tap on the email address and select the secondary email account.
You're good to go. Just search for Blue Archive on the Play Store after changing the account id and tap on Install to proceed.
4. Use Alternative APK Platforms
There are plenty of alternative Android APK platforms from which you can easily download and install the latest application (APK) file on your Android device. So, even if you're unable to install any app directly from the Play Store, you can use APKMirror or Evozi or Apptoide, etc to easily grab APK files. However, we'll highly recommend you not use any unknown or shady APK website to download any file. Always use trusted and recommended sites.
Once you've downloaded the Blue Archive game file (APK) on your device, make sure to open a File Manager app > Search for the downloaded APK file and tap on it. You may need to allow the 'Install from Unknown Sources' option (if prompted) for the first time. Then tap on Install and wait for the game to be installed > Once done, tap on the Blue Archive game from the app drawer or home screen and enjoy!
That's it, guys. We assume this guide was helpful to you. For further queries, you can comment below.