If you frequently restart your device, then you will see a fancy animation before starting your device. That is something we call as boot animation, and we can change it as per our liking. You also might have seen some crazy boot animation on your friend's device, and now you want the same. Well, there are many ways to change the boot animation on your android smartphone. While some methods do require root permission, while others work as fine, and there are many ways by which you can create your custom boot animation as well.
You might have seen people using iPhone boot screens on their Samsung devices and other scenarios. Since people can change anything on their device as long as they have root permission, so changing boot animation is a common practice. If you also want to change the boot animation on your android smartphone but don't know how to do it, then keep reading this guide. We will guide you so that you can keep your favorite video, photo, or vector art as a boot animation on your device.
We can choose a different type of boot animation ranging from still picture to a complete video. If you want to keep a video as a boot animation, then you can do that as well. While some smartphone manufacturers do provide ways to change boot animation without root access, but in most cases, you have to root your device. So before following this guide, make sure you know all about rooting your android smartphone!
What is Boot Animation
If you're an inquisitive person, which I think you are, then you might notice those cute little animations which come up every time you start your phone. Those animations are known as boot animations. Usually, smartphone manufacturers keep their brand names as boot animation. But it turns out you can change it as per your liking. A boot animation also indicates that your device bootloader is working perfectly.
Bootanimation is essentially a set of still frames that are displayed on your device when it is booting up. Some smartphones boot time can be slow, so companies put this flashy animated stuff on your display, so you don't get bored. Technically boot animation doesn't serve many purposes to your device and doesn't make it slow either. However, they serve as a pleasing aesthetic touch to their device to make it feel professional and beautiful. I mean, you wouldn't like to see random codes and other geeky stuff while booting up your device? The boot animation resides in a zip file in the root folder of your android smartphone. So we can permanently change that and put either a video, still image, any vector art to change the boot animation according to our needs.
Steps to Change Boot Animation on Android device
Changing the boot animation of your device is not a very complicated process. There are numerous ways to do it. Today we will discuss some common methods to make and change Bootanimation on your android device.
Warning
GetdroidTips do not take any responsibility for any damage that might occur to you or your device after following this guide. This is only for educational/ informational use only. The steps below deal with the manipulation of the device's system files, and if not done properly, it might damage your device. You have been warned!
PreRequisites
Before following the below guide, make sure your device fulfills these pre-requisites.
This guide will work on a rooted smartphone. So make sure your device is rooted.
Charge the device battery up to 50%
Things can go wrong anytime, so make a complete backup of your phone data [Follow any method]
Instructions To Change
Now, this process is straightforward. Since boot animation lies in the system folder of your smartphone, we can change it via a file manager or a dedicated boot animation app. We will walk you through both the process to give you a clear idea.
By changing the Bootanimation.zip method
You can change the boot animation of your android device by replacing the bootanimation.zip file, which resides in the startup asset folder. For that, you need to download some boot animation beforehand, which suits your device display resolution.
Download some Root File Manager from Playstore.
Give it SU permission if it asks!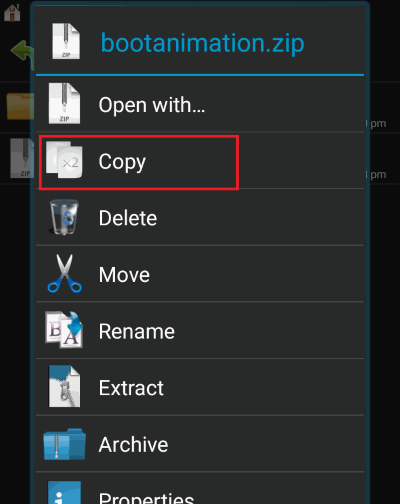 Copy the bootanimamtion.zip, which you want to use on your device. If you don't have one, you can choose one from bootanimation.zip collection from XDA.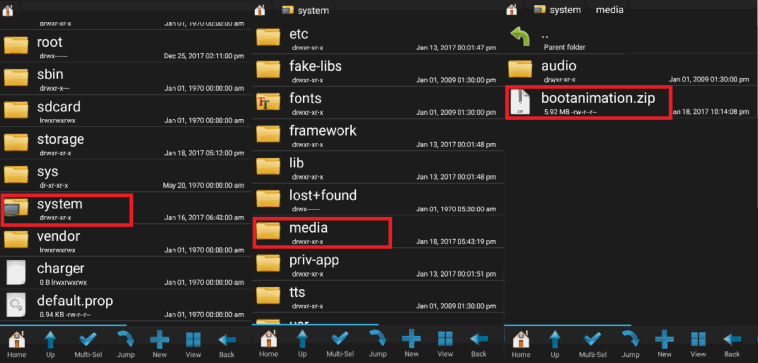 Then navigate to Root> System> Media folder
Now paste the zip file into the system media folder. Press yes if it prompts for overwriting the file. After the successful copying of the file, you can reboot your device to check if the boot animation works or not.
By using Bootaniamtion changer apps
If you feel the above process is complicated for you, then this method is much simpler. Here you can install or change boot animation with the use of third party app. We have different boot animation changer apps available in the play store. Using them is a piece of cake. We are linking a few of them down below.
Boot Animations for Superuser: This app has a predefined set of boot animations that you can use on your device. And using them is also very easy. Simply choose a boot animation, give SU permission, and restart your device.
[googleplay url="https://play.google.com/store/apps/details?id=com.jrummy.apps.boot.animations"]
Bootanimation Changer: This app is useful if you want to create your own customized boot screen. It is easy to use, and you can create your very own boot animation screen. So whenever your device boots, it will show you your name or your picture. Very cool!
[googleplay url="https://play.google.com/store/apps/details?id=com.rdapps.androidbootanimationchanger"]
These apps do require SU permission as they are changing the system files of your device. So grant them SU permission and enjoy new boot animations on your smartphone.
Conclusion
This is the way you can change the boot animation of your android device. If you're not tech-savvy, then I recommend you to use the second method. Since it does all the process automatically, and also you get to choose from a beautiful library of boot animations. In case you feel any doubt about any of the steps mentioned above, feel free to ask about them in the comment section. I will be happy to assist you :)