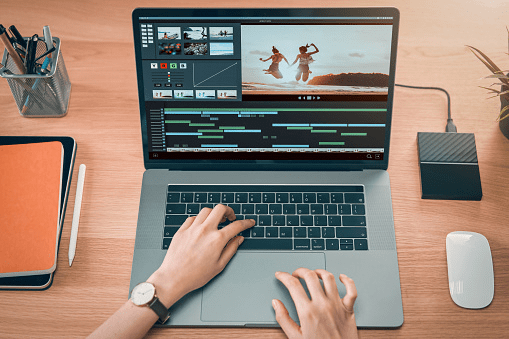 YouTube has quickly grown to become one of the most popular social media platforms in the world. With more than 2 billion users, who are watching at least 250 million hours of video per day, YouTube is the hub of entertainment. On YouTube, you will have no problem in finding the content that intrigues your mind. With millions of channels hosted on YouTube, you are in for a fun time whenever you switch on the app.
You'll be surprised to know that people spend more time watching YouTube videos than viewing any photo or text. If you plan to make and edit videos, you will need the right software to do so.
Check out the top 8 software which you can use to edit your videos perfectly for YouTube.
1-InVideo
InVideo is a decent software to use in your Windows and Mac OS. You can edit and create different visual effects, add filters, overlays, and make use of fun transitions to make a creative YouTube video. You can also add custom captions using InVideo's YouTube editor. If you are looking for just the basic yet useful features that you need to add to your videos, you can surely use InVideo.
Pros –
Support different kinds of formats

Comes with a simple interface

Unique music and sound library

Offers 4K video editing support
Cons –
No option for motion tracking or a 360-degree video
2-Shortcut
Very high quality and free video editing software, Shortcut can work on almost every OS that exists – Windows, Mac & Linux. The principle working system of the software is quite simple. You place the video and different audio fragments on the timeline and then apply your favorite effects. Once done, you can convert it into a video file. Shortcut was exclusive Linux software only. The UI is a bit confusing to understand initially, but you'll get used to it with time. It is packed with innovative features that allow you to edit your videos in the best possible manner.
Pros –
It comes with a customizable menu.

Many filters and modifying options

Automatic work process

Can configure on multiple monitors
Cons –
You cannot preview the filters.
3-Adobe Premiere Pro CC
One of the most famous and well-known video editing apps in the market, Adobe Premiere Pro CC, offers you a wide range of options when it comes to video editing. You can modify your video, add color, process any audio, and adjust tone levels. This app's unique feature is that it allows different multimedia content in its original format, whether it is on PC or mobile devices. You can upgrade to the pro version and enjoy 360 VR & 4K support, which adds more professional features to the interface. It can be the best tool for editing your YouTube videos.
Pros –
A lot of customizable features

The interface is simple and intuitive.

Offers different exporting format

Integrate with other Adobe products
Cons –
Editing titles can be tricky.

The Pro version is very expensive.
4-Apple iMovie
If you are a Mac OS user and want to edit videos on an Apple device, then the Apple iMovie is your best bet. It is one of the best software to edit videos on Mac OS, iPhone, and iPad. The software comes with eight different themes of music, titles, & transitions. Ten unique video filters are designed and provided by Apple. You can also use a wide range of effects like image in the image, slow motion, split-screen, and fast forward. The software also has a fantastic tool that lets you create soundtracks. iMovie's amazing tool is the "Green Screen," which helps you place the subject in any location of the world you want.
Pros –
Very user-friendly interface

Diverse option for tool selections

Comes with a Theater Mode for sharing your video on Apple devices

Supports 4K video rendering
Cons –
No option for motion tracking or a 360-degree video
5-Lightworks
A free YouTube editor that can work perfectly on Windows, Linux, and macOS, Lightworks is continuously upgrading itself. It is a great platform for editors, camera operators, and sound engineers. You can use this software to edit your YouTube videos with terrific versatility. You can even create home video archives and fill social networks. If you are running low on budget, then this software is the best option you can consider. Import and render any footage in the background, drag editing bubbles, and you can even set shortcuts to the custom windows.
Pros –
Cross-platform feature

Fantastic 3D video processing

Reliable multi-channel support
Cons –
The editor management system is really difficult to understand
6-Final Cut Pro X
Brilliant software designed and developed by Apple, Final Cut, needs no introduction. Apple and Mac OS users are already very familiar with this software that can offer you a wide range of video editing features. The interface is quite similar to the Apple iMovie. You will come across a wide selection of video effects, audio changes, title effects, transitions, etc. You can share your videos directly from this software. Even though the software costs around $300, the versatile features are worth the money.
Pros –
Extreme high-quality resolutions

Create your keyboard collection

Preview an effect without applying

Scale any video without quality loss
Cons –
Can be costly for some people
7-HitFilm Express
A free-to-use application, this software was developed to offer you simple yet effective video processing. You can change the entire look of your video by using the different built-in templates in the app. You can export the edited video in very high resolution without any loss of quality. You can trim clips, modify colors, and export the video to any format you want to. You can also use video masks and also set green screen chroma keys with 3D features.
Pros –
Efficient timeline editor

Very flexible export features

360-degree and 4K video support

Works on both Mac and Windows
Cons –
The export speed is quite low.

Not all content is free.
8-Adobe Premiere Rush
Another Adobe product on the list, Premiere Rush, is fabulous when it comes to editing videos. It now supports all OS, including iOS and Windows. YouTubers and bloggers will find using this tool to be more simple and useful. You can use color correction, video resizing, and other features. Use professional templates to create your tones and video filters. If you are capturing videos on your Smartphone, then using this software is a brilliant idea.
Pros –
Quick and easy editing

Optimization for social networks

Very easy-to-use interface
Cons –
Fewer features for video processing
Final Words
Video editing for YouTube can be fun and exciting. But, it is also difficult, and you need to master the art of editing videos. There are many video editing software and outro makers that you can download and use. Make sure to go through our blog and decide which software offers the best features to you.