The third installment of the Pet Simulator series is Pet Simulator X or PSX for short. In this game, players have to unlock powerful pets for which they have to collect cash and diamonds. Players can engage with other gamers in its expansive and vibrant open world while exploring various zones. The players can spend their coins to buy new biomes and to hatch pets from eggs. As the player advances, new planets will become available, some of which provide fresh gameplay elements. The objective of the game is to amass the strongest and rarest pets in order to become the ultimate pet collector.
A recent addition to Pet Sim X is the Clover Unicorn, a Hidden Pet. This pet has a particularly unusual appearance because it is a reskin of the unicorn. It has multiple four-leaf clovers on its head and in its eyes, and it is green in colour.
If you are someone who is looking for the value of Clover Unicorn, then don't worry because this guide will help you. We are here with a guide in which we have discussed about the clover unicorn and its value. Also, we will discuss about how you can them in Pet Simulator X. So, make sure to read the full guide to get it. And, now let's start the guide.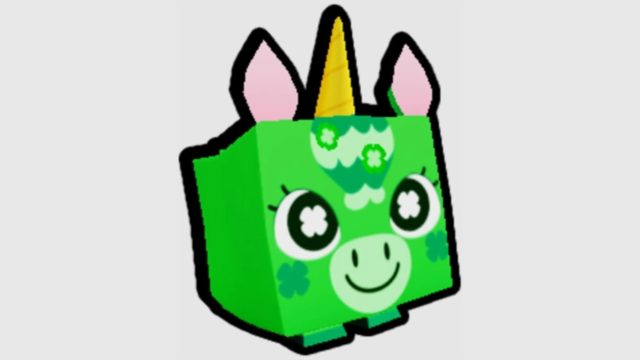 What Is The Value of Clover Unicorns in Pet Simulator X?
Dark Matter Hardcore: 400 Billion Diamonds
Dark Matter: 20 Billion Diamonds
Golden Hardcore: 30 Billion Diamonds
Golden: 1.5 Billion Diamonds
Normal Hardcore: 10 Billion Diamonds
Normal: 500 Million Diamonds
Rainbow Hardcore: 120 Billion Diamonds
Rainbow: 6 Billion Diamonds
Shiny: 2 Billion Diamonds
A normal Clover Unicorn in Pet Sim X is currently valued at 500 Million, a Golden one at 1.5 Billion, a Rainbow one at 6 Billion, and a Dark matter one at 20 Billion.
The projected worth of a Hardcore pet ranges from 10 Billion for the Normal to 30 Billion for the Golden. You will need 120 Billion for the Rainbow and 400,000,000,000 for the Dark Matter.
Remember that prices are always changing, and you can observe some significant fluctuations in value each time a new update is made. You will discover that the value will likely rise when the option to get a pet has been withdrawn.
How You Can Get The Clover Unicorn in Pet Simulator X?
The only other method to acquire the Clover Unicorn in Pet Simulator X, aside from exchanging for it, is to successfully hatch it from a Lucky Kingdom Egg or a Pot of Gold Egg. You may purchase these eggs at PSX's St. Patrick's Day event. The Pot of Gold Egg costs 5 Million Clover Coins, and the Lucky Kingdom Egg costs 1.5 Million Clover Coins.
Conclusion
This was all for the guide on Clover Unicorn in Pet Simulator X. We hope that with the help of this guide, you were able to know about how to get the Clover Unicorn and what is its value. If you have any more doubts or questions, then feel free to tell us in the comment section below. So that, we can help you in solving them and provide you with a helpful guide on it. Also, for more such informative guides, do check out our website.