When you download games or even patches from the PlayStation Network (PSN), you may have to face a particularly annoying issue, which displays error code CE-36244-9. Then an error arrives on the screen stating: "Cannot download. The data is corrupted." This error code prevents the users from download games and patches from the PSN, thus deteriorating the overall experience. This results in a severe problem because if the users are unable to download games and patches, then what is the use of having a PS4? Some say that this error code is caused due to Hard Drive issue. We don't deny that, but in most cases, this error is caused due to a corrupt hard drive.
If you've tried downloading a or a game from the PS Network and got this issue, then you've come to the right place. Here we have discussed all the possible reasons and facts that lead to the "Data is Corrupted Error CE-36244-9" error. And we will also try to fix this issue as far as possible. So, let's get started.
What is a Corrupt File?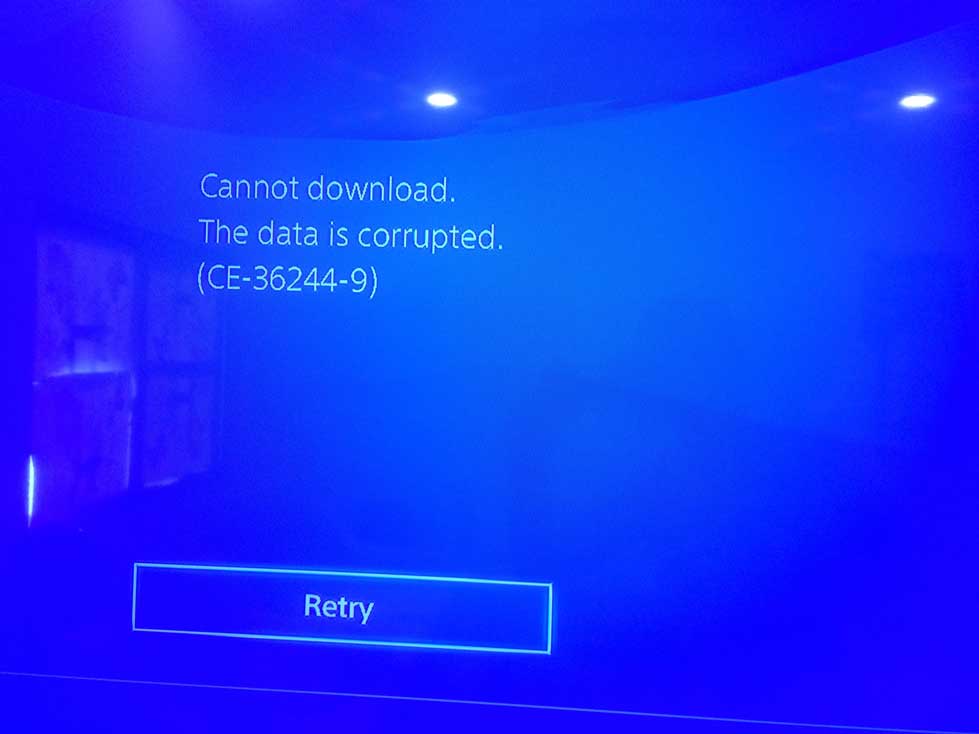 The data that is stored in a hard disk is a kind of electronic data consisting of protons and neutrons. It is based on a structure, and if something is causing a hard to there structure, or if there is interference with this data. Then data corruption takes place. If the information there on the hard disk is somehow exposed to other factors like improper installation or power loss, then also this data corruption occurs. When the hard drive has all the information intact, and there is no further interference, then there no corruption.
A corrupted file is like a virus in a system. It disturbs the overall system architecture, thus making it unusable to some extent or entirely unusable. So to tackle this data corruption issue, we need to troubleshoot accordingly. Also, the main problem arises with the core applications as they solely depend upon the internal file structure. So next move on our next section where we will discuss why these files get corrupt.
Also Read: How to Fix PS4 Error Code NW-31473-8
Why do Files become Corrupt on PS4?
One of the most common reasons for file corruption is when the application which is being downloaded suffers an error while saving. There are several other glitches in the system that can cause files to be corrupt. Sometimes power failure contributes to this, and sometimes internet speed may also do the game. Sometimes the browser also suffers from glitches while downloading a game. The inadequate physical sector on the magnetic side of the hard disk also causes this error.
Momentary hard drive failure is rare in a PS4 due to its superb architecture, but sometimes this can also lead to corruption although this is rare. But still, it is known to cause this issue. So to conclude, numerous reasons can contribute to file corruption. Now we will see how you can fix this corruption issue.
Fixes to Data is Corrupted Error CE-36244-9
So here is the part for which you all have been waiting for. We are here with all the possible repairs that will make sure you no longer have a corrupt hard drive. So let's start.
Fix 1: Reboot and Re-download the File
Probably the easiest way to fix a corrupt file on the hard disk. Rebooting your PS4 will solve all the problems related to the device, and after the restart, you can proceed to download the file again. This fix will solve your corrupt hard drive issue to such an extent that you won't face that again.
But still, if you face the Error CE-36244-9 again, don't worry, we have more for you.
Fix 2: Check PS4 Network Settings
PS4 suffers a lot from the Home Network sometimes. So to solve this issue, you need to share your mobile hotspot to the PS4. Then check and try to download the file again. Now we need to check the DNS that stands for Domain Name System. In order to do that, first, change the IP settings to Static, then follow the steps below.
Open Settings on your PS4
Now go to "Establish an Internet Connection" tab
Then select the correct thing for your network type: Use LAN cable or WiFi Connection
Then so to Special
After that, go to DNS setting then "Manual."
Enter this data: Primary DNS: 8.8.8.8 | Additional DNS:8.84.4
Now, jump to the end of the connectivity settings and restart your PS4
Now, after the restart, go to download the file again and check if the issue prevails. The problem might not prevail because this is a well-tested fix. But still somehow, if there is an error, move to the next section.
Fix 3: Free Up Storage
Storage can be one of the major issues behind which users are not able to download anything. So to check that we need to look out if there is enough space remaining in the hard drive. It might seem that there is enough space, but that may not be the case. Since the PS4 keeps approximately 10% storage reserved for cache data. In order to check what is using the storage, go to settings, then click on storage management. And look out if something is burdening the storage.
This solution will work only if the storage is full, and to our coincidence, many users reported that they did not have free hard disk space. So we recommend checking that first. After that, move on to the next solution if this does not help.
Fix 4: Fully Initialize (Factory Reset) your PS4
As we all know, the factory reset is the solution to all the problems in any electronic device, and PS4 is no different. Fully initializing PS4 solves most of the issues in the system and gives it a refreshing feel like you've bought it new. But before that, let me tell you, Initializing will delete all the game data and patches from the system, and you will need to download them again.
To fully initialize the PS4 follow the steps below.
Turn off the PS4 using the front button. Let the power indicator finish blinking.
After that, press and hold the same power button for 10 seconds until you hear two beep sounds.
Now connect your DualShock gamepad with the USB cable and press the PS button.
Now select the option that says "Initialize PS4(Reinstall System Software)
Finally, you will now have it start initializing. Wait for some time to turn it on again and see working it usually. But wait, we still have a bonus fix. Somehow its little bit tricky for novice users. But if you have done it till here, it's no more difficult.
Fix 5: Format the Hard Drive Using a PC
Formatting the hard drive solves all the errors and repair the bad sectors on the magnetic hard drive. So it recommended formatting the hard drive at least once yearly. To format the hard drive, you will require a Hard Drive Caddy or merely an external Hard Drive Case, and a SATA cable to connect to the PC.
Take the Hard Drive out of your PS4 and put it in a caddy.
Now plus the SATA Cable from the caddy to your PC.
When the PC recognizes the hard drive, open disk management.
Then run disk defragmenter.
After that is complete, go to This PC
Locate the hard drive and simply Format it.
You're done. Your hard drive will regain its natural performance, and further, no problems or errors will occur.
Conclusion
You now know how to fix your corrupt hard drive id. It shows the error code CE-36244-9. With these fixes, you can easily retain the performance of your hard drive like new. We would also like to say that try to be connected to a stable network as long as possible and don't pause the downloads in between. Also, look out for power failures and keep it safe from that.
We hope our guide was helpful in solving all your problems. Further, if you have any queries or feedback, feel free to comment down below with your Name and E-mail ID. We will try our best to reach out to you as soon as possible. Also check our all iPhone Tips and Tricks, PC tips and tricks and Android Tips and Tricks section to gather more knowledge.