Warhammer has been giving extraordinary games for years, but sometimes players have tough times with errors. These errors are mostly lagging, higher ping, waiting long hours in the lobby, random crashes, and many more. Many players have reported that they are experiencing an error that is appearing on Warhammer 40000: Darktide labeled as "Disconnected from server" on the screen. The error is caused by an overpopulation of players in lobbies and bad or slow game servers. The methods may not be a permanent solution, and errors would come back at any point in time. But it is always good to give it a try, so let's dive into it.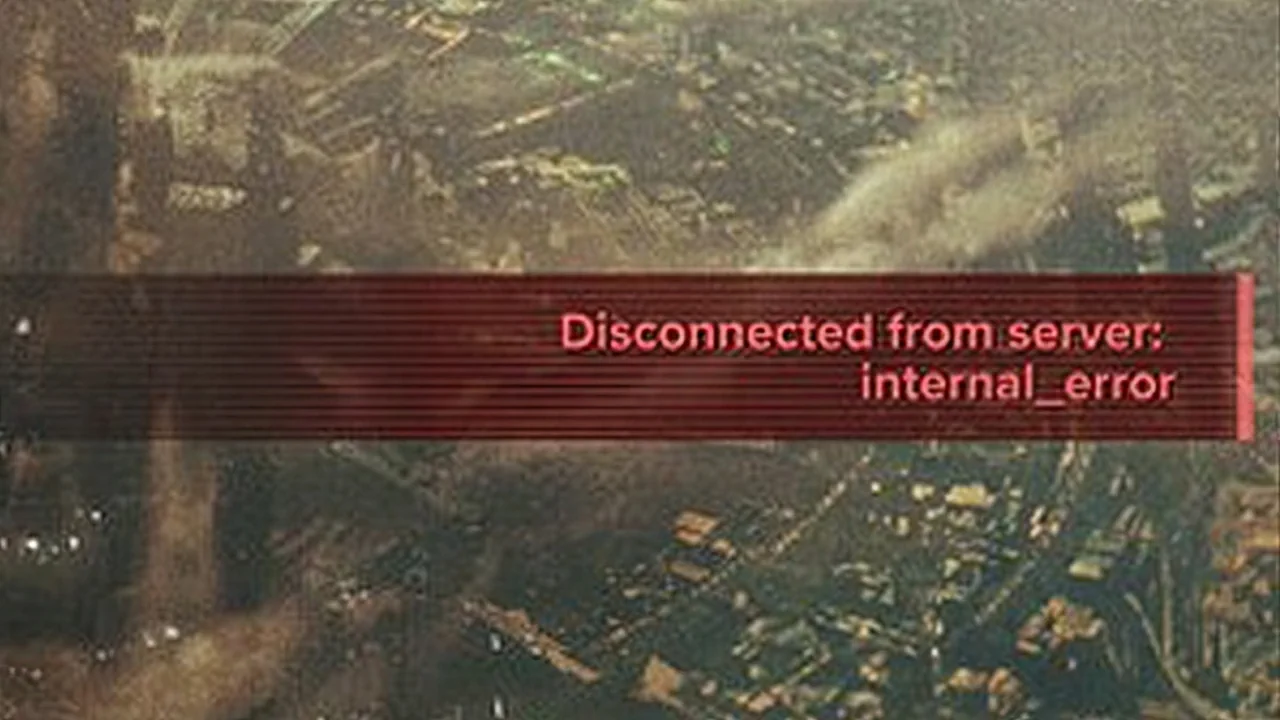 Fix Warhammer 40000 Darktide Disconnected from Server Error
As many errors are mostly related to server or connection status, so is the "Disconnected from server" error. This error mostly occurs due to bad connections between either of them. There are chances of a connection issue from your side, but most cases are from the game servers. Almost all PC and console users are affected by this error.
Also read: Warhammer 40000 Darktide Heavy Weight Champion Penance Guide
Method 1: Restart PC / Console
Restarting is considered the best and most effective way to solve any sort of error. Restarting your device deletes temporary caches that might create problems with the proper functioning of the game. If the above-listed methods do not work for you, you should definitely try this method. The steps are too simple and are as follows:
Close all the applications on your PC.
Now, press restart and let the device reboot on its own; any interruptions may cause the device to malfunction.
Method 2: Change DNS
Changing DNS servers almost always works when users encounter server errors. By changing DNS, you can freely connect to Cloudfare DNS, which is pretty fast, and you might not receive any errors while playing or accessing the game. The procedure is as follows:
Note: For this method, first disconnect from any VPN service you are using.
Right-click on the start button. Select "Ethernet" or "Wifi" if you are using a wireless connection.

Choose Private Network.
Now scroll down a little bit, look for "DNS Server Assignment" and click on edit.
In Edit DNS Setting, choose "Manual" from the drop-down; a window will appear with some more options. Turn IPv4 status to "On."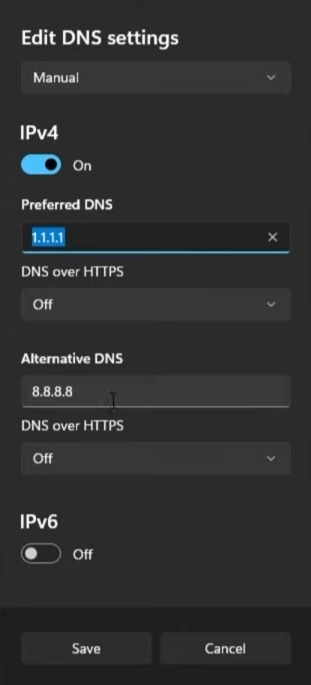 Enter "1.1.1.1" for Preferred DNS. (Cloudfare DNS). Set DNS over HTTPS as "off." (from both menus). Enter "8.8.8.8" for Alternate DNS.(Google's DNS). Allow IPv6 to be turned off.
Finally, press the save button. Now move back to "Network & Internet."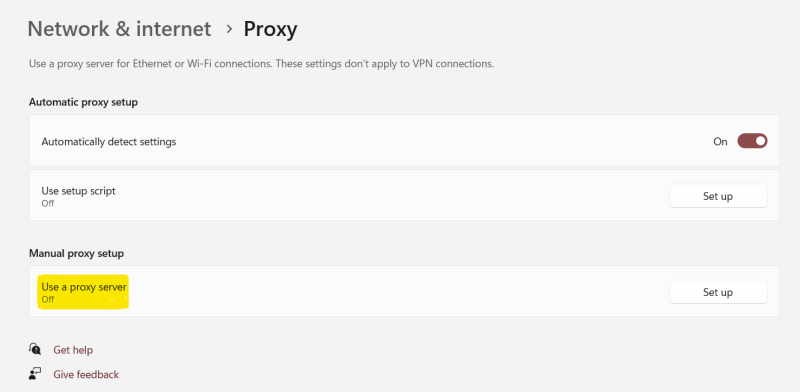 Click on "Proxy." Finally, Check the Use a proxy server option is set to Off.(Mandatory step).
Method 3: Connect via VPN
VPNs can be the best tool or software when it comes to handling server issues. Using a VPN will route your connection through another fast and less overcrowded server, eventually eradicating the "Disconnected from server" error. The steps are as follows:
Go to the Internet and search for a free VPN.
Download and install it, and give it the required permissions.
Now connect to a server that has a lower ping.
Method 4: Using Wired Connections
It is advised to make sure you run the game using a wired connection, as they offer less ping, and refrain from playing the game during rush hour. Try moving closer to the router if you still want to go with a wireless connection. This will build up a faster connection.
Method 5: Verifying game files
If you have performed all the above methods and you are still having issues, simply verify the game files, as there may be an issue with the game file on your PC. The procedure is as follows:
Open Steam and navigate to the Games Section.
Right-click on Warhammer 40000: Darktide.
Click on properties; a pop-up window will appear on the screen.
Now choose "local files" from the side menu.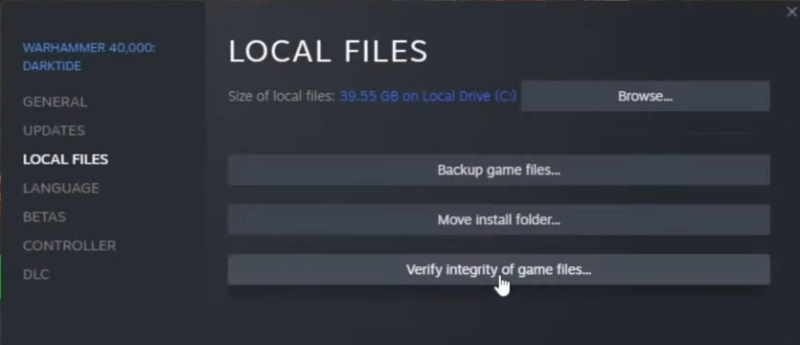 Finally, click "Verify integrity of game files…." and you are good to go.
Method 6: Update Windows OS
If you're still experiencing problems, make sure your Windows is up to date. Updating Windows will definitely boost the performance and eventually update the network drivers, which might cause issues with the game. The steps for updating Windows are as follows:
Right-click on the start button and open Settings.
On the left-side menu bar, choose "Windows Update."

Finally, Click on "Check for updates," and a new update will be downloaded if required.
Method 7: Contact Steam Support team
These errors vary from time to time and mainly depend on the time you access the game. If all the above methods do not work for you, then you should definitely contact the Steam support team and briefly describe the errors you are facing while accessing or playing the Warhammer 40000: Darktide game. The steps to contact the support team are as follows:
Launch the Steam application on your PC.
Navigate to the Help section. Choose Support.
Finally, describe your issue briefly, and you are good to go.
Conclusion
There are maximum chances that these methods will eradicate the disconnected from server error in Warhammer 40000: Darktide from now on, but the methods might not work every time. The game is still in beta and might be experiencing server issues that have to be fixed by the game developers, so give it some time until it stabilizes for the best gameplay possible.