Windows is the most popular operating system that is out there, and most of the computer comes with Windows 10 pre-installed. However, Windows 10 users come across some of the issues in Windows. One of the issues is that users have reported that deleted files are coming back. Clearly, this suggests that deleted files are coming back may happen due to Cloud services. Also, it can happen due to the corruption of the Recycle Bin.
These could be any potential reasons why deleted files keep coming back in window 10 computers. Maybe the issue lies with recycle bin setting son cloud storage settings. Today we will help you troubleshoot and fix the problem once for an all.
There is a possible chance that you don't have administrative privileges. Therefore, you can't delete the files. Make sure that you have logged in to the administrator account; however if login as an administrator doesn't help to resolve the issue. Then you can do the following fixes to resolve the issue and permanently delete the files.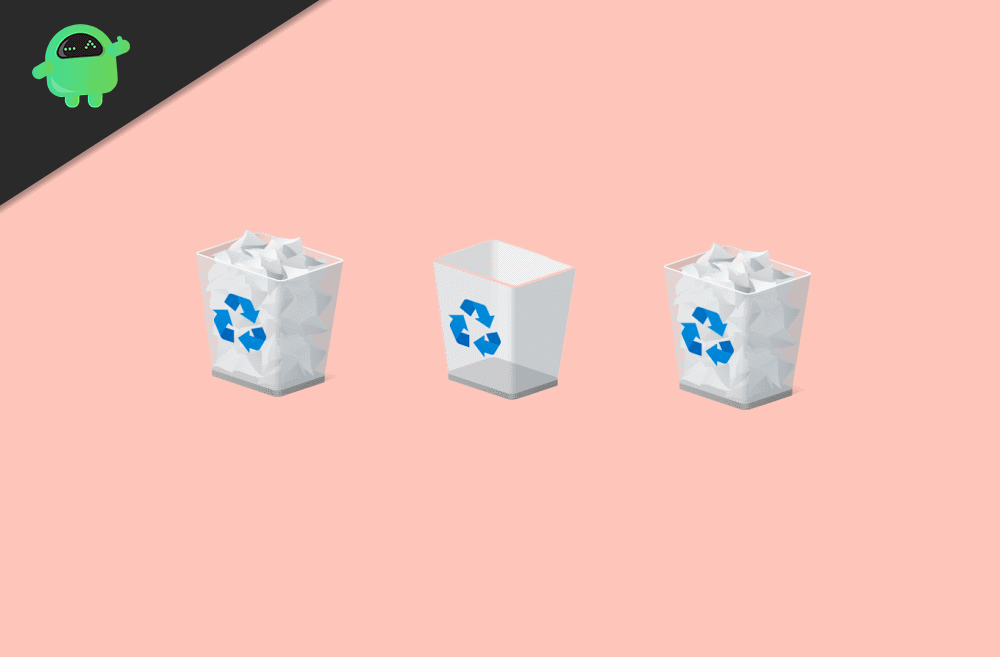 Deleted Files Keep Coming Back in Windows 10, What Should I Do?
Solution 1: Fix Recycle Bin
If your recycle bin has been damaged, then it can cause an issue, and your deleted files will keep coming back. Therefore, you can perform the repair from your Windows command prompt to repair the Recycle bin.
Step 1) Firstly, you will have to open the command prompt, therefore, type cmd in the Windows Search box. Select command prompt, right-click on it, and select Run as Administrator.
Step 2) Now type the command rd /s /q C:\$Recycle.bin in the command prompt and press Enter.
rd /s /q C:\$Recycle.bin

Step 3) After you have run the command windows will scan your Recycle. If corrupted, it will fix it. Then you will have to exit the command prompt and restart your Device. Now, try to delete the files.
Solution 2: Uninstall or Turn off any third-party cloud services
Despite Windows cloud service OneDrive, other third-party cloud services might be causing the deleted files coming back issue. Because if any third-party cloud service is active, then it can backup and restore your data immediately. Some services have bugs to automatically restore files, and others have options to turn it off or on.
Open u your cloud service application and check for such features of deleted files restoration. Otherwise, you can uninstall them. To uninstall simply type control panel in the Windows search box.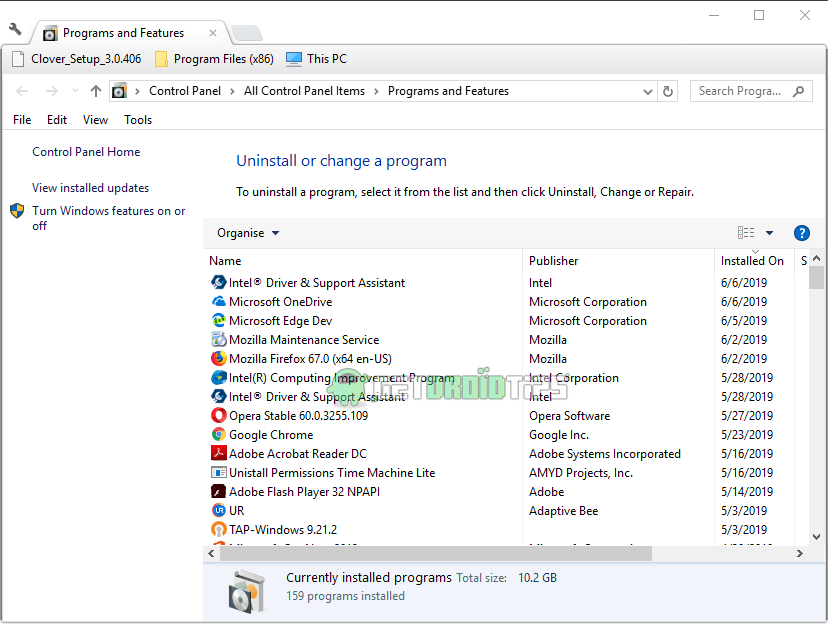 Open up the control panel, go to Uninstall programs under the Programs option. Locate your cloud service, right-click on it, and select uninstall. Now try to delete the files and see if your issue has been resolved.
Solution 3: Check your Permissions
If you don't have the privilege to delete files on your Windows, then check your permission and enable you to delete the files.
Step 1) Firstly, right-click on the file or folder that you want to delete and select Properties.
Step 2) Select the Security tab and at the bottom click the Advanced option.
Step 3) Now, besides the label Owner, click the Change option. A box will be prompt, type everyone, and click on the OK button.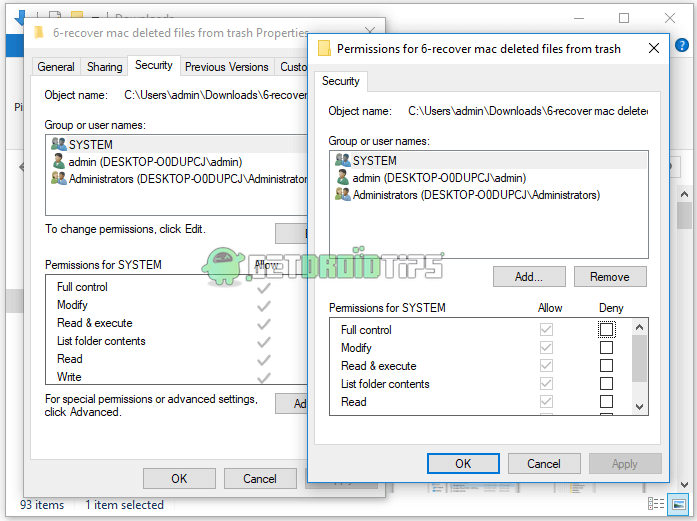 If there is everyone not written by default, then it means you don't have the permission. Therefore give the input. and proceed to access the procedure to allow deleting files
Step 4) Move back to the Security tab and click on the Edit button. Now, select Allow for all permissions under the Permission for SYSTEM section. Click on the Apply button and click on the OK button to close it. Now try to feel the file.
Solution 4: Enable the Prevent Roaming Profile
If you are using a Windows Server and if the Roaming services are enabled, then this might cause the issue of deleted files coming back. There follow the steps mentioned below to enable the prevent roaming profile.
Step 1) Open up the Run Accessory and type gpmc.msc. Click on the OK button to open up the Group Policy.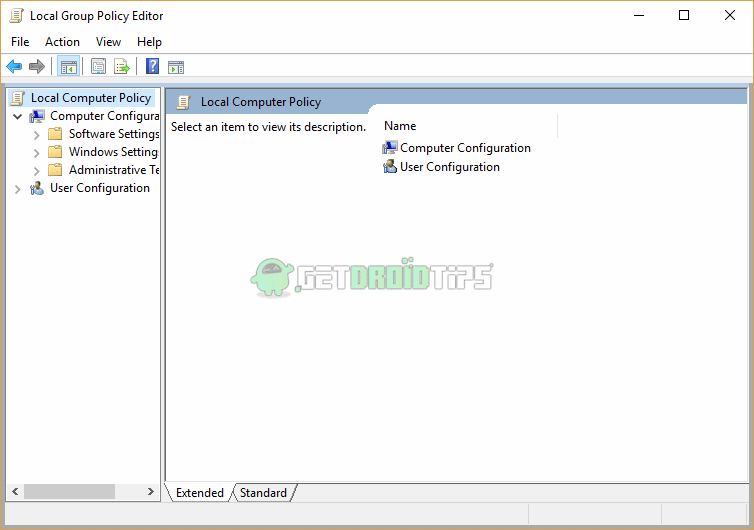 Step 2) Now, on the left Window, go to Computer Configuration>Policies>Administrative Templates>System>User Profiles and at the corner of the Window click on the Prevent Roaming Profile changes option.
Step 3) Now, select the Enabled button and click on Appy. To close it, click the OK button. Now try to delete the file and see if your issue has been resolved.
If the issue is still not fixed, then maybe the error lies inside the new Windows update. In such a case, wait for Microsoft to release a new update to fix the issue. Until then, you can use "Ctrl + Shift + Delete" to delete all your files. Please note that this is a temporary method to permanently delete files. So make sure to delete files that you do not wish to recover in the near future.
Conclusion
Deleted files coming back to windows 10 computer is a service problem and can be caused by some virus or malware attacks too. We recommend you to scan your PC with your antivirus program and remove such false entities. If done so, you can follow the above solution to see if they fix your problems. To get more such interesting How to guides, make sure to follow our PC tips and tricks section to know more.